Akin to that mountain, which soars high into the skies, Lewis Hamilton stands tall amid jaw-dropping reactions in the firmament of FORMULA 1.
Lewis Hamilton Proud Of Record Achievement
It's a sport to which Hamilton has given a decade and a half of his life. It's a sport which has become second nature to Lewis Hamilton – a man born to race, someone we today cannot imagine the highest level of Grand Prix racing without.
The Brit was proud of what he and his team have achieved, saying 'I think ultimately I'm just very proud of the job that I felt I was able to do today and the things I was able to overcome, but also the job we have done collectively as a team and it's just reminiscent of the beginning when I joined the team, the decision I took to join the team and what we have done since.
'I knew that we would win championships. Did I think we would win as many as we have? No. Did I think we would win this many races? Of course not. But it is a phenomenal time for us and the great thing is that it's not just me that is living with the history, it's the whole team and I think everyone acknowledges and realises how much they are part of it, so I feel incredibly grateful to my teammates.
'To Valtteri, for being the contender he is, the team-mate he is, for pushing the team forwards – we're generally rowing in the same direction whilst we are competing, and it's been a privilege to work with him. So what a time to be alive.'
Lewis Hamilton Has Excelled Since Day 1
To a sport that demands excellence- Lewis Hamilton had nothing else but excellence on offer, arriving at the 2007 World Championship curtain-raiser: the 2007 Australian Grand Prix (18 March) where he earned a P3.
In so doing, Lewis immediately proved his mettle for his McLaren team. But was that easy to do- with Kimi and Alonso being at their devastating best back then? It's anybody's guess.
Thirteen years hence, as Lewis Hamilton finds his name against arguably the most amazing record in Formula 1- nothing's really changed.
Back then- he was hanging out on or around the podium, scoring nine back-to-back (podiums) in his maiden year in Formula 1 alone.
A few hours back, he stepped onto the podium for the 161st time in Formula 1, he'd made history; a mighty one at that.
Just how many wins can the new record holder tally? Well he won't say the sky is the limit, but he is prepared to keep working to raise the bar higher and higher for those set to follow him.
'I don't believe in the saying the sky's the limit. It's just a saying. It depends how much we want it, how much we want to continue to raise the bar and going by our history together, just the way we work, we don't sit back on our results, we keep working, we keep elevating.
'Every race feels like the first one. I don't know how that's possible after all these races but for me it does, just as challenging as the first, and I think there is a lot more for us to do. Especially as we're in this crazy time of the pandemic.
'We're in a crazy time with having to also utilise our position as a business, as a leader in the business for inclusivity, for diversity, there's a lot of work to do. So, that keeps me inspired.
'My team-mates, who are continuously growing, my fans who are continuously learning through this process with us all, and our sport that is slowly changing, it's a real special time.
'I definitely sometimes wonder, you know, jeez I'm 35 years old. I still feel physically strong but you still wonder when is it going to tip over and lose performance but showing by today it's not yet,' added Hamilton.
Consistency Has Been The Key
The all-time win record is a piece of history every driver whether contesting in the sport or desperate to break through to the top flight in F1- would absolutely love to script.
As Lewis Carl Hamilton crossed the line and received the checkered flag at the very tricky and truly testing Portimao-bound Portuguese Grand Prix- he scored the 92nd win of his career, the most by any F1 driver – dead or alive.
In this clip, you can see Hamilton talking about this record-setting moment with none other than Martin Brundle.
But every sport needs a hero- someone who can prove himself to be Mr. Consistency, and blaze a trail for the others to follow.
Lewis Hamilton – 161 podiums, 92 race wins, 97 pole positions, 52 fastest laps, 6 world titles – is a humble and mild-mannered one.
He ain't some flickering myth that'll burn out or fade away (He's here to stay).
Not when at 35, making the body endure the grind for fourteen long years, and about to claim a seventh world title. And maybe go even more!
And certainly not when you're finding much younger guys- a little over half your age- in your mirrors only for you to ply phenomenal race craft to emerge unscathed in the end – (race after race, weekend after weekend).
But Hamilton, who's proven himself to be statistically superior than even the great Michael Schumacher, must not dwell on the lot that passes easy judgement holding little to appreciate one's journey.
Fact is- Lewis Hamilton won from pole again and not only that, ended up delivering the grand slam of the race, including the mark for fastest lap.
Dominant Display In Portugal
At the Portuguese Grand Prix, Lewis Hamilton briefly lost the lead a few laps since the start. It didn't matter, however.
He was soon dictating terms from the very front of the grid with usual Hamilton-esque guts.
'When I come to these races I never think of the numbers. I just never let it enter into my thought process. Today was really about… we're at this track, it's very, very smooth, you see the struggle we're all having with the tyre temperatures, so towards the end of the race I was thinking about what I will and won't say in terms of what is appropriate to say and not to say but ultimately it's no secret, I think today was about tyre temperature.
'I felt through the race that I was learning, lap on lap, more about the circuit. I was trying lots of different lines and discovering new lines that worked well. The wind direction was very, very tricky, I think, today, lots of crosswinds, headwinds and tailwinds and there were some positions that you could utilise to your favour and others that kind-of get in the way.
'I think the key is the times when you have a tailwind, it's minimising the loss through those stages. Set-up was something that I really focussed on. It was less about qualifying set-up, and more for the race set-up and I think today that enabled me to go one better, I guess, than before.
'I just felt like I was generally getting faster and faster throughout the race – but I had to keep up the pace for these tyres. That was really the key,' added the race winner.
But implicit in the journey of the most successful driver in F1's history (race wins wise👏) is respect. That which he gives to his competitors on the grid. That which he himself earns as a result of feverish consistency.
It's easy to lose ones head at the highest annals of Grand Prix racing. But very difficult to keep winning despite having at one's disposal – the fastest or most complete car on the grid.
Hamilton Almost Faultless Throughout F1 Career
Why Hamilton must be respected is because despite having the best of both worlds- the most powerful machine and ample manpower- he hasn't put a foot wrong in Formula 1.
This isn't to say he didn't err – there was the controversial pit lane entry despite the window not being open, and the ignorance of yellow flags in another event (earlier this season)- but Hamilton's driver errors have been few and far between.
He did, as a matter of fact, collide twice with Albon (Red Bull) in the space of one year- starting with Brazil 2019 and then, the 2020 Austrian GP- but Hamilton won't spin, won't slide off the track and won't self capitulate.
We've seen a magnificent champion in Sebastian Vettel make more errors than probably any other man on the grid in the past half a decade period; an onerous length of time during which Hamilton's performances grew to the size of a shape-shifting beast: hard to ignore, even harder to beat.
Still, what would you put it all down to- these eight race wins in 12 starts in 2020? Isn't it a precise combination of smooth race craft and next-to-faultless car control?
Hamilton The Ultimate Competitor
On top of it, Lewis Hamilton seems an athlete that just won't budge; the more difficult the circumstances- the more he challenges himself.
Earlier this year, at the landmark British Grand Prix, Hamilton won with three tires, having suffered a front-left failure thanks to horrible delamination in the final lap of the race.
The bad news was, Max was closing in- just six seconds behind. The good news was- Lewis wasn't going to give up.
In 2019, a year where perhaps Mercedes' domination of the grid was arguably the most ruthless – the team winning eight back-to-back races- Lewis enjoyed the upper hand over Bottas until Verstappen's race win at Austria halted the driver's marauding charge.
It wasn't Valtteri but Lewis who won four back-to-back races before Max's mad run at Spielberg changed the narrative somewhat, the Briton picking up big wins at Spain, Monaco, Canada and France.
Yet, ever wondered why we credit Lewis Hamilton. Is it just the magnanimous success and that instinct for domination?
Perhaps suffice to say, there's a Lewis Hamilton the benevolent observer who resides in the heart of the man who wants to and does drive like a champion all year around.
The Hamilton v Vettel Rivalry
At the 2019 Singapore GP- an event we'd have loved to see this year too- the warmest congratulatory message to the race winner arrived from the man who finished fourth.
As Sebastian Vettel, occupied in arguably his most important post-race interview was about to conclude, a warm tap on the shoulder arrived from behind.
As Vettel turned immediately to see who that was, he was greeted by the most affectionate smile from none other than his closest rival on the grid, one to whom the German had played too often the vanquished (than he'd have liked) in the previous seasons- Lewis Hamilton!
What a beautiful tiny moment that was featuring two guys who were daggers drawn at each other at Azerbaijan 2017, you thought.
But that's precisely where we owe much credit to the fighting duo.
The sport, with every passing decade, has birthed new heroes and presented personalities.
But it's very hard to deny that had Hamilton and Vettel not pushed one another to the absolute limit- evident closely in races like Hungary 2017, British GP 2018, 2018 German GP, 2018 Belgian GP, among a few more- we wouldn't have seen two stars burning brightly in the F1 galaxy.
Stars who remember to respect one another despite occasional on-field scuffles.
That the two twinkle lends substance to a sport that can't function minus its shining lights, one of whom has become a mighty planet.
He was once a kid, not even a boy who took to Karting pushed by his doting dad.
Today that same kid from Stevenage (who sat in a kart at the best of his father) has grown into a global icon despite all odds.
Little wonder then it's Lewis Hamilton who says – Still We Rise!!
Take a bow champion. Take a bow.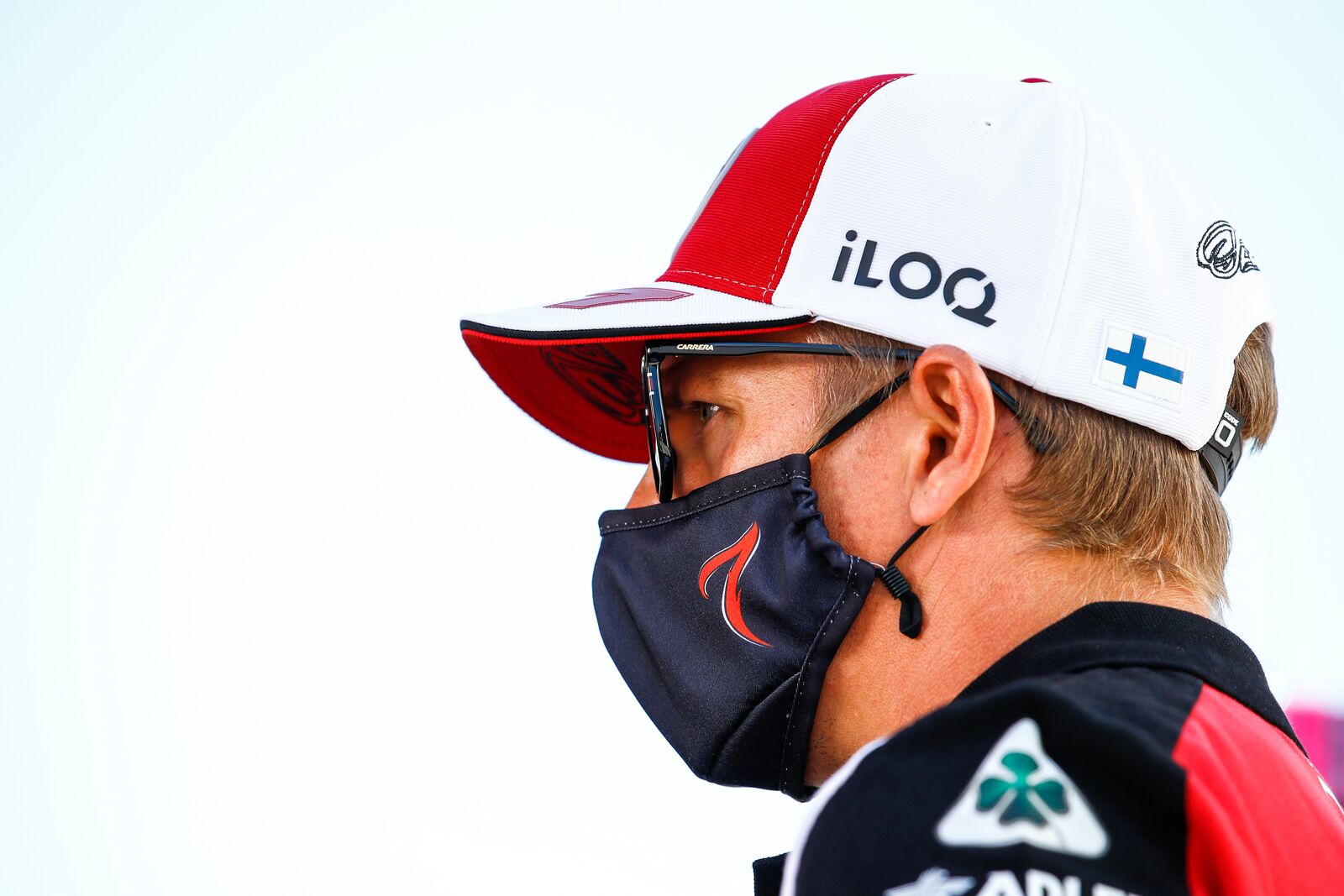 "Kimi, why do you think the move to Sauber would ...