In a stellar career that shows no sign of slowing down, Lewis Hamilton set more records this weekend at Silverstone. Most wins at a home Grand Prix (seven) to surpass Alain Prost, and most races led from start to finish (twenty) to surpass Ayrton Senna. You can also add a new first to his list of achievements; first time winning a Formula 1 race on three wheels.
In what looked to be a drama-free 1-2 win for Mercedes, punctures to Hamilton's teammate Valtteri Bottas and McLaren's Carlos Sainz in the closing stages added some spice to what was a somewhat uneventful race.
Then the chaos started, and what followed will go down in Silverstone folklore.
With half a lap remaining, Hamilton's front-left tyre let go, and with Max Verstappen on a fresh set of tyres, suddenly it looked as if the 6-Time World Champion would snatch defeat from the jaws of victory.
"Up until that last lap everything was relatively smooth sailing. The tyres felt great. Valtteri was really pushing incredibly hard. I was doing some management of that tyre; he looked like he wasn't doing any. When I heard that his tyre went I was just looking at mine and everything seemed fine and the car was turning no problem, so I was thinking "maybe it's OK". Anyway, those last few laps I started to back off and then down the straight it just deflated. I noticed the shape just shift a little bit. And that was definitely a heart-in-the-mouth kind of feeling because I wasn't quite sure if it had gone down until I hit the brakes and you could see that the tyre was falling off the rim. And then just driving it, trying to keep the speed up, because sometimes it will come off and brake the wing and all these different things and oh, my God, I was just praying to try to get it round and not be too slow. I nearly didn't get it round the last two corners. But thank God we did. I owe it to the team. I think ultimately maybe we should have stopped towards the end when we saw the delaminations," said the race winner.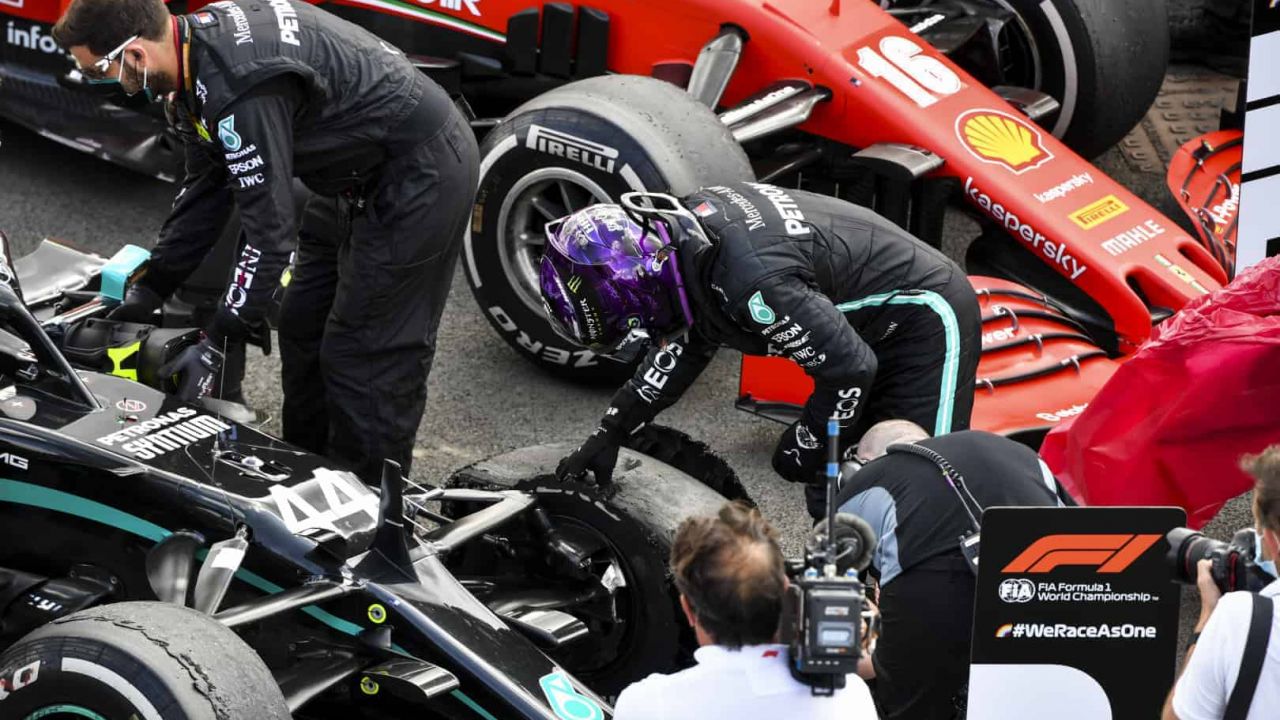 For most mere mortals the prospect of trying to control a car with three wheels, let alone at a pace to win a Grand Prix, would have them break out in a cold sweat. But for Hamilton, it was a moment of calm and clear mindedness, which ultimately saw him bring his limping carriage home in first.
"You'd be really surprised, well you may or not be surprised, but I was really chilled for some reason at the end. Bonno was giving me the information about the gap, I think it was 30 seconds at one stage, and it was coming down quite quickly, and in my mind I was thinking "how far is it to the end of the lap". But the car seemed to turn OK through Maggotts and Becketts thankfully. I got to 15 and that's where it really was a bit of a struggle and I could hear the gap coming down from 19 to 10 and I remember giving it full gas from 15 to 16 and the thing wasn't stopping, so I got to the corner with a lot of understeer and then I heard him go, nine, eight, seven and I was like "just get back on the power and try to get the thing to turn". I've definitely never experienced anything like that on a last lap and my heart definitely probably nearly stopped. I think that's probably how cool I was because my heart nearly stopped."
Having spent the best part of three decades behind the wheel Hamilton has seen more than most. Although this was his first time finishing (and winning) an F1 race on three wheels, he did have a similar, if less dramatic experience while racing Formula Renault many years ago.
"There was a race when I was in Formula Renault, at Croft, where the rear suspension, there's two rear springs and one had snapped off and so I remember driving through the corners, through the left-handers with one wheel in the air, and through the right-handers it was fine, something like that. So that was a race where I was in the lead and I managed to still win the race – just. I don't even know how I managed to make that one work. So, that was a little bit similar to today but of course it was more extreme today and the cost was obviously a lot higher.
"As the minutes go by I feel worse and worse as I realise what just happened. I think in the heat of the moment you have the adrenalin going and I guess that fight for survival instinct comes out. I was able to stay calm and really measured and try to bring the car home but of course, I'm just sitting here thinking of all the things that could have happened, if the tyre gave up in a high-speed corner or something it would have been a much different picture. So I feel incredibly grateful that it didn't and we just managed, but I heard that Max was catching at crazy speed. I think I got onto Hangar Straight and I could hear I think "you're at 19 seconds" at that point and I was trying to pick up the speed down that straight but the wheel was obviously making a real mess and I was thinking "jeez, how am I going to get through these last few corners without losing too much time". But fortunately I got round 15 and then once I got to the last two corners that was really when it was a disaster. I could hear "seven, six, five…" and I just managed to keep it together. As I said, I'm just really grateful. My team did a fantastic job through the weekend but I think we have to look into why we had this tyre problem. I know a few people did but maybe it was debris or something like that or maybe the tyre was just worn out."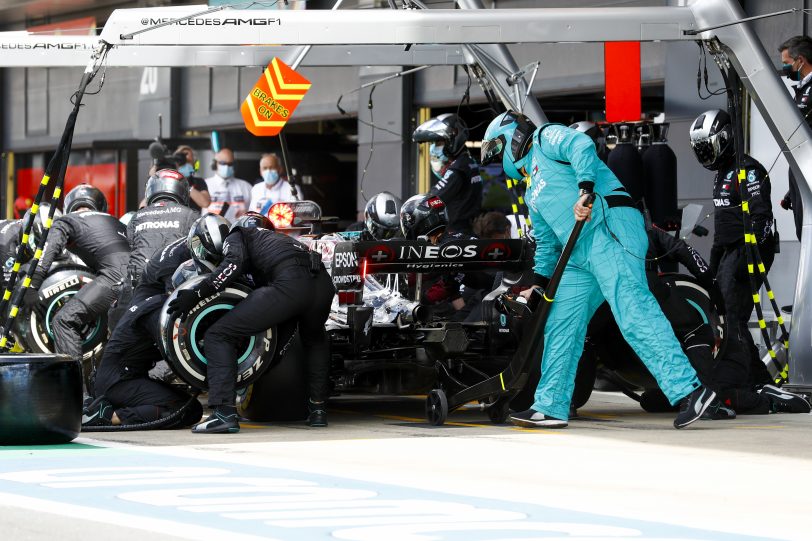 The Mercedes-AMG Petronas team are renowned for their methodical approach to racing, and being in control of every aspect of data and telemetry available. However, in this incident on the final lap, nobody had any inkling that the drama that unfolded was about to happen.
"I was constantly looking at the tyre. It was quite smooth and was working really well through Turn 3, the thing was turning fine. So I was trying to gauge just how worn it was but I didn't have any feeling of it being particularly worn. And then it was just down the straight, you could feel the RPM as I was full speed. The RPM drops as you start getting extra friction from the tyre as it's not rolling at the same speed and you feel the balance shift to the left. So, it was a bit of panic for a second and I nearly didn't make it round Turn 7 but after that I managed to make it through all the corners.
With many pundits believing Mercedes would drive off into the distance and be unchallenged, Hamilton confirmed that the pressure was on from the start, and predicts that the second race at Silverstone will be an even tighter affair.
"We were pretty flat-chat to be honest. Valtteri was obviously chasing and keeping the gap. It was between 1.2-2.0 seconds for a good period and then all of a sudden he started to fall away, so I managed to keep good pace and he started to drop away. I think it got to seven seconds at one stage. So, I'm not really sure what… I'm sure he just killed that left-front tyre, I'm assuming, and it started to drop off for him. For me, the car was feeling fine, so I kind of kept up a decent pace. To see the Red Bulls as close as they were in terms of pace, I think that's real. And it wasn't the case of us turning down or anything like that, or backing off. So, we can have a close race potentially next race maybe."
"Normally, this tyre usually has a long life expectancy. They said we could do almost a whole race distance with it but whether or not that's at the pace we were going. Valtteri was obviously pushing at a serious pace for which I had to respond to, so it was quite difficult to manage it. I think they had spoken of a two-stopper that was generally a slower option for us. In hindsight, probably we would have stopped as soon as we saw Valtteri's tyre go, we would have stopped – especially as Max had done so – as we should have come out just ahead and still had the position. But yeah, hindsight is always a great thing.
"One step softer (next weekend) is going to be a challenge for us all and no doubt will move us all to at least a two-stop. And obviously our cars are a lot quicker this year, we're using the same tyres as last year, they weren't able to develop a better tyre to deal with the forces for this season, so it's going to be a serious challenge I think, next week – but everyone's in the same boat and naturally from today we'll get a much better understanding of the tyre life and what we can do to be better prepared next week for the softer set that they bring.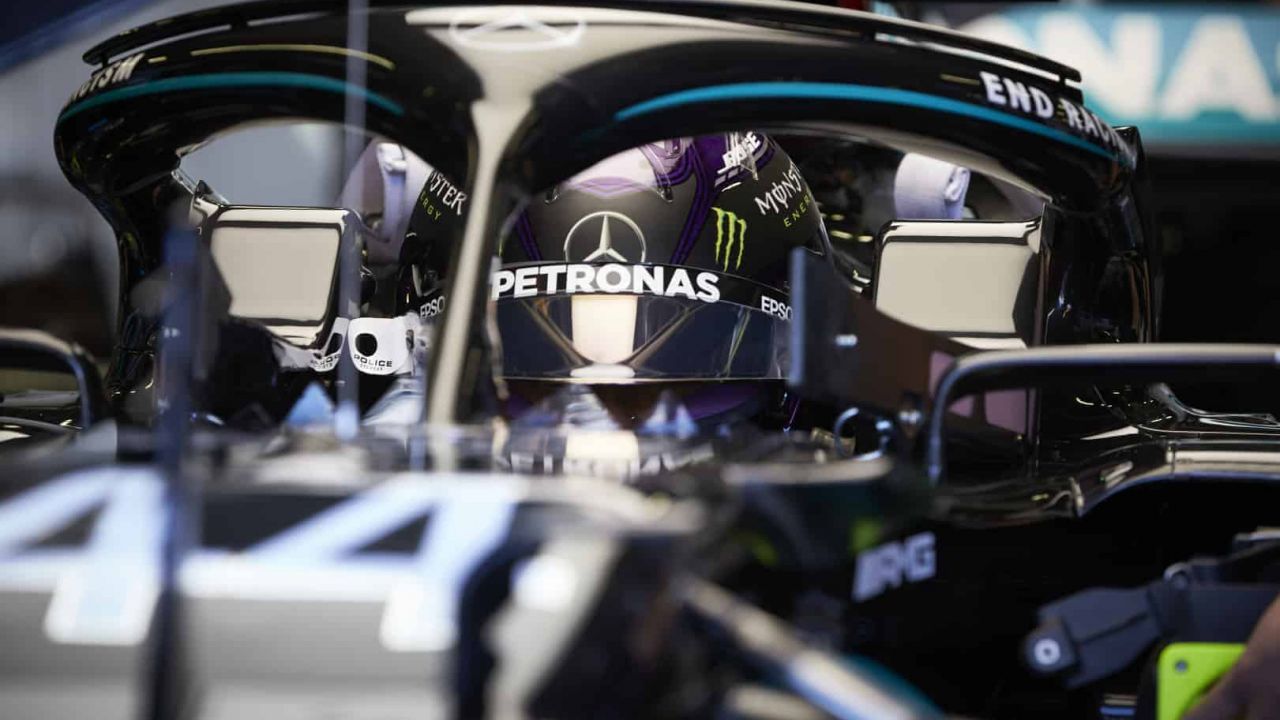 Much has been made recently of the Black Lives Matter campaign, the Hamilton Commission, and a lack of unity among the drivers with some choosing not to take a knee before the race.
As a leader in the fight for equality in Formula 1, Hamilton has been quite vocal about what needs to change and how improvement can be made, and was happy to see further progress made before the 2020 British Grand Prix.
"In terms of the start, I've been really, really happy with what the organisers have done, Formula 1 have really put in the time. I think last week I had really great Zoom calls with Chase and Ross and then another one with Ellie [Norman] to go through what we could do better together and how we could really solidify our approach and our unity together. I don't know how it looked on TV but it felt like it was much, much better organised and it didn't really take a lot for us to have that extra ten minutes. I think what's really important is that we continue to keep that up because ultimately we have this incredible platform. There's so many people watching and every single one of us needs to be reminded every now and then of how serious things can be, so that people are aware. And obviously more important is that we follow through, or they follow through particularly on the promises that they said before the first race, in terms of how they're going to try to attack the issue within our industry. So, that will be an ongoing discussion but I feel really confident and to see, as I said, everyone's view and movement towards it."
While Charles Leclerc has conceded that the 2020 Formula 1 Driver's Championship is already a two-horse race that won't include the Prancing Horse, Hamilton is still motivated by the battle, and hopes for tighter tussles in the racing to come.
"I'm a through and through racer at heart. I've grown up, particularly when you're in karting, you've got the wheel-to-wheel racing, that's what has always excited me, and that's what gets me up in the morning. I definitely… this is not the championship fight I would have hoped for. I'd much, much prefer to be having a super-close battle with these two here because that's what gets me going. Having to really put in… I think I'm still putting in the laps that are required but it's not a close battle with Max in qualifying and the same with Charles. I really, really hope that in future it's closer. It's rules. Ultimately every team is given rules and at the end of the day we've just done an exceptional job collectively and you can't fault my team for that. That's not our fault. You have to look at the people that run the sport doing a better job moving forwards, I would say, ruling-wise. I think they're showing some signs… I think Ross is showing us a car for the future that's going to have us all closer. Hopefully, it's not as slow as a GP2 car, and then hopefully we'll get some more-like karting races in the future," concluded Hamilton.