The first 13 races of the 2022 FIA Formula 1 season served up many big stories, like Ferrari's return to the front, quickly followed by the Italian's team's extraordinary ability to throw an advantage down the drain.
Mercedes struggled to get to grips with the W13, before putting together a run of podiums from Azerbaijan onwards.
And just when we thought F1 would be taking a break from major headlines, Sebastian Vettel's retirement triggered a domino effect in the driver market that has yet to resolve itself.
Here are five things I'm hoping come to life in the second half of the 2022 campaign.
Mercedes scoring a victory
The Constructors champions of the last 8 years have had a tough 2022, with the W13 plagued by porpoising and bouncing issues, which Team Principal Toto Wolff announced as solved in his half-season round up.
George Russell got the tyres into the sweet spot in Budapest to snatch pole position and a DRS fault cost Lewis Hamilton a shot at the pole too.
Mercedes have had a car on the podium in all of the last six races, with double podiums in France and Hungary, albeit somewhat down to Ferrari, being Ferrari.
The Silver Arrows' form has been on an upward trajectory regardless of the mishaps at Maranello, with the car improving and Hamilton's performances significantly stronger than it had been at the beginning of the season, where F1's most successful driver was running experimental set-ups to try and unlock the W13's performance.
Mercedes is the only team yet to have suffered a technical DNF, with their sole failure to finish coming at Silverstone, where George Russell was involved in the collision which resulted in Zhou Guanyu's terrifying crash, and Hamilton has been keen to praise his teams' reliability in post-race interviews in Le Castellet and Budapest.
Considering all of this, along with the mindset of the personnel in charge of the Brackley team, a victory should be strongly hoped for, although not necessarily expected, as Mercedes are still the third fastest team behind Red Bull and Ferrari.
Logan Sargeant confirmed as a Williams driver for 2023
Carlin's American driver Logan Sargeant has experienced something of a breakthrough in Formula 2 in the middle of the 2022 F2 season, taking two victories at Silverstone and in Austria.
A member of the Williams Academy and with heavy speculation over the seat alongside Alex Albon for 2023, Sargeant will fancy his chances of landing the seat with a strong finish to his F2 campaign.
Sargeant does not need to win the F2 title, something which looks a long-shot after difficult weekends in France and Hungary, with the Florida-born racer now 61-points adrift of series leader Felipe Drugovich.
Of course, should Brazilian Drugovich go on to win the F2 title, ahead of Sauber-backed driver Théo Pourchaire, then he too would be deserving of an F1 seat.
But unfortunately, you don't always get what you deserve in Sport.
Williams have been linked with Oscar Piastri, although the Australian is now entangled in a legal battle with Alpine over his contract and is tipped to replace Daniel Ricciardo at McLaren.
Mercedes Formula E and F1 reserve Nyck De Vries ran an FP1 session for the team in Spain, so he may be a touch ahead of the American, considering he is also a world champion in Formula E.
While I would not be against De Vries finally making the move into Formula 1, which would add another F2 champion to the ranks, perhaps a better message to those in the lower categories would come from Sargeant being promoted.
However, De Vries in for 2023 and another year of F2, with Albon always on a string back to Red Bull, could set Williams up for a very handy midfield partnership.
Esteban Ocon continues to outscore Fernando Alonso
When Alpine signed Fernando Alonso, it seemed that Esteban Ocon was set to become another victim of the Spaniard's crushing determination and intense personality, as Felipe Massa and Stoffel Vandoorne were in their own ways.
And yet, it was Ocon who won a race for Alpine in 2021 and it has been the Frenchman who has regularly delivered in 2022.
25-year-old Ocon was tied down to a three-year deal in mid-2021, before his stunning win in Hungary and the expected continuation of being paired with double world champion Alonso was blown away by the revelation of the 41-year-old jumping over to Aston Martin for 2023.
Alpine's driver situation became further muddled with the Piastri situation, which is yet to resolve itself.
Over the course of the 2022 season so far, Ocon has scored points in 10 of the 13 races, with a best of fifth in Austria, while Alonso has suffered the brunt of the unreliability within the team, as well as falling foul of the stewards on a number of occasions.
Ocon has shown a maturity that comes with a age and experience and is certainly ready to be top dog at Alpine in the post-Alonso age.
I think the French-driver will continue to deliver and it will be likely that the team will position themselves around Ocon to maximise his confidence and input to the 2023 machine, ready to try and move clear at the head of the midfield and chase down the top three teams.
Ferrari get their act together
Ferrari started 2022 brilliantly and hope was held by all, except perhaps Red Bull and Max Verstappen fans, that the Scuderia had aced the new cars enough to challenge for the championship.
While that much has been true, the old problems of strategical error, unreliability and mistakes by the drivers have torpedoed the Italian team's hopes of either championship, with Mercedes closer to Ferrari, despite all their issues, than the scarlet cars are to title leaders Red Bull.
The ability and relative performance levels of drivers Carlos Sainz and, especially, Charles Leclerc are being undermined heavily by the apparent lack of strength in the top management at Ferrari.
Team Principal Mattia Binotto has not pinned blame on any one person or area of the team, which is definitely a forward step considering Ferrari's history of scapegoating. But the Swiss-born Italian has also not seemed to accept the need for change, as their title opportunity evaporates faster than a puddle in the British heatwave this summer.
Ferrari arguably have the fastest car on the track this season, but have squandered it in the races since Leclerc's dominant win in Melbourne.
It is my hope that the Maranello squad have looked over their processes in the summer break and come back with a more decisive edge to their decision making, both pre-race and on-the-fly as the race unfolds.
Positive Results for Sebastian Vettel
Ahead of the Hungarian Grand Prix, quadruple world champion Sebastian Vettel announced his retirement from Formula 1 at the end of the 2022 season.
The recent and final years of the German's career have not been as fruitful as his early days but hopefully he can finish his career on something of a high.
The AMR22 is not the car Vettel would have hoped, the team sitting ninth in the Constructors' championship with just 20-points and a best result of sixth in Azerbaijan for Vettel.
In a perfect world, Vettel, winner of 53 F1 Grand Prix, would make one final podium appearance before his bowing out of the sport, his last podium coming in Baku last year, although he was on the rostrum in Hungary before being disqualified from that event.
Maybe then, a reasonable expectation is a couple of eye-catching drives to strong points finishes, however that underlines how 35-year-old Vettel's stock has fallen since his fourth title triumph in 2013.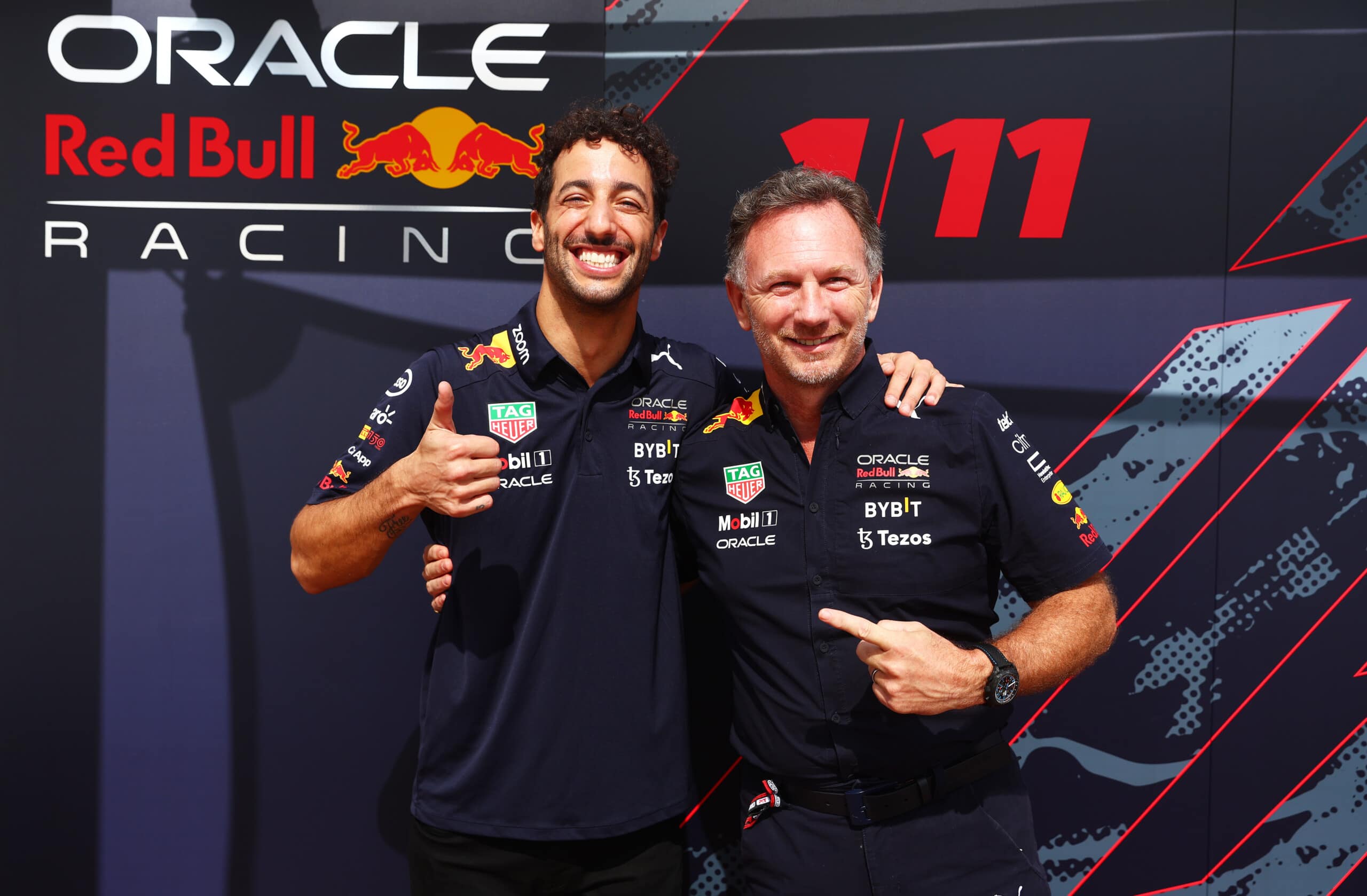 Oracle Red Bull Racing today confirms Daniel Ricciardo will return ...