After going wheel to wheel with Charles Leclerc over the final laps of the Saudi Arabian Grand Prix, Max Verstappen finally got his nose ahead with a late overtake, and held on to claim his first win of the 2022 F1 season. 
'It was really tough, but a good race. I mean, we were battling hard at the front and yeah, we just tried to play the long game. They were really quick through corners, we were quick on the straight. But the tyres were wearing out quite quick around here.
'You could see at the end, I think we had a little bit more pace, so I just tried to get by. It wasn't easy, playing smart tricks in the last corner, but eventually I managed to get ahead. But even after that he [Leclerc] was constantly in the DRS and then with the yellow flags in the last lap, just knowing how much you should lift, whether it was allowed or not. It was tough but I'm really happy that we finally kickstarted the season,' said Verstappen.
With regulation changes introduced for 2022 to introduce closer racing and give drivers cleaner air to follow in, fans were treated to their first real taste of a tight tussle for the race lead, with the lead changing hands several times as the laps counted down.
'Qualifying laps! It was tough. I didn't really feel that happy on the medium. All the time, when you would get close to the car ahead the tyres would die. So there was not much racing going on there.
'So it was a little bit frustrating to just sit there and wait for the right lap to pit so you could go onto the other tyres, because as soon as we went on to the hard tyre I had a much better feeling. So then I of course tried to stay close with Charles after the safety car restart and, yeah, I was just trying to keep the gap more or less the same.
'And that was basically it, you know, just trying to match the lap times, trying to get a bit closer, then he was pulling away a bit. I got a bit closer again. And yeah, then of course, we had the VSC at the end.
'And then it's always a bit of a question mark, you know, what's going to happen after with the tyres, of course, because they cooled down a lot, but it seemed like we had quite a good first few laps on that restart.
'I had a good feeling with the car and the tyres were still only holding on quite well through the high speed. And of course, I then had a few good opportunities, but Charles really played it smart in the last corner.
'So it was not easy for me to actually get by. And of course then I had to line myself up again to have another go at it. And eventually I had the go and I got ahead but then once I was ahead it was really like four laps flat out trying to stay ahead because Charles was consistently in my DRS. So yeah, it was quite tough out there.'
With the issue of following in dirty air cleaned up, attention now turns to the tyres, as it was quite difficult for Verstappen to get close to Leclerc while on the medium compound.
'I think the cars are better to follow, it just depends on the tyre. Like the hard tyre was capable of following closer, the other compounds – and this depends on the track – but they just fall apart.
'Like, as soon as you follow for a few laps, they just open up. And I think it's also a little bit of a thing … probably tyres, but also the weight of the car pushes you over the tyre edge. So, this is something we need to look at for the future.
'We improved the following with the cars, and I think probably the racing, but if the tyres don't let you, due to whatever reason, if it's the weight of the actual car, that's a bit of a shame, because in the first stint, I think we could have actually raced a bit more if the tyre didn't die. Because everyone was basically struggling with the same thing at one point. So yeah, we need to understand that a bit better.'
After a DNF in Bahrain, Saudi Arabia was a welcome result for Verstappen, who stopped short of saying the team have made a big leap forward in performance. 
'It's difficult to say if it's a step forward, but I think we are always learning and of course every track is different as well, in terms of what you need from the car, so still a lot of things to look at.
'Clearly yesterday I wasn't very happy and also in the first stint it still wasn't how I would have liked it to be. But having said that, I think in general, being the car following you just open up your tyre a bit sooner and it's not great out there.
'As soon as I felt like I was in clean air, the car actually did change a bit in balance. So yeah, we'll have a look but still quite a few things of course to get on top of because it's a very new car still,' concluded the reigning World Champion.
Max Verstappen Wins Thrilling Saudi Grand Prix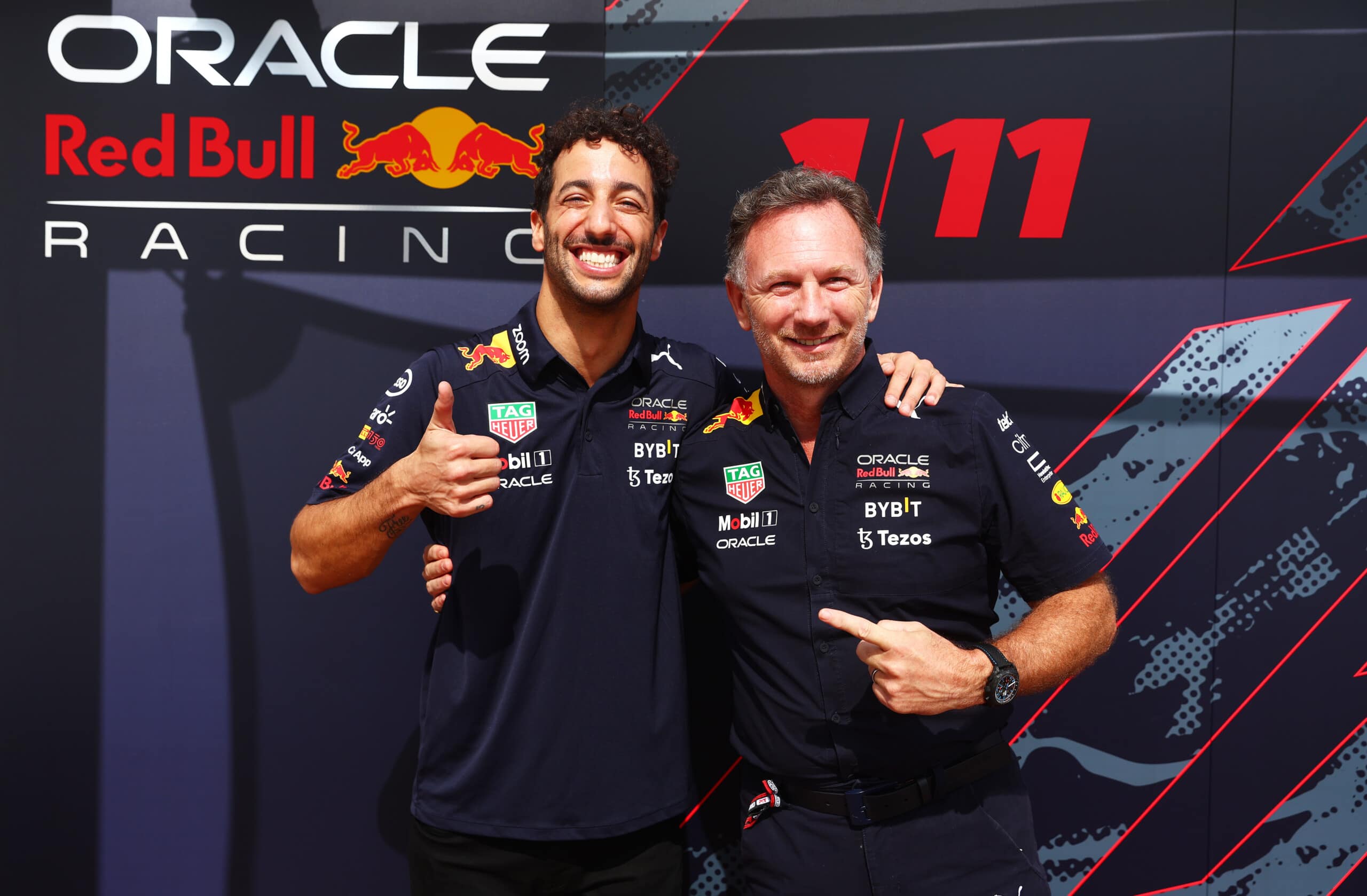 Oracle Red Bull Racing today confirms Daniel Ricciardo will return ...