Verstappen grabs last-gasp pole
Both Mercedes drivers crashed out of qualifying for the Austrian Grand Prix Sprint race as Max Verstappen took a last-gasp pole position.
The Dutchman appeared to have lost out to the Ferrari's of Charles Leclerc and Carlos Sainz edged ahead, but the World Champion delighted the Dutch fans in attendance with a 1:04.984, 0.029s ahead of Leclerc.
The top three drivers were covered by less than a tenth of a second, with Sainz just 0.082s off pole, with the second Red Bull of Sergio Perez almost half a second back in fourth.
A breathless finale came after two red flags in Q3 as both Lewis Hamilton and George Russell crashed their Mercedes cars, on a day when they could have been on the front row.
Hamilton it seemed caught an unexpected gust of wind in Turn 7, sending him skidding across the gravel and into the barrier.
With Hamilton consigned to 10th for the Sprint, Russell headed out to rescue the situation for the team but he too lost control of his car, this time at the final corner, and backed his car into the wall.
The result of Saturday's Sprint race will set the starting order for Sunday's Grand Prix.
Story of the session
Q1
Qualifying for Round 11 of the FIA Formula 1 World Championship commenced with bright sunshine, with Max Verstappen chasing a third straight pole position around the Red Bull Ring.
Ferrari headed out early on, using scrubbed soft tyres, with Carlos Sainz beating Charles Leclerc's time but shortly had his lap time deleted for exceeding track limits at Turn 10.
Max Verstappen set 1:06.097 to pip his teammate, but he had his time removed after running wide at Turn 10.
Lewis Hamilton was next to set a fastest time, but unlike Sainz and Verstappen before him, left plenty of margin in Turn 10, while George Russell slotted into 5th.
The lap time deletion continued as Kevin Magnussen, Lance Stroll and Alex Albon both lost times that had them well into the top 10, Albon's deletion particularly costly as the lap would have left him 10th fastest.
Verstappen was the first man into the 1m 5s, but Sainz and Leclerc on new tyres went quicker still in the Ferrari's.
McLaren, who had struggled in Practice, were hovering around the knockout zone with 4 minutes to go. Lando Norris responded by going eighth fastest, leaving teammate Daniel Ricciardo on the bubble in 15th.
The Haas cars were handling nicely, with Mick Schumacher ninth and Magnussen 11th as the session entered the final minute.
The final laps came and Zhou Guanyu was the first confirmed elimination and Daniel Ricciardo was the big shock, joining both Aston Martin's, Zhou and Nicholas Latifi in the elimination zone.
Alex Albon and Pierre Gasly scraped through into Q2 as Vettel's final lap was removed, leaving him 20th and last.
Q2
Ferrari topped Q1 ahead of Verstappen's Red Bull, could they continue to match and beat the championship leader?
McLaren driver Norris made an error on his first Q2 lap, locking up in the downhill braking zone for Turn 4, running very wide.
Leclerc swept by the McLaren to set the first meaningful lap but was bettered by Verstappen, though Lewis Hamilton beat the pair of them in his Mercedes, teammate George Russell in third place.
Were Mercedes about to spring a surprise?
Yuki Tsunoda was the first to lose a Q2 lap time in his AlphaTauri, as Albon got into the top 10 with his first run.
Lando Norris made another mistake, running off at Turn 1 as Hamilton improved his fastest time on a second lap, with 1:05.475.
Magnussen and Schumacher in the Haas cars went ahead of Esteban Ocon's Alpine, with Schumacher pipping the Dane to P6, with Sergio Perez in the Red Bull unable to beat them, who then lost his lap, dropping him to 10th.
Fernando Alonso put the Mexican under more pressure, demoting the three-time race winner to 11th by jumping up to sixth himself.
Ferrari ran again and Leclerc moved to the top of the time sheets as Norris made another error on his latest lap, running wide between turns 6 and 7, resulting him losing his time.
The final laps to make Q3 arrived and Alex Albon in the Williams pushed the boundaries of the track to go up to 10th.
Sergio Perez, the man under Perez, jumped from 13th to sixth, bumping out Gasly, who had demoted Albon.
Norris, who said he was struggling with braking, made yet another mistake in a scrappy session, joining Gasly, Albon, Bottas and Tsunoda in the Q2 elimination zone.
A late lap from Verstappen put him second to Leclerc, with the Monegasque, Dutchman and Hamilton covered by less than two-tenths, setting the scene for an intense Q3 battle.
Q3
The final section of qualifying comprised of the Ferrari's, Red Bull's, Mercedes', Haas' and Alpine's but the teams waited almost three minutes before venturing out onto the 2.6-mile Red Bull Ring circuit.
Hamilton set a fast sector 1 but then backed out, as Russell set the first time, which Leclerc beat with purple middle and final sectors.
Verstappen edged Leclerc by a tenth with Sainz and Perez third and fourth fastest.
"We can definitely be happy with the result today. On the final lap in Q3, turn one and three weren't the best so I knew the rest of the lap needed to be spot on. I was down on the first and second sector so pushed hard in the final and it paid off. It was a good session and of course it's good to be close to the Ferraris again. This season so far, the car has been good in the race compared to qualifying where we've been weaker, so hopefully tomorrow we can be competitive in the sprint," said Verstappen.
Lewis Hamilton then did something he very rarely does and crashed out of qualifying, sliding off at Turn 7, which brought out the red flag.
Hamilton's crash consigned him to 10th place for the Sprint race on Saturday.
The session restarted with 5 minutes left, George Russell and Fernando Alonso heading straight out.
Russell capped off Mercedes afternoon as he too found the wall, spinning off and backing his Silver Arrow into the barrier and bringing out a second red flag.
After another short delay, all eight remaining cars entered the track for the final laps to sort out the starting places for the Sprint.
Ferrari appeared to have locked out the front row as Leclerc went fastest, but Verstappen despite not bettering his own times in the first two sectors, snatched the pole in the final sector by 0.029s, sending the Dutch fans into raptures.
Ocon was best of the rest, ahead of Magnussen, Schumacher, Alonso and Hamilton.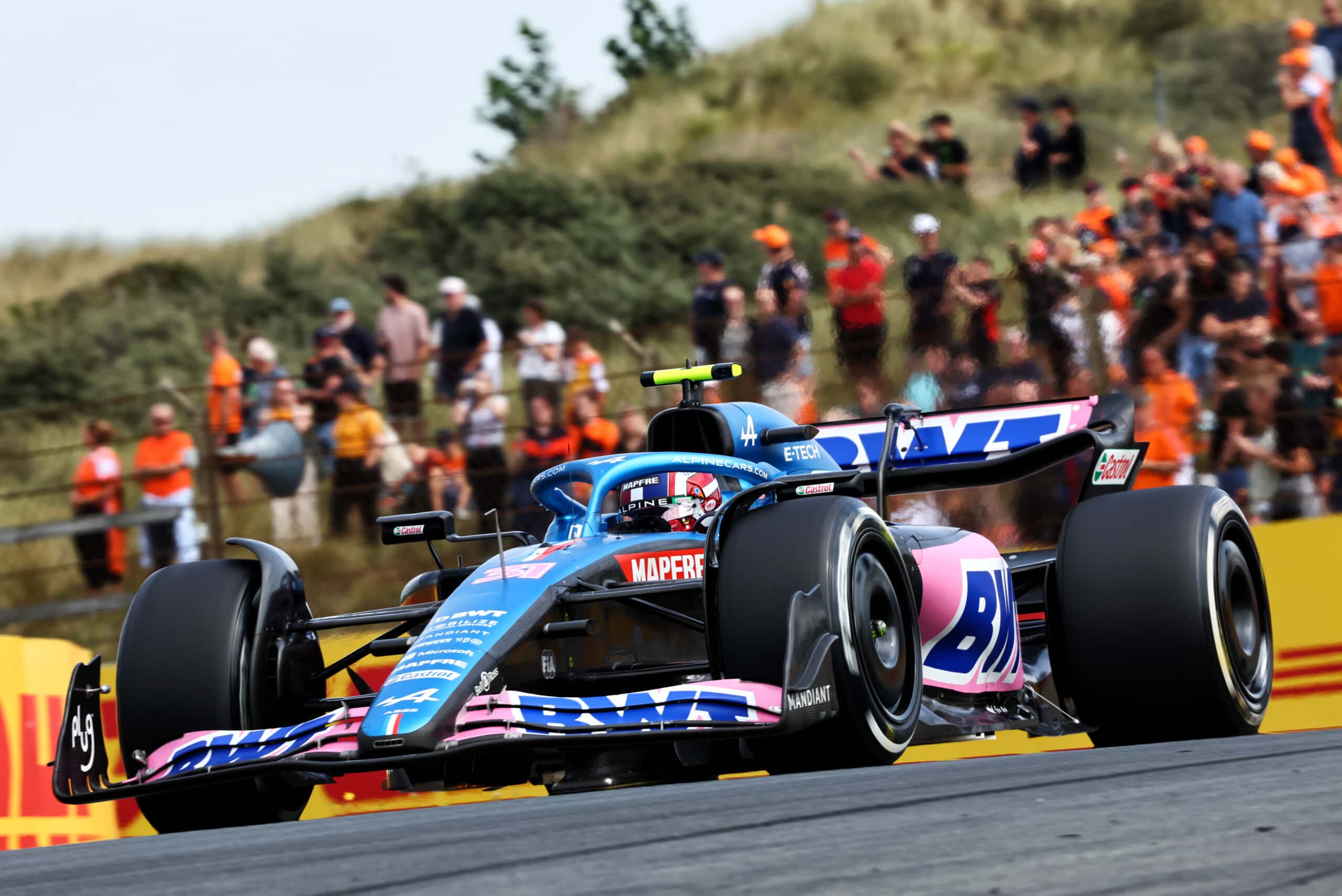 Alpine driver Esteban Ocon described racing in Singapore as a ...