After taking his first win of the 2021 FORMULA 1 season at Imola, Max Verstappen is readying himself for a season-long championship battle with Lewis Hamilton. 
After making a fast start in Bahrain things didn't quite go the Dutchman's way as he had to settle for second, but there was to be no playing second-fiddle today, as Verstappen broke through for his first victory in Italy.
Max Verstappen Secures Win Despite Shaky Restart
Max Verstappen had been imperious throughout the race, brilliantly passing Lewis Hamilton on the opening lap and immediately building a big lead.
However, as the race was about to be re-started following the red flag incident, Verstappen had a nervy moment as he was trying to get heat into his tyres.
'It was very challenging out there, especially in the beginning. It was very hard to stay on track to be honest; it was very slippery. And then of course with the tyres degrading in the wet and then choosing the right moment to go onto slicks is never easy. I think we managed everything well. And then a little moment on my restart when I was just trying to warm it with throttle, but luckily we didn't spin. But everything else went really well today, so of course very happy with that,' said Verstappen.
First Corner The Key
Max Verstappen has never been shy when it comes to being aggressive, and even in tricky conditions today he was keen to make the most of his fast start and push the envelope.
'It's never easy a race like this; it's quite stressful out there to make the right calls. The key, I think, was to have that good launch, which was also a bit of a surprise to me! After last year, where we always struggled in the wet, over the winter and the beginning of the year we definitely made some improvements with that and today it was very good. But then after that, to make the right call from intermediate to slick tyres was not easy, because I saw a few guys ahead of me on slicks tyres but they were struggling a lot. But even on the intermediates… they were finished, so to keep on going was difficult, a lot of sliding around, so if you would go a few centimetres off line you could lose the car, so not easy out there. But once we put on the slicks all fine. But then of course we had the red flag, with so much debris into Turn 2, so basically the advantage was gone. And then I had my moment on the restart. That was a big one. Some secret tyre warming going on, but after that it was fine.'
'You always try to make the best start possible and once I saw the launch was very good of course you go for it. But of course it was very important around here.'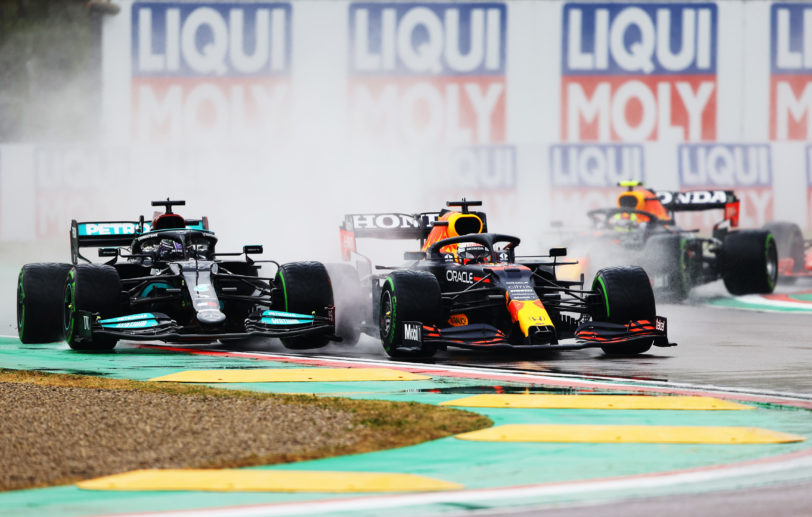 Max Verstappen Relishing The Battle
After not quite having the car needed to go toe-to-toe with Mercedes in recent years, Max Verstappen is relishing the opportunity to take the bull by the horns in 2021. 
'It's a very long season. We just have to keep on working very hard. I'm very happy with the result, of course, today but that's today. I'm of course going to be happy about today, but tomorrow, we start again. We have to keep on improving because there's still a lot of work to be able to keep doing this the whole season.'
'If I would be driving P10, it's not enjoyable. It's great to be fighting against Lewis, Mercedes who, I think, as a team, they have been so dominant and they're very difficult to beat. So to be able to sit here now, now two races in a row, we were very, very competitive, that's very promising but no guarantees,' concluded the race-winner.
Ferrari's Charles Leclerc took a sensational pole position in Spain, ...