On the day he was crowned World Champion for a record-equaling seventh time, Lewis Hamilton had a simple message: Always believe in yourself, and continue to dream.
In a year that has seen unprecedented challenges for people across the globe, many people have been looking to leaders to inspire them to keep pushing, something Hamilton is all too aware of as he continues to inspire millions.
Crowning Achievement One Of Lewis Hamilton's Best
After being accustomed to starting on the front row of the grid, a tricky qualifying session saw Hamilton start from the third row, setting up a mouth-watering battle with the likes of Max Vertappen and the two Racing Point drivers ahead of him.
In the end, it was the experience gained on the road to seven titles that saw Hamilton not just claw back a deficit, but go on to record arguably one of the best wins of his F1 career.
'I'm a bit lost for words. Naturally, I have to start with saying such a huge thank you to all the guys here and all the guys back at the factory, both our factories, and all our partners for enabling us and giving us this opportunity.
'I wouldn't be able to do this if I didn't join this team and the journey we have been on has been monumental. I'm so proud of them. I want to also say a big thank you to team LH for sticking with me all these years and then to my family.
'We dreamed of this when were young, when I was young, when we were watching the grands prix and this is way, way beyond our dreams.
'It's so important for kids out there to hopefully see this and know that… don't listen to anybody that tells you you can't achieve something. Dream the impossible and speak it into existence. You've got to work for it. You've got to chase it and you've got to never give up and never doubt yourself.
'We knew coming here it was already such a difficult weekend. We weren't massively disappointed with our qualifying position. We knew that we were kind of on the back foot and we did the best we could.
'But then we learned a lot. This is what we do as a team. There is no blame game. We hash it out. We do hash it out. We continue to try to improve our communication so that we can make moves forwards. We don't always get everything perfect.
'We had that small moment at the beginning of the race with the new tyres and then I couldn't get past Seb for a while. At that point I could see Albon pulling away and I though "Jesus, this race is falling through my fingers". But I just kept my head down and kept believing that I would eventually just pick up pace of some sort at some stage. And that's what I did.
'There was a point at which Seb was pulling away from me and I couldn't figure out at the time what it was. I was checking my temperatures. I didn't know if it was because the tyres were overheating or they were too cold. They went through a drier patch.
'I went through the real rough phase of the graining on the tyres and then it started to come back, the grip started to come back. The track was drying in some areas and I was improving my driving lines the whole way through the race and I started to pick up pace.
'Then Seb pitted and for me I knew that wasn't the right choice personally and so I decided to stay out and as the tyres got more and more slick that's exactly what you needed. Fortunately that intermediate tyre holds temperature. If I went out on new slicks I wouldn't have made it round.
'I lost the world championship in the pit lane and I learned my lesson from 2007 that's for sure. I felt like I really had it under control and the grip was feeling good and I was going to deal with the rain if it dropped… oh wow.'
Here you can watch Hamilton deliver a powerful message at the conclusion of the 2020 Turkish Grand Prix.
How Does Turkey Result Rank For Lewis Hamilton?
With many pundits and fans alike feeling the result was one of Hamilton's best wins of his career, the 7-Time World Champion didn't see it that way, as every race feels unique to him.
'I've been racing a long time, so it's difficult to compare! I would say that generally every race fells like it's the first. It's unique. I don't compare any race to any other race.
'I'm always in a different place in life, so I like to say they are all unique in their own way. I think for sure, this one felt like a very, very complete day on track, under the toughest circumstances.
'With this track and the new surface here, you see people who are professional drives, incredible drivers, you saw them losing control today, that's how slippery and difficult the conditions were.
'This was a big test for me because you know, in the rain, you know what you normally do in the rain, but this is different, in the sense that this is ice!
'I don't remember having an ice race before. I feel like I achieved something different today. For sure I know that not everyone expected that. I definitely didn't expect that, but I was hopeful that I was going to move forwards.
'I got a good start, lost position on the first lap with those new tyres, but the more I race, the more I feel like I'm getting better. I think I'm understanding myself more. I know what I want from the car. I know what buttons to push. During a race I'm constantly tweaking my driving style.
'It's like trying to find the right numbers to put together to be able to get you through the corners in a way that is faster than everyone else. That mathematics, that algorithm never seems to stop. It's always a challenge from lap to lap and I think today I was really mastering it, at least from half way in the race.'
Lewis Hamilton Made Call To Stay On Old Tyres
With the race coming to him in the second half, Lewis Hamilton was able to use his experience to make the call to stay out on old tyres – a move that paid off with the race win.
'Obviously I got a really good start and then I lost position. I avoided getting a penalty going around the bollard. I struggled behind everybody. I know everyone was struggling but I was struggling behind that group of cars that was ahead of me.
'Then, we saw people even like Max, who is great in the wet, spin and lose control and have to do extra stops. I was behind Seb and for a moment I was thinking I might get past him but then me and him were having this battle and it was so frustrating not to be able to get past him.
'But also I was thinking, "you know what, Seb has had the toughest year, I would say arguably perhaps in his whole career" and I just thought he was driving so well, but at the same time I was like, "he's doing so good, but dammit, he's in the way, the guys up ahead are getting away!"
'And then he started pulling away from me and I think at that point I could definitely see the win seeping away. I looked at my dash and I was on lap 30 or something like that and then I was like, "no, there's a long, long way to go and anything can happen, so just keep your head down, keep going, keep pushing".
'All of a sudden I found a few things that improved the handling of the car and I started getting around in much quicker laps and I started to close on Seb, and then he pitted.
'And I knew, for me, I was like: "There's no way you guys are pulling me in. These tyres aren't done and the track is in this progressive state and it's not going to dry up fully by the end of the race." So I knew all these things from all these experiences I've ever had so I was able to use history, to use past experience to deliever those laps I was doing afterwards.
'And as soon as I could see the Racing Point's ahead I knew that it's game time. You've just got to keep your head, keep your cool and don't make mistakes.'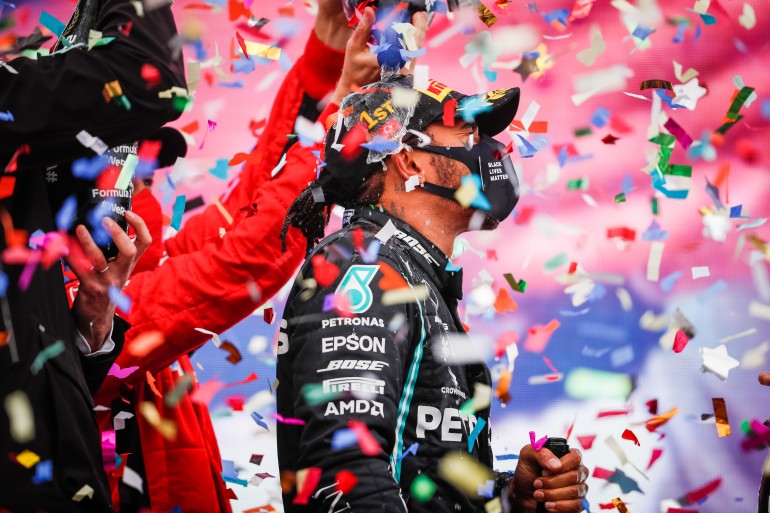 Lewis Hamilton Still Blazing A Trail
With the worlds microscope on racism in 2020, Lewis Hamilton has led the charge for greater inclusivity, highlighting systemic issues in the sport as well as leading the #WeRaceAsOne campaign.
'It's obviously no secret that I've really walked this sport alone: the only black person here, or the only person of colour here and it's a really interesting point.
'The fact is that as I'm bi-racial, whilst it's the term of the black driver here, I'm bi-racial and I think this colourism that perhaps people should perhaps read about.
'I think that, hopefully, shows, when I was younger, I didn't have anybody in the sport that looked like me and, so, you know, it was easy to think that that's not possible to get there, because nobody of your colour has ever been there, you don't see anybody on TV, any black people on TV that are in Formula 1.
'I think hopefully this sends a message to the kids that are watching. Hopefully they've seen that performance today and hopefully they can see that it doesn't matter where you come from, I think whatever your background, I think it's so important to you to dream big.
'And if you are looking at places, industries that you don't see someone of the same background as you, or the same ethnicity as you, or with the same religion, create your own path. Because that's what we did. That's what I've been able to do. And it's been so tough. Tough doesn't even describe how hard it's been. I hope that sends that message. That's the most important message for kids: to dream as big as possible and not give up.'
Hamilton Emotional After Crossing The Line
Lewis Hamilton often wears his heart on his sleeve, especially when discussing the journey he and his family have gone through to get to seven titles.
That emotion poured out as the Brit took the chequered flag in Turkey.
'Very rarely do I ever lose control of my emotions and I think those last few laps, I remember those last few laps and obviously we're having a discussion whether we're going to pit.
'I was just telling myself, 'keep it together Lewis, you've got this'. I could feel it getting closer and also knowing that, if I finish where I'm finishing right now, that I've got this championship.
'So, all of these emotions were running through me, and I was trying to stop it because I was thinking about my whole career. From when I was five, when I drove in the go-kart, from when we've won our first British Championship, driving home with my Dad, singing 'We Are the Champions', and dreaming of being here – it is right there, minutes away and that was a lot to take in.
'When I came across the line, it really hit me and I just burst into tears, I think. That whole in-lap. And then I really just couldn't get out of the car because I just couldn't believe it.
'I've been very strong but I couldn't have done it without the great man behind me, my Dad, who, on the days when I didn't think I was good enough, or wasn't going to do well enough, he stood me up and kept me going.
'So, I was thinking of him, I was thinking of my Mum, I was thinking of my step-mother Linda, my brother, who all stood by me through thick and thin. I didn't want the visor to come up and for people to see tears flowing and all of that stuff – because I had always said that I would never let you see me cry. I remember watching other drivers in the past crying and I was like" 'I am not going to do that' – but it was too much.'
Race Win Silences Critics
Many critics point to Hamilton always having the best car, always starting at the front, and not having to overtake.
All of these arguments flew out the window as Hamilton won a race that wasn't his to win.
'I want more of these weekends. More tricky conditions like this. The more opportunities like this, the more I'm able to show what I'm able to do. And I think today hopefully you can see… I think I deserve my respect.
'I think I have that with my peers. They will know how hard today is, particularly that it is not a car thing.
'However, I couldn't have done this without that amazing group of people behind me – but there is another great driver who is alongside me, who has the same car who obviously didn't finish where I finished.
'I do notice that there are these interesting comments from past drivers, particularly. I really, really promise you, and hope that I stand by my word, when I stop in ten, 20 years from now and look back, I want to be embracing and encouraging the next youngsters that are here, whether it's Lando, whether its George, whoever it may be, whether it's Max.
'I know how hard it is to do the job and I know how this world works. Of course you have to have a good team and of course you have to have a great car. There is no driver that's ever won – really won – the Championship in the past without it.
'It goes back the same all the way down to karting. You've got to have the right equipment. I remember my first championship. I raced and the kid that won was on rocket engines, which Jenson Button's Dad had tuned. Those engines were real rockets. Compared to the cheap, crappy engine that I had which was fifth hand, there was no way I could keep up with these kids, and I remember that one weekend with Kim Bolton in 1992, 1993, and he was moving on to the next class, he was selling on these engines. I remember my Dad had to re-mortage the house to get this £2000 engine – but what we did that day was me and this kid, who'd been winning everything, we put his other engine that I was going to buy, that we were looking to buy, in my car and I was ahead of him all the time on track.
'So, of course, you've got to have the equipment, of course you've got to have it and that's something that will always be in this sport. But then it's also what you do with it that really also counts – and hopefully you can see that today,' concluded the 7-Time World Champion.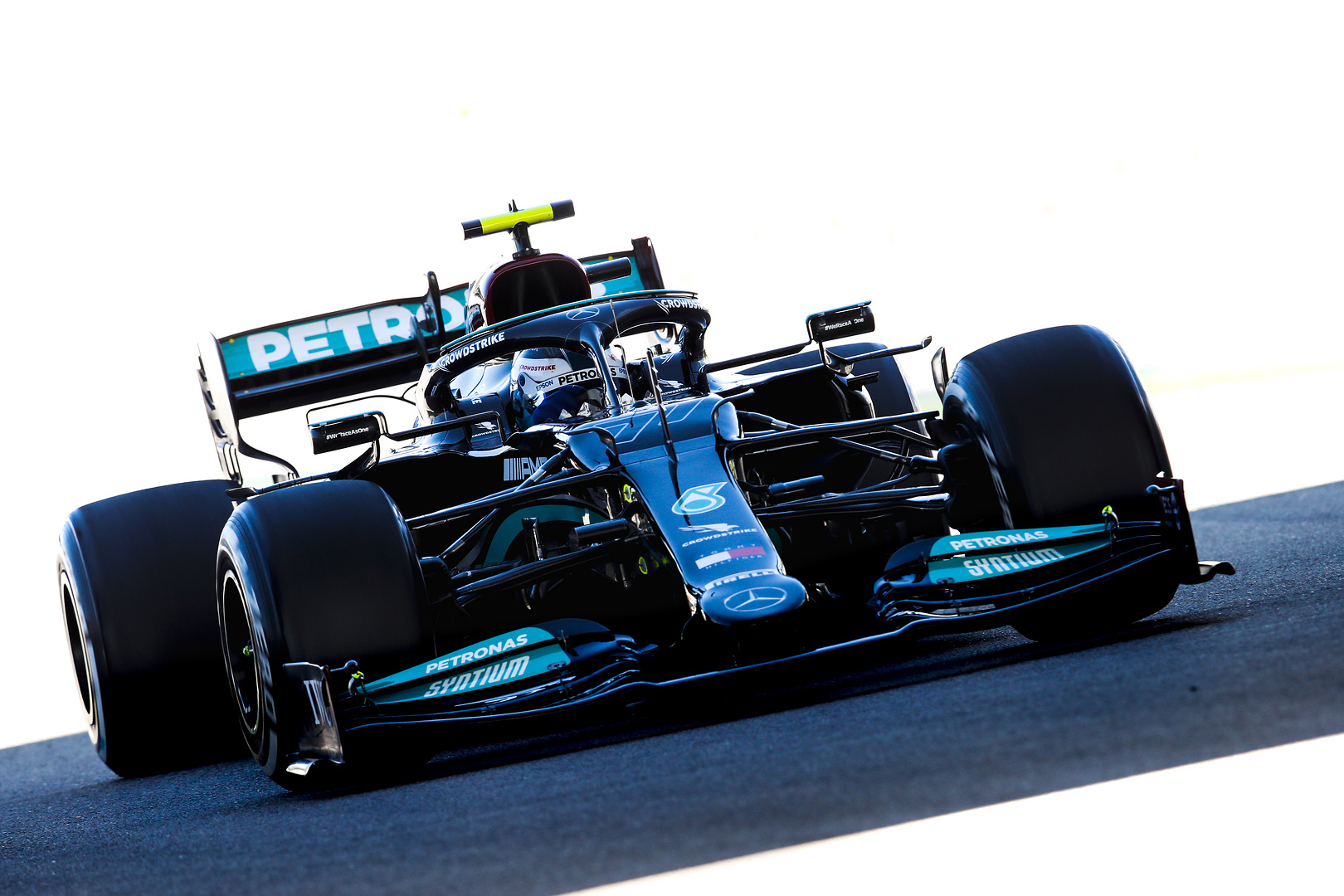 It was a strong Friday showing for the Mercedes-AMG Petronas ...