It's one of the many reasons that make Formula 1 the adrenaline-pumping motorsport giant that it is today: The deafening growl of the cars as they race past you at mind-blowing speeds can keep you, not just at the edge of your seat, but even out of it.
If you're one of the lucky ones to see Lewis Hamilton's first win at the 2007 Canadian Grand Prix or Michael Schumacher's last win at the 2006 Chinese Grand Prix in person, know that you witnessed history-making scenes in Formula 1. You haven't really had it all if you haven't seen these cars in action live!
To achieve as much power as they can, Formula 1 cars have to rev as high as possible. This activity creates that sound we all love so much about car racing. Indeed, engineers take their time to study and put into action any variable that they have in their arsenal to increase power. One of these variables is to push the revolutions, making the Formula 1 power units powerful.
There's no disputing that a Formula 1 power unit is a mechanical masterpiece. With the specifications of these Formula 1 engines, you are looking at a beast! But these monstrous tendencies are often limited by FIA regulations which is a shame. Formula 1 used to deploy engines with 12 cylinders, then 8, and then finally the V6 engines of today. This continuous downgrade enraged Formula 1 fans as FIA also initially limited these engines to 12,000rpm. To answer to demand (more like to quell the rage of the fans), FIA increased these numbers to 15,000 in 2014.
How high can an F1 engine rev?
There can be two answers to how high can an F1 engine rev: The allowed limit according to FIA and the actual limit of the power units themselves.
These days, Formula 1 cars can only hit no more than 15,000rpm thanks to the limitations Formula 1 imposes. But how high can F1 engines really go?
If you've been a fan of Formula 1 for years, or you're someone who can sit down and find out everything there is about a sport in just one night, you probably have heard of the wonders Cosworth achieved during its stint in the Formula 1. Whoever you are, looking back at the colourful history of Formula 1, you will find the name Cosworth somewhere. It is that big of a deal.
Cosworth manufactured engines for Formula One back in the '90s. One of their most famous developments was a one-cylinder engine they built in 1998 and 1999—a test build for a screaming F1 V10.
As you may already know, Cosworth's 3.0-litre V10 Formula One engines had some of the most beautiful sounds of all time, but their design didn't begin with all ten cylinders placed in one engine. It all began with this amazing one-cylinder test mule.
You see, no company will want to waste millions of dollars to test things like piston rings, cams and head design. Cosworth was one of those. They didn't want to shell out for ten full cylinders every time so they built just 1/10th of its TJ engine.
Methods like this aren't unorthodox and Cosworth isn't new to doing shortcuts like this and they definitely still do it to this day. In fact, both the 6.5-litre Aston Martin Valkyrie V12 and the 3.9-litre Gordon Murray T.50 V12 started as three-cylinder test mules. These mules, which rev at the same rate as the full engines, guarantee that each component of the engine is in working order before the full version is built.
Anyway, there it was—a one-cylinder test mule. The test engine was more robust than the TJ V10 it grew into, but the essential principles were still present. It revved up to the same 20,000 RPMs as the race engine and produced one-tenth the power. Perhaps the most intriguing aspect of these Cosworth test mules is how accurate the horsepower ratings for each piece are in relation to the overall engine size. The single-cylinder mule for the 900-hp F1 V10 was 90 hp, and the three-cylinder quarter of the roughly 1,000-hp Valkyrie V12 is 250 hp.
With these numbers, it is safe to assume that if Formula 1 lifts off the limitations on RPM, engine manufacturers can surely push past the 15,000rpm mark we have today.
Why do Formula 1 cars rev so high?
If you want a higher power output from these Formula 1 cars, you need to rev like a maniac. By Formula 1 safety standards, at least.
There are two sources that internal combustion engines of the hybrid era use to produce power like no other.
The first is traditional, producing power from the V5 1.6-litre turbocharged hybrid engines. Through combustion at the top of the cylinders, the pistons turn the crankshaft when forced down. The main shaft inside the gearbox will turn as a result of this and the energy is pumped down the driveshaft and all the way to the wheels and tyres.
The second involves two kinds of motors (MGU-K and MGU-H). Through these motors, electrical energy is harvested from the breaking and exhaust.
MGU-H
The MGU-H connects to the turbocharger's turbine shaft, which transforms heat energy from exhaust gases into electricity. Energy is sent to the MGU-K unit for direct use or to the battery for later use if needed.
Just last year, Formula 1 announced that it has plans to completely drop the MGU-H in 2026 engine regulations. The FIA and Formula One obviously want to place more focus on the KERS systems, which capture heat energy that would otherwise be lost during braking and use it to boost power. It appears that the sport is attempting to encourage more passing by requiring drivers to depend more heavily on the electric boost.
MGU-K
The MGU-K is mounted on the crankshaft. The MGU-K functions as a generator, reclaiming some of the kinetic energy lost during braking.
It shifts to an electric motor as needed, using the energy previously stored in the battery as well as the energy provided by the second portion, the MGU-H. The quantity of power accessible from these two sections is limited to 120 kW by rules.
How does an F1 engine produce so many revs?
The crankshaft, gearbox, and drive shafts all work together to move pistons up and down in the cylinders of an engine, generating power. The energy is transferred to the road through the wheels, and the Formula One car moves.
Lower piston speeds mean less stress on the connecting rods and crankshafts, as well as a greater ability to burn less fuel. Engines can be significantly louder as a result of this. Formula 1 vehicles frequently have a large bore/stroke ratio, resulting in high engine output (and thus more power) as well as fast engine speeds.
It is typical for Formula 1 cars to have a 2.5 bore-to-stroke ratio. In simple terms, the width of the piston is 2.5x larger than the distance it travels through the cylinder. If the piston chamber is wider in this regard, then larger valves are required. This significantly increases airflow and therefore improves combustion.
What is torque and why is it important in Formula 1?
Without being too technical, power is the quantity of energy an engine can transfer over time, while torque refers to its load-carrying capacity. And the importance of torque depends on your need.
Both power and torque are required for acceleration. Torque is the rate at which an engine can produce power in simple terms. Remember that acceleration is the rate at which speed varies, therefore you'll need a lot of power to keep up with the resistance (road friction, air friction and friction in the moving parts of the car engine and transmission as well).
The power band of a car is normally defined as the RPM range between maximum torque and maximum power; the lower end of this range is where you would cruise, and the higher end is where you would race.
How much horsepower does an F1 car make?
Last season's engines were estimated to have 1050 horsepower. Some of that energy is stored in the electrical unit. As the car produces power and speed, the energy is stored in this module. This is then used during the race whenever the racers need a boost or extra power to slow the car down. It isn't quite as good as DRS, but it comes close.
How High Can An F1 Engine Rev? – The Conclusion
F1 engines today spin at 15,000rpm. There was a time though when Formula 1 engines reached 20,000rpm in the past, producing the heart-stopping and almost violent screech that old and new fans alike love about the motorsport.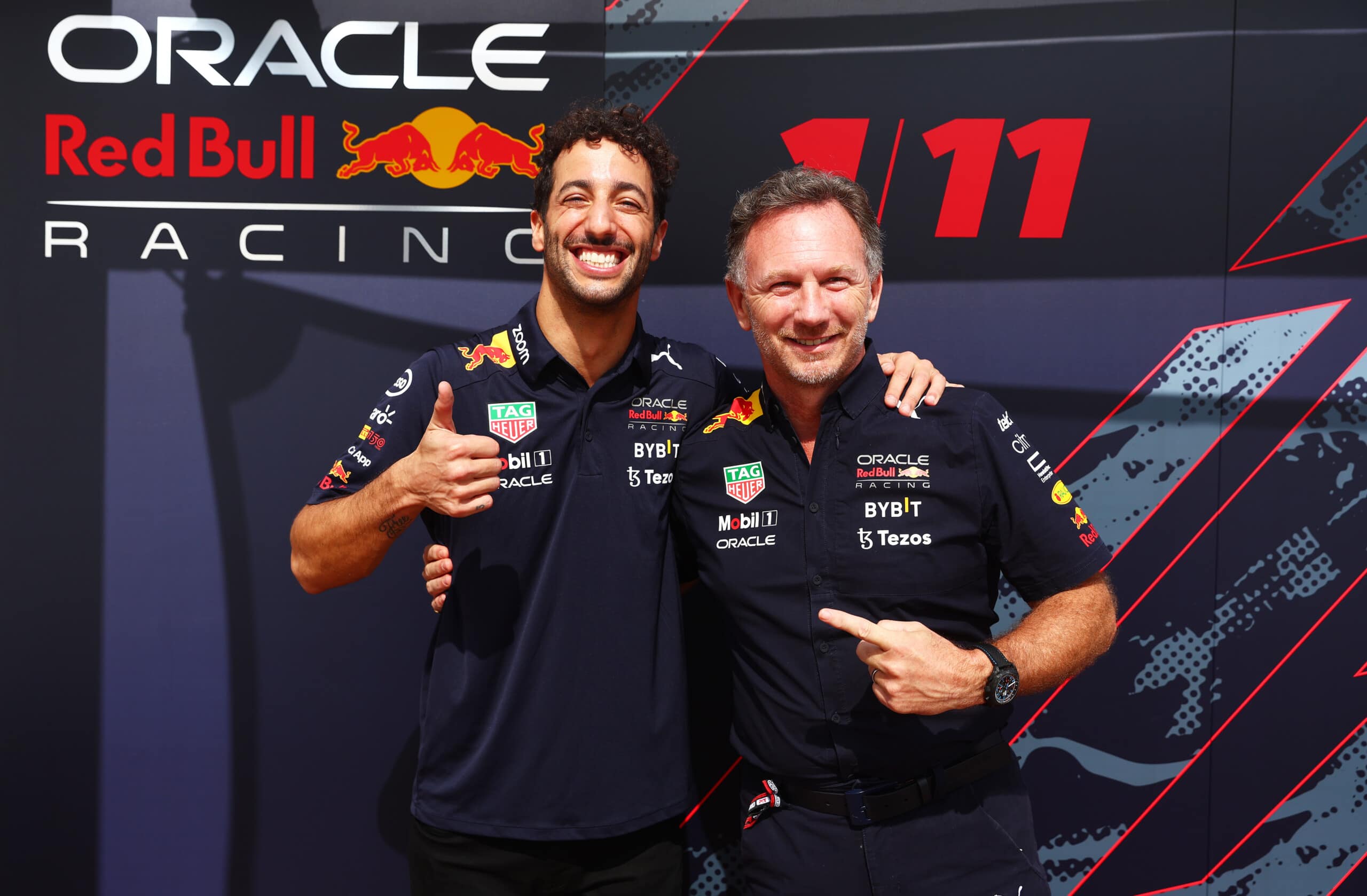 Oracle Red Bull Racing today confirms Daniel Ricciardo will return ...