Lewis Hamilton Shatters Silverstone Qualifying Lap In Dominant Mercedes 1-2 On Saturday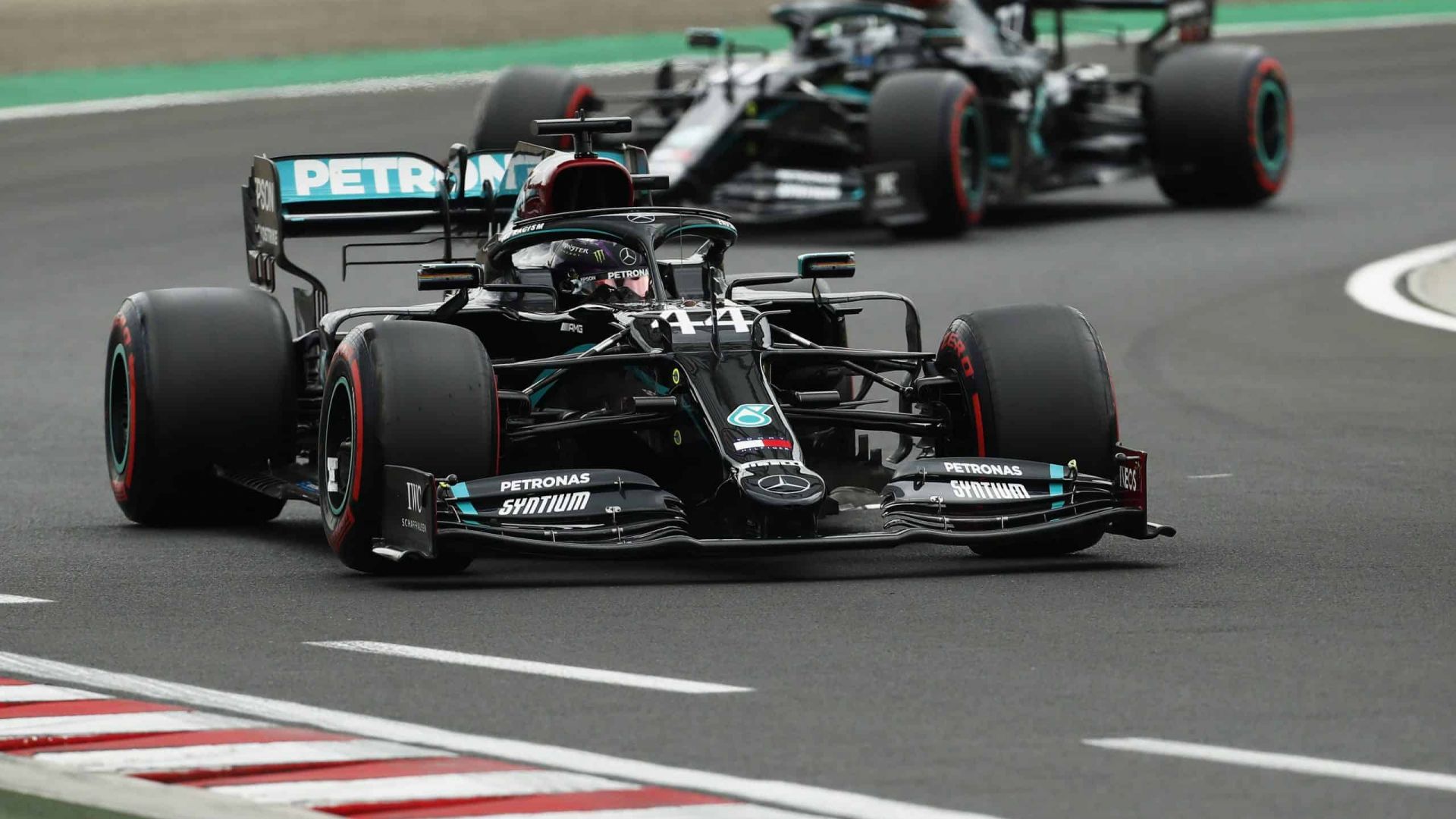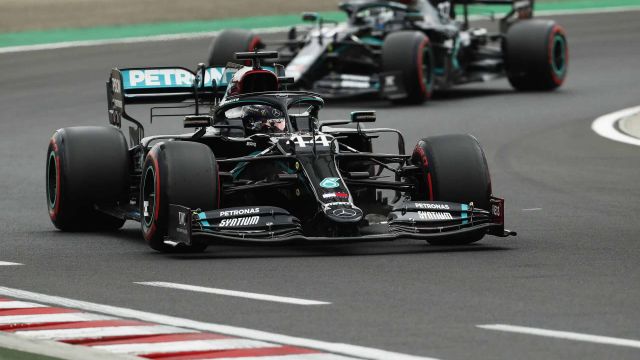 It'll most likely be 'Hammertime' on Sunday here at the first round of the British Grand Prix as local hero Lewis Hamilton didn't just bag the pole position but did so in utterly dominating fashion, recording a blisteringly fast 1:24:303 seconds.
In so doing, the man who went fastest and had the upper-hand in much of the latter half of the qualifying battle clinched his 91st pole in a career that, on current form, is looking better than ever. Hamilton's last flying lap that broke the record for the fastest qualifying lap ever set at Silverstone also took his overall pole tally for team Mercedes to 65, which remarkably is the entirety of pole positions bagged by Aryton Senna, the Briton's hero.
"This feeling never gets old, that's for sure! We made some changes to the car going into Qualifying and it felt worse, so it was a real struggle out there in the first two sessions. At this track, there can be a headwind, tailwind and crosswind all at different parts of the circuit, so it's like juggling balls whilst you are on a moving plate. Qualifying is a lot about building confidence and after that spin in Q2, I had to take some deep breaths, compose myself and mentally reset – especially knowing Valtteri was putting in fast lap after fast lap. Q3 started off well, the first lap was nice and clean, but the second one was even better. A big thank you to everyone at the team, working at the track and at the factories not far from here, for all their tireless work and continuing to push us forward. I'm really proud to be a part of it. It's going to be strange racing out there tomorrow without any fans, we definitely miss them and it's just a completely different energy. I know they'll be watching from home and supporting us, so hopefully we can put on a good show for them," said Hamilton.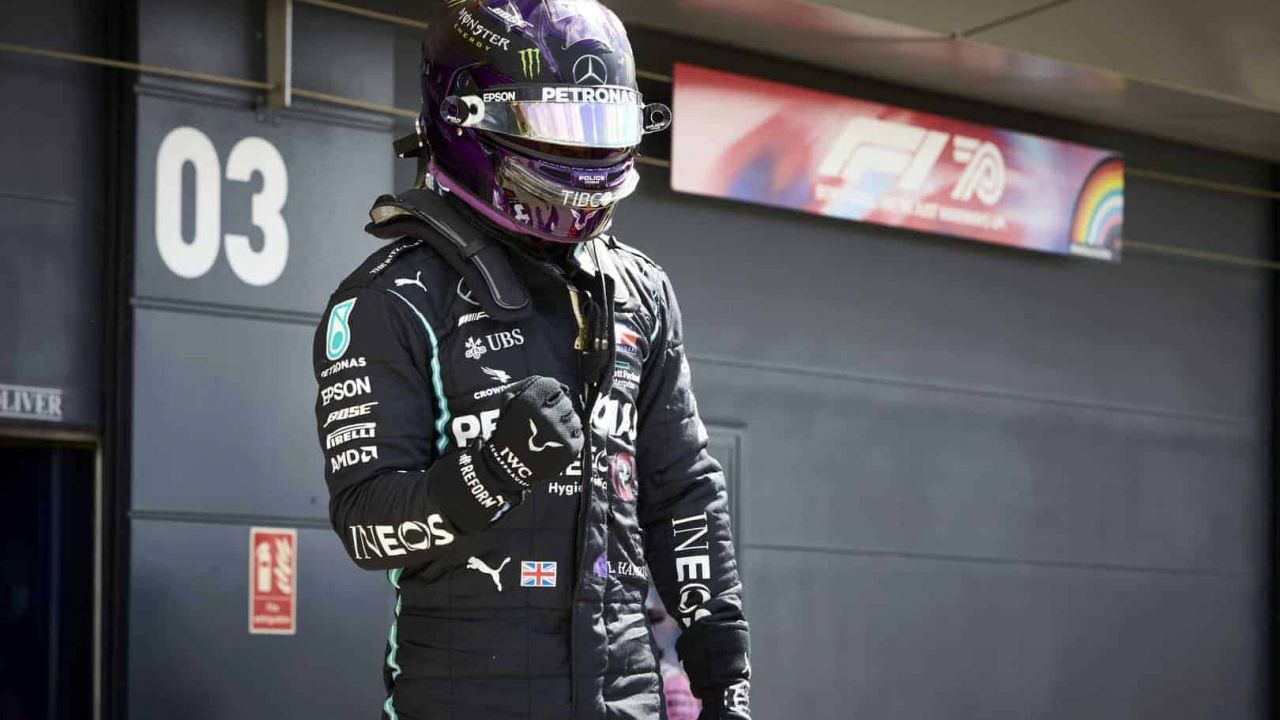 But it wasn't that the qualifying battle was only about Mercedes as Valtteri Bottas took a comfortable second, ahead of Max Verstappen, in third place, the only Red Bull that could make it to Q3 in a disappointing day for the Christian Horner-led team.
"I would be lying if I said today hasn't been frustrating, especially with the kind of margins we are looking at to Mercedes. We know this track always suits their car but they are incredibly quick at the moment but we have to keep the pressure on them as much as we can. The wind has a massive impact on the aero of these cars and their performance which can unsettle the car and in turn the driver. It was disappointing for Alex and the Team not to make it to Q3 but losing the track time in FP3 hurt him, especially after yesterday's off. Max did a great job to wring everything out of the car to line-up on the second row which is actually our best qualifying here since 2016. The gap to the front remains our focus and clearly there is work to do for us as a Team, but we won't stop pushing. Our race pace is often more competitive compared with qualifying so hopefully we can maximize our points haul tomorrow with both cars," added Horner.
Though one could say, the qualifying unravelled pretty much the way one had expected with the Black Arrows emerging miles ahead competing with great pace under the sunny and bright Silverstone skies.
Ferrari's Charles Leclerc, in fourth, wasn't that disappointing especially from a fan-perspective, with hundreds of thousands around the world so utterly disappointed with the car package that the Scuderia have armed their two drivers with. Although, Leclerc endured a deficit nearly a second to the Mercedes cars, you could say this is all the Ferrari number 16 could do as the Monegasque's teammate Vettel found himself on tenth.
"A much better quali than we had hoped for. I am very very happy with the job we have done and with my final lap, where I think I got everything together and the car was feeling pretty good in terms of balance. I don't think there was anything more to extract from the car and I am very pleased with P4. Also, I had a great lap in Q2 on the Medium tyres, which got us through to Q3. It was a really good decision! We have been struggling yesterday with race pace so realistically it's going to be difficult tomorrow, but we have changed the car a little bit overnight, which didn't affect our quali pace apparently, and with a good strategy, I hope we'll manage to get some advantage from our tyre choice. I'm really looking forward to tomorrow and hopefully we can score some good points," said Leclerc.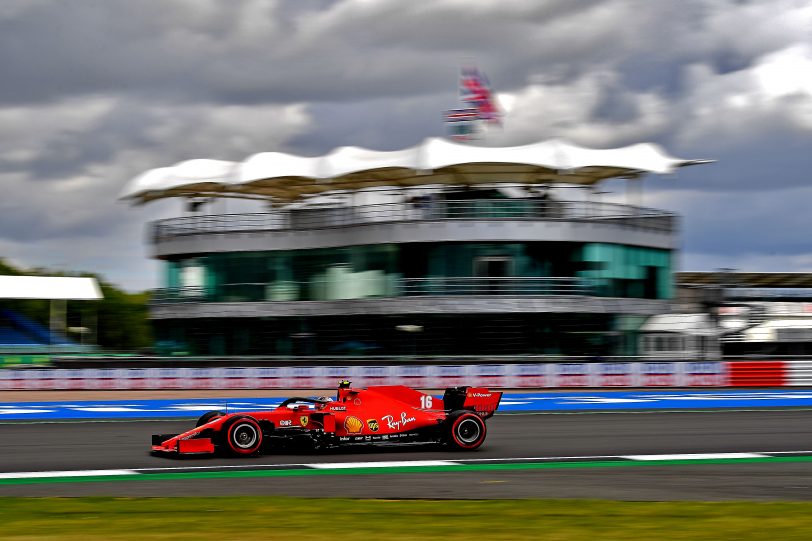 But it was a remarkable performance for the two McLarens, Silverstone also being the home event for Lando Norris, who placed his MCL 35 on fifth, ahead of Spaniard Carlos Sainz Jr., seventh, though Racing Point's Lance Stroll could only manage sixth-fastest time, having topped the timesheets an afternoon earlier.
Daniel Ricciardo was the faster of the two Renaults, in eighth, as teammate Ocon, who looked firmly in control and in nice touch went ninth-fastest ahead of Sebastian Vettel, who endured a troubled weekend, to complete the top ten.
"I'm happy with eighth place today, especially in quite tricky conditions. It was a clean lap, no mistakes, nothing too spectacular, but good enough for eighth and just short of seventh. It was pretty close there with a few of us within half a second of each other. We've been in and around the top 10 all weekend, so we can be pleased with today's performance. Tomorrow's race will be interesting, especially in the battle for sixth or maybe fifth position. We're starting on the Softs, as are most people around us, so we'll see what we can do. Taking home good points is the target," added the affable Aussie.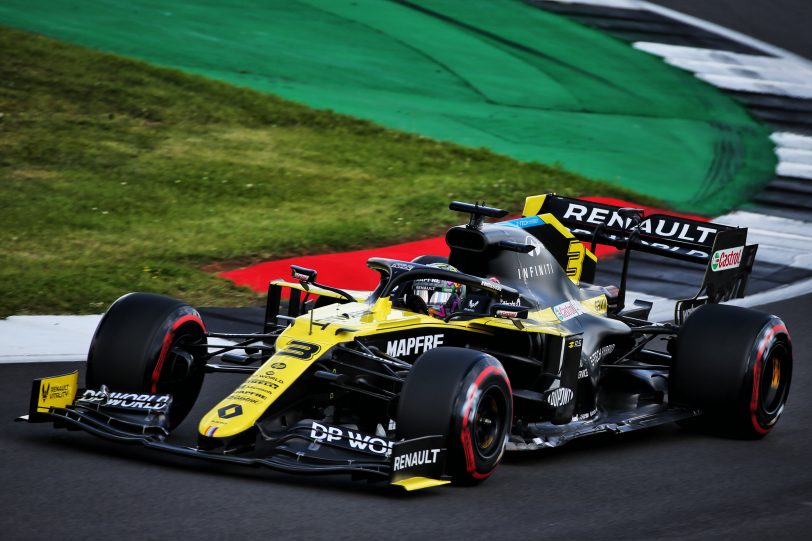 There was some interesting action in the mid-field with Alpha Tauri's Pierre Gasly finding himself on eleventh, though he'd set the identical lap time as Mclaren's Sainz, with the Spaniard going through in Q3 and the Frenchman finding himself knocked out in Q2 itself.
Alex Albon, who struggled for pace and had even crashed out a day earlier (around the challenging Stowe corner) couldn't make it to the final run and was stationed in on twelfth while returning driver Nico Hulkenberg endured a challenging last flying lap in Q2 and as a result, found himself down in thirteenth, not the start he'd have liked, but he was followed by the Williams of George Russell.
We've got to appreciate Russell's fine qualifying form with the Briton once again out-qualifying his teammate in the fourth consecutive occasion.
There were familiar troubles for Haas and the Alfa Romeos though, Kevin Magnussen, who finally scored the first points for his American team (down at Hungaroring) emerged better of the backmarkers in taking 15th.
Behind the Dane were the two Alfa Romeos of Antonio Giovniazzi and Kimi Raikkonen, the Finn complaining about Renault's Esteban Ocon impeding him during his final run in the qualifying, which according to Kimi, compromised his performance. But for someone who's earned seven podiums in the past, including a last with Ferrari in 2018, it doesn't cut a decent picture to note an experienced marskman shunting down in the rear-field.
"The car has been stronger this weekend, I had a good feeling with it and the handling was good, but it's obvious we are still missing something. I could have been a bit higher up on the grid but I got held up at the last corner, although in fairness the end result wouldn't have been too different. We have things to work on as a team, we made an improvement but we need to keep going in this direction. Tomorrow's race should be interesting: I expect us to be better and we should be fighting for a place in the top ten," said the frustrated Finn.
Following Raikkonen was Romain Grosjean in the other Haas, as Kvyat and Latifi completed the last two positions, taking nineteenth and twentieth, respectively.
Meanwhile, much of Sunday's action, unsurprisingly, will be about seeing the battles between the two Mercedes drivers and if Red Bull's Verstappen can pose any challenge whatsoever at what will be undoubtedly, the fastest cars to beat in the front.
Last year, Silverstone unfurled an easy 1-2 by the two Mercedes drivers, who this time during qualifying, went even seven-tenths quicker on their times as of 2019. And it was Lewis Hamilton, a six-time winner at Silverstone, who even set the fastest lap of the race in the very dying moments of the 52-lap contest.
But on race-day, it shouldn't really be that difficult for the best driver on the grid to translate a gritty qualifying position into yet another wonderful win. For now, he has seven poles against his name at Silverstone. Can this lead to as many wins upon the completion of the first round of the British Grand Prix double-header? Lights out, and away we go.
Want to save this information for later?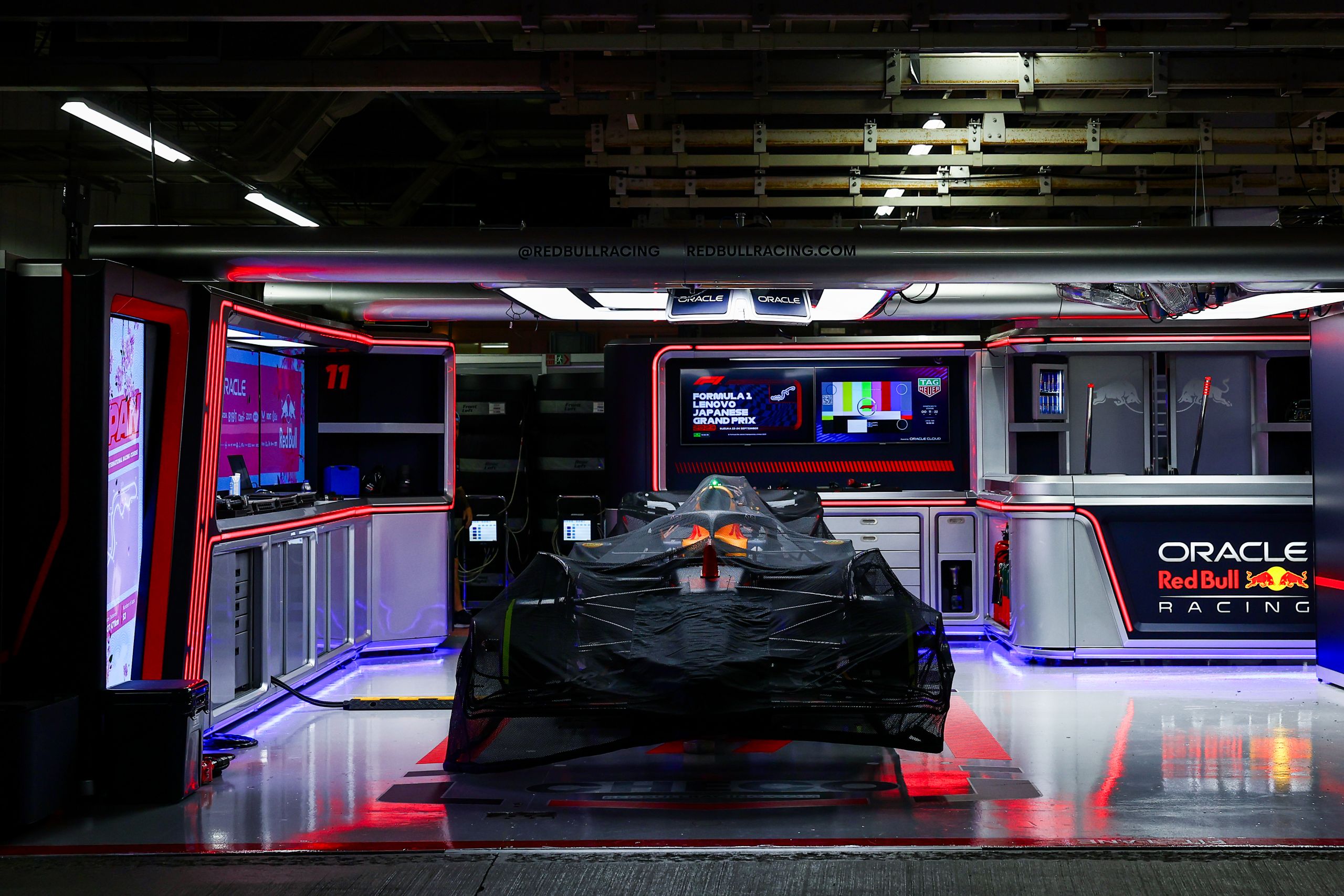 The roar of engines, the blur of speed, and the ...