Now that we are a third of the way through the season, can Mercedes still turn it around and win another Constructor's Title?
Mercedes holds one of the longest victory streaks in Formula 1's long history. For an unprecedented 8 years in a row, Mercedes has bagged the Formula 1 Constructor's Championship every year from 2014 to 2021.
However, Mercedes has not had the best luck this season. The team has been riddled with mechanical limitations, strategic blunders, and a lack of pace that have caused them to lose ground in both the Drivers' and Constructors' Championships.
The German manufacturer is facing its first competitive season in a long time, as Red Bull and Ferrari seem to be far ahead. Things have not looked good for the Silver Arrows, but is there still time for them to turn things around?
Well, despite the obvious obstacles, Toto Wolff isn't that much worried about their current position.
"I think we are on the back foot," Wolff said. "If I look at it from a mathematical standpoint and probability I would say the odds are two to eight or eight to two.
"But this is motor racing and in motor racing, anything can happen. Teams can DNF and if we unlock the potential of the car we are right back in the game. So as a racer I would say it's probably 40/60 and as a mathematician, I would say the odds are worse against us."
We're already seven races into the season and Mercedes is yet to win a race. Red Bull has already bagged five race wins while Ferrari has two under their hood.
Looking at the results of the last seven races, you'll see that Mercedes driver George Russell is performing quite well for a newcomer to the team. He has scored two podiums so far, plus two 4th positions and three 5ths. His teammate Lewis Hamilton, however, has room to improve as he only has one podium out of seven races.
Despite his stellar performances, Russell expected a better start to the season…
"I think if you told me prior to the season that we'd be seven races in and I wouldn't have a victory to my name, I would have definitely been a bit disappointed with that," said Russell. "But I think given the pace of the car and given where we've been as a team, I've been reasonably pleased with how I've performed."
"I think the results have been maximised. I don't see many races where we could have achieved better results.
"You are constantly striving for more when you understand the car more, the tyres more," he said.
"And you know, I want to fight for this championship. And when we've got to go against the likes of Max [Verstappen] at Red Bull and obviously Charles [Leclerc] is doing an extra extremely good job at the moment with Ferrari.
"But as a team, we just need to keep on pushing, I need to keep on pushing personally. So, more to come."
Ultimately, it is without a doubt that we can blame the rule changes enforced by Formula 1 for this season and Mercedes' obvious failure in adapting to the new rules compared to the two leading teams. True, the Mercedes cars are still faster than most but not fast enough against the Ferraris and Red Bulls.
Monaco saw the unrelenting Sergio Pérez score his second race win for Oracle Red Bull Racing, taking a surprise win after Ferrari bngled their tyre strategy. With nine podiums between them, five of which are first places, Verstappen and Perez's victorious partnership has been one of the favourites of the current season in the futures betting scene.
Wolff has something to say about the most recent race in Circuit de Monaco:
"What we need to look at is Monaco," said Wolff. "If a car can really slow down by almost five seconds and hold everybody up it's just a shame for the racing here."
Monaco has a reputation for being one of the most difficult courses to race on.
"Maybe we can look at the track layout and things we can do so we're not having a procession and it's not just a strategy game or a qualifying race.
"This is a fantastic venue and spectacle – but it would be great if the racing could be at the same level."
"It was a strong afternoon for George – and a really frustrating one for Lewis," said Wolff.
"There were the laps stuck with Esteban [Ocon], who got penalised for the collision, then the slow pace from Alonso, without which Lewis could have been racing Lando and George.
"It was another reminder that track position is everything – and that we are the third team on the road.
"We have learned some important lessons about the car this weekend, and that learning will be the basis of rebuilding our performance to fight again at the front of the field."
Current standings have Red Bull in first with 235 points, followed by Ferrari with 199 points, and finally, Mercedes which is 65 points behind Ferrari with 134.
Can the Silver Arrows still turn things around? With over 100 million people tuning in to each race worldwide, there is still much to play for with 15 Grand Prix left in the hunt for the 2022 Constructor's Championship. It isn't over until it's over for the Hamilton and Russell tandem.
Catch the clash at the Baku City Circuit during the Azerbaijan Grand Prix this June 12, 2022.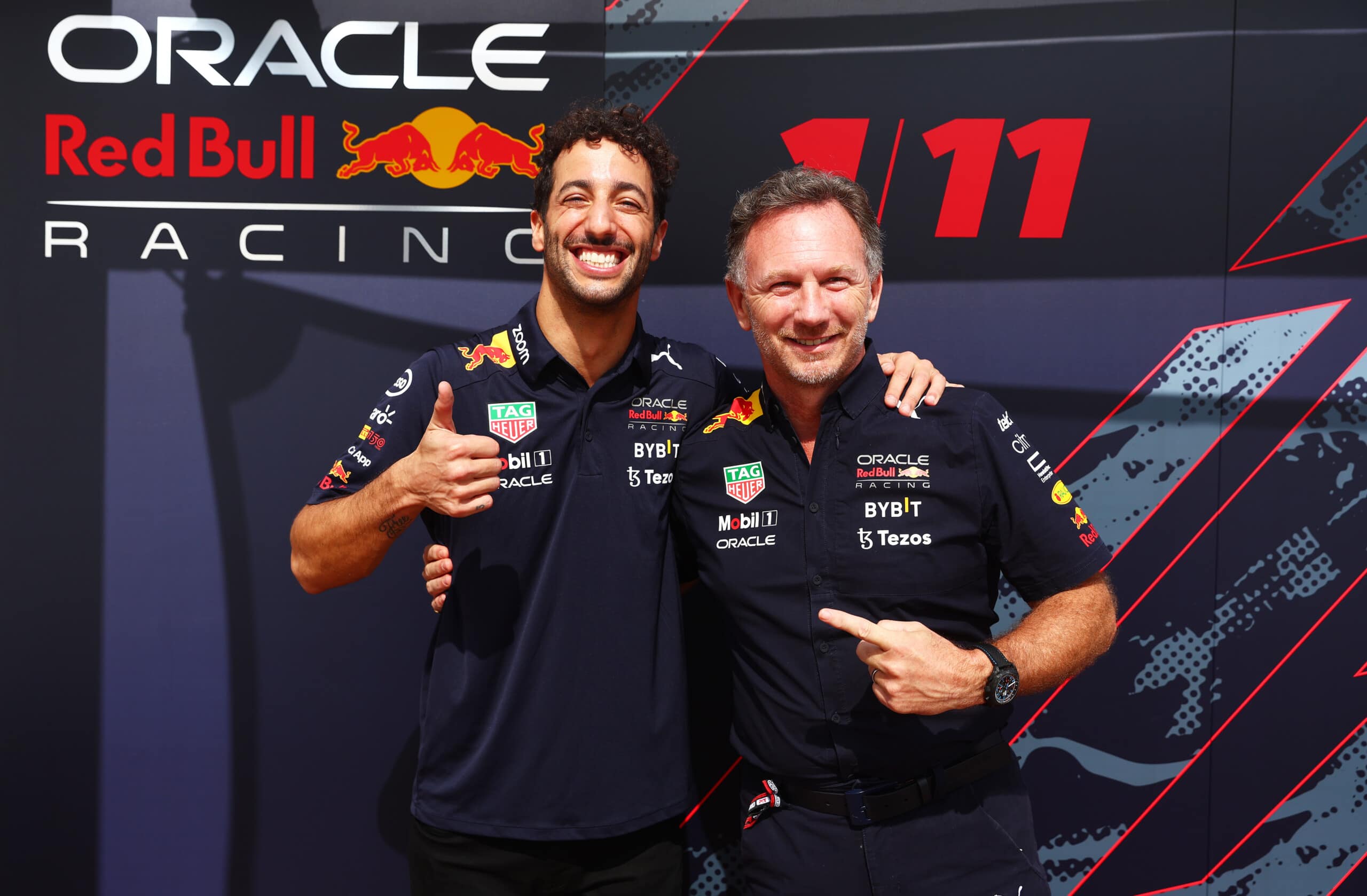 Oracle Red Bull Racing today confirms Daniel Ricciardo will return ...