When you're looking for the best Formula 1 books to buy and read, one of the biggest problems you come across is that all the reviews are the same – copied and pasted from Amazon. Also, how do you know if the books you like are what the reviewer likes?
The Formula 1 books below have been read by me, not just copied and pasted from other listings. I like books that share stories, that get into the emotion of the subject and leave you feeling something. I'm not a facts and figures guys, so a book full of dates, cold facts, and specifications will have me putting the book back on the shelf half-read.
I like my books like I like my F1 – fast-paced and dramatic.
So if you're like me, the below Formula 1 books will be for you…
The Best Formula 1 Books
Life to the Limit: My Autobiography by Jenson Button
This is actually my favourite Formula 1 book, which is why it is at the top of the list. When you read it, you can't help but have the voice of Jenson Button in your head, which makes his jokes funnier (and this is a very funny book). While there is a lot of humour, often self-deprecating, the tone definitely takes a turn and you can't help but be moved when Jenson talks about losing his father.
Some of the chapters are super short too, as in a handful of pages, so if you're someone who likes to read before bed and has to finish at the end of a chapter, this book will make sure you get to bed at a reasonable hour.
Read my full review on Life to the Limit: My Autobiography by Jenson Button
Senna versus Prost
Before I read Jenson's book, Senna versus Prost was my favourite.
Malcolm Folley has done a cracking job of creating a space for people to share their stories of Ayrton Senna and Alain Prost in a way that instantly transports the reader back to those great battles of the 80s and 90s.
What's even better is Folley speaks with a lot of team personnel, people in the background who we've not really heard of, and lets us know what it was really like to be on the ground as the battles took place out on the track.
So much has been made of Ayrton Senna over the years, that Prost's version of events was somewhat overlooked – until now. And although he could have used the book as an opportunity to lay the boots into his rival, Prost does a brilliant job of relaying events as he saw them.
Le Professeur off the track as well as on it.
Read my full review on Senna versus Prost
Sale
Murray Walker: Unless I'm Very Much Mistaken
Murray Walker is the voice of Formula 1. He has one of those voices that make the hairs on the back of your neck stand up when you're watching an old race and his enthusiasm for F1 jumps through the speakers.
Some artists use paints, some use pencils, Murray Walker used a microphone.
Walker is a quintessential storyteller, so once again this is a book that you will most likely read in his voice. He tells vivid stories about growing up, his time in the war, all the way through to the Murray Walker we know from our TV screens commentating on Formula 1.
Known for the odd gaff in the commentary box, Walker isn't shy about having a laugh with it, and understands it helped endear him to fans over the years.
Unless I'm very much mistaken, this is a must-read book that you will thoroughly enjoy.
Niki Lauda – The Biography
If a book about a man who had a horrific crash at the wheel of a Formula 1 racing car, was given the last rights, then was back on the grid a month later doesn't move you, then nothing will.
Niki Lauda was a man of little fuss or sentiment, and Maurice Hamilton has written this book in much the same vein. Starting from Lauda's early days growing up in a proper family who felt motor racing was beneath their station, to his racing years, to flying, and much more.
If there is to be one criticism of this book, it's that it doesn't go into a great deal of detail on his time with Mercedes. However, the vivid recollections of his racing days from people who witnessed it definitely make up for this.
The Unknown Kimi Räikkönen
The Unknown Kimi Räikkönen gives great insights into Kimi's path to F1, his upbringing, and now the importance of time with his growing family.
If you're looking for a book of anecdotes from Kimi's time in the paddock, this book isn't it.
But if you want to learn more about Kimi's path to F1, his motivation for quitting the sport, and his motivation for coming back to it.
The photos he shares are excellent too.
Read my full review on The Unknown Kimi Räikkönen
The Unknown Kimi Raikkonen
Hotakainen, Kari (Author)
English (Publication Language)
336 Pages - 08/22/2019 (Publication Date) - Simon & Schuster UK (Publisher)
Aussie Grit: My Formula One Journey
This is one that most Australian's will love, as the Aussie legend shares anecdotes or 'yarns' from his time in F1 racing against some of the best drivers on the planet.
Those who remember the 'Multi 21' saga and breakdown in the relationship with Sebastian Vettel will like this book, as Webber gives his version of the events that unfolded in front of our eyes on race days.
A highlight of this book is Webber walking us through his personal struggles, as it's not something often associated with the stoic Australian. This book is brutally honest in parts, and will give you a deeper appreciation of the man, not just the driver.
Sale
The Mechanic: The Secret World of the F1 Pitlane
Marc 'Elvis' Priestley was one the number one mechanic at McLaren, who as well as this book has an incredible YouTube channel where he shares his insights and analysis of Formula 1 regularly.
Simply put, his book needs to be on the bookshelf of every Formula 1 fan, it's that good.
I'll admit I'd never really thought about the pit crew. We see them for a few seconds each race, maybe more if something dramatic happens to one of their drivers.
This book takes us well and truly behind the scenes, into the life of partying and fast-living away from the track.
Priestley also shares a lot of secrets about the rivalries he was part of during his time in F1, which may make him a little unpopular with a few people…
Sale
Chequered Conflict: The Inside Story on Two Explosive F1 World Championships
You could be forgiven for thinking this book by Maurice Hamilton is the work of a family member of Lewis Hamilton, but it's not. Maurice Hamilton is the author of amazing F1 history books on the likes of James Hunt, Niki Lauda, Jackie Stewart, Frank Williams, and more.
Grand Prix racing in 2007 and 2008 was an explosive affair between Ferrari and McLaren, and this book captures all the drama perfectly.
2007 was the first time since 1986 that three drivers had a chance of winning the title going into the final race, and this book puts you back on the edge of your seat again as you re-live this piece of F1 history.
The Mechanic's Tale
This book by Steve Matchett is quite different to The Mechanic: The Secret World of the F1 Pitlane in that it is more about the author's life, from trying desperately to break into the world of Formula 1. Although he's not a racing driver, the struggles he faced are on par with some of the drivers mentioned in the books above.
Steve Matchett also shares a lot of his own eye-witness accounts of some of the greats such as Nigel Mansell, Ayrton Senna, and Michael Schumacher. Plus there is a lot on his time with Benetton which is great reading.
Sale
The Mechanic's Tale
Matchett, Steve (Author)
English (Publication Language)
240 Pages - 02/03/2000 (Publication Date) - Orion (Publisher)
Flat Out Flat Broke: The Original Stig
When you think of Formula 1, names like Lewis Hamilton, Ayrton Senna, Michael Schumacher, Damon Hill and Jackie Stewart come to mind straight away, but what about Perry McCarthy? No? Didn't think so.
McCarthy spent the 1992 Formula 1 season 'racing' for the Andrea Moda Formula team, but unfortunately, never qualified for a Grand Prix.
That hasn't stopped him from writing a hilarious autobiography that has already become a motorsport best seller.
While he didn't have much luck in F1, or in a lot of other things, McCarthy bounced back to become the first 'Stig' on TopGear.
If you want to share a story with someone you care about that will inspire them to chase their dreams and never give up, then this is the one to give them. They don't even need to be a Formula 1 fan to enjoy this one.
Bestselling Formula 1 Books
Below you will find a list of bestselling Formula 1 books, many of which you would have seen listed above.
As I purchase and read more from the below list, I will add them to our Formula 1 Reviews section.
Best Formula 1 Gifts On Amazon
There are some amazing Formula 1 gifts on Amazon, especially as we get close to Christmas and people are looking for Formula 1 gift ideas for family and friends.
Here is a list of the best Formula 1 gifts on Amazon.
Best Formula 1 Movies On Amazon
There are some iconic Formula 1 movies such as Senna, 1, and Rush. F1 also produces some cracking season reviews that make an incredible collection for those off-season walks down memory lane.
Here is a list of the best Formula 1 movies and Formula 1 DVDs on Amazon.
As an Amazon Associate I earn from qualifying purchases.
Last update on 2021-10-28 / Affiliate links / Images from Amazon Product Advertising API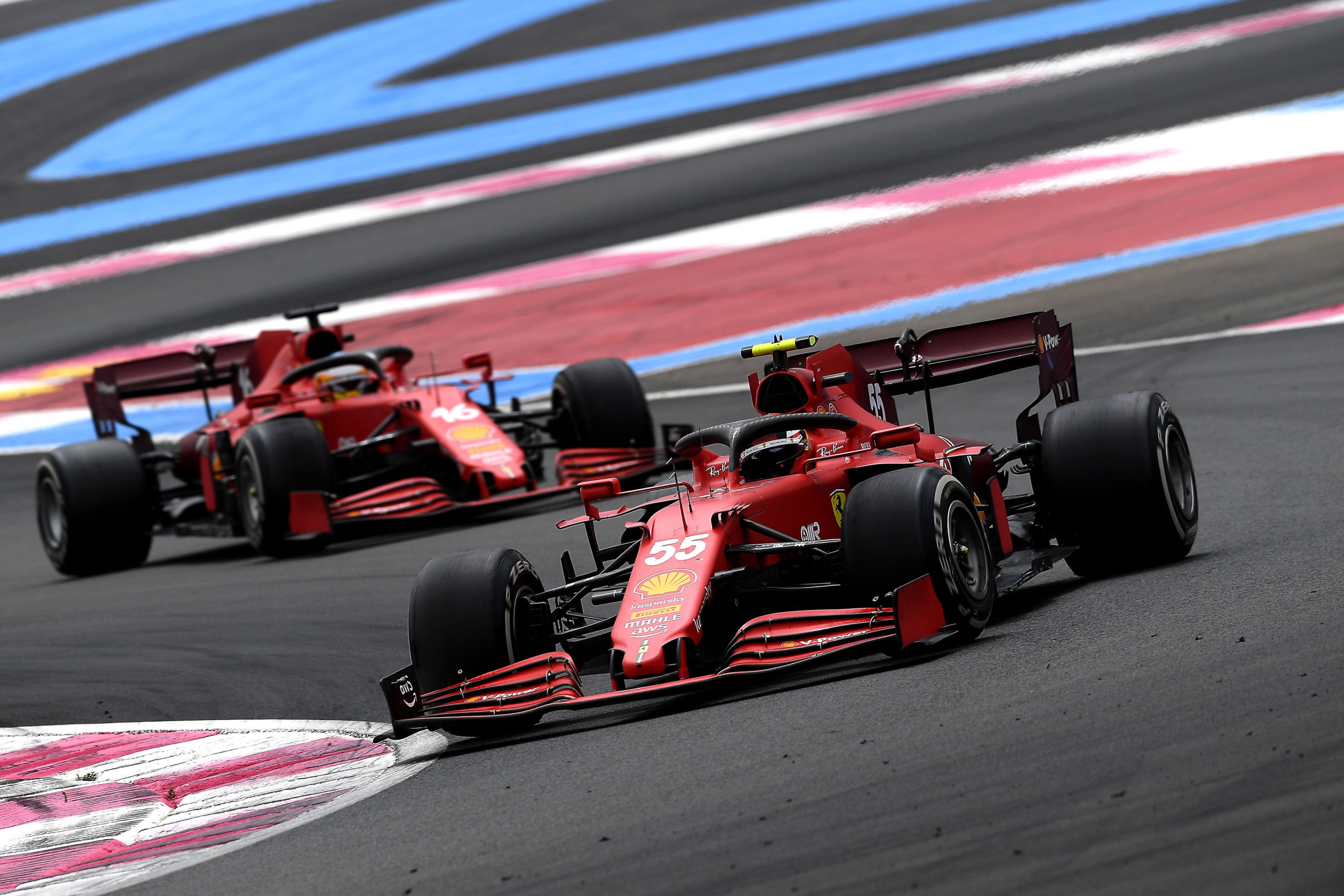 Charles Leclerc is currently sixth in the 2021 F1 Drivers ...