Lewis Hamilton has won the 2019 Hungarian Grand Prix thanks to a stroke of genius from the Mercedes-AMG Petronas pit wall, and an inspired final sector of the race from the British driver.
Hammer Time From Hamilton
The five-time world champion sealed victory after a duel with pole man Max Verstappen that lasted almost the entire race. But the Dutchman can still walk away with his head held high after giving everything to repeat his triumph of a week ago at Hockenheim.
Of all Hamilton's 81 race wins, this one will certainly rank very highly for the manner in which it was won. After the world champion constructors saw first-hand that any overtaking attempt on Verstappen could end up costing it dear – as illustrated by the off-track moment during the wheel-to-wheel duel on lap 39 – it opted for a change of strategy, calling Lewis into the pits for a new set of Medium tyres. The Englishman was thus freed from following directly behind Verstappen, and when Red Bull didn't follow suit immediately their driver was left hoping that his set of Hard tyres would last all the way to the flag.
"We've been together for seven years, but this feeling never gets old. If it wasn't for everyone here and back at the factory, this wouldn't have been possible. I'm so grateful to be a part of it and for the team for continuing to believe in me, push the limits and take a risk. We struggled a little with the brakes today, so I was trying to save as much as I could for when I had a chance to pass Max. It was very, very difficult to get by. I wasn't sure if I could close the 19-second gap, but the team said to just get your head down, so I did. I kept pushing, the gap closed and the laps were like Qualifying laps. I was on the limit all the way. I take my hat off to the team and I think if Niki were here today, he would take his hat off too," said Hamilton.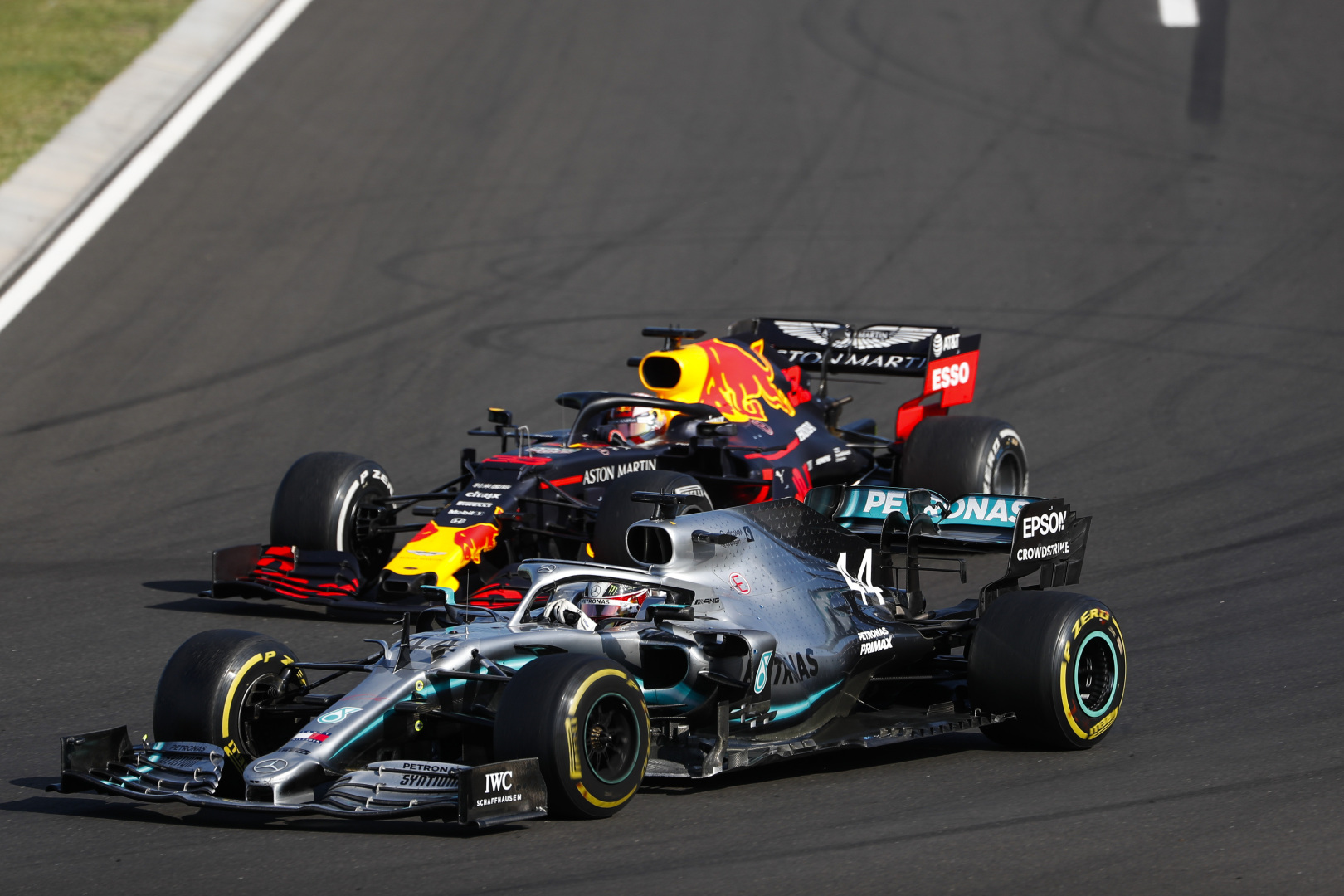 For Hamilton, it was his seventh victory at the Hungarian Grand Prix, equalling the Canadian Grand Prix as his most successful race for wins.
Bold Strategy Pays Dividends For Mercedes
The strategic decision by Mercedes AMG Petronas Motorsport was definitely helped by the data acquired in the long run Bottas put in on hard tyres but, above all, by the mastery of Lewis. He was able to string together an impressive series of fastest laps that brought him back into Verstappen's slipstream a few laps before the finish, before he forced his way past. It was therefore a deserved visit to the podium for Brackley's race strategist James Vowles – and it was with good reason that he was copiously soaked in champagne by his delighted driver!
"What an unbelievable comeback. This is why we love the sport, you are holding onto moments like this, where it's an unexpected result and this is why it feels so great. We didn't think it would go this way but the strategy team did so well and made great calls. There was a specific point in the race where we weren't sure if Lewis would catch Max, but he got his head down and once the Red Bull was in sight, we knew he'd pounce. An incredible drive and a great result to head into the summer break with. On Valtteri's side, it was a disappointing day. He was so pumped for the race and his Qualifying performance was great. But, the first lap didn't go well and from there it was tough for him to fight back through the field. It has been a fantastic first half of the season, with 10 wins from 12 races. We will use the break to recharge our batteries – and hopefully return even stronger in Spa," added Toto Wolff.
Brave Verstappen Settles For Second
For the 92,000 spectators crowding into the grandstands today, and the huge Dutch contingent, it was a thrilling spectacle from the first lap to the last, despite the vast disparity between the two contenders for victory and the rest of the field.
"We gave it our all but Lewis was clearly a bit faster than us today. It was nice to see that we had such a big gap to the others though and second is still a good result. It wasn't our day in terms of pace but overall it was a good weekend and getting pole position was a great step. Of course, when you start at the front you want to win but you also have to be realistic and to finish second with the fastest lap was the most that we could do. I tried to keep Lewis behind when we were on the same tyres but because of the gap to third, he had the option to do a second stop which worked out for him. I was trying to survive out front and push on my tyres but when he was closing in by one or two seconds per lap there wasn't much I could do. He closed so quickly on the fresh tyres that I wasn't surprised he managed to get past. We then pitted to get the fastest lap, which is one extra point, and I'm of course happy to get that. No regrets and we tried everything we could. It was a good weekend for us and I go into the break with a good feeling as we're getting closer all the time," said Verstappen.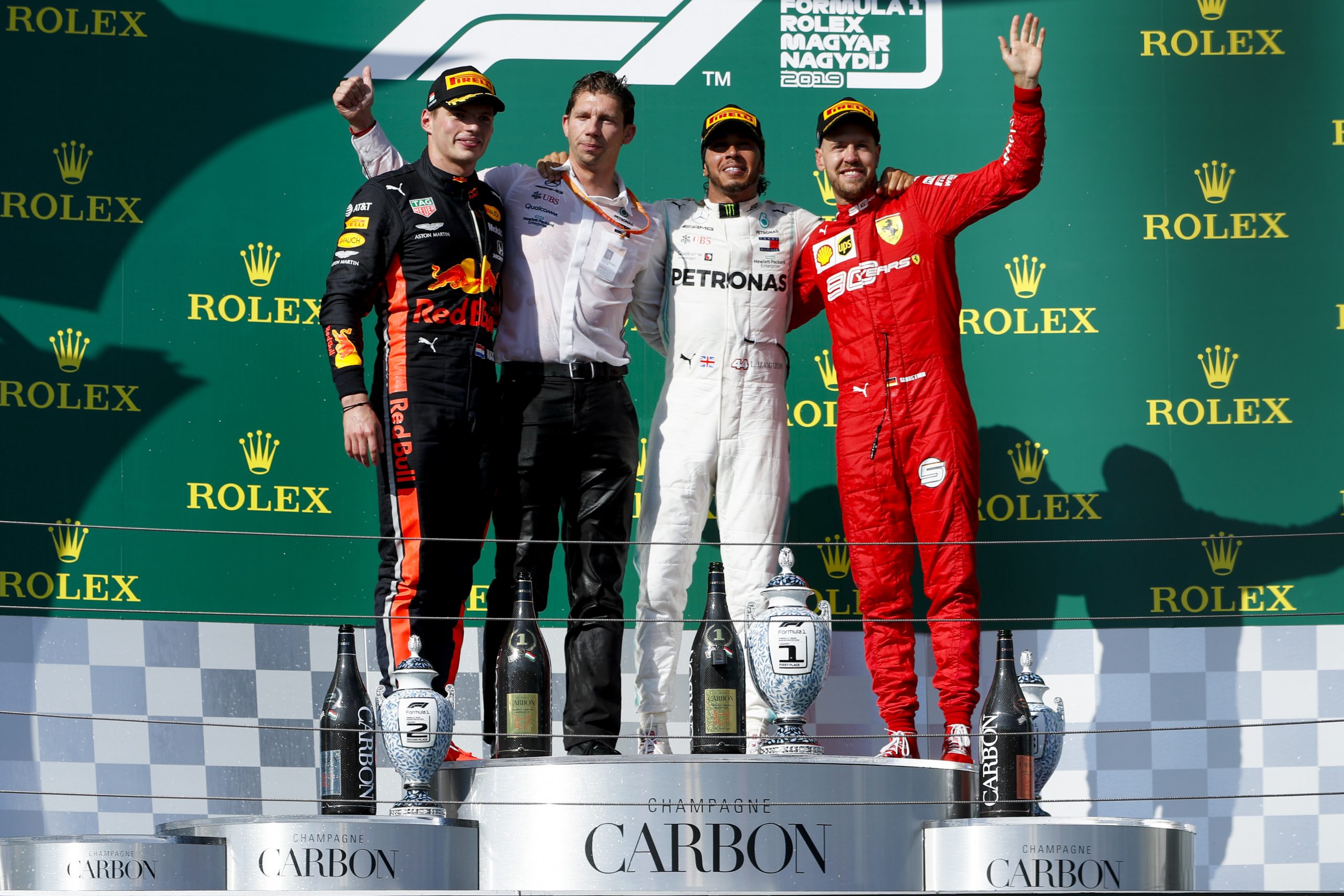 Another Podium For Vettel
There was a huge gap from Verstappen to the two Ferraris, with Vettel taking third place over a minute later after seeing off his team-mate Leclerc in the closing laps. All the other 15 pilots who saw the chequered flag (only Grosjean was forced to retire) were lapped at least once.
"We leave Hungary and for a few weeks we can console ourselves with the fact that we made it to the podium in a race in which we knew we were going to struggle.
Today, we simply could not match the pace of our rivals. In terms of strategy, the idea was to come up with something different to try and do better than fourth. I managed to extend the first stint to 39 laps and that allowed me to fit Softs and have a stronger pace than Charles in the closing stages. Now we can recharge our batteries and prepare to battle once more in Spa and Monza, tracks where we ought to be more competitive. We know there is still some performance to come from the SF90 and we have to work on that, but I am convinced that there is a margin to get better results," said Vettel.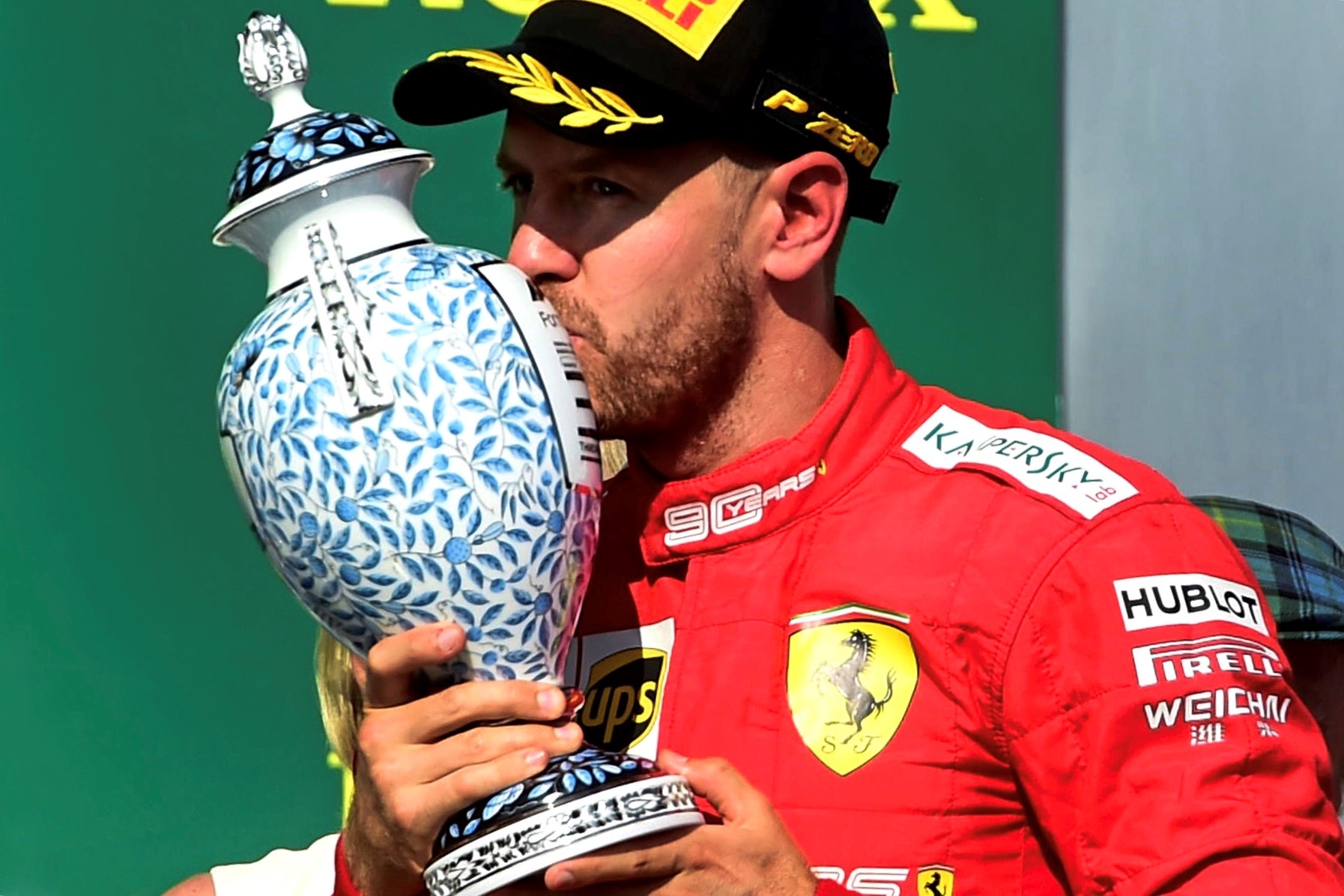 Another Double Points Finish For McLaren
McLaren were among the day's main players, putting both their drivers into the top ten with Sainz taking fifth place ahead of Gasly's Red Bull and Norris ninth, not far behind Bottas.
"Yes! This time, P5 tastes much better than the P5 of seven days ago. We executed the race perfectly. We had a great start, great pace and, in a fairly normal race, we managed to score a top-five finish. Holding Gasly behind in the second stint was intense, but I controlled the pace to counter-attack any opportunity he had to get closer and managed to finish ahead of a Red Bull on pure pace. I really want to thank and congratulate every single member of the team, here and back at the factory. I think these first dozen races show how much progress we've made this season, and we now need to keep digging. The ambition is to get closer and closer. Everyone can be proud of how things are going and the consistency we're achieving. To keep learning in the second half of the season is important to try to build a better car for next year and take another step. Now it's time to recharge the batteries and come back even stronger. Thank you team, enjoy a well-deserved summer break," said Sainz.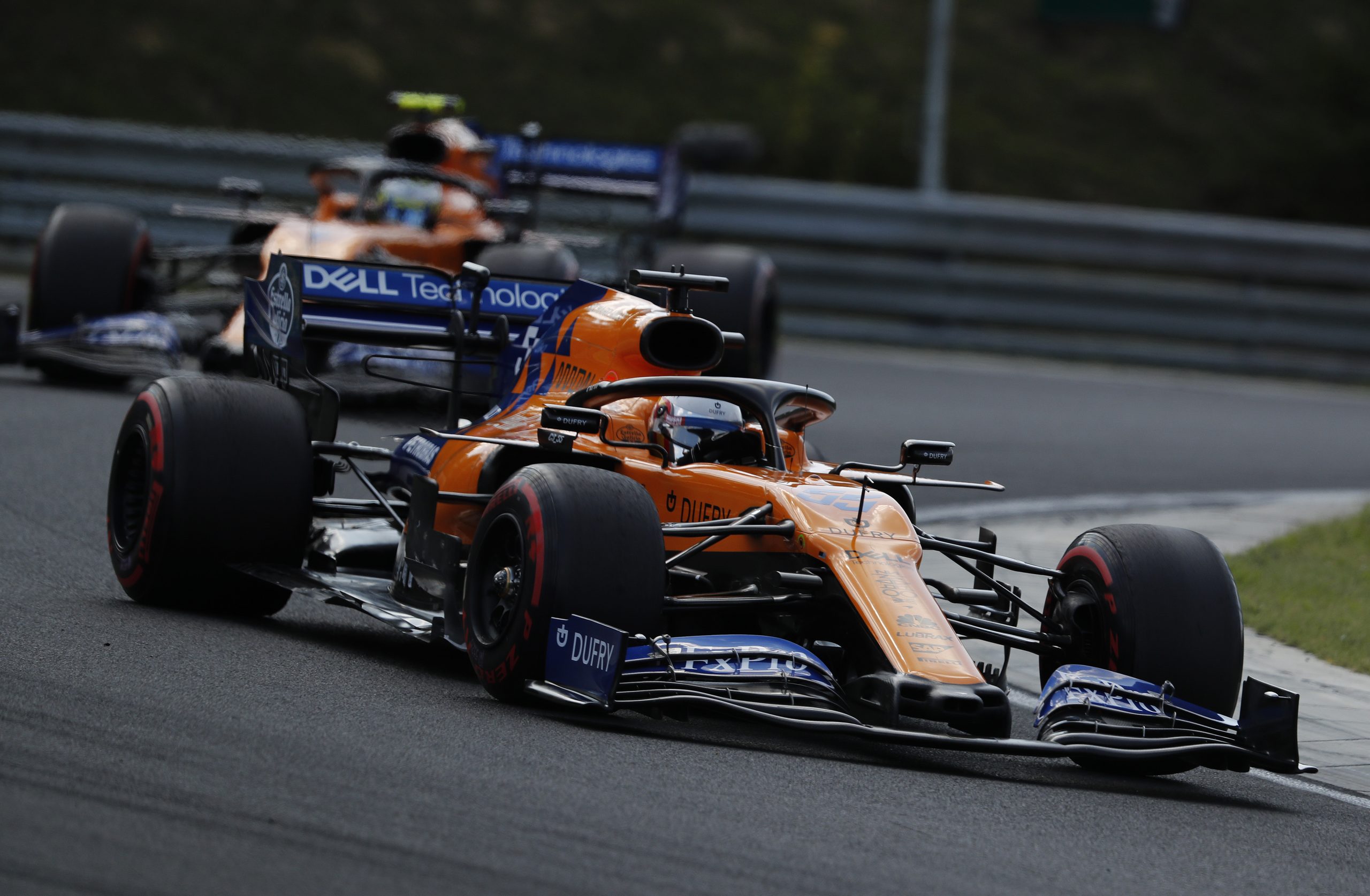 There were also strong performances from Kimi Raikkonen, seventh, and Alexander Albon who secured the final place in the top ten.
2019 Hungarian Grand Prix: How The Race Was Run
Max Verstappen started brilliantly, blistering off the starting line in his Red Bull to cover the menacing threat from those behind. The Dutchman held the inside line and forced both Valtteri Bottas and Lewis Hamilton to try and take the long way around Turn 1. Things got very tight indeed between the two Mercedes drivers after Bottas locked-up, Hamilton cutting across his teammate's front wing to grab second place as the Ferraris of Charles Leclerc and Sebastian Vettel waited to pounce from fourth and fifth position.
Leclerc did not have to wait long at all, just two corners in fact, before he forced his way past the Finn in Turn 4. There was contact between them, damaging Bottas' front wing, and the Mercedes driver was forced to drop back and head into the pits for a replacement, coming back out in last place.
The pace at the front was relentless with three distinct battles beginning to take shape by lap 12. With Verstappen out in front, and Hamilton chasing hard behind, the front pair were 30 seconds clear of Carlos Sainz's McLaren in fifth. Between the leaders and the rest of the field, Leclerc and Vettel had no one but each other to fight for third place with the prancing horses well off the pace.
Further back, Daniel Ricciardo had methodically worked his way through the field from the back of the grid to move up to 14th, ahead of the Williams of George Russell, but the young Briton could not hold off the advancing Bottas for long before giving way. Lap 20 saw the two Toro Rossos duelling hard as Daniil Kvyat and Alex Albon fought wheel-to-wheel for 11th before Albon was forced wide.
Verstappen's lead was just 1.3 seconds as the Dutchman complained to his team about a lack of grip. Hamilton meanwhile radioed in to report that his own tyres were performing better than expected. The mind games were taken to another level on lap 22 as the Mercedes mechanics sprinted from the garage to welcome Hamilton for his first stop, only for the championship leader to race straight past the pit lane entry after a very late change of mind. The Red Bull pit wall remained motionless and Verstappen switched to hard rubber when he pitted three laps later, coming back out ahead of the two Ferraris. Leclerc then switched to the hard compound in his stop on lap 28, dropping to fourth behind his teammate but well clear of fifth-placed Sainz.
Lando Norris suffered a slow rear tyre change during his stop for fresh boots, and tumbled outside of the points places to 11th as Verstappen inherited the lead when Hamilton made his first stop of the afternoon from the lead. The Dutchman retook the lead by six seconds before the Mercedes man almost instantly slashed that gap to just two.
Hamilton continued to push, pressuring Verstappen as the pair weaved through traffic. It looked almost certain that the Silver Arrow would pass the Honda-powered Red Bull machine, the gap down to less than half a second by lap 39, but the Englishman ran wide and was forced to regroup for another charge. Further back, Bottas continued to scythe his way through the field, moving up into ninth with Ricciardo also in the points in tenth place.
Out in front, the duel continued with Verstappen defending hard to try and maintain a gap and hold position as Hamilton attacked before somewhat surprisingly diving into the pits for fresh mediums on lap 49. The championship leader questioned the decision over the radio before being assured that he had the pace and the Dutchman was on older, harder tyres. For his part, Verstappen asked his pit wall why he hadn't been brought in, only to be told he would have come out behind the Englishman.
The gamble in strategy paid off. Hamilton started setting fastest lap after fastest lap, and for the next 17 circuits of the Hungaroring the championship leader showed his quality, taking chunks out of Verstappen's lead as the Dutchman battled for survival on worn rubber. With three laps to go, the Red Bull racer was powerless to prevent Hamilton from passing him and could only watch on as the Englishman took the lead in Turn 1.
Verstappen boxed for fresh softs in a bid to set the fastest lap, and promptly did so, firing in a 1.17.103. Also on the soft option, Vettel past Leclerc with fresher tyres on the penultimate lap to grab third place in the closing stages. Hamilton's phenomenal drive secured the 81st win of his career, Verstappen finishing second for his fifth podium finish of the season with Vettel over a minute behind the leader to grab third. Fourth-placed Leclerc might well feel frustrated for surrendering the final podium place to his teammate. Sainz, Pierre Gasly, Kimi Raikkonen, Bottas, Norris and Albon round out the rest of the point scoring places.
The 2019 FIA Formula 1 World Championship now begins its summer break with Lewis Hamilton ever more dominant: the Mercedes driver has a 62-point lead over his team-mate Bottas, who is now being hounded by Verstappen, just seven points further back. In the Constructors' Championship the Anglo-German team has a 150-point advantage over Scuderia Ferrari (438 to 288) with Aston Martin Red Bull Racing third on 244. The battle for fourth place also seems to have a clear favourite in McLaren (82 points) which has almost twice the total of its nearest challenger, Red Bull Toro Rosso Honda (43) with Renault in sixth (39).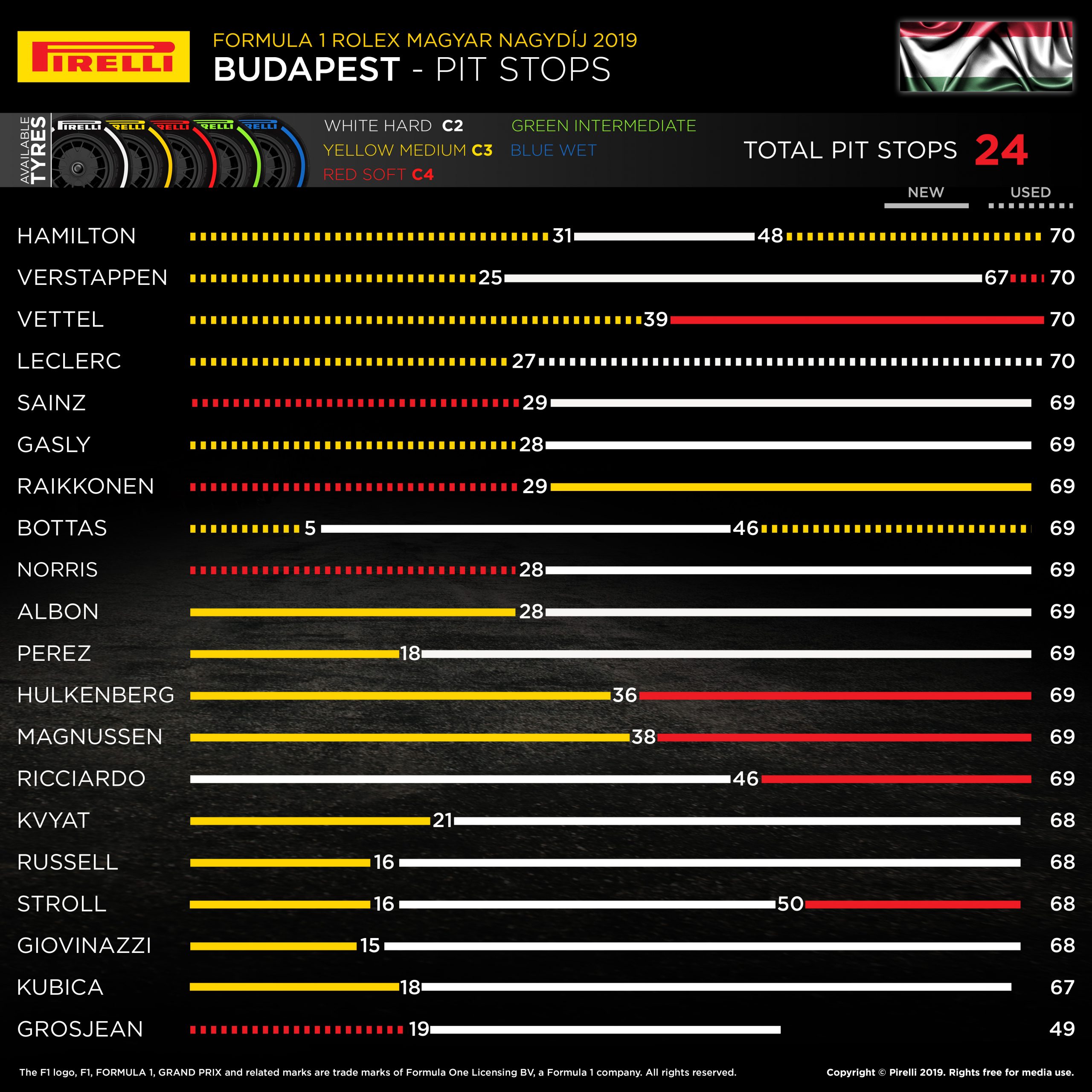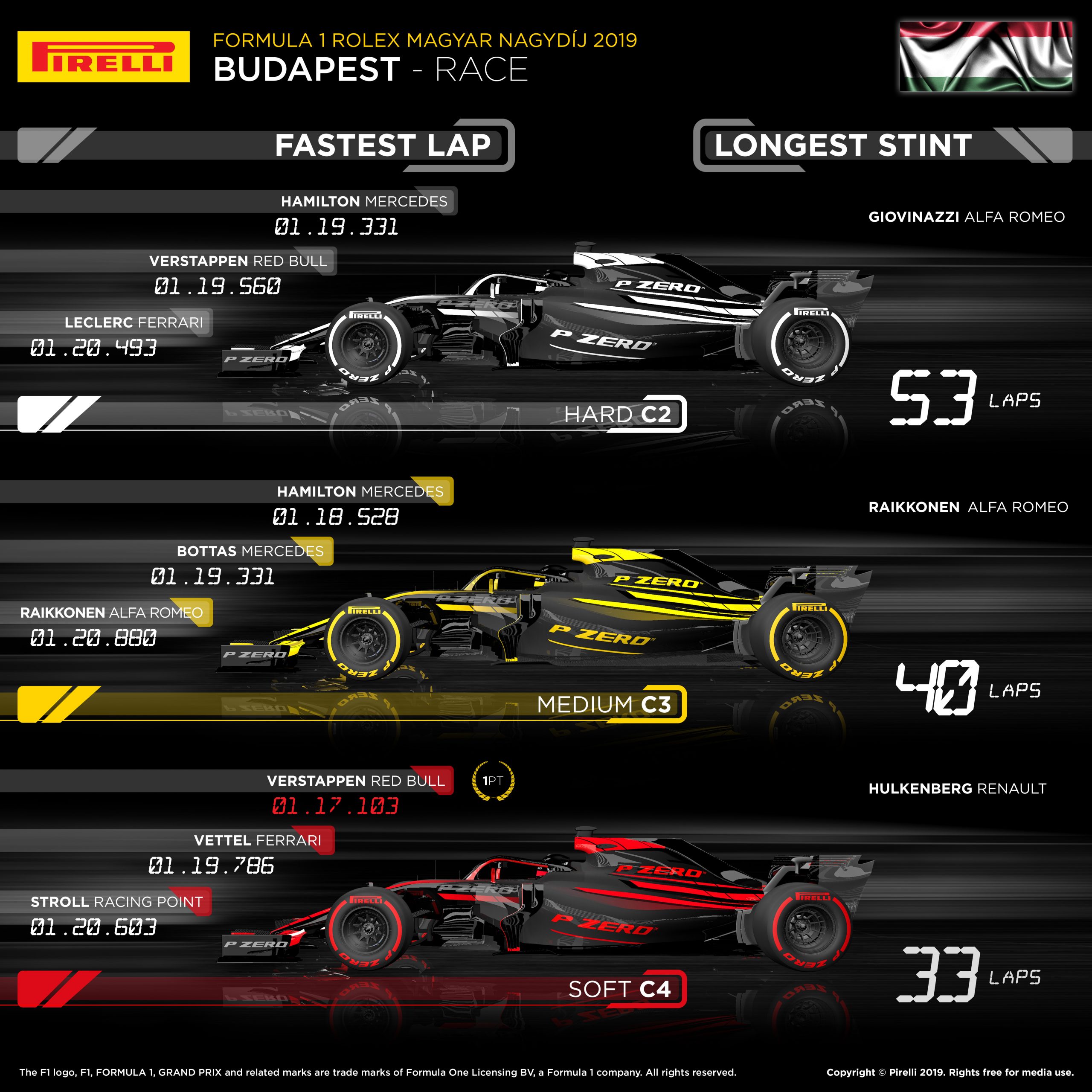 By the end of Friday practice for the Spanish Grand ...