Toni Cowan-Brown is a lot of things. She's worked in politics for the European Commission, and later in technology for NationBuilder and BCW. She's also the host of two podcasts (Unapologetic Women and Another Podcast). Now, though, she lives in the ecosystem of Formula 1, and she's determined to use her passion for change and learning to encourage the change she wants to see in motorsport.
Toni is most known in the motorsport world for her TikTok, where she boasts almost 83,000 followers and has built a name for herself through her unique content, but she's recently expanded her content to include regular Twitch streams and an ongoing partnership with Aston Martin. Her work in F1, though, builds on her past experiences in the workplace, and her content in motorsport has expanded throughout her time in the community to build on her interdisciplinary experts. Part of this work is 'Sunday Fangirls', which she describes as a 'cultural platform' in motorsport. It's a nebulous project that seeks to fascinate and educate, rising out of what she calls a desire to generate conversation. The long-term mission of Sunday Fangirls, according to her, is simply to lean into her passion for discussing the way that topics like motorsport, culture, fashion, politics, and technology collide:
"I think most women are this multi-hyphenated being because we've been told to "leave the fun at home", or "just be this person to get the job done", so I think we're so used to having compartmentalised all our lives, but especially with Gen Z, we're entering a period right now where we're bringing our whole selves to the job, including all our interests. I tried for so long to separate motorsport, tech, and politics because I thought that I wouldn't be taken seriously if I had all these different interests, but then I realised that I needed to just bring those things all to the table, because some of the most interesting and valuable conversations I could ever have were lying at that intersection where those things came together."
Motorsport is not just the cars that drive around a track, existing in some alternate universe where nothing else matters. Motorsport is about the science that makes those cars go around a track, the people that care about those cars going around the track, and the money from the latter that makes the former happen. It's those different areas that are what Toni's content focuses on. Initially, she tells me, she focused on factual and informative content, in order to 'protect' herself from criticism, but her content has slowly embraced topics that are generally associated with 'fangirls', such as social issues with the sport, which Toni is fascinated by. It's these discussions that have become her Unique Selling Point, and it's the embrace of these topics that form the basis for Sunday Fangirls.
"I saw a lot of women online in F1 talking about getting harrassed and saw that I wasn't and wondered why, but I realised that it was because I was putting out facts. I had never seen myself as a fangirl, and I would've felt ridiculed if I'd ever associated myself with that word. So I think [Sunday Fangirls] is a bit of a personal journey for me to really tap into a moment in my life where I realised this was a word that I hadn't wanted to associate myself with because I was worried about the connotations of it, and I had to reflect on that."
As women in male-dominated spaces, the word 'fangirl' is excruciating. Merriam-Webster and Dictionary.com use the terms "excessive" and "obsessive" to define the term- it's clear that for most, the term has negative connotations, which is reflective of endemic misogyny in fan culture: this term can be applied to women, especially young women, who are interested in literally anything, in order to disparage, ridicule, and dismiss us. We live in fear of this label because it means that to the user, we are not welcomed or valued here, because of our gender.
Sunday Fangirls is a mission to reclaim the term – Toni describes it as "a journey of taking back control."
The most prominent way that the platform is doing that right now is through merchandise, which is a core element of Sunday Fangirls, though not the only part. The pieces are highly valued by fans for their style – which, according to Toni, is because they were designed "by a woman, with women in mind". The majority of current F1 merchandise is either unisex or designed for men, and women in F1 fans frequently complain about how the fit and style of traditional merchandise doesn't fit their needs and tastes. Motorsport Twitch streamer AshVandelay, for example, tells me how clothes made for women often have "weird fits" and "uninspiring" designs. The consciousness of women and what many young women want to wear in designing the pieces was key for Toni, for whom this represents a greater inclusion of an ever-growing fanbase of young people: not just women, but a community that forms an increasing percentage of motorsport's fanbase yet are not seeing an increase in regards the attention motorsport pays them, including through products such as merchandise.
The most significant part of the Sunday Fangirls merchandise so far, though, has definitely been the caps, and that's entirely by accident. Toni describes how, as her community's words, they serve as a 'bat signal' for fans to discover each other:
"I heard stories of women saying they beelined to someone in a Sunday Fangirls cap at a race, or about women who felt lonely, who felt invisible and then saw someone else in a Sunday Fangirls cap in the paddock, and became friends with them…that brings me deep joy."
It's these stories that are at the heart of this growing community within Formula 1, and it's this community Toni is such an important voice for. For fans who feel marginalised by motorsport's archaic attitudes, because of their gender, race, age, or sexuality, community is everything. Discrimination makes us feel abandoned, but the ways that we engage with our passions help bring us together. Sunday Fangirls supports that: it provides a guiding light to bring us to one another, and when we come together, it encourages us to ask questions we want answers to and work together to make our sport a better place.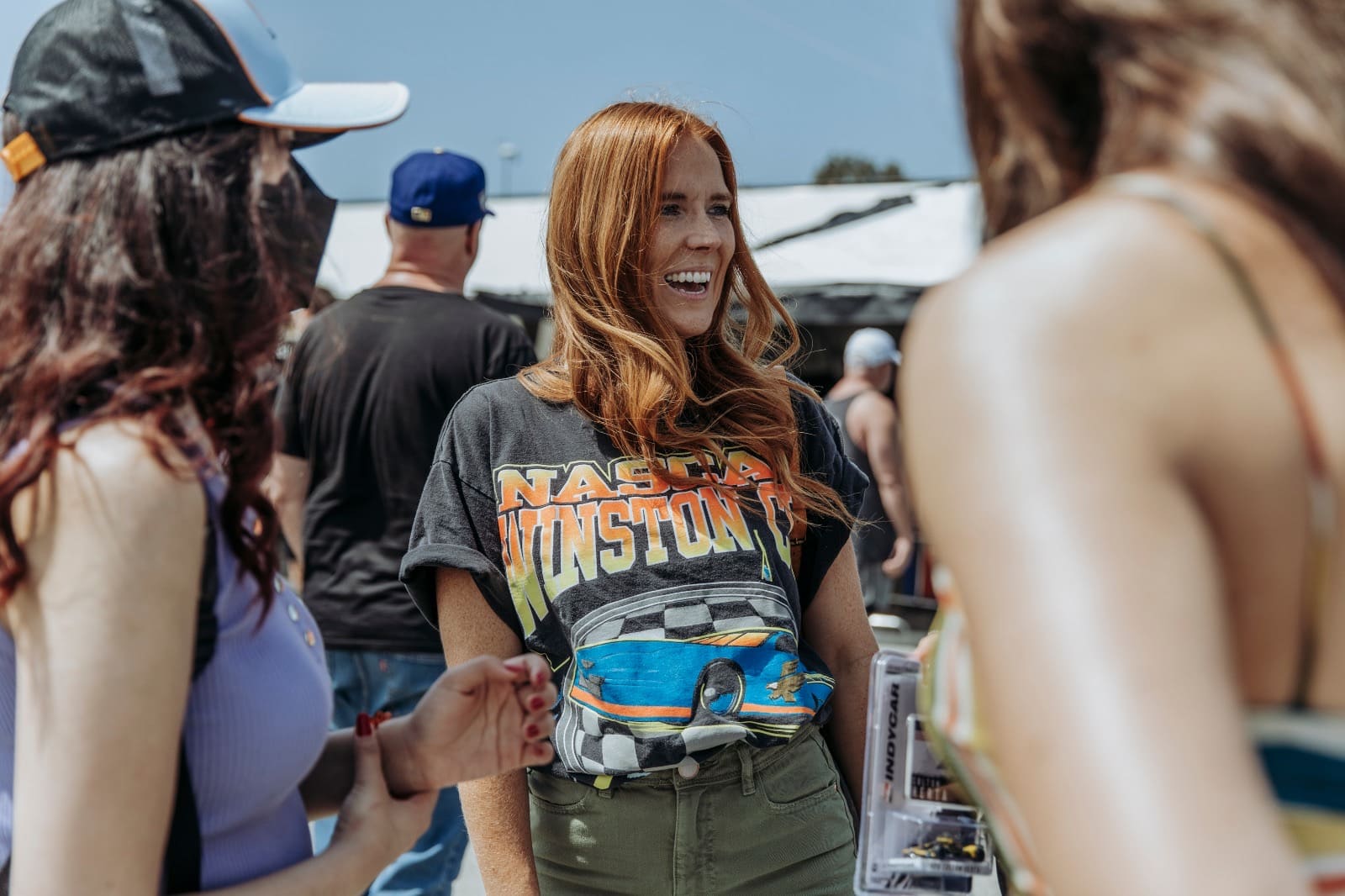 It also helps us show others who we are and what we believe in: Toni tells me stories of fans at races, including Sarah from Grid Clique, who have presented drivers with Sunday Fangirls caps to sign, and been met with the connotations of the word 'fangirls', but also questions about what the motto means. To introduce such a loaded term as 'fangirl' into such a traditional part of a fan's motorsport experience is such a great representation of what Sunday Fangirls is all about, and it's experiences like this that Toni values so greatly: these questions and discussions are the heart of everything she does, and for good reason. Forcing the motorsport 'inner circle' to learn about who we are centres us more in motorsport's fanbase. It forces us to be acknowledged and reckoned with, instead of standing at the sidelines and watching those who better fit motorsport's definition of a 'real' fan to be catered towards. The community that Toni seeks to represent is so often misrepresented and misinterpreted in F1, despite being central to it, but our growing presence means we now have to be accounted for.
Take Screaming Meals, the podcast featuring Marcus Armstrong, Clement Novolak, and James Blair, whose hosts were shocked to discover that their audience was 95% female, according to statistics provided by streaming platforms. For them, this didn't fit with their perspective of motorsport, where the fans motorsport engages with and embraces are mostly white, cis men. For those of us who don't fit into these boxes, though, it makes perfect sense that content exploring more personal and less-discussed parts of motorsport is popular with women, who Toni believes are more likely to engage in content that doesn't stick to the traditional bounds of what we call motorsport, and instead allows drivers we might support to talk about their lives and interests – the 'behind-the-scenes'.
This example is a more innocuous example of how motorsport doesn't think to include this group of 'other' fans in its work, but Toni also highlights the more sinister ways that this pervades motorsport.
"[People in motorsport] want the legitimacy and the relevancy that young women bring them on the internet, but are also criticising them – they can't find it in themselves to respect [these fans] or view them as equals. Why is it taking F1 so long to realise that the people they profit from are also the people they aren't actually making feel welcome? I want Sunday Fangirls to help people in motorsport to stop being so surprised that women rule the fucking world. We buy the merchandise and the tickets, we organise the race weekends and the fan groups, we're doing everything here – you just show and have a good time, and yet everything is still catered to you."
From thirst traps to the way teams type on social media, so much of how motorsport engages with all its fans comes from this demographic of fans and the content they produce, because in so many spaces, these are the groups most actively engaging with motorsport, and Toni highlights how, in regards to things like TikTok dances, this disproportionately affects young Black women, who so often have their trends co-opted by white creators.
Yet, paradoxically, these fans are ignored and sidelined by Formula 1 when it comes to actually listening to what fans want. We're embraced and celebrated when we can help turn over a profit, but when it comes to the basics like accessibility and safety, we are constantly ignored, with fans facing an uphill battle to feel comfortable at race tracks and have their concerns addressed.
The FIA itself does it, but individuals are guilty of it too. In 2021, Daniel Ricciardo was the second-most popular driver amongst women, yet when questioned in 2021 infamously dismissed concerns about the rights of women and LGBTQ+ people in Saudi Arabia – a topic brought to the forefront by those communities in F1 – as "drama and negativity". For Toni, Sunday Fangirls is about making sure this attitude is driven away, by cultivating conversations that bring these topics to the forefront – and, of course, these all intertwine with Toni's other passions. Every time she speaks, I can hear her passion for driving progressivism in motorsport. It's a goal she's already achieving, but I am convinced that these returns will multiply, because she is one of the leaders of a growing force of fans who are absolutely determined to force motorsport to change.
"I laugh when I see F1 talking about the new young women who are fans, because I think, "wait until they start calling bullshit on you". I would stop celebrating and get to work, because give us twelve or eighteen months, and if nothing has changed, we're going to get really pissed off."
Amelia Taylor is the author of "formulaAMELIA" details at formulaamelia.com
Copyright ©2021 formulaAMELIA
[Note: The opinions expressed on this website are those of the author and do not necessarily reflect the opinions of the editors and/or publishers.]