Formula 1 is an adrenaline-pumping sport showcasing exceptional driving skills and high-performance race cars. Despite the incredible talent displayed on various tracks throughout the years, not every driver has had the fortune to taste victory…
Here we will look into the drivers with the most races without a win in F1, and their noteworthy careers.
Who Has the Most Races Without a Win in F1?
Topping the list of drivers with most F1 races without a win is Andrea de Cesaris, an Italian driver who took part in a staggering 208 races between 1980 and 1994. Although he never reached the top step of the podium, de Cesaris did manage to achieve second place as his best result.
Noteworthy Winless Driver Careers
Some drivers have had quite impressive careers, even without ever achieving that sought-after victory. Here are a few notable examples:
Nick Heidfeld: This German driver holds the record for the most podium finishes without securing a win – 13 in total. He came close to winning on several occasions, with P2 being his highest achievement.
Kevin Magnussen: As of the current date, Magnussen has started 145 races without an F1 win. He debuted in 2014 and has since proven himself to be a skilled and consistent driver. While there is a new betting offer to see when the Dane will claim his first win, it seems unlikely to come if he remains with Haas.
Romain Grosjean: Though never enjoying the thrill of victory, Grosjean collected 10 podium finishes throughout his Formula 1 career. His best result was P2, which he achieved twice.
Martin Brundle: A talent on the racetrack, Brundle participated in 158 F1 races but never celebrated a win. However, he managed to collect 9 podium finishes during his career.
Nico Hülkenberg: Holding the title of the most successful points scorer without securing a Grand Prix win, Hülkenberg has accumulated 521 points throughout his career.
These drivers' careers, sprinkled with podium finishes, near-victories, and impressive point tallies, prove that racing success is not solely measured by race wins or championship titles. Their dedication and skillful performances have earned them a well-deserved place in the annals of Formula 1 history.
Podium Finishes
Most Podiums Without a Win
Nick Heidfeld holds the record for the most podium finishes without ever winning a race in Formula 1. The German driver managed to secure an impressive 13 podiums throughout his career, which spanned from 2000 to 2011. Despite his numerous podium finishes, Heidfeld was never able to secure a race win, suffering from bad luck, car issues, or being outperformed by his rivals.
Some of the teams that Heidfeld raced for during his career include McLaren, Sauber, BMW Sauber, and Renault. Throughout this time, he competed against top teams such as Ferrari and was partnered with talented drivers who would often challenge him for the podium spots.
Memorable Near-Win Moments
Although Heidfeld was unable to secure a race win, his career had several memorable near-win moments:
2005 Australian Grand Prix: Heidfeld started the race from 10th place but managed to make his way through the field, finishing second behind Giancarlo Fisichella of Renault. This marked his first podium finish with Williams.
2007 Canadian Grand Prix: One of the most thrilling races in Heidfeld's career, where he started 4th and managed to finish 2nd. The race was most notable for Lewis Hamilton's maiden win and the massive crash involving Robert Kubica, which Heidfeld narrowly avoided.
2008 British Grand Prix: Starting from 7th position, Heidfeld drove a strong race in extremely wet conditions to finish in 2nd place. During the race, he made a considerable number of overtaking moves and displayed his exceptional driving capabilities in challenging circumstances.
Throughout Heidfeld's career, he accumulated a considerable number of points and helped his teams secure valuable Constructors' Championship positions. However, despite being surrounded by many opportunities and racing for competitive teams, the elusive race win remained out of reach for this talented driver.
Career Trajectories
Rising Stars And Missed Opportunities
In the world of Formula 1, some drivers quickly make a mark while others take time to showcase their skills. Lewis Hamilton, for example, made an immediate impact in his first season in 2007, while Sebastian Vettel and Max Verstappen gained prominence through their consistent performances in their rookie years.
However, not all drivers have the same fortune. Some talented racers like Lando Norris and Lance Stroll have had promising starts but are yet to secure their first race win. For instance, Norris had an impressive 2021 season with several podium finishes, but narrowly missed out on his first victory at the 2021 Italian Grand Prix, finishing just behind his then-teammate Daniel Ricciardo.
Other names like Robert Kubica and Daniil Kvyat fall into the category of drivers who started strong yet haven't won a race. Despite reaching the podium in multiple events such as the Monaco Grand Prix and the Turkish Grand Prix, Kubica and Kvyat haven't been able to secure a win thus far.
Veteran Drivers Succeeding Without Wins
It's worth mentioning that some drivers have managed long careers in Formula 1 without ever winning a race. For instance, Nico Hülkenberg holds a record for most race starts (187) without a win, while Kevin Magnussen has raced in 145 Grands Prix as of the 2023 Monaco Grand Prix without a victory.
Other drivers such as Mika Salo and Riccardo Patrese have enjoyed success in different ways during their careers, such as securing podium finishes or assisting their teams in achieving F1 Constructors' Championship titles. These drivers' achievements illustrate that though race wins are significant, they are not the sole measure of success in Formula 1.
In conclusion, drivers in Formula 1 have varying career trajectories, with some rising stars earning their first race win in a short time while others wait for years or complete their careers without any victories. Regardless of the number of wins, these racers showcase their dedication and skill in the highly competitive world of Formula 1.
Who Has the Most Races Without a Win in F1? – FAQs
Who has the most races without a win in Formula 1?
Andrea de Cesaris holds the record for the most races without a win in Formula 1 with 208 races. Andrea de Cesaris was an Italian racing driver who competed in Formula One from 1980 to 1994. During his career, he participated in 208 Grand Prix races and didn't win any of them. He did, however, manage to achieve five podium finishes and three pole positions during his career 
How many races did Andrea de Cesaris participate in without winning?
Andrea de Cesaris participated in 208 Formula 1 races without winning a single race.
Who is Andrea de Cesaris?
Andrea de Cesaris was an Italian racing driver. He competed in Formula 1 from 1980 to 1994 for several teams and is remembered for his long and varied career, despite never winning a Grand Prix.
Did Andrea de Cesaris ever reach the podium in his F1 career?
Yes, despite not winning a Grand Prix, de Cesaris did finish in podium positions multiple times. He had 5 podium finishes in his career.
Which teams did Andrea de Cesaris race for in his F1 career?
During his F1 career, de Cesaris drove for several teams including Alfa Romeo, McLaren, Ligier, Minardi, Brabham, Rial, Dallara, Jordan, and Sauber.
Why did Andrea de Cesaris not win any races despite participating in so many?
Several factors contributed to this, including reliability issues with his cars, unfortunate accidents, and driving errors. It should be noted that F1 is a highly competitive sport and winning requires a combination of driver skill, reliable machinery, effective team strategy, and a bit of luck.
What is Andrea de Cesaris' legacy in Formula 1?
Aside from crashing a lot, Andrea de Cesaris is remembered for his tenacity, bravery, and commitment to the sport. Despite his lack of victories, his long career and ability to occasionally challenge the frontrunners are commendable.
What other records does Andrea de Cesaris hold in Formula 1?
n addition to having the most starts without a win, de Cesaris also held the record for most consecutive race retirements. He retired in 18 consecutive races from the 1985 to 1986 seasons.
Who is the driver with the second-most races without a win?
The driver with the second-most races without a win is Nico Hülkenberg, who has competed in 187 races without achieving a victory.
Are there drivers currently racing in F1 who could break de Cesaris' record?
After returning to F1 in 2023 with Hass, Nico Hulkenberg (187 starts) is the closest to breaking the unwanted record. However, Formula 1 is unpredictable, and it's possible that a future driver might surpass this record.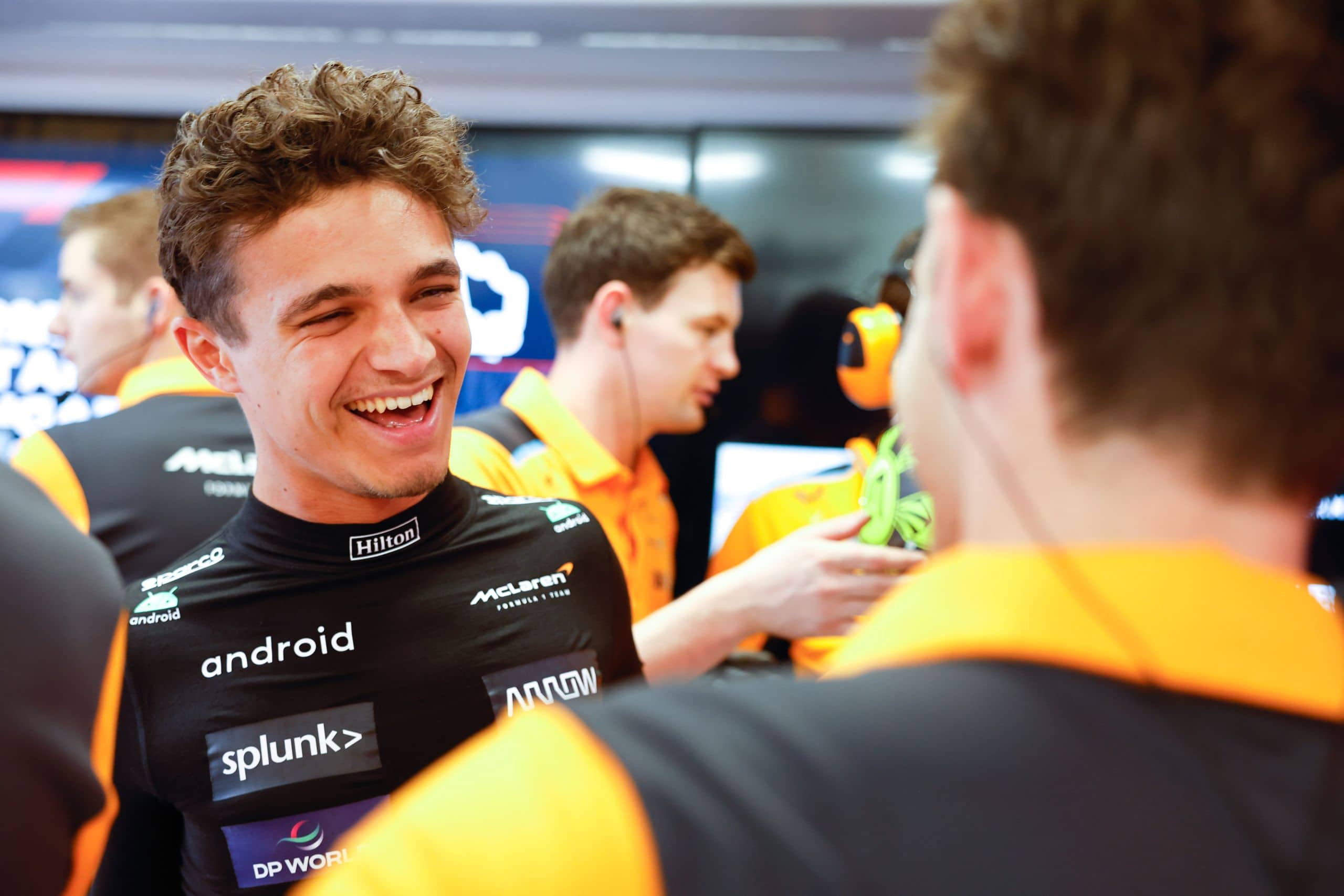 In the most recent times, Zak Brown, the top boss ...