Sponsors have a lot of impact on F1 competitions. For starters, they are a source of funding for the teams, and their performance is often tied to how much sponsorship revenue they can bring in. But sponsors also play a role in how the whole race weekend looks. The appearance of things like the cars and driver overalls are depend on sponsor branding, and all of the signage that is used around the race tracks also have the names of certain brands like Pirelli and Rolex on them. So let's see what companies can finance F1.
General Sponsorship Rules
If you followed F1 when Michael Schumacher was dominating you would definitely remember the red Marlboro uniforms. These really looked cool, but today there are no sponsors related to the cigarettes or the tobacco industry. However, you can see the sponsors that have to do with the gambling industry. If a company offers sports betting options like some of the Canadian casino online sites then they might appear as one of the sponsors.
This is because sports gambling and sports are closely connected, and the companies are also regulated to promote responsible behaviour. Also, viewers might want to place bets while spectating so it plays a role in the overall enjoyment of the event. That being said, certain products, like cigarettes, are definitely excluded nowadays.
Generally speaking, almost anyone can be a sponsor and have their ad on the event. Some exceptions are:
Drugs
Cigarettes
Weapons
Adult content
Political content
When it comes to alcohol, pharmaceuticals, gambling, and financial services, it seems that the decision is really up to the team.
How it Works
These sponsorships are extremely important to the team and some of the teams even get up to 80% of their total income from these deals. In return sponsors get their name displayed on the car, and on drivers' uniforms, and there are some guides on how these things are handled, but the idea is that the brand name is visible on the vehicle. However, the team's success also dictates how much they can get from these sponsorship deals, as top performers are definitely more expensive since the brand name and logos are going to receive more attention.
New Sponsors
Clearly, some of the sponsor choices might seem controversial, especially after the exclusion of cigarettes. F1 has stayed away from gaming company sponsors for more than 4 decades but that is beginning to change. We also have crypto companies as sponsors nowadays, which are again at the centre of controversy. Some might argue that any product that can adversely affect your health or finances should not be advertised, but upon closer inspection, a lot of companies that are commonly sponsoring events falsely advertise their product.
Clothing or fashion companies, as well as Coca-Cola or energy drinks, are all common sponsors. Yet their commercials commonly have to do with success, happiness, virility, and fitness. Of course, they have nothing to do with these traits, and yet the ad campaigns remained the same for years. In other words, it's really up to a general public opinion on what should and should not be advertised, and currently, a great portion of people enjoys online games and loves trading in cryptocurrencies. 
List Of Formula 1 Team Sponsors
Mercedes
Petronas, INEOS, UBS, Epson, Bose, Tommy Hilfiger, IWC, Hewlett Packard, The Ritz-Carlton, Monster Energy, Pure Storage, CrowdStrike, TIBCO, AMD, Puma, Police, OZ Racing, Endless, Axalta, Belstaff, Marriott Bonvoy, TeamViewer and Pirelli.
Red Bull Racing
Rauch, Honda, Mobil 1 Esso, Puma, Tag Heuer, Citrix, Siemens, AT&T, Intel, Hewlett Packard, Telcel, Iris, AlphaTauri, Hexagon, DMG Mori, Ansys, Sabelt, OZ Racing, PWR, Gold Standard, PRECOR, Oura, Claro, America Movil, Therabody, Oracle, Walmart and Pirelli.
Ferrari
MissionWinnow, Ray-Ban, Richard Mille, Kaspersky, UPS, Weichai, Estrella Galicia 0,0, OMR, MAHLE, Pirelli, Puma, Radiobook, SKF, Vistajet, Marelli, NGK Spark Plugs, Brembo, Experis, Riedel, Iveco, Palantir, Bell, Technogym, Alfa Romeo, Garrett, Shell, Giorgio Armani and Sabelt.
McLaren
British-American Tobacco, Splunk, DarkTrace, Dell, Huski Chocolate, Gulf, Arrow, Richard Mille, Hilton, Coca Cola, Unilever, FxPro, Deloitte, TUMI, Iqoniq, Mind, CNBC, Klipsch, Sparco, Volvo trucks, Enkei, Mazak, Marelli, Ashurst, Stratasys, Kaust, Hookit, Alienware, Veloce Esports, Ultimotive, NEW ERA, FAI Aviation Group, Buzz & Co, Cisco Webex, Miory Steel, Garena, AkzoNobel-Sikkens, Logitech G, QNTMPAY, Bitci.com, FxPro and Pirelli.
Alpine
Kappa, K-Way, Castrol, RCi, MAPFRE, bp Ultimate, Dupont, Microsoft, Bell & Ross, Eurodatacar, Pirelli, GENII, Renault E-Tech, Yahoo!, 3D Systems, Hewlett-Packard, PerkinElmer, Le coq Sportif, GF Matching Solutions, Siemens, Alpinestars, Boeing, Elysium, GCAPS, Hexis, Jabil, Linde, MATRIX, Roland, Trak Racer, and Volume Graphics.
AlphaTauri
myWorld, Edifice Casio, AlphaTauri, Honda, Randstad, Pirelli, RDS, Riedel, Siemens, and DAZN.
Aston Martin
Cognizant, Crypto.com, NetApp, SentinelOne, Bombardier, Girard-Perregaux, Peroni, BWT, REPLAY, Ravenol, EPOS, JCB, EBB3, UPS Direct, STL, Pelmark, Voip Unlimited, Condeco, IFS, Schuberth, Hackett London, Alpinestars, Oakley and Pirelli.
Williams
Sofina, Lavazza, Acronis, Versa, Financial Times, PONOS, Symantec, IQONIQ, Pirelli, Umbro, PPG, Thales, Precision Hydration, Crew Clothing, U-Earth, Life Fitness, Spinal Injuries Association (sia), Honibe, Bremont, Zeiss, KX, DTEX, B&R, Nexa 3D and OMP.
Alfa Romeo Racing
Alfa Romeo, PKN Orlen, Adler Pelzer Group, Acer, Built for Athletes, Carrera, Singha, Additive Industries, IQONIQ, Iveco, Livinguard, Marelli, Mitsubishi Electric, Pirelli, Save the Children, Sparco, Walter Meier, Zadara, AB Dynamics, Brutsch-Ruegger, and Riedel.
Haas
Uralkali, 1&1, Alpinestars, Pirelli, Schuberth, Stichd, Haas Automation, Ionos and Under Armour.
FORMULA 1
ROLEX, DHL, Aramco, Pirelli, Emirates, Heineken, AWS, Liqui Moly, Expo 2020, AMG, 188Bet, Hotels for Hope, Fanatec, Ferrari Trento, Zoom, Herjavec Groupe, Drive Coffee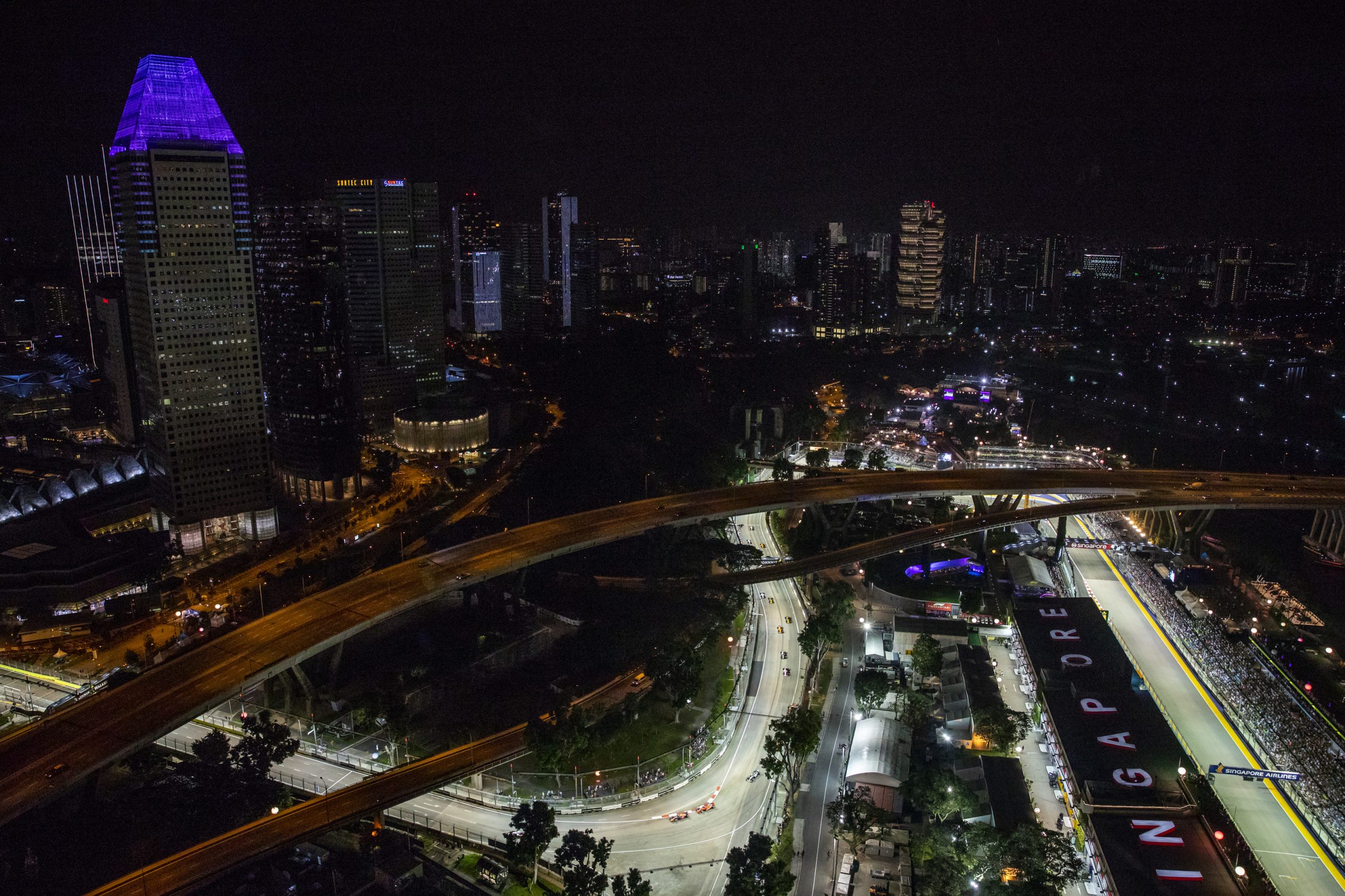 Formula 1 has today announced that the Formula 1 Singapore ...