Extraordinary Talent vs Serendipity
From early on in their career the top drivers in F1 tend to shine through they show extraordinary talent when a known slower car suddenly starts fighting for midfield or podium positions after they've joined the team. These drivers are arguably unrivalled in terms of race craft, driving skill, unwavering determination, and superhuman natural ability.
However talented they may be, to win consistently requires a car with the ability to perform at a level matching the driver's skill. Furthermore, to remain consistent throughout the season both driver and car need the backing of a determined team of equally talented engineers, mechanics, and other support staff. This team of highly trained experienced people not only repairs, tunes, and dials in the car, they also try to mitigate as many risk factors as possible.
Historically this combination of factors led to only two or three drivers in any generation completely gelling with their car and team which sees them cementing their place at the very top of F1 for years. These are the famous driver/car combos that one could expect to win a race or at the very least wind up on the podium after starting from the midfield or close to the back of the grid.
However, there are those times when a name that completely surprised everyone became a race victor. Call it serendipity, coincidence, or lady luck sometimes puts in a stronger appearance than all the preparations of all the top teams combined, as a result, the chance or gamble factor gave us quite a few races where a driver unexpectedly defied the odds over the years.
Speaking of gambling and defying the odds, a sizeable number of F1 drivers love to gamble in their own time. Hence, many of the early drivers relocated to Monaco for the nightlife and glamour offered by its lavish casinos. The city-state made it easier for the F1 driving stars to live a playboy lifestyle.
Nowadays, several drivers still move to live in Monaco, mainly for tax purposes but refrain from engaging in many nightlife activities due to potential negative impacts from the intrusiveness of the ever-present paparazzi and social media.
Fortunately, they still have the option to gamble in the privacy of their homes and yet remain completely true to their sport. This is mainly due to the marvels of modern technology that offers a wide variety of online casino entertainment options for those slots fans who love racing sports and other sports-related casino games.
It is also at times like these that a driver who never stood much of a chance of winning the race managed to stand on the highest step of the podium. Many of them were respectable drivers who had the skill to earn and deserve a place in F1 as a strong midfielder or as a backup driver to the championship contender.
The Skilled Ones
John Watson – "Wattie"
John Watson made the improbable possible twice in two consecutive years, both times on US tracks. As championship contender, he started 1982's Detroit Grand Prix in 17th position from the eighth row on the grid. Due to factors not in his control the Irishman had a lackluster qualifying that saw him relegated to near the back of the grid. Further counting against him was the stop-start nature of tracks like the Detroit street-circuit with 90-degree corners that are notoriously difficult to overtake on.
On that day Watson made overtaking on the circuit around the Renaissance Center high-rise office complex look easy and it all came down to tire choice. Soon after the drivers settled down following the insanity at the start of the race John discovered his hard compound Michelins were the perfect match for the setup on his McLaren that day.
By lap seven he was already four places up in 13th when the red flag came out following a serious racing incident, stopping the race. At the restart, the race set off with Alain Prost in the Renault leading Keke Rosberg's Williams in 2nd, with the Ferrari of Didier Pironi in 3rd. Rosberg took the lead from Prost with a sensational forced pass, however, by then "Wattie" had already stolen the show with all eyes following his spectacular progress through the field.
By lap 25 John had blazed his way up to 7th where everyone expected he would settle to the finish, but "Wattie" had other ideas. With the red mist still firmly down, he made up three more places in a single lap as he passed team-mate Niki Lauda, then the Ligier of Eddie Cheever, before taking down Pironi in his Ferrari.
Lauda inadvertently demonstrated the supreme level at which Watson was performing on that day. Lauda attempted to replicate his teammate's pass on Rosberg's Williams but got it crossed up and stuck his car into the wall.
A few laps later Rosberg's Williams lunched its engine which left Watson with such an unassailable lead he only had to nurse his car to the end. He outperformed 16 of the world's best race car drivers to finish first after starting from 17th spot on the grid – remarkable!
Jackie Stewart – "Flying Scot"
After retiring from F1 as a competitive driver and three-time world champion he became one of its greatest ambassadors. For decades after his retirement, the opinions of Sir John Young "Jackie" Stewart OBE continued to carry massive weight in any conversation with anyone about any aspect of the sport.
His personal off-track excursions turned him into one of the original proponents for improving driver safety in F1. Jackie was by far the most vocal about it, which meant he was often not well-liked by team managers and owners.
South Africa's Kyalami racetrack played host to the 1973 F1 GP, while still sitting on the grid the Flying Scot made up his mind to further cement the already solid foundations for his nickname. Jackie qualified in 16th position after brake failure led to a crash during practice which relegated him to start from the seventh row of the grid.
A superb start and some massively skilled driving saw Jackie take the lead as early as lap 8. Once he had clean air and a clear track in front of him the rest of the field posed little threat. He continued extending his lead as he marched his way to victory over the remainder of the race. Stewart went on to win the final of his 3 championships that year before announcing his retirement at the season's end.
Max Verstappen – "Mad Max"
Even before his official entry into F1 there was a lot of speculation about Max Verstappen's talent as a driver. He made his F1 debut with Toro Rosso in 2015 at the Australian Grand Prix as the youngest ever F1 driver by close to two years. Halfway through the 2016 season, he moved to Red Bull, later that year at the Spanish Grand Prix at the age of 18 he became the youngest ever winner in the history of F1.
That same year Max rewrote F1 history once again when he became the youngest to ever start from the front row of the grid. Later in Brazil, he continued blazing a trail marked with extraordinary performances as he became the youngest driver to record the "fastest lap of the race". At the age of 23 two factors greatly contributed to his success, Max always had incredible self-belief and throughout his career, he consistently outperformed all his teammates.
At the end of the 2020 season after Max had faced two dominant Mercedes' all year long the promising young dutchman unexpectedly delivered an overpowering victory at Abu Dhabi's Yas Marina F1GP circuit. Previously in 2020 he only managed to collect a single victory during the early part of the season, mainly due to the dominance of Mercedes' superior cars.
Mercedes' supremacy over the past decade combined with the performance levels of the cars he drove has long held back Max's potential for brilliance to dominate the F1 field. That day he gave a powerful notice of things to come.
The Lucky Ones
Pastor Maldonado – "Crashtor"
Pastor was certainly not the least capable driver ever to occupy an F1 seat. He certainly had the speed, on pure pace alone the Venezuelan bested the majority of drivers who clinched a seat in F1 by way of a driver sponsor.
In the end a career marred by a series of calamities and countless crashes earned him a spot on a list of the five most accident-prone drivers in modern F1 history. Unsurprisingly having accumulated 26 penalty points he also tops the charts for racking up the most penalty points, nearly doubles that of second-place man Romain Grosjean.
Pastor may have hated his unflattering nickname "Crashtor", but he sure worked hard at earning it. His efforts earned no less than €12,000 in fines, 305 seconds in time penalties, lost 88 places in grid penalties, received 3 reprimands, and one exclusion from qualifying.
Racking up no less than 56 accidents and causing a swath of other catastrophes across his debris-strewn 95-race career. There were entire websites dedicated to keeping track of his numerous accidents and other misadventures. On more than one occasion he even took out his own teammate, seemingly not by accident but out of pure frustration.
Aside from all the negative topics of discussion surrounding Pastor Maldonado, one thing he never lacked was outright pace. On the 12th of May 2012 at the Circuit de Catalunya, Barcelona Maldonado had the fastest car of his life under him, and he promptly set the fastest time in qualifying. Shortly after Hamilton put in an even faster lap but a pending grid penalty dropped him back leaving Maldonado to start on pole for the 2012 Spanish F1 GP.
To the great surprise of no one 5th placed Alonso in the form of his life and on home soil had a blistering start. After the Spaniard squeezed his Ferrari into the lead at Turn 1 few had much hope of Maldonado returning for an assault on the lead. However, on that single day in his career, he had the pace and mental control to keep within sighting distance of the lead throughout the first stint.
After taking on a fresh set of rubber Pastor drove out of his skin during the second and within 9 laps he had closed the gap to Alonso from 3.5 to 1.5 seconds. Maldonado's Williams clearly had a much greater race pace on the hard compounds than the Ferrari, Williams responded by altering their strategy, opting to pit him early hoping to make the undercut instead of leaving him stuck in Alonso's dirty air.
As fate would have it, Alonso got stuck in traffic making the strategy even more effective with the Ferrari re-joining the track a full six seconds down. Against the odds and all expectations Maldonado prevailed, retaining his composure under tremendous pressure, and drove a flawless race over the next 30 laps.
He took the chequered flag a full three seconds ahead of second-place man Alonso. With that, he recorded the only F1 race win of his career, became Venezuela's first winner of an F1GP, and scored the Williams team's first victory in more than eight years.
In the history of F1s 71 seasons only 78 drivers have won an F1 race, most are admired and highly respected, a few even attained legendary status. As improbable as it might seem Pastor Maldonado's incredible win in the 2012 Spanish GP not only came as one of the biggest shocks in F1 history. This singular win also gave him the distinct honor of adding his name to a list containing 78 illustrious F1 race winners, F1 will miss "Crashtor".
Jenson Button – "JB"
The time was the 12th of June 2011, the place and occasion of the F1GP at Circuit Gilles Villeneuve, Montreal, Quebec, Canada. Some may wonder why an accomplished driver like Jensen Button is considered as one of "The Lucky Ones", especially since he was already an F1 Champion at the time.
What made this win so astounding was the unbelievable swings from terrible luck to hugely fortuitous occurrences and near impossible circumstances. It also turned this race into his most famous win. Some may call his performance a masterclass in wet weather racing while others may construe it as extreme luck. However, considering all that happened on that fateful day it was likely a combination requiring huge dollops of both. Personally, he called it his greatest race, it was the day he came from last to win at 2011 Canadian GP.
Torrential rain saw the field start from behind the safety car, with the safety car putting in two further appearances before the race got red-flagged on lap 25. Completing the first 40 laps required three hours and twenty minutes during which the field had just 12 laps of running under a green flag. By the end, the race lasted four hours, four minutes, and thirty-nine seconds from start to finish which made it the longest ever race in F1 history.
Jensen showed massive mental fortitude and patience as he fought his way back to the front repeatedly in the wake of six pit visits, a drive-through penalty for speeding under the yellow flag, a high-speed collision with his teammate, and a flat tire after a minor coming together with Alonso.
This glut of bad luck eventually left him dead last in the pouring rain and a one-minute thirty-second gap to Alonso in first place with just 30 laps remaining. During his last pitstop, he made the daring choice to go back out on slicks while most others opted for full wets or intermediates. The rain stopped completely soon after. As the dryline appeared Jensen picked up one position after another as other drivers either battled along on full wets in hope of more rain or while pitted to switch to slicks.
Button moved into an impressive fourth spot with fifteen laps left on the board and a forty-seven-second gap to Vettel in first. Vettel's final pitstop cut the gap down to just 15 seconds before the safety car once again returned to a debris-strewn track in the wake of a crash by Heidfeld, to effectively cut the gap to nothing.
With seven laps to go Button took third after a mistake from Webber and picked off Schumacher for second on the next lap. This left him with five laps to catch and pass Vettel, with just half a lap remaining the German driver made a big enough mistake to hand Jensen a near risk-free opportunity to pass.
Want to save this information for later?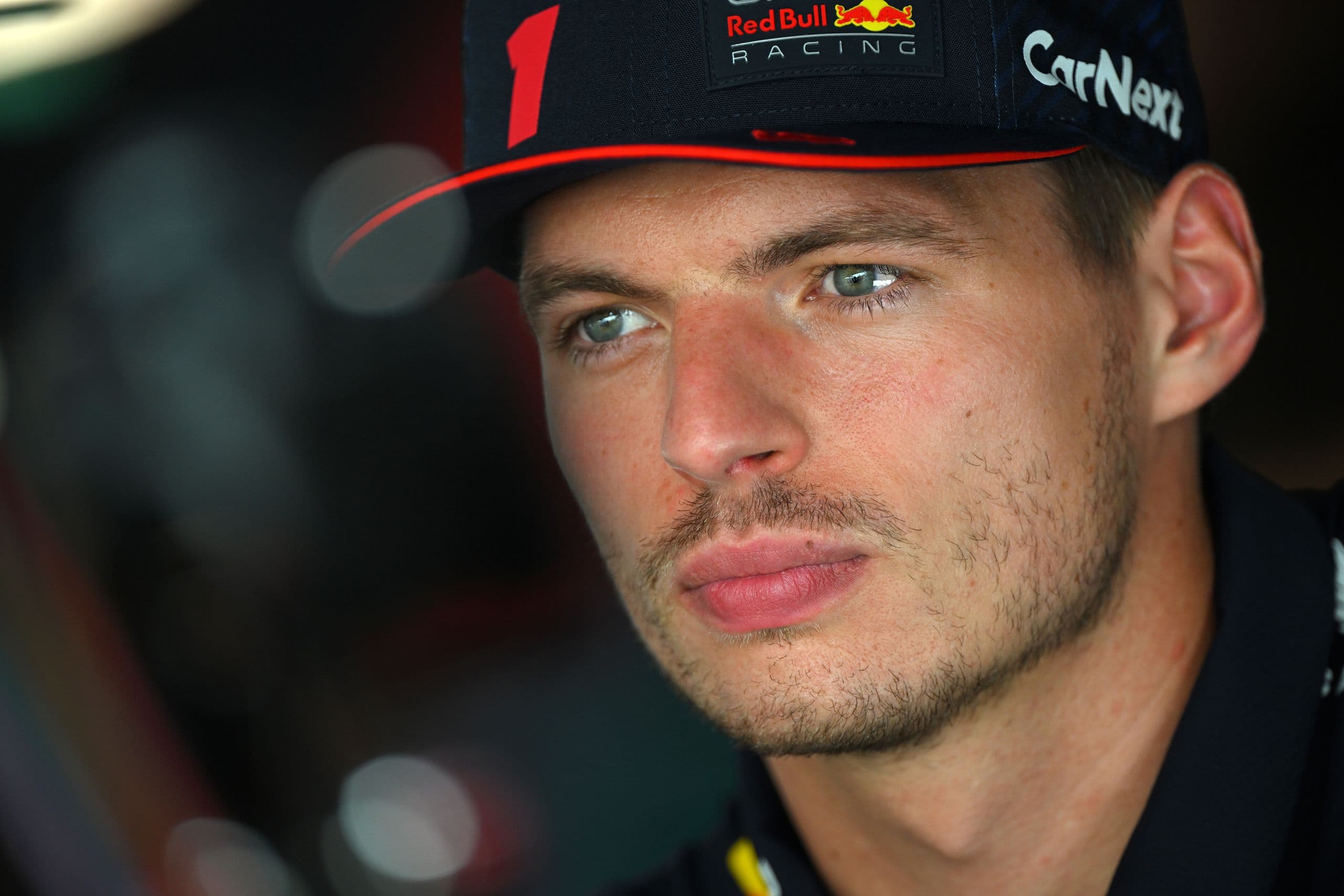 Why Max Verstappen deserves some respect, at the very least, ...