The Beginners Guide To Betting On Formula 1
Formula 1 racing is the pinnacle of motorsport, and this 'Beginners Guide To Betting On Formula 1' has been designed to help you cash in on the popularity of this truly global racing category.
F1's popularity has been rapidly growing in the US in recent years thanks to the success of initiatives such as Netflix Drive To Survive. This is why it's important to learn how to bet on Formula 1, and put more money in your pocket…
How Can I Bet on Formula 1 Online?
#1: Pick a Betting Site
Betting on Formula 1 is done at sportsbooks, which are online gambling sites for sports bettors.
A quick Google search will bring up hundreds of places to bet on Formula 1 online, so it is important to use a sportsbook you know and trust before you start betting online.
The team at F1 Chronicle use the online sportsbook BetUS when we bet on F1. You can use our code JOIN125 to get a 125% bonus at sign-up too (though please note this is only for US residents, they're not currently taking new UK customers).
#2: Sign Up
Registering for a new account requires your name, address, phone number, email, and date of birth. After you have confirmed your email account, your new account is ready, meaning you can add a deposit and then make your first bet on Formula 1.
#3: Add A Deposit
Payment options for online gambling sites include credit cards, e-wallets, debit card deposits, PayPal, Neteller, and Skrill. You can make deposits at some online sports betting sites using cryptocurrencies like Bitcoin, Litecoin, Dash and Ethereum.
#4: Place A Bet
Submit your Formula 1 ticket by selecting the race, the driver, the bet type, and the dollar amount. Many online sportsbook outlets have bonus offers when you open a new account or make a qualifying bet on any of their sports betting options, not just F1.
To get you on the right track, the sports betting information below will help you make smart choices when betting on Formula 1, all season long…
Formula 1 Betting Terms For Beginners
There are 23 Formula 1 Grand Prix races on the 2022 F1 calendar, meaning there are so many opportunities for you to bet on F1 that you can take your time to find the right wager for your risk appetite.
Outright Bet: Formula 1 Grand Prix Race Winner
The most common wager on these races is simply a bet on which F1 driver will win. Typically, there is a clear favourite, such as Lewis Hamilton or Max Verstappen, who go off at odds such as -150 (bet $150 to win $100), whereas others in the field, like Charles Leclerc, go off at odds such as +200 (bet $100 to win $200) all the way up to crazy odds such as 5000-to-1 on underdogs like Alex Albon. These overall odds will change throughout the year as a car's true performance is revealed, so make sure you check the odds before every race.
Podium Finish Bet
An individual who places a bet on the podium finish of a driver will wager on the driver's finish in either first, second, or third place. It doesn't matter which position the driver finishes in. If your driver finishes first, you win your bet. Even if your driver finishes third, your bet still wins.
There is no difference in winnings based on where the driver finishes on the podium, as long as the driver finishes in the top three.
Prop Bets
Additional props may be offered by some sportsbooks on a race-by-race basis, including:
Which manufacturer will win the race?
What country will the winner come from?
Will the safety car come out?
Will a specific driver score a points finish?
With more than 900 Grands Prix under its belt, Ferrari has competed in every World Championship since 1950 and is looking to get back to the top of the pile in 2022, but will have to battle Red Bull Racing and Mercedes every step of the way.
Futures Bets
Futures are bets on the driver or team that will be crowned champion at the end of the F1 season. In Formula 1, you can bet on which team you think will win the Constructor's Championship, and you can also bet on who you think will win the Driver's Championship. This bet is best placed prior to the beginning of the racing season, because some sportsbook operators close the action as soon as the first race begins.
Fastest Lap Betting
If your betting strategy is based on finding high Formula 1 betting odds for bets that have a decent chance of winning, the fastest lap market is well worth a look.
With an extra Championship point up for grabs for the person who sets the fastest lap of the race, the stakes are high, as in previous years we have seen championships won or lost by a single point.
Lewis Hamilton has been on both sides of the coin, losing the 2007 title to Kimi Raikkonen by 110 to 109. He then famously won the 2008 title on the last lap of the last race of the season, edging out Felipe Massa 98 to 97 for his first World Championship.
As a result, team strategy often comes into play, with the teammate of a championship protagonist pitting late for fresh tyres to try and steal the fastest lap point from a rival competitor.
Live Sports Betting On Formula 1
In-play betting on Formula 1 is a thrilling experience where quick decisions are key. When you bet on F1, you're constantly reevaluating your judgments on a race, unlike in some other sports. For example, during a race every driver must pit to change their tires at least once. You can gain an advantage when you live bet on Formula 1 by predicting when this will happen.
Commentators who were former drivers such as Martin Brundle and Paul di Resta can be invaluable when live betting on Formula 1 races, as listening to these experts will help you understand the different strategies teams and drivers will implement. You can also use the official F1 app to monitor live data to help with your decision making.
Betting on a particular driver could depend on whether you believe that they are pitting at the wrong time or not. On the other hand, it may be the perfect time to back that driver's rival in the race.
F1 Qualifying Betting
F1 qualifying has three knockout periods for each race. The five slowest drivers are eliminated after Q1, and then the next five slowest drivers are eliminated again in Q2, leaving 10 cars to battle for pole position in Q3.
Betting on who will take pole position is a great betting market to look at during F1 qualifying. At this point, you would have seen how the cars have performed at the circuit during the three free practice sessions, and should have a pretty good idea of which one could set the fastest lap in qualifying.
Formula 1 Betting Online Strategies And Tips
While a huge payout on the underdog may look tempting, they are often a waste of money. Formula 1 is a sport in which the best drivers in the best cars usually win. In 2017, Mercedes Lewis Hamilton won nine races and his teammate Valtteri Bottas won three. In 2014, only three drivers were able to earn wins all season: Lewis Hamilton (11), Nico Rosberg, (5)Daniel Ricciardo (3).
New regulations have been introduced for 2022 to even the playing field, however, the big guns of Ferrari, Mercedes and Red Bull are still favoured to pick up the majority of race wins.
This means that realistically there are only going to be three or four drivers that have a chance of winning at any given race weekend. One way to find good betting value is to avoid overvaluing the qualifying results.
Earning pole position does give the driver in the lead a big advantage over the field as he should be able to get to the first corner first, positioning himself nicely in the clean air. But even with this advantage, the driver who takes pole position only wins 40 per cent of the time. While this is significant, it isn't necessarily worth risking huge money for.
Often there can be more value in betting on a driver on the second row of the grid at +300 or +800 instead of just betting on the huge favourite starting from pole.
Where Can I Find A Suitable Sportsbook?
As F1 racing is a smaller sport in the United States in terms of audience, some sportsbooks don't offer any betting options outside of betting on who will win each race.
Make sure you choose a sportsbook that not only gives you the most betting options, but also offers the best odds on your wagers. The difference between betting on a winner at +225 and at +300 can quickly add up! This is why we use and recommend BetUS.
Online Sports Betting Fundamentals
While there are specific factors that apply to betting on Formula 1, there are also certain fundamental principles that should come into play when engaging in any type of sports betting.
Please keep these principles in mind at all times.
Manage Your Bankroll – Make sure you have a budget in place and a proper staking plan to complement it. Never bet money you can't afford to lose.
Look For Value – Always try to bet with value in mind. While it might be tempting to bet on a favourite with very short F1 odds, think about how many of those bets you would need to win just to break even if one of those bets lost. Remember, there are no free bets!
Set Betting Goals – Take the time to decide what your betting goals are. How much are you hoping to win, compared to the risk that you want to take on? When you identify these goals, you will understand which F1 betting lines are best for you to wager on.
Prepare Properly Every Time – Always do the research before and during a race weekend to help you make a well-informed selection. While you can get lucky every now and again, the best bettors (and therefore most successful) are those who put in the work.
Always keep in mind that betting on Formula 1 should be fun. If you find you're getting into trouble, reach out to an organisation like the National Council on Gambling Problems for help with responsible gaming.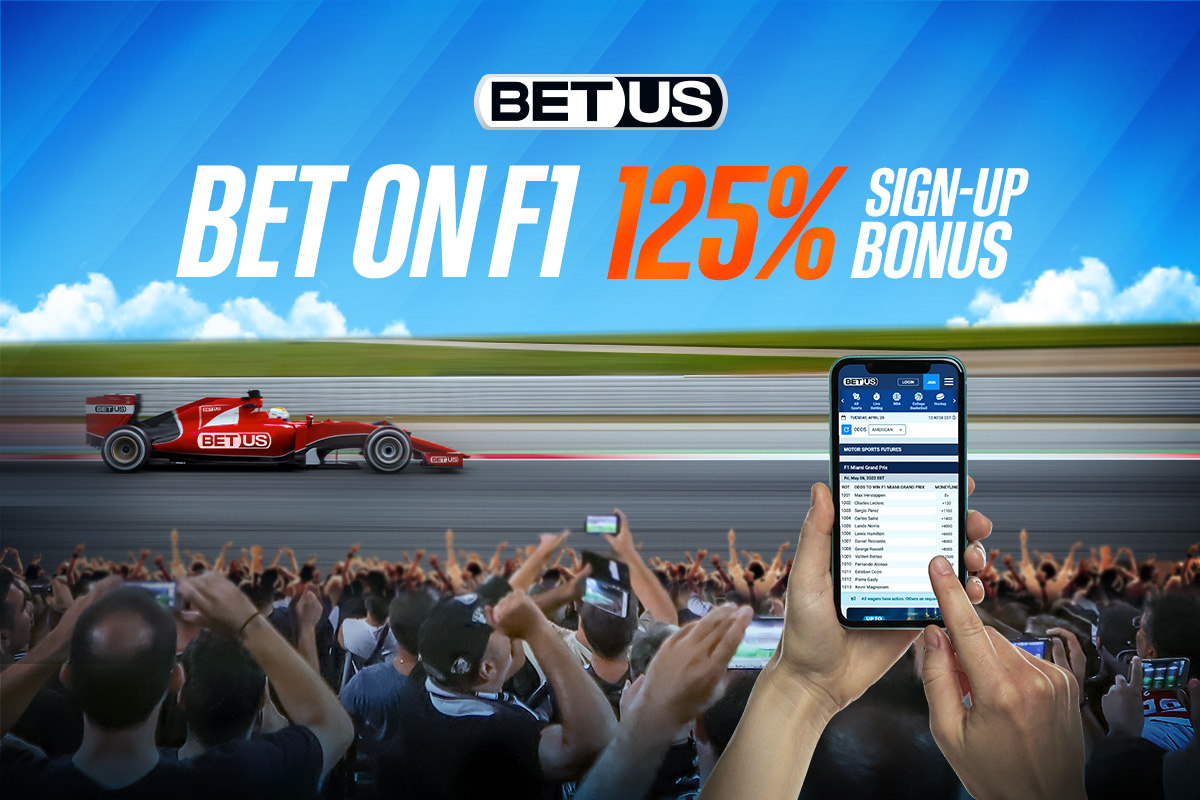 Formula 1 Betting: What to watch for…
Maximum Free Bet
What is a maximum free bet? Free bets are a bonus that are often given to sportsbook customers when they create a new account. Usually, you receive a set amount of money as a 'bonus' to bet when you make a deposit, but that money can't be redeemed for cash – it must be used for wagering. For example, if you bet the free $10 and lose that bet, the bonus money is gone. However, if you bet $10 and win $10, you will be up $10 in real money that you can cash out.
Betting Before The Season
There are advantages and disadvantages of betting on the Formula 1 World Championship before the season begins.
The biggest difficulty is understanding which teams will be at the top, and which will struggle. Teams are notorious for 'sandbagging' during pre-season testing, so they can hit the ground running when the season starts, catching other teams by surprise.
On the other hand, the oddsmakers are in the same boat. Their Formula 1 betting odds might be way off before the season starts, but they will quickly amend them as the results from early season races come in.
If you do want to place your F1 championship bets before the season starts, here's what to look out for…
Previous Season Results – Take a look at the teams and drivers that performed well the year before, as teams often stay at the top for an extended period. Max Verstappen won the 2021 championship, and started as the favourite to win it again in 2022. Also, look for teams that stopped developing their car during the last season in an attempt to design a better car for the next season.
Pre-Season Tests – This is the first look anyone gets at the new cars, and can help you decide who has made a good car, and who has made a mistake. Though you do need to keep in mind that sometimes the teams don't show their full hand in pre-season.
Rule Changes – There are changes to the F1 regulations every season and sometimes they can have dramatic consequences. The 2022 F1 regulations have been designed to level the playing field, which will make for an interesting next few years in F1.
Follow The Data – Most drivers and team directors are optimistic before a season begins, as you would expect them to be, as they have sponsors to please and fans to woo. But watch the data from pre-season testing, as the numbers don't lie.
By taking the above factors into account, you increase your chances of taking a win when betting on Formula 1.
Betting On The F1 Championship During The Season
A lot of punters will wait until a new season is three to four races in before placing a wager on which team and driver they believe will win each championship, and the reason for this is simple: when the wheels are turned in anger, the cream rises to the top, and what happened in pre-season is quickly forgotten.
From that point, it all comes down to maths.
Based on the early season point totals, can a driver you're considering betting on still get to the top of the standings? And is that reflected in the F1 betting odds for that driver? Is there some value to be had?
Here are our top F1 betting tips for betting during the season…
Projections For The Rest Of The Season – Combine the previous results put by the driver with projections of the races still to come. Look at the circuits they have won on, and see how many races are left at similar tracks. Look at how their teammate is positioned. Will they be fighting them, or sitting back playing the 'rear gunner' support role/
Consistency Is Crucial – There is an old cliche that says 'in order to finish first, first you have to finish' and it may well have been written about f1. Thankfully cars are much more reliable these days, but it is still something you need to consider before you bet on F1.
Driver Form – F1 drivers may seem like machines, but they're real people who go through ups and downs just like the rest of us. Mindset is key, so follow drivers on social media and watch their interviews to see if they appear calm, or if the pressure is making them crack.
These tips will help you work out which drivers are coming into form, which are slipping, and who could take home the championship trophy. This is arguably the best way to approach F1 championship betting once the season is underway.
However, if you don't want to wait until the end of the season for your Formula 1 bets to be settled, and you like things to be as fast-paced as Formula 1 itself, you may want to consider live betting on F1 races…
Formula 1 Live Betting Tips
If you're already a Formula 1 fan, you probably watch free practice, qualifying, and the race every weekend anyway. You can use all the insights gained watching the races to make some money, and add to your F1 race weekend experience.
Live F1 betting can be tricky, so make sure you understand the information below before getting started…
Understand Race Strategies
While it seems easy to say when a team should pit their driver from the comfort of your couch, it gets harder when there is something on the line.
A team could lose a race win with the wrong strategy call, and you could lose your money with a botched call too.
At the start of each race take note of what tyres each driver is starting on, as this can be a key factor when it comes to how early they will pit, and how many pit stops they will need to make.
Also look at where teammates qualified on the grid, as this can help teams set up a '2 vs 1' game of cat and mouse, meaning they can set their strategies accordingly when it comes to performing what's known as an 'undercut' in F1.
Watch The Lap Times
Of all the information provided during a race, lap times could be the most useful for F1 live betting. You can look at the data to see if a driver is closing the gap to the car in front, or if their tyres are wearing down and they are losing pace.
If you took note of the lap each car pitted on, you can work out which drivers are on newer tyres compared to the cars around them. If you can work that out before the odds get adjusted to account for the change in performance, you may be able to get a nice win for yourself.
Follow The Team Radio
As Liberty media look to attract more fans, it means more innovation and more access. This access comes in the form of race radio being broadcast during the telecast, with drivers relaying information to their pit wall, and vice versa.
While the information coming from race radio isn't 'live' it is close, usually being delayed by only a lap or so. What this means is you can get inside information if a car is experiencing a mechanical issue, and decide how to bet accordingly.
Keep your eyes and ears open throughout the entire race to help your Formula 1 live betting.
Watch The Weather Forecasts
Weather can have a major impact on a Formula One race, because it can determine what risks the drivers are prepared to take when it comes to pitting for wet weather tyres – or banking on the rain passing by. When it comes to live betting, you need to look beyond just the current conditions and look ahead to see how the conditions might change during the race.
The average time of a Formula One race is between 90 and 120 minutes, and the weather can change dramatically in that timeframe, especially in countries like Japan. Learn how to read radar maps and look at real-time weather apps to get the complete meteorological picture for each F1 race.
Beginners Guide To Betting On Formula 1: The Conclusion
While betting on F1 can be fun, please always remember to gamble responsibly.
If after reading this guide you feel ready to take the plunge, make sure you use our code JOIN125 at BetUS to enjoy a 125% bonus on your first deposit.