Formula One (F1) is one of the worlds most popular racing series, with races held in a number of European nations and across the globe. Because F1 cars cannot be driven on regular roads, you could be curious how F1 cars and their associated components, as well as tools, are transported between nations for road races.
Between two countries, Formula One vehicles are delivered by land, air, or sea. These automobiles are carried on land in trucks, vans, and other vehicles. Due to the high cost of air travel, only vital materials are carried via this approach. Sea and land travel, on the other hand, are both inexpensive. They are also environmentally beneficial approaches.
Given the delicate and expensive nature of F1 vehicles, they aren't carried just like ordinary cars – for example, on half-side carriers or a conventional cargo container. Rather, F1 vehicles are delivered in custom-made containers and customized carriages.
Every F1 racing team has its own specifically constructed trucks, constructed with a raised and coiled platform. The F1 vehicle is generally partially denounced, dismantled, and housed in customized crates containing sensitive aerodynamic components.
The entire trailer is customized to guarantee the F1 car is not moved when being transported because damage might occur. Normally, extra replacement parts, instruments and supplies are placed into the truck to ensure that the team has everything required for the weekend race.
Generally, F1 cars are fully stripped down for the sea and air shipment — F1 vehicles for the ocean as well as air shipping. The engine and transmission, mirrors, suspension elements, aerodynamic elements in the front and back, and any other item which may be destroyed in shipment are removed.
Each of these parts is kept in its own foam box, which has been custom-made to accommodate it. During transport, the car's chassis is generally protected with a custom-built protective layer. The separate boxes are then placed into an aeroplane or into a shipping container, where they are lashed down and secured to guarantee total security throughout transportation.
F1 cars are transported via air, land, or cargo ships.
Because most F1 events are located in Europe and can be reached by simply driving from one nation to another, F1 vehicles are mainly carried in specialized trucks. But, air transport is occasionally utilized for rush shipments, and ocean transit is also used for F1 vehicles on occasion.
Transportation via road (trucking)
We asked a representative from Crusader Van Hire about this and he said, "F1 vehicles that are typically carried on huge, custom-built trucks. They're put onto the truck with all of their necessary equipment, tools, plus supplies, and then driven to their European locations. For F1 competitors, this greatly streamlines logistics. In nations like Australia, though, this is not a feasible means of transport for international events."
Formula 1 driving is done by an in-house team instead of an external firm, this is the cheapest as well as the simplest choice. Each team has a flood of vehicles and sure, Mercedes used trucks from Mercedes. In 2020, 315 trucks were reportedly utilized by the F1, FIA but also Pirelli teams in total. Those trucks carry anything and everything into the races of Europe. This comprises automobiles, IT equipment, equipment for mechanics, replacement parts, and motorhomes and team buildings.
Typically such trucks drive uninterrupted till they arrive at their destination.
To do this, vehicles may be given numerous drivers, as well as an RV, may accompany the van to enable the drivers to sleep while they are not behind the wheel. This guarantees that a new driver is always available to take over, ensuring that the van does not have to stop for lengthy periods of time.
These trucks transport whatever is required for a successful racing weekend, and they depart the circuit as soon as the items they're transporting are prepped and ready to go. When the trucks arrive at the next racetrack, they wait for the unloading crew to offload their goods, and the procedure is repeated once the race is over.
Transportation by air
Air transport is extremely expensive, yet it is the quickest means to transfer F1 cars, components, and equipment both inside and across countries. Based on the locations of forthcoming races, most F1 competitors utilize a combination of trucking and air transport during the season.
The cost of flying equipment to a race is high since teams must hire cargo planes to transport everything. Despite the fact that teams split the price of the planes, it is still an expensive (and not particularly environmentally friendly) means of transportation. As a result, aircraft are only utilized to deliver equipment to races that cannot be reached within a few days by car. As a result, equipment will be flown to races outside of Europe, such as those in Azerbaijan and Russia.
Formula 1 generally charters the planes in partnership with DHL, and the teams are therefore charged for their portion of the cargo capacity. At the next track, the equipment is dispatched in the order of requirement.
The panelling, IT equipment as well as other items in the garage generally get shipped first since the installation personnel has to make sure that the garage is functional. They accomplish this in a working atmosphere that allows the cars and some other mechanical devices, such as wheel weapons. In order for the first item to happen, mechanics and engineers have to reach a completely operating garage.
Sea shipping
The slowest but most economic means of moving F1 vehicles and components across the countries is through this. It can also be used in the off-season to transport replacement or replacement components during the F1 or to deliver cars and equipment when drivers do not compete in races anymore. Vital parts and vehicles generally do not use ocean freight since it is considerably slower and less dependable than road and air delivery.
It is not an easy procedure to move F1 vehicles. The vehicles must not only be relocated – but a large number of electrical equipment, test equipment, replacement parts, and components, as well as instruments, have to be transported to prepare for each race day.
Shipping is a very cost-effective way of transporting F1 cars from one country to another. It also has the benefit of being a carbon-efficient method as compared to other methods like flying. However, this is a very slow method, therefore, the cars will need to be shipped earlier.
As the race season is starting, formula 1 ships about 3 containers that are full of the equipment for the formula 1 races. Each container has around 200 tonnes of equipment.
The sets of equipment also rotate and are sent to other countries between flyway races in the season. For example, a container that was sent to Canada will be packed up after the race is complete and then sent to Australia and so on. After all the races are completed, the equipment, as well as the cars, are sent back to the headquarters that is located in Europe.
For the races, everything that is in the shipping containers is not that essential for the races. This is because it includes equipment like tables, chairs, trolleys, hospitality items, exercise pieces of equipment, fan zone items, and so on.
Such items are less costly than the IT and complex mechanical equipment like cars that teams will use for racing.
In 2019, the Uk exported five cargo containers to Spain, Australia, China, Azerbaijan, and Bahrain. The teams drove the container in Spain around for the European rounds of the Formula One season, whereas the remaining containers were cycled throughout the world.
The timetable has altered considerably in 2021 as a result of the Covid-19 epidemic. In place of Australia and Spain respectively, Bahrain hosted the inaugural race and pre-season tests. There's no event in China and two in Italy, so logistics are a little different this year than in past years, but the same stuff must still go to the races.
After a Formula 1 race, how is everything packed up?
As previously said, there are three options for transporting equipment to a Formula 1 race, and everything relies on the race's location as well as the importance of the equipment. Everything is loaded into vehicles at the track, which will either proceed to the next track, go to the airport to discharge their cargo or travel to the seaport to reload the non-essential boxes onto a ship.
Typically, the packing procedure begins whilst the race is still in progress. Since teams do not have time to swap items like vehicle engines as well as other spare components during a race, they will be packed up throughout the race. The tyres, the front wing, and the steering wheel are the only components that may be replaced on the vehicle throughout the course. As a result, once the race starts, everything else will begin to be packed.
Conclusion
All the necessary elements for a Formula 1 race are conveyed in one of three ways: by air, sea, or by land (in trucks, vans, or other vehicles). The most costly method to use is for aircraft to utilize solely in fly-away races and for vital equipment. The cheapest and ecologically friendlier way than flying is sea and land travel, therefore it is the alternative when available.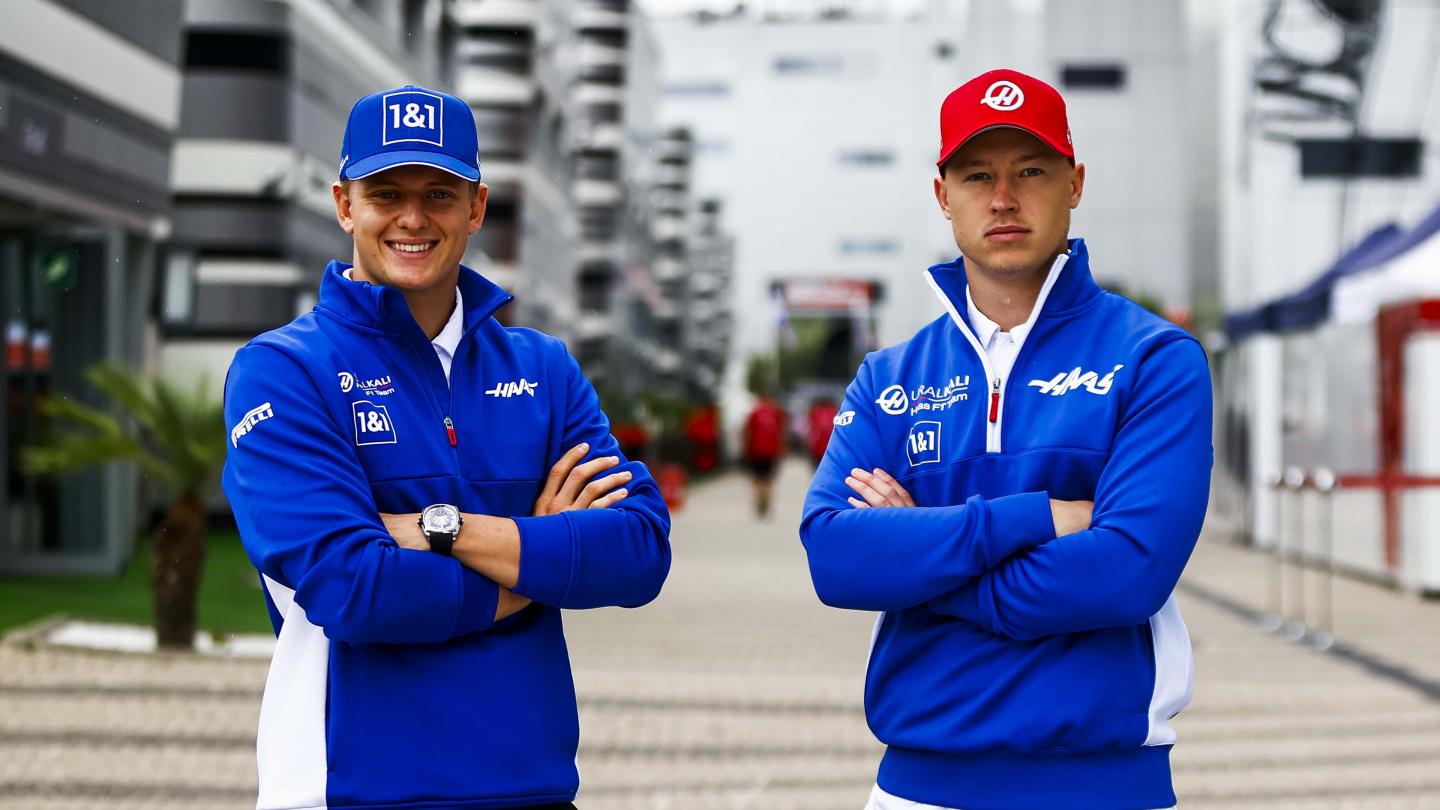 Uralkali Haas F1 Team will enter the 2022 FIA Formula ...