The 2019 Chinese Grand Prix was a race so utterly dominated by Mercedes, Lewis Hamilton proved a class act yet again as he emerged the great nadir for his fellow Mercedes driver as well as to the two Ferraris.
As Hamilton clinched the 1000th F1 race and in the process, a sizeable chunk of F1 history, he inched closer toward equaling more of the great Michael Schumacher's records.
Here's a case in point.
At the end of lap 15 of the Chinese GP, Lewis Hamilton became only the second man in Formula 1 to lead 4000 laps, Schumacher, of course, being the first man to do so.
Making an early move on his teammate who, quite frankly, just didn't seem to have an idea on how to control the dauntless Briton, Hamilton took the lead in the opening lap itself and managed the race flawlessly until the chequered flag.
But that leaves us with the inevitable question…
Did Valtteri Bottas and Sebastian Vettel, second and third respectively, have a chance to win?
Could Valtteri Bottas Have Won?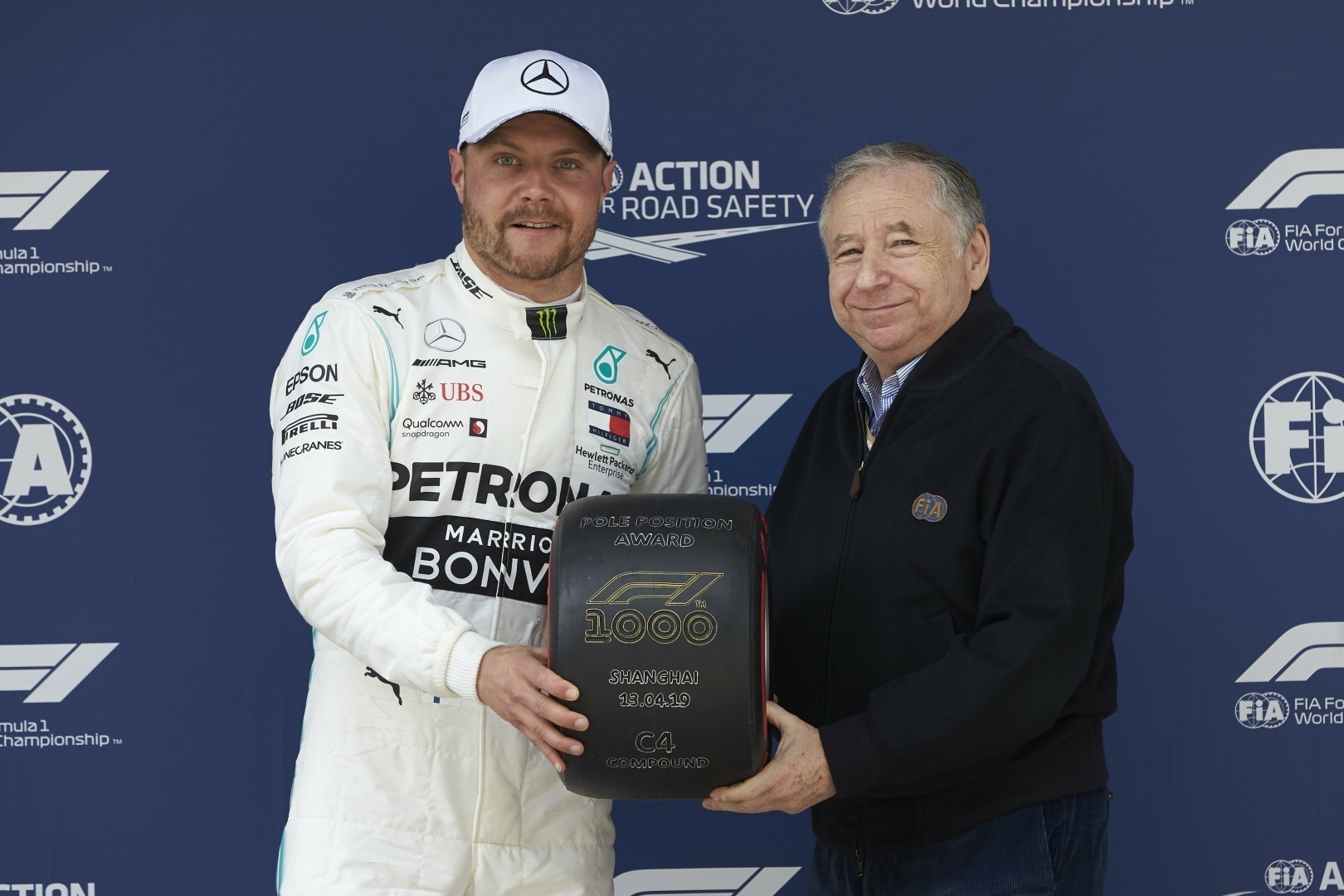 Having never won here at Shanghai, Valtteri Bottas had an excellent chance to win the 2019 Chinese Grand Prix. After all, the Finn did all he could to put his Mercedes on pole.
To clinch pole is one thing. But to beat someone like Hamilton, is something quite different.
Truth be told, Bottas, who appeared more of a sitting duck to Lewis than an able competitor could do little once his teammate caught the inside line within seconds of the start.
This also prompted another question that perhaps deserves some deliberation…
Is being second on the grid, alongside the pole-sitter, a better place to start in Shanghai?
Given starting from second puts the driver on the racing line and on the inside of Turn 1, it may have been a qualifying finish that eventual race winner Lewis Hamilton wasn't too upset about.
Could Sebastian Vettel- P3 at China have won?
It's never easy to make a move up from third on the grid, right?
Ask Sebastian Vettel.
Desperate to land on the podium, given (by his standards) an ordinary start to the season and a growing buzz around his teammate Charles Leclerc, the 2019 Chinese Grand Prix brought out a fighting Vettel at Shanghai.
However, as witnessed with the broadcast from race radio, this was not appreciated by his teammate thanks to the strategy and race orders from Ferrari, adding post-race 'my start was good, then I think both Seb and myself were struggling with the tyres. We swapped positions and I thought he would have pulled away but he didn't and this didn't help my tyres because I had a bit of overheating and I lost some time.'
Anyone who saw the opening few seconds as the five red lights turned green may have found Vettel getting off to a wild start.
As the German dived down on the outside of Bottas, in a ballsy albeit miscalculated move to pass the Finn, the German lost more time than he gained on his opposite number from Mercedes.
This, unfortunately for Vettel, brought Leclerc, fourth at that time, into play.
From that point onward, Vettel would fight the Monegasque driver for a position in the front, something neither Charles relished nor Vettel aced had it not been for the team orders.
While Vettel did score a podium for himself, and in the process, 15 valuable points, it does not appear that the opening semi-lunge on Bottas would've earned him the track position he needed to take the fight to Hamilton.
Post-race the German was happy with his podium, and also gave his teammate a subtle reminder about who they are racing for, saying 'we are happy we got the podium, but overall we can't be satisfied because we were too slow today. We were hoping to be in a much better place and be a match for Mercedes, but we were not. Also it was a shame we didn't manage to finish third and fourth, In terms of calls from our pit wall today, the priority always lies within the team and Charles and I are both aware we are driving for the team. We can do our own race but first of all we have to ensure Ferrari is in a position to fight with its rivals.'
So, could Vettel have won the race? No. But maybe, if he had tried to move to the outside of Bottas in the opening exchanges, he may have given himself a better chance.
Words by Dev Tyagi
Sorry, we couldn't find any posts. Please try a different search.