There are few F1 racing pundits around the world that would declare the current turbo/hybrid a classic era. I am one who might. The insane horsepower of the 1.6L hybrid power units, supreme speed they deliver, across-the-grid high talent level and increasingly unpredictable results have combined to create two (plus 2019) consecutive seasons of intense excitement. I realize this is not a popular opinion – we have only just gotten to the reward after the dreadfully boring and uneventful 2014-2016 years – but we are definitely knocking on the doorstep.
After Nico Rosberg's 2016 triumph, there was little doubt the domination of the Mercedes team was absolute. All of their rivals had failed and the future of pure racing looked light years away. So, when that supremacy seemed questionable over the opening races of 2017, it never felt quite real. There needed to be an event, a shock delivering a jolt of adrenaline, confirming the order had indeed been challenged. The Azerbaijan Grand Prix was just that lightning strike. It will likely remain famous for a single incident but the wider implications of that race have echoed for years.
All had seemed standard during Saturday qualifying; Lewis Hamilton stuck his Silver Arrows on pole by over a second. The Party Mode available in the W07 power unit had ensured his teammate, Valtteri Bottas, lined up alongside him, while the Ferraris of Kimi Raikkonen and Sebastian Vettel followed up in third and fourth, respectively. The only hitch that day was a brief red-flag caused by Daniel Ricciardo's damaged Red Bull.
2017 Azerbaijan Grand Prix – The Race
Sunday, however, emerged as a totally different animal. Only sixteen seconds after lights out, the carnage began: Bottas clipped a high kerb on the apex of Turn 2 and hopped into the side of Raikkonen, who then hit the wall. His Mercedes was instantly stricken with a flat tire, the damaged car limping back to the pits while the entire field passed him. He would emerge in a lapped last place, albeit with a totally functional machine. Raikkonen was able to continue but lost a place to Vettel, who then began to chase down his championship rival. The usual changing of positions on the opening lap took place but with an added sense of excitement hanging over the race: only moments into the Grand Prix, an expected Mercedes 1-2 was already out the window and the two title contenders looked destined to fight. Carbon fibre debris from the opening lap incidents also compromised Ricciardo's Red Bull by becoming lodged in a brake duct. He pitted and dropped from 10th, his starting position, to 17th.
There was so much action during the first laps it took the TV commentators a while to sort out. Just when they had, Daniil Kvyat lost all the electrical power in his Toro Rosso on lap eleven, prompting a safety car. Almost as soon as it was deployed, drivers began complaining it was moving too slowly. They worked their steering wheels furiously, trying to keep the heat in the tires and brakes of their sensitive racing machines. Hamilton caught Vettel napping on the restart but his advantage was immediately nullified when more debris came off Raikkonen's Ferrari on the long pit straight. The safety car was again sent out.
Vettel's Moment of Madness
Vettel, determined not to be caught out again, followed Hamilton extremely closely, waiting to pounce. What transpired next will be a topic of debate for as long as the German and Englishman continue to race. Hamilton picked an odd spot to begin backing up the pack. Vettel didn't anticipate this and crashed right into the back of the Mercedes. He then inexplicably pulled alongside his rival and intentionally sideswiped right into him. Their cars banged wheels as the visible red mist of rage enveloped Vettel. Hamilton was justifiably mystified, though he had, in part, caused the accident which enraged Vettel. Quite frankly, it was a dumb place to slow to a crawl, though he could be excused for believing the talent level of the man behind him would never allow such a mistake to happen. While Vettel fumed over the radio about being brake-tested, fans could not help but wonder: what on Earth had he just done?
Regardless of the massive development taking place, the instruction to release the pack had been given by race control, and so they went. Felipe Massa, in a suddenly-competitive Williams, immediately dispatched Sergio Perez into Turn One. This left the Mexican just ahead of his teammate, Esteban Ocon, heading into the second corner. The pair of Force India drivers were in the midst of the most acrimonious season since Senna and Prost and were high in the running order of a wild race; the table was set for a disastrous corner. Ocon saw a chance to pass Perez but moved over on the exit to cut him off too early. They touched, Perez also hitting the wall, littering the track with debris. Raikkonen collected a punctured tire in their mess of carbon bits, then drove too rapidly back to the pits. His tire shredded and then destroyed the floor of his otherwise faultless car. He could have taken his time as the safety car was sent out yet again, but the subsequent damage to his car was too great and he retired, as did Perez. Force India's race driver immaturity had cost the team at least two top-5 finishes.
The Race is Red-flagged…
On track, messages began coming in from the drivers complaining about the dangerous level of debris and moments later the race was red flagged. Everyone returned to the pits and lined up in order with Ferrari and Mercedes mechanics frantically trying to get a look at, and repair, the damage Vettel had caused. The paddock and commentary was a buzz of excitement, everyone wondering what would happen.
The red flag ended with close to half the race completed. Bottas had already moved back into the points and Ricciardo had fought back from 17th to sixth. Surprisingly, it was Lance Stroll, in the other Williams, who benefited most from the previous stoppage and found himself in third place. It was only then becoming clear what excellent drives the three of them were revealing. It was after the restart that Ricciardo unleashed perhaps his most famous pass. His legendary feel for the brakes of his car allowed him to out-brake Felipe Massa, Kevin Magnussen and Stroll from 200+ mph into turn 1 and take third place behind Vettel and Hamilton. It was unbelievable; superhuman even, and worthy of the countless replays it inspired. The attention turned back to the race lead where something awkward was happening to Hamilton's Mercedes. Lap after lap, in the high-speed sections of the track, his headrest gradually exposed more and more of the high-impact pink liner. It was later revealed, someone had forgotten to secure the back latch during the red-flag stoppage. At the time, it was nearly all the way up, making the Mercedes driver look like he had no neck; just a helmet sunk into a car that was much too big for him. Hamilton vainly tried everything he could to pull it back down and into place but was ultimately forced to pit for a replacement because it was a safety device. While Hamilton reluctantly obliged, a call came over the radio to the new race leader, Vettel, that he had been given a stop-go penalty for dangerous driving. Somehow, he was in denial about his red mist incident and had to be convinced he needed to make a stop. His radio responses were the classic stuff of self-absorption.
Drama for Hamilton, Ricciardo Claims Race Lead
After a new headrest was fitted, Hamilton emerged from the pits in ninth place. Vettel came out in eighth; both had lost the race win. Wildly, Ricciardo, the man who qualified tenth and then dropped to 17th, was now leading the race. Bottas had climbed into the top three and was chasing Stroll down for second (Massa had retired), slowly chipping away at his advantage. The final fifteen laps would be cat and mouse chasing.
With two laps to go, Stroll looked to have done enough to keep second place for his first podium and Williams' best finish since 2014. Hamilton had asked his team to get Bottas to slow down and back into Vettel, who was now in fourth, so that Hamilton could catch him. The team said no because it would compromise the Finn's chase of Stroll. This meant Hamilton would have to suffer the indignity of finishing behind the person who had driven into him and cost him the race, who also happened to be his main championship rival. However, faulting the Mercedes pitwall you could not: as Ricciardo came into view on the start/finish straight to seize the chequered flag, Stroll appeared in the distance. Bottas, looking like a shark starving for a kill, desperately slipstreamed behind him and pulled out to pass……beating the young Canadian to the line by one-tenth of a second. It was a brilliant, relentless finish for someone often accused of being too weak.
From lapped and dead last, Bottas came home in second. From 17th, Ricciardo won. After qualifying on pole, Hamilton finished fifth, one position behind Vettel. McLaren and Sauber both picked up their first points of 2017, benefiting greatly from the misfortune of the front-runners and the retirement of seven out of 20 cars. Esteban Ocon may have finished in sixth but his wrong step probably cost Force India a one-two finish and their first team win. They had the track position and speed to definitely finish ahead of Stroll and Bottas and possibly could have kept Ricciardo behind.
The Dawn of a New Era
2017 would go on to provide a tight title race until Ferrari's reliability ultimately cost them a shot at winning. However, it was the shiny first crack in the Mercedes armour, the first sign of hope for nine other teams and millions of fans, that parity on the track may well come in this hybrid/turbo era. The following season and a half have only strengthened this idea. While the 2017 Azerbaijan Grand Prix, a venue that always seems to produce fireworks, may well be remembered most for the single incident involving Vettel's temper, over time it may also come to be known as an instant classic; the kind of race that makes lifelong fans of the sport. It hooked me as no other race in years had.
Tom Wharton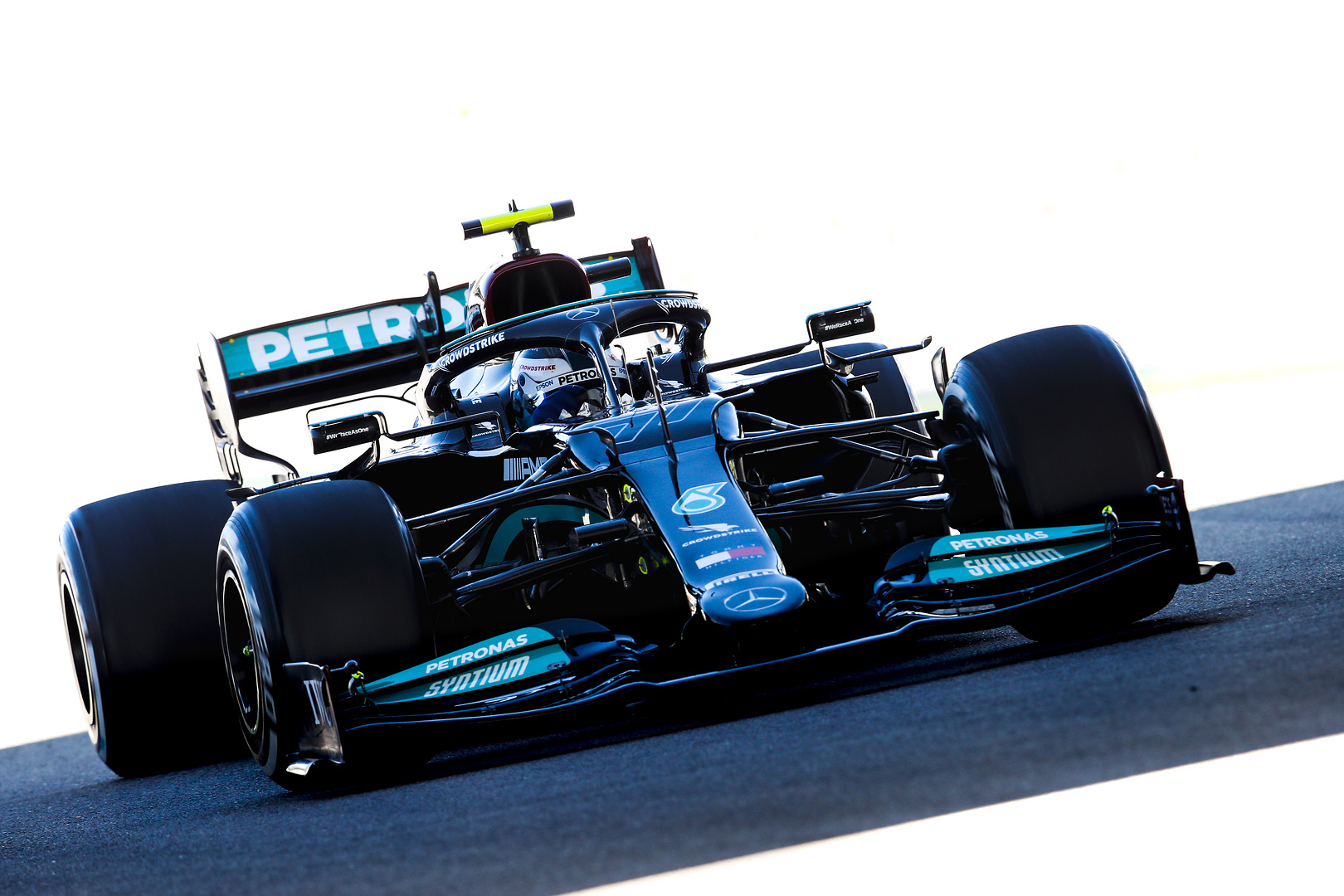 It was a strong Friday showing for the Mercedes-AMG Petronas ...