The 2022 Formula 1 season is well underway with four of the Grands Prix having been completed, and American fans are set to welcome the inaugural Miami Grand Prix this weekend. Sweeping changes in technical regulations by the FIA means fans will see new-look cars on the brand new Miami International Autodrome circuit. Meanwhile, fans outside their home countries can use a VPN to watch F1 live.
The technical changes implemented by the FIA and Formula 1 were scheduled to be enforced in 2021. When the pandemic struck in 2020, the FIA officials and the team principals put their heads together to come up with a solution. It was agreed to defer the changes by a year and enforce them in the 2022 F1 season.
The changes in regulations are aimed at reducing the dirty air left behind by the racing F1 cars. This will enable cars to follow each other within overtaking distance and make racing more competitive. The outcome of these changes was revolutionary new look cars. All the constructors unveiled their new cars earlier this year. The results of the first four Grand Prix suggest that the season will be competitive all the way to December.
Last year's F1 season witnessed a seesaw battle between Max Verstappen and Lewis Hamilton for the World Drivers' Championship. Max Verstappen came out best in the last lap of the last Grand Prix when race director Michael Massi allowed certain lapped cars to pass. Max Verstappen was on newer tyres and grabbed the advantage with both hands. Mercedes had the consolation of winning their 8th World Constructors' Championship in succession.
The Miami Grand Prix weekend will run from 6-8 May with the Grand Prix scheduled for Sunday, 8 May. Fans in the US can watch the race live from their living rooms on ESPN and ESPN Deportes. Many television channels will broadcast the race live and free in various countries. The problem arises when a fan tries to watch a race while not in their home country.
Fans travelling abroad who want to watch a Grand Prix while in a foreign country can still keep up with all the action if they use CyberGhost VPN to watch F1 in the country they're visiting.
This article will be looking at which telecasters are beaming and live streaming the races live around the world. The information will make it easier for travelling F1 fans to use a VPN to watch F1.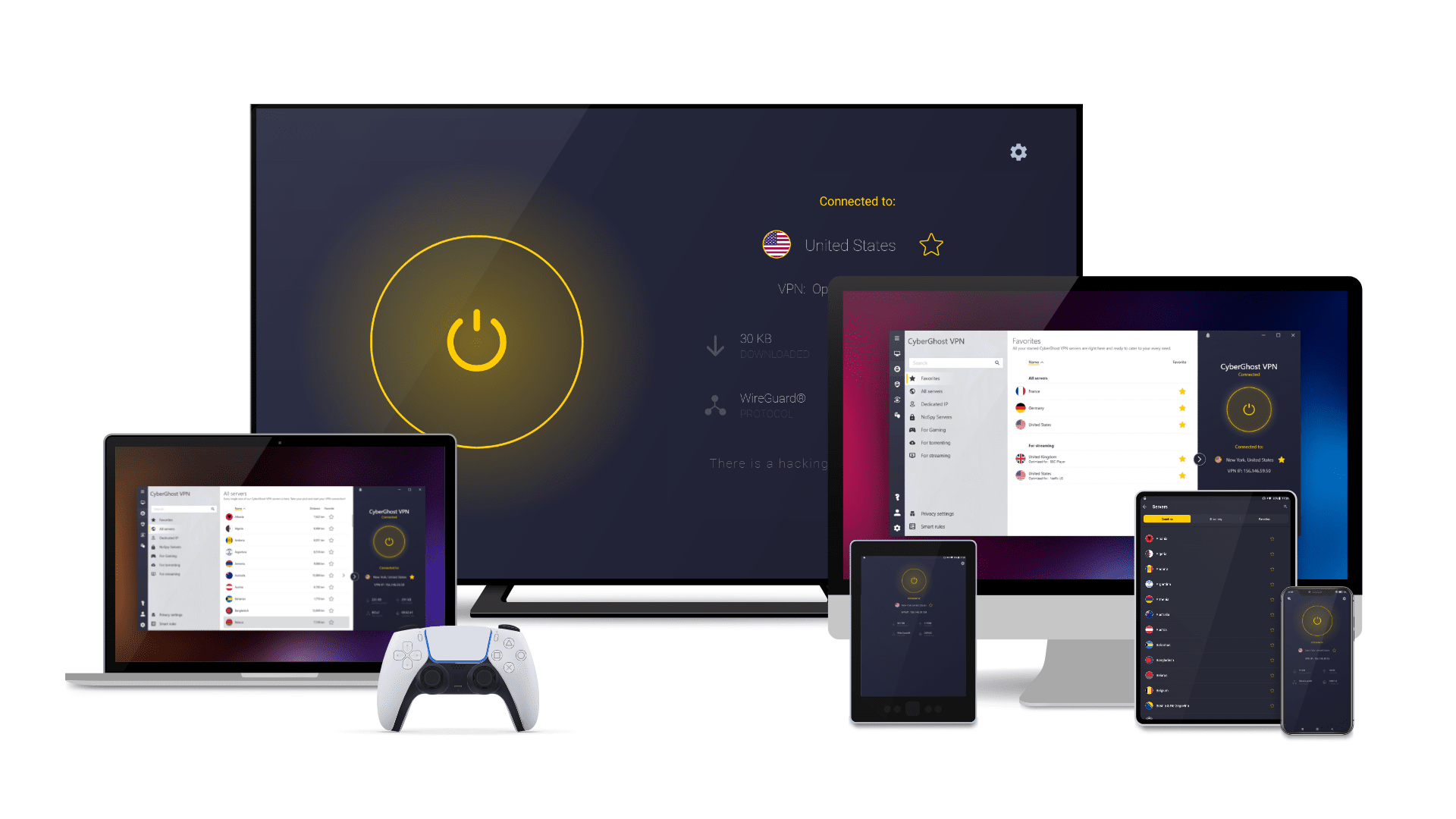 Can you use a VPN to watch F1?
You can certainly use a VPN to watch F1. When you try to tune in to a local service from abroad, the service provider's server will identify your location from your IP address. Once it realises that you are trying to watch from foreign soil, it will automatically block your access. A VPN helps you get around this problem and gives you access to the service.
The CyberGhost VPN service blocks the local service provider's server's access to your IP address. The local server reads your location from the VPN server's IP address. You can now view the race live no matter where you are in the world. Although VPN service providers do charge money for their service, it comes much cheaper than paying for direct access to watch F1.
With over 38 million users worldwide, CyberGhost VPN is the most recommended VPN provider on the market, and it has an impressive, near-perfect score on Trustpilot. More than 14,000 people rated it Excellent on the review platform, so you know it's the real deal.
Keep reading to learn more about the product and the exclusive discount they have in store for you.

Who is broadcasting/live streaming F1 live in various countries?
F1 TV Pro's live streaming service
F1 TV Pro is streaming all Formula 1 events live in HD. The service is available in 188 countries around the world except in the United Kingdom. It is available on the F1 TV website, iOS, Android and other devices through apps. There are no commercial breaks and give the viewer an option to select from several languages.
Live streams in Australia
Fox Sports is the way to go for Australian fans as they have the rights to broadcast F1 live. Foxtel and Kayo Sports subscribers can watch the Grands Prix on their TV. Kayo subscribers can stream races on their devices on the go, but if you're overseas, you will need to use a VPN.
Is live streaming of F1 available in Italy?
Sky Italia has the rights to broadcast F1 in Italy. Those who do not want to subscribe to Sky Italia can live stream the F1 races on Sky's Now app. Others can use a VPN to watch the Italian Grand Prix which will be held at Autodromo Enzo e Dino Ferrari.
Live in The United States
American fans subscribing to ESPN will be able to watch every F1 race weekend live. The practice and qualifying sessions will be available on ESPN2. The Grand Prix race will be beamed on the ESPN channel. ABC has chosen to broadcast the American and Mexican Grands Prix free of cost on its channel. Those outside the US can watch F1 using VPN.
Watching/live streaming F1 from Spain
Spanish F1 fans will be interested in the performance of Carlos Sainz Jr. and Fernando Alonso this year. The former is driving for Ferrari while the latter is with Alpine. DANZ will be broadcasting F1 until the 2023 season as it has secured the rights to do so. Spanish fans who want to watch from abroad can enjoy live streaming on the DANZ F1 channel.
How to watch F1 in the United Kingdom
Sky has secured the television rights to beam F1 live in the UK. Sky will be telecasting F1 in 4K Ultra HD for the first time this weekend. To watch F1 in 4K Ultra HD, you will need additional equipment like a Sky Q box or Sky Glass TV. If you don't want to spend money on the equipment, you have the option of viewing F1 on Sky on your smart TV.
Can you watch F1 live in Brazil??
The official Broadcaster of F1 in Brazil is TV Band. They will be broadcasting live races on television. Brazilian fans can live stream and watch all the season's sessions live on F1 TV Pro. Those outside Brazil will have to use VPN to watch the live stream of the F1 events steamed from Brazil.
Who live streams F1 in Germany?
German fans outside their home country will do well watching F1 via a VPN. This is because Sky Germany has the exclusive rights to F1 races this season. If Sky Germany's subscription is too costly, a VPN will help German fans find another service
Live stream in Russia
The Russian Grand Prix was cancelled as war broke out between Russia and Ukraine. Match TV is going to broadcast the full F1 season free-to-air in Russia. Russian fans outside their home country can watch the F1 races using a VPN.
How to live stream F1 in Japan?
DANZ offers extensive live streaming coverage of Grands Prix throughout the season. F1 fans in and outside Japan can watch the F1 live stream on DANZ.
No matter how you choose to stream the races, CyberGhost VPN is right here for you with over 8,000 high-speed servers located in 90+ countries. All it takes is one click, and you're good to go.
Plus, the app is available for all operating systems, smart TVs and gaming consoles included, and CyberGhost VPN can protect up to 7 devices at the same time for you.
If you want to bypass geo-restrictions and catch the races, now's the perfect time to get CyberGhost VPN. The company is offering an impressive 83% off! That's just $2.23 a month, and you also get four months for free. And since they have a 45-day money-back guarantee and access to 24/7 Customer Support, everything is risk-free for you! You can get the offer here.
Schedule of Grands Prix
| | | | | |
| --- | --- | --- | --- | --- |
| DATE | GRAND PRIX | CIRCUIT | COUNTRY | Start time (GMT) |
| 18-20 March 2022 | Bahrain Grand Prix | Bahrain International | Bahrain | 3pm |
| 25-27 April 2022 | Saudi Arabian Grand Prix | Jeddah | Saudi Arabia | 5pm |
| 8-10 April 2022 | Australian Grand Prix | Melbourne | Australia | 5am |
| 22-24 April | Emilia Romagna Grand Prix | Autodromo Enzo e Dino Ferrari | Italy | 1pm |
| 6-8 May 2022 | Miami Grand Prix | Miami International | United States | 7.30pm |
| 20-22 May 2022 | Spanish Grand Prix | Barcelona | Spain | 1pm |
| 27-29 May 2022 | Monaco Grand Prix | Monaco | Monaco | 1pm |
| 10-12 June 2022 | Azerbaijan Grand Prix | Baku City | Azerbaijan | 11am |
| 17-19 June 2022 | Canadian Grand Prix | Circuit Gilles Villeneuve | Canada | 6pm |
| 1-3 July 2022 | British Grand Prix | Silverstone Circuit | Great Britain | 2pm |
| 8-10 July 2022 | Austrian Grand Prix | Red Bull Ring | Austria | 1pm |
| 22-24 July 2022 | French Grand Prix | Paul Ricard | France | 1pm |
| 29-31 July 2022 | Hungarian Grand Prix | Hungaroring | Hungary | 1pm |
| 26-28 Aug 2022 | Belgian Grand Prix | Spa-Francorchamps Circuit | Belgium | 1pm |
| 24-26 Sept 2022 | Dutch Grand Prix | Zandvoort | Netherlands | 1pm |
| 9-11 Sept 2022 | Italian Grand Prix | Monza | Italy | 1pm |
| 30 Sept -1 Oct 2022 | Singapore Grand Prix | Marina Bay | Singapore | 12pm |
| 7-9 Oct 2022 | Japanese Grand Prix | Suzuka International | Japan | 5pm |
| 21-23 Oct 2022 | US Grand Prix | Circuit of The Americas | USA | 7pm |
| 28-30 Oct 2022 | Mexican Grand Prix | Autodromo Hermanos Rodriguez | Mexico | 7pm |
| 11-13 Nov 2022 | Brazilian Grand Prix | Autodromo Interlagos | Brazil | 6pm |
| 18-20 Nov 2022 | Abu Dhabi Grand Prix | Yas Marina Circuit | UAE | 1pm |
Can I watch Drive to Survive with a VPN?
In a word – yes! Netflix hosts the Drive to Survive series, and it is available to watch in their big-market countries such as the UN, UK, and Australia.
However, if your country doesn't have Drive to Survive listed when you search in Netflix, using CyberGhost VPN to gain access to Netflix USA would mean you can enjoy all the drama without missing out.
This could come in handy for movie selection too…

Can You Use A VPN To Watch F1? – The Conclusion
Regulation changes by F1 mean closer and more exciting racing. It also means more competitive racing where some of the newer drivers will have a chance. Every driver will look to improve his placing at the end of the season. Fans will be eagerly looking forward to the season after two years of extensive postponements and cancellations of Grands Prix.
The whole F1 season is telecast live in many countries around the world. Those who cannot have access to live telecasts can use CyberGhost VPN. This provider will be particularly useful for F1 fans who are abroad and want to watch the Grand Prix in their home country, so make sure to grab the discount they're offering!
It might not be incorrect to suggest that few other ...