In a nineteen-year run at the sport's top flight, he's drunk one bottle too many, landed on the podium in an utterly skilful fashion, lost, won and but never relented attacking when an opportunity came and in doing it all in his own unique ways, Kimi Raikkonen has emerged as one of the best we've seen along the way.
A wild creature on the track, utterly captivating and famously understated, Kimi's raced, done things fast, even exited the scene only to comeback in sensational fashion. He's done all of that in a manner that can't be taught or perhaps even emulated.
But implicit in the legend of the Iceman are some famous, even whacked out feats in the top annals of Formula 1 that have made Kimi one of a kind talent.
As the stage is set for the Finn's swansong, let's rewind to Kimi Raikkonen's greatest F1 moments:
17th to 1st at Japan, 2005
Arguably considered the finest ever moment for the Iceman, Kimi Raikkonen pulled out a sensational win at Suzuka back in the day, an effort that now looks in a different era altogether. Then in his penultimate season with McLaren, a team under the able guidance of Ron Dennis who also incidentally birthed the moniker for the Finn, Kimi was in a league of his own.
As he mounted a massive recovery drive on a weekend where he'd struggled owing to a wet qualifying run, his Sunday was about passing one car after another with raw pace and grip. It's something he may never have imagined at the conclusion of a Saturday where he'd garner a disappointing seventeenth on the grid.
But staying true to the surprising DNA of the sport that says never say never, Kimi tore his way through to the field until a win was in sight but all that remained in the Japanese Grand Prix was Giancarlo Fisichella in a Renault out in front (in the lead) with one lap to go.
And then, seconds before the checkered flag came the most dramatic moment where tussling his way through, Kimi lunged on the outside of the Italian and made his way to capture the race lead. A position he'd never relent, thus bringing home a fantastic win much to the delight of a stunned ensemble of fans and crew.
Going half a second faster than Alonso at Monaco & winning
Some of the greatest moments of Ferrari's last world champion, circa 2007, came at McLaren. And perhaps that's the sort of thing that has made Kimi Raikkonen a firm favourite with both, the sport's most famous side as well as with one of its most respected ones.
But in 2005, the great precedent to Kimi Raikkonen's sensational and only win at the famous principality was his sheer qualifying pace.
Emerging half a second- let that sink in- over Renault's Fernando Alonso, such a great talent of the grid, Kimi Raikkonen clinched pole silencing detractors and fans who would've expected the Spaniard to paint the town red.
Instead what would follow on Sunday would be a silvery Kimi run, as the Iceman brought home a comfortable win marked on great race pace and excellent tire management. So fast were he that early on into the street race, the McLaren driver was able to open a wide gap over Alonso, and even as he'd come into the pits, refuel and rejoin the grid, he'd be out there in the lead of the race.
Such mega moments of dominance, though excellently strategized by his team and well controlled in the pits by the crew would also become a rarity in the latter half of his F1 career. This is where one would note one fiasco after another punctuating Kimi's career, with moments such as the 2017 Monaco GP and the Bahrain race with Ferrari, where the driver ended up on the rear leg of a mechanic providing unsavoury results and scenes.
Moza 2018 and the epic duel with Hamilton
In 2018, Kimi Raikkonen emerged third on the grid at the completion of what was a fascinating, hard-fought F1 season, one that would lead him to gulp one drink too many at the FIA gala, where more interested in picking the trophy for his P3 show, Raikkonen was seen crowning the sport's most memed moments.
Brilliant driving marked by the Ferrari driver never holding back in the face of a keen battle saw Raikkonen emerge on top of his detractors with 11 podiums. It would also be the year of his final-ever Grand Prix win, one bagged courtesy handy defending from Lewis Hamilton at COTA.
But before all of that, before the champagne and the 'F'ing finally muttering over the team radio at Texas, Monza would be the perfect stage for an incredible duel; a closely fought battle between two great drivers of the grid.
One among them, a 'self confessed' Kimi fan, someone with seven titles against his name and the other, a man who couldn't give a darn about who's to win the 2021 championship.
Kimi's sensational pole lap that culminated into a 1:19:119 (then, a world record for F1's fastest lap) on Saturday, set the perfect precedent to what would be a hotly-contested, wildly raced Grand Prix on Sunday.
It would be the occasion where soon after the start as Hamilton took the lead from Kimi, the Iceman would fight back-and valiantly so-to retake the lead of the contest as Monza would go wild seeing Ferrari fighting off a Mercedes.
What prevailed at the end was Hamilton snatching back the lead from a Raikkonen exhausted by massive tireware, conceding the place but never giving up the fight until the end. Monza's widely-watched contest also birthed Raikkonen's 100th career podium, such a mighty achievement, lest we forget.
We'll leave you alone, Kimi, but not Abu Dhabi '12?
In 2012, as Kimi brought himself back on the F1 grid after staying away from the sport's fastest form for two years, he also returned to the top step of the podium by winning at Abu Dhabi, which'll soon mark his farewell Grand Prix in the next few hours.
In so doing, Raikkonen first made a couple of interesting- and brisk- moves in the opening lap in his Lotus-Renault to position himself further to the front end and later, grabbed the opportunity of leading the race with both hands when Lewis Hamilton's McLaren engine set off and ended in a retirement. The fuel pressure problem suffered by Hamilton proved to be his downing but for Kimi, it was akin to setting a bird free from the cagey confines.
From there on, what followed until the checkered flag was Kimi's ballsy defending from Alonso's Ferrari and in turn, Sebastian Vettel's Red Bull.
Even when his race engineer tried to issue him instructions about just how close Alonso was getting to his black and gold Lotus, Kimi relented and was having none of it, stating in no uncertain terms that he wanted all to "Leave him alone," for he knew what he was doing."
But underneath the cold sidelining of pit wall instructions, was this layer of massive self confidence, something with which the famous Finn has persisted all his life in making something mega out of his F1 career.
16th to 6th at Portugal 2020
You are a good driver when you win a world title. You become a great when you either win multiple titles or become a fan favourite at the back of winning sensational races. But you can only be a Kimi Raikkonen when, aged 41, you lunge past several cars inside in the opening lap on a very wet track to go up on 6th having begun from sixteenth on the grid.
What happened a year back at Portimao's epic Algarve track was nothing less than astonishing as the sport's most experienced driver wrecked havoc at the back of majestic overtaking on a track where he had never previously set foot in his career.
That he'd end eleventh in the Grand Prix was sad but for demonstrating his mastery at the art of overtaking, Raikkonen surely earned the 'Driver of the day' reward for his effort.
Not all efforts culminate into a win or a podium. Not all moves can also make you transport yourself to the further end of the grid having begun from down south. But then, not everyone is a Kimi Matias Raikkonen, the likes of which we are never going to see again!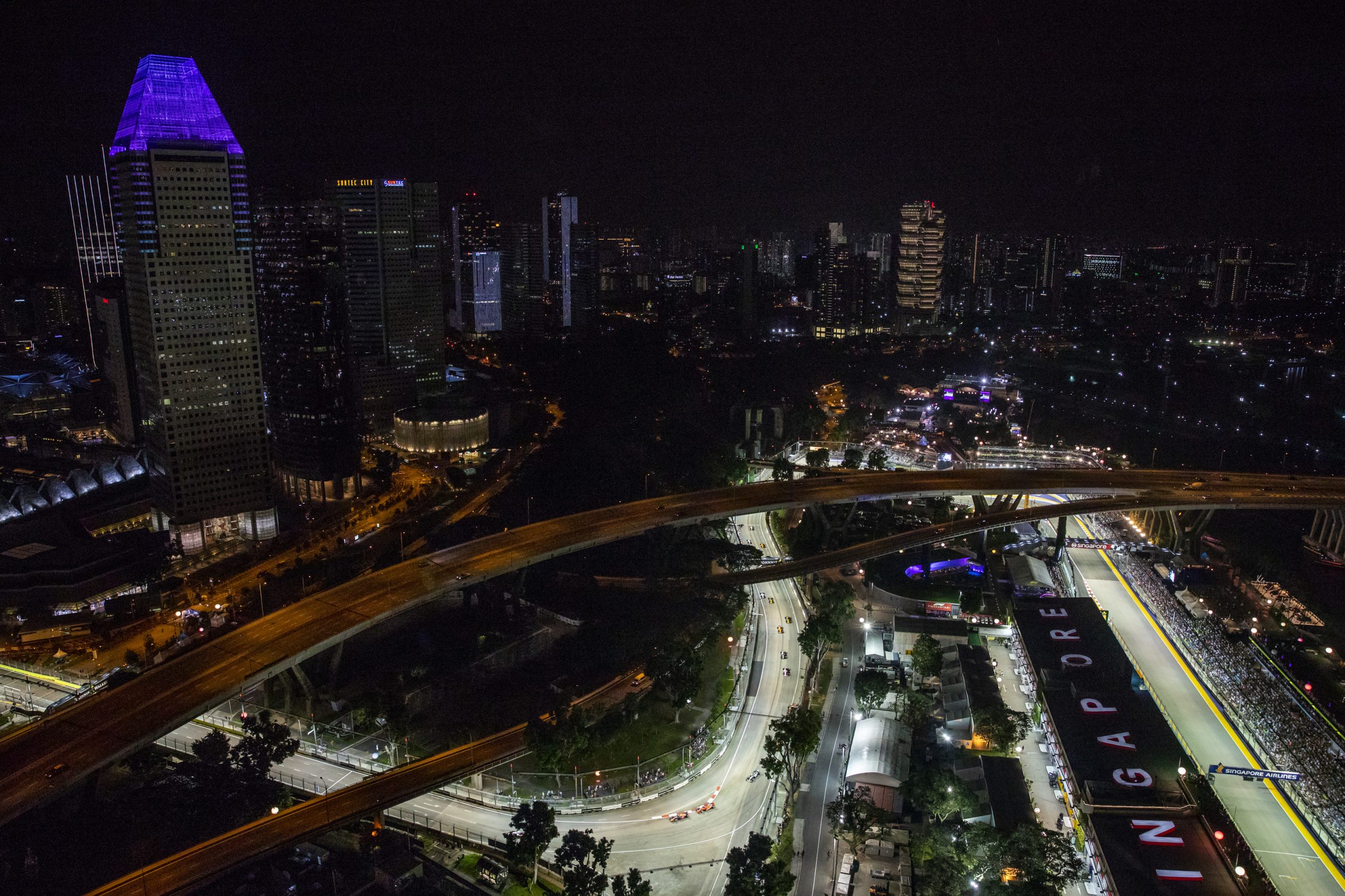 Formula 1 has today announced that the Formula 1 Singapore ...