While watching a Grand Prix have you ever seen the drivers gather around scales at the end of the race? This is not done just for the sake of it but is actually done for essential reasons.
It is actually an FIA procedure that drivers are to be weighed straight after a race and I'm going to explain why throughout this article.
Why do F1 drivers get weighed?
F1 drivers are weighed for medical and technical reasons.
The medical reason being that it is crucial to know exactly how much weight a driver has lost during/after the race so that suitable measures can be taken place after the race.
Drivers can lose between 2 and 3 kilograms or 4.4lbs and 6.6lbs per race. This is a large amount of weight to lose in only two hours, and the majority of it is coming from sweat as the temperatures in the car can get to astonishing temperatures.
When it comes to races where it is hotter the drivers are more likely to lose more weight. On tracks like Singapore and Malaysia drivers can lose over 4kg during a race, and that is just due to the hotter temperatures and how much the drivers sweat during the race. It's quite often drivers have to face extremely hot and humid conditions inside the car.
Along with the hot temperatures driving an F1 car is extremely physical, so as well as sweating the drivers are putting lots of physical activity into racing which causes them to lose weight.
It is important to know a driver's weight because if they have lost more weight than they usually have during a race, the following weeks' training will have to be far less intense. 
The technical reason being that F1 cars with a driver in them need to have a minimum weight of 795kg. Cars and their drivers are weighed after every race to ensure that they have not dropped below this weight.
F1 cars have gotten heavier throughout the years, 2022 sees the F1 cars to be the heaviest they have ever been, this is mainly due to improvements in safety features on the cars. It is important to make sure teams aren't stinting on essential safety features just for their car to be lighter. 
It is important that the F1 cars are light; as the heavier the car is, the more weight the engine has power forward. This practically means it is vital to reduce as much excess weight as possible on the car. In sports like F1 where drivers can lose by just a few milliseconds, it is an absolute must to make sure the car is as light as possible.
The drivers like to keep at the lowest weights possible while still being healthy. If a driver is a kilogram overweight, they could lose up to two seconds during a race. Those two seconds could be vital during a Grand Prix race.
However, a driver's weight (within certain reason) does not matter anymore due to new regulations planted in 2019. But according to the Federation Internationale de l'Automobile (FIA), which oversees Formula 1 and creates the rules, the minimum weight of a driver and their seat is 80kg (176lbs).
If a driver is below this limit, extra weight in form of ballast will need to be added to the cockpit to increase the driver and their seat weight up to 80kg. This rule was planted in 2019 to reduce the disadvantage of having tall and heavier drivers. Before this rule came into being a small, short driver gained an advantage.
For example, Alpha Tauri's driver Yuki Tsunoda only weighs 54kg(119lbs) whereas Williams driver Alex Albon is 74kg (163.1lbs). Albon is not only the tallest but also the heaviest driver on the current grid. If this was before the rule Alpha Tauri would have a significant advantage compared to the Williams team. 
Some drivers are just naturally heavier than other drivers, this is the same with cars. Implementing a minimum weight limit that applies to all of the grid makes the fuel more equal and gives each driver a fair opportunity without worrying about the advantage smaller, shorter drivers have against them. 
Drivers aren't weighed with their cars as it's much quicker to weigh the driver than the car, this ensures the drivers are able to take place in and get started with the post-race celebrations, interviews or other activities they need to be involved in.
Once the driver is weighed the team will then weigh the car after the race and add both the figures to get the weight of the driver and car together.

Why do F1 drivers get weighed after a race?
F1 drivers are weighed after races for two reasons. The first reason is to see how much weight the driver has lost during the race. The second is to make sure themselves and the car are above the minimum weight mentioned in the rules.
All of the drivers are weighed immediately after a race. There are usually no exceptions to this rule. The drivers are required to be weighed after every race. Usually, we only see the drivers on the podium being weighed, as the other drivers go off to be weighed in a different area. Drivers are weighed with an FIA official present after the session is finished. 
F1 drivers are weighed after every session as they have to meet a minimum weight requirement. All cars must comply with the weight restrictions as lighter cars are faster.
The FIA set these rules at the start of each season, and the car and driver must be above the weight requirements. If a driver is under the limit they are automatically disqualified. The weight limit was made to ensure the field is equal to and to give a fair opportunity to compete. 
Drivers are weighed with all their equipment on. Which includes their helmet, gloves, full race suit and HANS device. They do this before they are allowed to drink or eat anything. All the equipment they are weighed with contributes to what is known as their 'seat weight' this ensures that everything within the car is accounted for in the total weight of the car.  
The drivers themselves have said how they agree with this rule implemented in 2019 as it gives everyone a fairer chance and allows heavier drivers to maintain a healthy weight without having to lose an unhealthy amount of weight to make their cars faster.
How much do F1 drivers weigh?
All of the drivers vary in weight but they must all weigh at least 80kg including their driver's seat. 
Below is a breakdown of the current Formula 1 drivers' weights and their heights.
Red Bull drivers: Max Verstappen weighs 72kg and is 5'11 in height. His teammate Sergio Perez weighs 63kg and is 5'8 in height. 
Mercedes drivers: Lewis Hamilton weighs 73kg and is 5'8.5 in height. While his teammate George Russell is 70kg and 6'0. 
Ferrari drivers: Charles Leclerc weighs 69kg and is 5'10 in height. His teammate Carlos Sainz weighs 64kg but is the same height as Leclerc at 5'10. 
McLaren drivers: Lando Norris weighs 68kg and is 5'6. While his teammate Daniel Ricciardo weighs in at 66kg and is 5'10. 
Alpine drivers: Fernando Alonso weighs 68kg while at the height of 5'6. His teammate Esteban Ocon weighs 66kg and is 6'1 in height, other than Alex Albon, Ocon is one of the tallest drivers on the current grid which could be a disadvantage if the 2019 rule wasn't implemented. 
Alfa Romeo drivers: Valtteri Bottas weighs 69kg and is 5'8 in height. While teammate Zhou Guanyu weighs in at 63kg while at 5'8 in height. 
Alpha Tauri drivers: Pierre Gasly weighs 70kg while 5'9 in height. Teammate Yuki Tsunoda weighs 54kg and is 5'2 in height. Tsunoda has a major advantage when it comes to his car being light. 
Aston Martin drivers: Sebastian Vettel weighs in at 62kg while 5'9 in height. His teammate Lance Stroll weighs 70kg and is 5'10 in height. 
Haas drivers: Mick Schumacher weighs 67kg while 5'9 in height. His teammate Kevin Magnussen weighs 68kg and is 5'8 in height. 
Williams Drivers: Alex Albon weighs in at 74kg while also at 6'1, making him the tallest and heaviest driver on the current grid, he would have a disadvantage when it comes to how light his car is. Teammate Nicholas Latiffi is in the same sort of predicament as Albon as he weighs 73kg and is 6'0. 
Weight is a significant part of Formula 1. Too much weight can slow a car down, but not enough weight can compromise the driver's safety. It is important to find the right balance between safety features and speed. It is crucial to make sure that these rules are followed and respected by the drivers and teams. 
What do you think of the 80kg weight rule? Do you think a driver and their seat should be heavier or lighter? Let us know down below in the comments.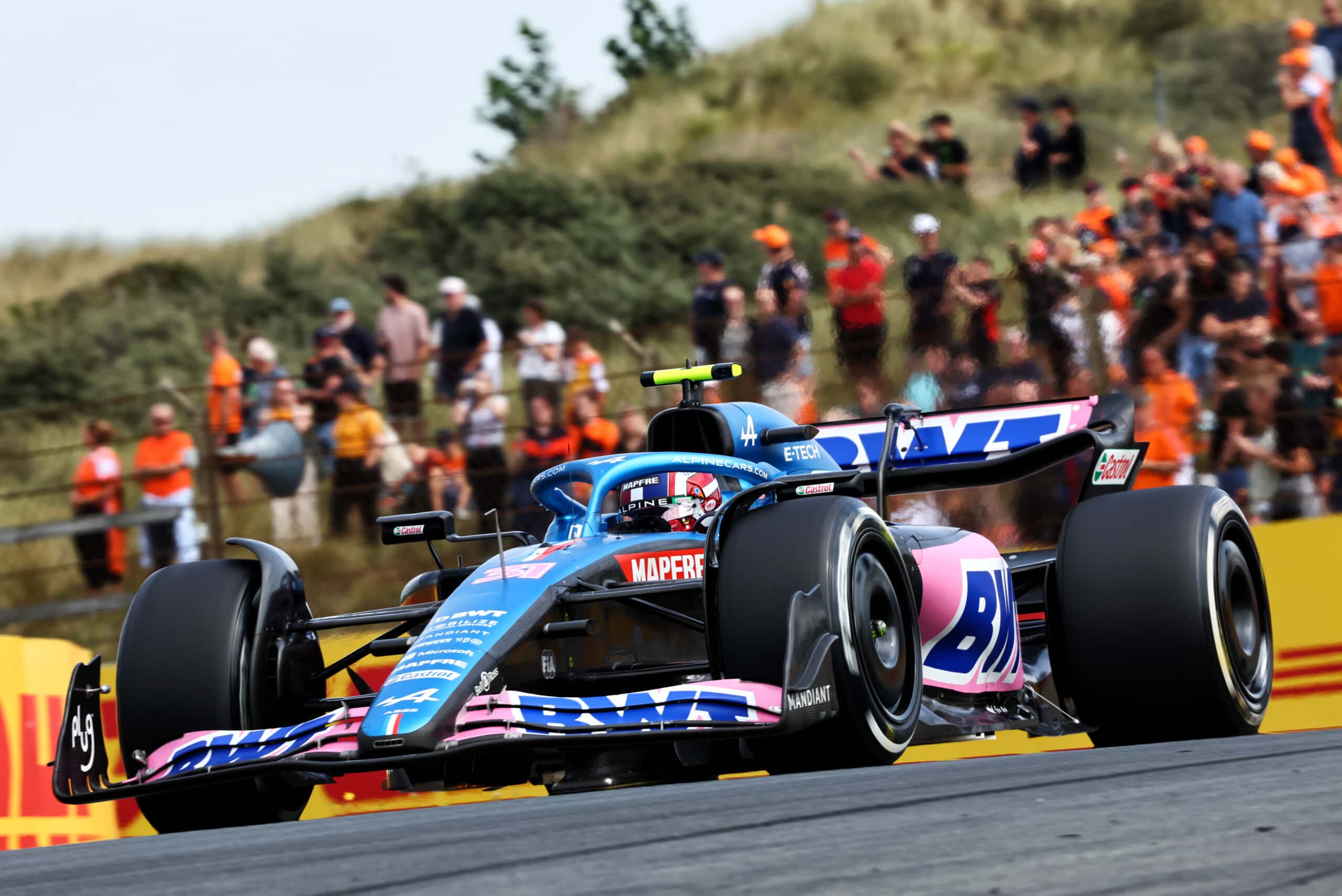 Alpine driver Esteban Ocon described racing in Singapore as a ...