Megan Thee Stallion has won three Grammy awards, six BET awards, five BET Hip Hop awards, and was named one of the 100 most influential people in the world by Time magazine in their 2020 list, alongside people like Lewis Hamilton.
She originated and trademarked the viral catchphrase 'hot girl summer'. 'WAP', a single she featured on alongside Cardi B in 2020, was ranked as the best song in 2020 by the BBC, Genius, NME, Pitchfork, NPR, Rolling Stone, and Vice, and was certified sextuple platinum by the Recording Industry Association of America.
She is indisputably one of the most successful musicians of the last few years. Something she does not seem to be, however, is immune to illogical criticism from the Formula 1 community.
A recent relaxation of COVID-19 regulations in Formula 1 gave an opportunity on Sunday for legendary F1 commentator Martin Brundle to present a 'grid walk', a feature wherein presenters discuss the upcoming session and try to interview various personnel on the grid.
This historically includes celebrities who have been allowed onto the grid before the race start, and in Austin, the main straight looked like a who's-who of celebrities, with basketball players, actors and musicians all present. However, the star who would end up to be discussed most following the race was Megan Thee Stallion.
The clips of Brundle's attempt to talk to Megan are now all over the internet, as are countless tabloids attempting to poke fun at the incident which was, in isolation, harmlessly entertaining.
For those that have so far managed to miss it, Brundle approaches the American rapper and hilariously asks her for some 'freestyle rap'. Megan's bodyguards then rush her past Brundle, despite her appearing to be willing to engage in the interview. The awkward interaction between an F1 legend and a megastar rapper was very funny, and at the time was simply an entertaining moment in the race build-up.
As is usually the case though with Formula 1, that wasn't the end of it. People flocked to Twitter to suggest that Megan was somehow obligated to engage in the interview with Brundle (something she did appear willing to do), despite the fact that Brundle was not a representative of F1's own broadcast, and that her presence on the grid was because she was being sponsored by Cashapp, a partner of Red Bull, rather than F1 themselves.
Many celebrities were present on the grid at this point, I may point out, and many were not interviewed by media representatives, but Megan appeared to face the brunt of criticism from fans who felt celebrities on the grid should be obligated to interact with media at all times, apparently regardless of any other obligations or duties they may have.
Needless to say, this is nonsense. On a busy grid, it's perfectly acceptable for a celebrity to decline an interview, especially if they don't recognise the interviewer, or if they are not representing the official F1 broadcast. Drivers and team personnel regularly decline to be interviewed too, and presenters are aware of this and are prepared to quickly move on and find someone else to talk to.
Part of the entertainment of a grid walk, for me, is the attempts to catch people to talk to: for example, in a recent race Nico Rosberg tried to talk to his own ex-teammate Lewis Hamilton, who unsurprisingly ignored him. The fact that Brundle was unable to catch Megan for an interview is definitely funny, but is neither exceptional, nor rude on her part.
Given the fact that the rapper appeared to indicate her willingness to be interviewed by Brundle to her handlers around her, many have blamed them, not her, for the failed interaction. He himself tweeted the day after the incident to say that he didn't care about being brushed off, but that Megan's bodyguards could have been a bit more respectful.
Whilst it's clear that her bodyguards were the ones blocking Brundle, I'd like to highlight the fact that they too were simply doing their job, just like everyone else on that grid. The bodyguards of a major American rapper can be excused for perhaps not recognising a presenter from Sky Sports UK, and therefore having a slightly harsh attitude towards him.
The behaviour of these bodyguards has now been somewhat over-inflated into an act of disrespect rather than what was likely just a poor attempt to move her along, and it's especially understandable given Megan's recent experiences that the general public seems to either be ignoring or unaware of.
Megan was shot by another American rapper, Tory Lanez just last year, who she now has a protective order against. She subsequently penned an emotive op-ed in The New York Times about it, entitled 'Why I Speak Up For Black Women'.
I implore anyone questioning the presence or attitude of her bodyguards to read it and understand why she might have brought additional security to a high-profile event with over 400,000 members of the public in attendance, and why this security might take their job as seriously as they did, especially in a state whose recent abortion legislation has demonstrated America's hostility towards black women in particular.
In response to the interaction between Megan and Martin Brundle, the reaction of fans initially consisted of people finding it funny. This has now escalated to barrages of F1 fans questioning who she is and why she bothered attending a race.
Megan has never publicly indicated that she isn't an F1 fan – she may, as far as we know, be as invested in the championship fight as the rest of us, as many celebrities on the grid seemed to be, and even if she is not a superfan of the sport, the presence of a major celebrity at a Grand Prix isn't something new to Formula 1. The Red Bull Racing team that hosted her in the paddock clearly knew who she was.
For a sport that constantly claims to be trying to attract new fans, the extreme reaction to this incident isn't helpful. It supports the narrative that only those who are superfans of our sport can engage with it, and that celebrities can't simply attend because it's cool or fun.
If we want to expand our audiences, we need to let more people in. Imagine if tennis fans uproariously complained on social media that Clare Balding had been blocked from speaking to the Queen at Wimbledon – it would be ridiculous. Formula 1 is one of the biggest sports in the world, and fans need to start recognising that, with a more open attitude to celebrities they might not know, or that want to attend casually and not as headline guests.
You're not obligated to recognise Megan Thee Stallion – just as she's not obligated to recognise a Sky Sports presenter at one of the most famous sporting events in the USA, or, indeed, interact with him.
Megan Thee Stallion: Why I Speak Up for Black Women | NYT Opinion
Amelia Taylor is the author of "formulaAMELIA" details at formulaamelia.com
Copyright ©2021 formulaAMELIA
[Note: The opinions expressed on this website are those of the author's and do not necessarily reflect the opinions of the editors and/or publishers.]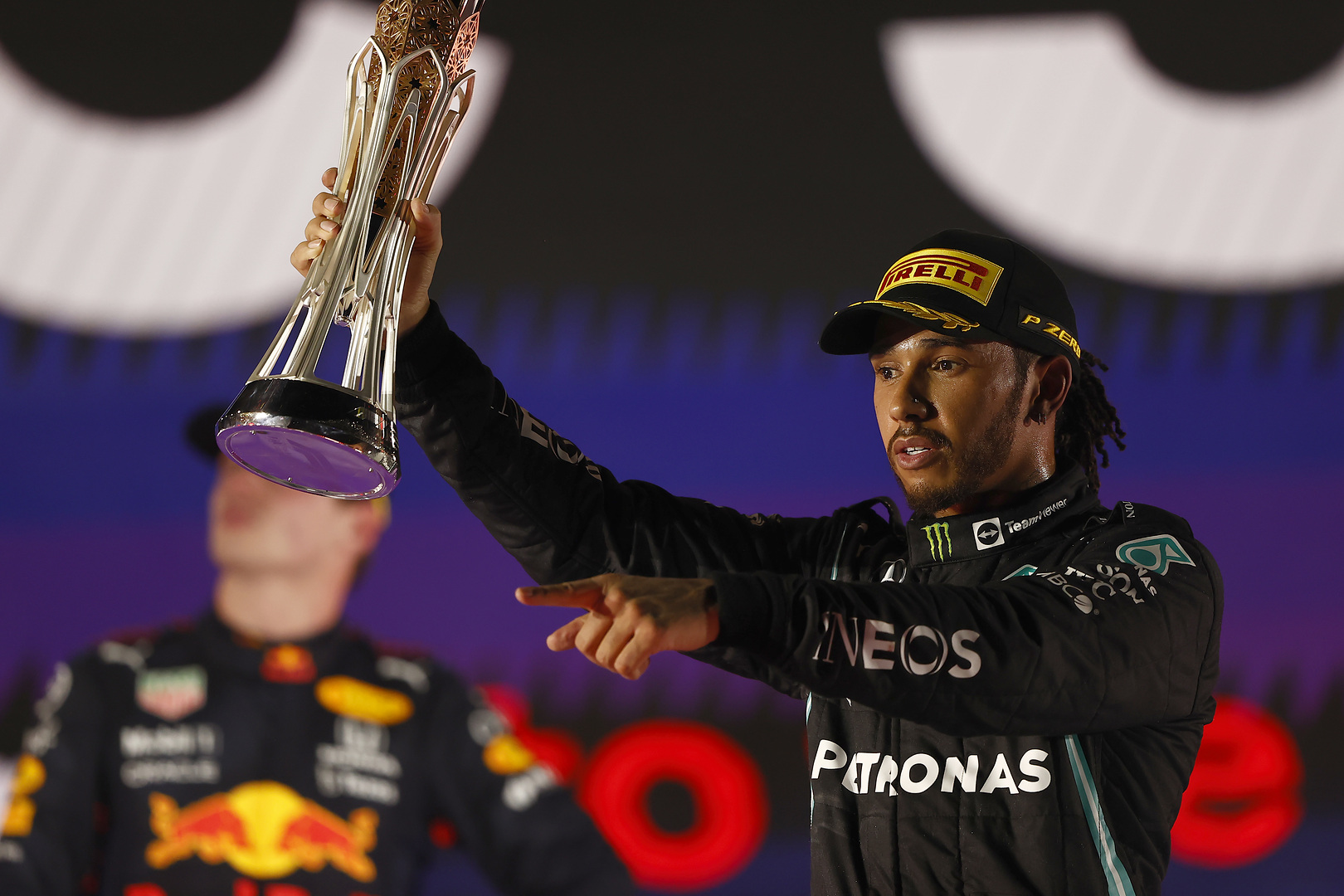 Lewis Hamilton took victory in Jeddah, and put in the ...