Scores of F1 fans from all over the world like to put some money down on which driver or team will get ahead in various categories – either race-to-race or just from time to time.
With millions of watchers and F1 bettors worldwide, it's not going to come as a surprise that the F1 betting industry is worth an estimated $5 billion.
As any punter knows, luck will only get you so far. There is a strategy and technique to pay attention to when putting your money behind a driver or team that can help make the process more fun.
We're giving you some handy hints and a heads-up on how to choose which driver to back as well as get your head around technical competency. Having some background knowledge on making a bet can place you in pole position in front of uninformed betting dabblers.
If you enjoy sports betting, F1 is bound to be a heart-stealer as the returns are high, especially with so many mix-and-match combinations to really test your racing knowledge.
Read along if you like the prospects placing your bets with the big winners.
Know How to Bet on F1
Taking an interest in the sport and watching races will give you a feel for the rules so you know any upcoming rule changes that would cause a shake-up. The trap to betting as a fan is that it's also easy to fall for a few favourites which can steer you towards making more biased bets.
If you are betting for fun then backing your team gives you more to cheer for, however, if you also want to make some money, you need to be objective about your choices and know when to take it easy on your favourites.
Here are some helpful ways you can be prepared and ready for your F1 bet…
#1 Pick Your Gambling Platform Wisely
Online betting is fast, secure and easy. It's also a lot easier to track your wins and see how you are doing. Unfortunately, there are plenty of wolves in sheep's clothing to be avoided here as well. Anyone can make a website and they can look pretty legit, especially when they offer some sweet deals for newcomers. Before selecting your odds make sure you select a trusted and known online gambling platform and do read the Terms and Conditions if you are signing up as a new member to know how to get access to your money and collect your winnings.
If you are a new user looking for some help on which platforms to trust, iGambler Michigan has done the hard work and compiled a list of the top eight most trustworthy casinos. Now, you can start betting without ever worrying about security.
#2 Keep Track of the Trends
Not all F1 teams are created equal which is part of what makes the sport so addictive. The biggest manufacturers compete for the best drivers and once in the car, teams work hard to create the best driver/car setup.
Driver experience, not just on the track but also with the car can make a big difference as well as which cars are doing best in the current season. Because F1 cars are required to completely overhaul their machines every year, it can be impossible to tell which teams will be strong at the start of the next season.
You'll need to keep in touch with the stage of the sport's development, changing rules and how each team is going in current (and even next level) development.
Confidence too can play a big part in driver success, this is as much a head game as one on wheels, so driver team harmony, driver partnerships and past wins are also good aspects to take into consideration while making your decision.
Some of the biggest factors that influence race outcomes are:
● Faster cars
Some teams have better engineers who build their cars faster than others. Not just car to car, track to track too. Aerodynamics are one of the biggest factors for speed and handling. Different tracks require different setups, which is why some teams do great on one track, but not others. Which cars carry speed under braking and which cars have straight line advantage will have different impacts on overall lap time at different circuits.
● Driver composure
A driver's confidence level foretells just how far they're willing to go to clinch the championship. In some cases drive and hunger can be a winning mix, in others, it creates a hot head that takes risks and results in a DNF. A driver who has their head in the end game win, not just on passing the guy in front of them usually sees better results and more race finishes.
● Technical competencies
The driver can only do as well as the team technicians that build and support their car. With so many rules changes and complete car rebuilds, there are often teams still working bugs out of their systems – sometime throughout the season. Typically gearbox troubles, power unit issues and the need for new parts out of sync with race rules spell long-term team trouble, not just in reliability and speed issues, but also in heavy grid penalties that come with unsanctioned part changes.
Pit stops are also a good indication of how well technical competency is going. Teams that are dedicated to the win as a whole unit will not just blitz a pit stop, it will be perfect time and time again with solid race strategy and tyre strategies put forward as well as the perfect execution.
If your favourite team is still getting their car setup right, it's best to steer clear of any big bets until they find the combination that lets the driver put some reliable power down.
● Strategy
The driver and car setup will determine how a team plays the race. The game can be played in multiple ways, depending on the result desired and the track. Some teams choose to compete with consistency and race strategy, others compete based on upfront speed. Neither of these factors can take in mechanical issues and crashes, which is where the really big gamble comes in – can your chosen car stay on the track to complete the race? Some brave drivers will gamble to go hard or go home, so you need to know the way the team and driver play the strategy game to understand what risks you are taking.
#3 Check the Weather Conditions
Weather is a fun one to throw into the mix. Some drivers love a wet track, it brings in a whole new set of driver skills and car handling into play, while others get rattled by lack of visibility, colder tyres and unpredictability that comes with the rain.
Teams in general typically hate wet weather races or any kind of reduced visibility as races can get out of hand quickly, the situation is constantly evolving and the game instantly becomes unpredictable and hard to control. Big weather events – or even the threat of inclement or approaching weather changes – means everyone is on edge. There are a lot of spontaneous calls and miscommunications. Not everyone can handle the pressure or get the strategy right. Slippery tracks and poor visibility also mean crashes are more common.
Expect wet weather to shake up a race and leave more room for a different range of drivers to get into the points.
Check driver and team history for wet weather races to get a feel for who can handle bad weather or stay out of trouble when the track gets littered with debris.
Top Tips for Betting on F1 Futures
The most common F1 bets you would find on the net for Futures are the following:
Driver to Win a Race
With even lesser reward money attached, you back on a great driver you feel would win at least one race in the season under this category.
Top 3 F1 Drivers
While it wouldn't be as profitable as betting on the champion, the risks are significantly reduced, and you stand a greater chance of winning.
Overall Champion
Each F1 team runs two cars. Cars are mostly identical, except for a few tweaks to fit the driver's unique frame and drive type. Drivers are classed as #1 and #2 and teams set up a race strategy to assist #1 to the win as much as possible. It is expected that driver #2 will assist with this, although it is a cause of friction.
Individual driver points are tallied after each race and accumulate over the season so that whoever has the most points (typically whoever has the most podiums) at the end of the season, wins the overall driver's championship.
You can make a wager at any point in the season for who you think will be crowned a champion although you might not have to wait until the final races to know the result.
Constructors Championship
Every time a team scores points – with either car crossing the line in the top ten – it is tallied in the Constructor's Championship. The team that has the most points at the end of the season (typically the team that is the most consistently able to get both cars to the finish line in the points) wins. This one is all about betting on the team you think will be most consistent across the whole season.
Back Several Drivers for the Title
You can increase your chances of profit by putting your eggs in more than one Driver Champion basket. A good hack is to back multiple drivers early on – taking performance into consideration to see who might stand a good chance of being in the top four on the list at the end of the season.
While betting across a bigger board of players will reduce your overall winnings – compared to if you manage to pick the winner with one bet – a wider spread means you increase the chances of putting money behind the winner and seeing money back. It all depends on your confidence in the driver and team as well as how much you are willing to lose.
Betting Tips through the Season
As well as your own research, evaluation and opinions it helps to look at professional reviews at the start of the season and throughout to gain insight into how a series or race might play out.
It's worth noting that what happens in testing isn't necessarily what plays out on the track, but being forewarned that a team is struggling with new power unit requirements or finding a sponsor can help give you reliable intel for where to place (or not place) your bets.
At the start of the season the following race and team guides may come in handy, as well as for updates through practice sessions and qualifying :
Season opening reviews
Official Formula 1 website
Take a tour of the FIA Formula 1 website and review reports on technical competencies for each team, especially the ones that filter through from the qualifying sessions. Note modifications to racing regulations and evaluate their impact (if any) on driver performance and manufacturing outcomes.
Check out Quora, Reddit and racing forums
These can give you a hint or the latest news on which drivers might be struggling. Just keep in mind many of these are opinion pieces so dig deeper to see if there is any merit before using insights to back a team.
Closer To The Championship Title
Upon approaching the clinching of the championship and final races you'll need to change up your betting strategy. By now there are more known-knowns so your bets (and betting ratios) should be reflecting this. Here are some tips to keep in mind to help with the pointy end of the season:
Driver Discipline
A driver who's gone rogue a few times in previous races probably isn't going to play sweetly in the final races. Team orders need to be followed, even if the driver disagrees, teams have more intel than the driver on the track so compliance is key to making a race strategy stick. The same goes for respect between drivers. Often simmering unfriendliness between teammates will come to firey blows towards the end of the season as drivers try to prove who really is number one- this has shown to hurt teams more often than not with most outbursts ending in lost wheels and carbon fibre biting the tarmac.
Team Focus
Is the team still focused on the current campaign?
If their drivers are out of the championship hunt and the team can't climb the Constructor's Championship standings, then their focus may have already moved to the following season.
Rather than throwing precious resources at a lost cause, many teams stop developing their current season's car and put their resources into the following season's project with the aim of hitting the ground running when the next season starts.
Summary
Betting on F1 can be done for just one race – to see who crosses the finish line first – or consistently throughout a whole season to see who takes the trophies home. It's a long season, typically lasting nine months from March to November with multiple shifts, influences and impacts coming into play before the final checkered flag falls.
Staying ahead before and during a season will help keep you informed of new rules and regulations, which teams are struggling and excelling and where the smouldering arguments are that could explode into a firey mess before a champ is crowned.
Even seemingly insignificant events or race circuits can profoundly influence who wins so staying flexible and informed is the best way to put your money behind a winner.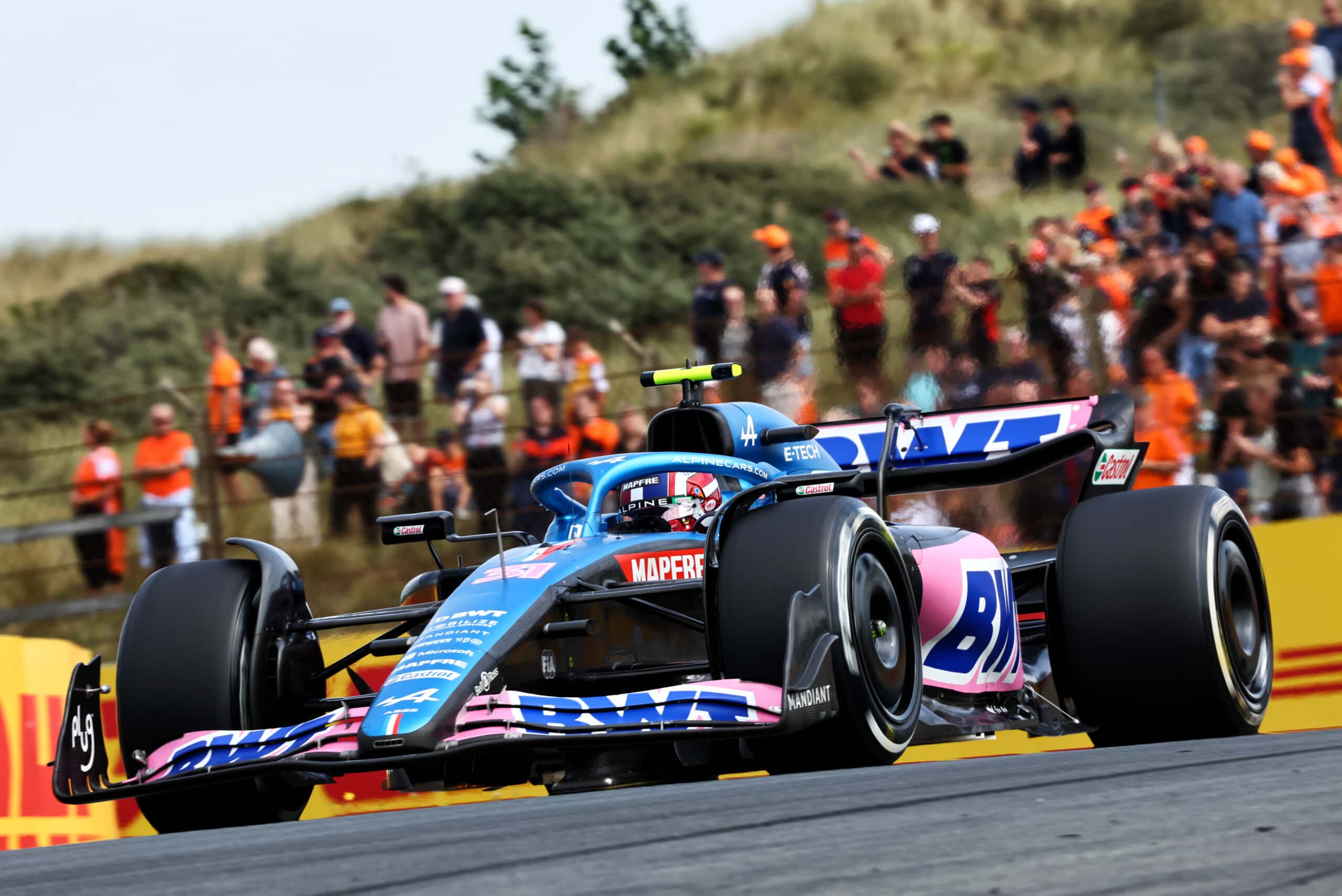 Alpine driver Esteban Ocon described racing in Singapore as a ...