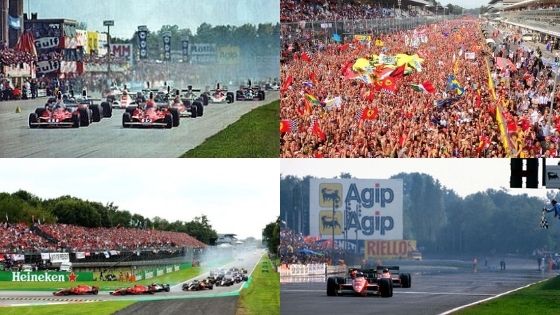 Italian Grand Prix
The Italian Grand Prix, the world's 5th national GP was established in 1922. Ever since the World Championship was introduced in 1950, the Italian Grand Prix has been one of two events raced every season. Every single F1 Italian Grand Prix in the World Championship era took place at Monza excluding the one held in 1980 at Imola.
The Italian Grand Prix received honorary designation as the European GP seven times from 1923 to 1967. Other than Monza, four events before the World Championship took place in: Montichiari (1921), Livorno (1937), Milan (1947) and Turin (1948).
When was the first Italian Grand Prix?
The first Italian Grand Prix championship was held on September 4, 1921 at a 10.7-mile (17.3 km) circuit close to Montichiari. On the other hand, Monza, a racing course outside the northern city of Milan, established in 1922, has been the location for most of the races over the years.
Autodromo Nazionale di Monza
Autodromo Nazionale di Monza's construction was finished in 1922. It was formerly the third permanent autodrome worldwide; the first two were Brooklands in England and Indianapolis in the United States. European motorsport forerunners Vincenzo Lancia and Felice Nazzaro rested the last two bricks at Monza. The distance of the circuit was 10 km (6.25 miles), with a flat banked zone and a road course joint into one. The circuit was fast and was always exciting. The 1923 race noted Harry A. Miller's rare appearances along with his single-seat car design – "American Miller 122" driven by Count Louis Zborowski of Chitty Chitty Bang Bang rose to fame.
The 1928 race was remembered as a tragic day for everyone involved in the event in Monza. Italian driver Materassi in his Talbot lost control of the car during the race killing himself, 27 spectators, and injuring another 26 in the crash. It was the worst accident that happened in the venue until 1955. This resulted in a temporary halt of the GP for two years until it resumed in 1931 that was held in May.
The 1933 race that was held in September was another tragic day for the motorsport. Three of the best drivers died during the race due to an oil spill on the road of the circuit. Thought this tragic event happened, the race did not stop. The Italian driver, Luigi Fagioli won the race.
Safety was not of a big concern during the era. The circuit's setup was identical to an ordinary town and country road. Viewers often stood near the track without protection of any kind except common sense. Campari's death was particularly tragic because of his pre-announced retirement 2 months earlier at the French GP. He mentioned focusing on his opera singing activities.
The Florio circuit and other locations
Change was inevitable to Monza right after the terrible 1933 race. A short version of Florio Circuit (hosted in 1930 for Monza GP) in 1934 was used. The race was too slow with the presence of 5 chicanes. These were the times when Mercedes and Auto Union joined the motor racing. The German Silver Arrows gained all the victories in these races. Rudolf Caracciola won in 1934 and in 1937 during the time when the Italian Grand Prix was held at a street circuit in Livorno. The race was returned to Monza in 1978. Nuvolari, driving a mid-engined Auto Union, has won the race. World War II began in 1939 and the Italian Grand Prix did not resume until 1947.
The resumption of Italian Grand Prix in 1947 was staged at a fairgrounds park in Milan's district of Portello. Carlo Felice Trossi, driving an Alfa Romeo, was declared as the winner. This venue was never used again for racing due to a tragic accident that claimed 5 lives, all of which are spectators. The 1948 race was held in Valentino Park, Turin. In 1949, the race returned to Monza and stayed there for 30 years.
Monza and its redevelopments (1949–1979)
Renovated areas were evident during the 1949 race. Banking was built over and only the road circuit was used, which had been modified and the final corner was now two around 90-degree corners. The race was won by Italian driver Alberto Ascari, son of the late 1924 Italian Grand Prix winner Antonio Ascari, in his Ferrari. Enzo Ferrari have produced his cars during this time instead of running Alfa Romeos. The new Formula One Championship has been established in 1950 and its first race was won by Giuseppe "Nino" Farina in his supercharged Alfa Romeo 158.
The project to refurbish the track was started after the 1954 Grand Prix and below are were the following changes:
New facilities were built
A new corner called the Parabolica that was built before the pit stops
Extra track that was used for a short course was removed
The construction of the new Monza banking.
In 1955 this course was merged with the road course for the year's race. The 10 km Monza circuit was dashing fast that cars were averaging 135+ mph per lap – it was fast during that time.
1957 saw the organizers opted to use the road circuit only because the poorly constructed banking had caused hitches for the Ferrari and Maserati cars the previous year.
Then in 1961, combined circuit was used again, but it was tragic that it had caused the lives of a German Wolfgang von Trips and other 14 spectators.
In 1962, the banking was abandoned and never used for F1 races again. It still there in place, but in broken-down condition for a long period before being renovated in the early 2010s.
1963 saw the organizers' trying to give a shot to use the extremely fast full circuit again but the concrete banking's surface was so uneven and bumpy that cars were being mechanically torn apart during the practice run. The drivers feared that there might be no finishers for the race itself. The drivers initiated protest due to this.
The fastest F1 race ever was in 1971. In fact, it only consists of a lot of straights and fast corners. Formula One cars became more advanced and even faster with drivers relentlessly slipstreaming around the race track. At the Violene curve and also at the end of the pit strait, a small chicane was placed. In 1974, the Vialone chicane was further modified and renamed as Variante Ascari. This was where Alberto Ascari died due to a Ferrari test-drive in 1955.
Another modification was done in 1976. The Variante Rettifilo and the Variante della Roggia, were installed in the circuit.
1978 season was tragic. It caused a life of Peterson who suffered severe leg injuries after multiple car collisions at the beginning of the race. He died from embolism complications the following day. With Peterson's leaving the race, Andretti won the Drivers' Championship. Changes to Monza happened again on 1979as upgrades for the track was installed like the run off areas that were added to the Curva Grande and Lesmo corners.
Imola 1980 and Monza's further redevelopments
Imola was temporarily used in 1980 Grand Prix while Monza was having its renovations. The race has resumed in Monza a year after.
After the Imola incident in 1994, the second Lesmo curve modified to slow it down. Because of this the race schedule almost got affected due to environmental reasons caused by the project. Other modifications took place in 1995 at Curva Grande, Variante della Roggia and both Lesmo Corners, which were expected for to create wider runoff areas. 2000 saw more changes to the circuit again, which have stayed since; the Variante Rettifilo was changed into two corner sequence instead of a three corner sequence. It was another tragic start of the race, as a loose wheel from German Heinz-Harald Frentzen's Jordan struck 33-year-old marshal Paolo Gislimberti on the head. He unfortunately died later that day.
Michael Schumacher announced his retirement from Formula 1 racing at the end of the 2006 season after his victory. He was replaced by Kimi Räikkönen at Ferrari beginning the 2007 season. At the 2008 Italian GP, Sebastian Vettel who was 21 years old then, became the youngest driver in history to win a Formula One Grand Prix after finishing the race 12.5 seconds ahead of Heikki Kovalainen of McLaren.
Bernie Ecclestone and the Monza track executives signed a contract which meant that the race will be held there until at least 2016. The fastest ever qualifying lap, was set in 2018 by Kimi Räikkönen in a Ferrari with a dashing 1:19.119 at 263.587 km/h on the average.
To summarize the Italian Grand Prix winners, you may see this list (from most to least number of wins):
Michael Schumacher – 1996, 1998, 2000, 2003, 2006
Lewis Hamilton – 2012, 2014, 2015, 2017, 2018
Nelson Piquet – 1980, 1983, 1986, 1987
Tazio Nuvolari – 1931, 1932, 1938
Alberto Ascari – 1949, 1951, 1952
Juan Manuel Fangio – 1953, 1954, 1955
Stirling Moss – 1956, 1957, 1959
Ronnie Peterson – 1973, 1974, 1976
Alain Prost – 1981, 1985, 1989
Rubens Barrichello – 2002, 2004, 2009
Sebastian Vettel – 2008, 2011, 2013
Luigi Fagioli – 1933, 1934
Rudolf Caracciola – 1934, 1937
Phil Hill – 1960, 1961
John Surtees – 1964, 1967
Jackie Stewart – 1965, 1969
Clay Regazzoni – 1970, 1975
Niki Lauda – 1978, 1984
Ayrton Senna – 1990, 1992
Damon Hill – 1993, 1994
Juan Pablo Montoya – 2001, 2005
Fernando Alonso – 2007, 2010
What does the Autodromo Nazionale di Monza look like today?
It's really fast! For the record, the Formula 1's fastest ever lap was set at this circuit none other by Juan Pablo Montoya in his Williams at 260.6km/h. this happened during practice for the 2004 Grand Prix. With this nature of the track the cars are on full throttle for 80% of the lap. They began to hit their Vmax on the circuit's 1.1km start/finish straight. From that point, cars dash at full to the historic park section that comprises of stops and chicanes. Here are some details for a quick-view:
Surface: Asphalt
Length: 5.793 km (3.600 mi)
Turns: 11
Width: min 10 m. – max 12 m.
Location (latitude e longitude): 45°37'06" N, 9°16'54" E
Driving direction: Clockwise
How to get to the Italian Grand Prix
You won't get lost going to Milan to watch the Italian Grand Prix because the city is well connected by all kinds of transportation means with the rest of Europe and beyond. The race itself is staged at Monza Park, just around 10 miles north of Milan's city center. Going there by train is the best option, from both Milan and the surrounding cities. You may also choose to drive instead but the local traffic can worsen towards the race weekend.
Airports in Milan
Linate (LIN) – 8km to the southeast of the city center. This airport is commonly used for domestic and short range flights. This is Alitalia's major hub which caters both domestic and European cities.
Malpensa (MXP) – 40km northwest of Milan's city center. It is known to be the city's largest and busiest airport that caters a wide range of short and long range flights all over the world.
Bergamo Orio Al Serio (BGY) – 45km to the east of Milan. Although quite distant from Milan, this still gives good access to the city just like the Malpensa.
Roads to Milan
Tolls can get quite expensive despite Italy's great road connection. Private companies operate different sections of expressways so it is better to be prepared in paying different set of fees as much as €8-10 per 100km.
Trains to Milan
The stunning building of Milan's Central Train Station is located on the Piazza Duca d'Aosta. Their train network is well connected with many large cities in neighboring European countries including France, Spain, Austria and Germany. It is catered by Le Frecce high-speed trains. There is a need to be booked in advance for international high-speed (and night) trains which offer limited allocations for Eurail pass holders.
Getting to Monza
To easily get to Monza on GP weekend, ride one of the trains from the large stations in central Milan to Monza railway station, then take a shuttle bus to the circuit. The challenge in this is you must prepare yourself for a lot of walking. It's quite a distance from shuttle drop-off points to the circuit gates, then another distant walk to your grandstand. You may take a cab for around €40-60, but it's not advisable due to heavy traffic during the race weekend. Same setback if you opted to drive.
Trains to Monza Station
The trains bound to Stazione di Monza leave from Milano Centrale, Milano Porto Garibaldi and Sesto San Giovanni train stations on each day of the race weekend.The travel could take 20-30 minutes and trains run on a regular schedule, at least every 15 minutes. Tickets are only around €2 each way.
From Milano Central: get to train bound to Lecco, Tirano or Chiasso.
From Milano Porto Garibaldi: get to train bound to Lecco, Bergamo, Chiasso, Molteno or Chiavenna.
As get your feet to Monza train station, Black shuttle buses are there take you to the circuit for only €5 return per day. The drop off point is around 20-minutes walk from the eastern Vedano entrance gate to the circuit, near the Parabolica. The Black Shuttle buses serves passengers on Friday (07:30-20:00), Saturday (07:00-20:00) and Sunday (06:30-20:00).
Trains to Biassono-Lesmo – Race Day Only
Trains leave the Milan Centrale station (on race day only) for the Biassono-Lesmo station. This is located at the northeast corner of the circuit where it's close to the Lesmo bends. This is a better way of getting at the circuit if you are sitting at on Seconda Variante (grandstands 9, 10) or Variante Ascari (grandstands 12-20).
Buses to Monza
There are Z221 bus available from Sesto San Giovanni train station in the north of Milan (next to Sesto 1º Maggio station on metro line 1) that can take you to the circuit. Another one is the 204 bus that rolls out from Monza Corso Milano (near Monza Railway Station) going to Vedano al Lambro and the 221 bus goes from the same place to the Biassono entrance of the circuit. Bus tickets are only valid for an hour at only €2.
Driving & Parking at Monza
Getting to Monza by road is easier and thanks to good motorway network, but it would always be better to have an installed GPS map on your mobile phone. Unfortunately, driving on the roads near the circuit is restricted during the race weekend, but on the upper hand there are lots of parking spaces around Monza park. Carparks cost at an average of €25 per day on race weekend. You will be serviced by shuttle buses which will take you to the circuit entrance.
What to prepare when going to Italian Grand Prix
Italy, country of south central Europe with a population of 61 million is in fact rich in cultural terms. Italy contains a variety of scenic landscapes and its capital, Rome, is Vatican's home besides the landmark art and ancient ruins. The Italian GP hosted annually around the end of summer in Monza, a small municipality in the northeast of Milan. Italy's design and fashion capital, Milan is the 2nd largest city.
Is there a need to secure a visa?
It's no for most of the people coming from some of the western countries. Italy belongs to the Schengen area as well, which grants borderless travel among the 26 European member states, including neighboring countries of Italy such as France and Switzerland.
Safety
Milan and Monza are safe and there is a rare occurrence of violent crimes. Pickpockets operate in Milan (Just like any other big cities) and on other public places. Cars are not that thief proof so avoid leaving your valuables inside.
Money
EURO (€) is the currency in Italy. Credit cards are widely accepted and ATMs ('bancomat' in Italian) are widely present and easy to find. Avoid bringing lots of cash and it is highly advisable that you withdraw money that is only goo for a day or two. Tipping is not so common in Italy, but you can always give some to reward one's effort.
Language
Many Italians are English language literate, especially those who are in service sector. But, it would always be best if you are prepared with some simple Italian to greet the people around you.
Health
There are lots of farmacia (pharmacies) around. Don't forget to prepare and bring an EHIC card for the benefit of free medical services. It is also important that you have a travel insurance.
Weather in Monza
The GP is held every September and the max temperature are in the mid-twenties and the chance of raining is quite low. It would be completely fine to wear your comfortable clothes but it's also good to be prepared for cold weather.
Where is the best place to watch the Italian Grand Prix?
Best Grandstands at Monza
Seats at Monza's grandstands are steel or concrete bleachers and surely, we know that it's agonizing to go through the whole race without a cushion. So bring one.
Grandstands 1 & 26: Main Straight
Being in this grandstand will let you witness the heat of the action. Whether you'll be seated in either of the two grandstands of the Main straight, the atmosphere here is incomparable anywhere else in Monza or any other Grand Prix circuit. This is the prime spot in the circuit in terms of intensity!
Grandstands 6 & 8: Prima Variante (Turn 1)
Want more of overtaking action? Then this is the right spot. The reconstructed Alta Velocita turn 1is one of the seasons tightest first corners so you could expect to witness wheel to wheel clashes on the first lap. It's always the scene of the most overtaking in the circuit after a long straight.
Grandstands 9 and 10 (Rogia): Seconda Variante
If you want an affordable alternative to Prima Variente, then you may choose to be seated here. The "feels" are almost the same with being seated in 6 & 8. Overtaking are lesser here, but not rare because this place is still tightly packed.
Grandstands 12, 13, 16, 18 & 19: Ascari
Named after the Italian double world champion Allberto Ascari, who unfortunately lost his life at this part of the track in 1955. The Ascari is a fast sweeping chicane in the direction of the end of the lap. overtaking or any incidents are not so common in this area, but watching F1 cars dash here at speed is awe-inspiring.
Grandstand 21: Parabolica
This is well-known for its tragic history. For the records, in 1961 the Parabolica is where Wolfgang Von Trips died in an accident, who's Ferrari flipped into the crowd ending the life of 15 spectators. But there's nothing to be afraid. Today's Formula One racing are a lot safer. You'll be in awe as cars storm into Parabolica, decelerating from about 340 to 180kph while trying to preserve as much momentum as they can for the long straight that follows. Amazing skills!
General Admission
Some fans are not always into how good the views are but they are after the experience, the atmosphere and the history. You can definitely enjoy this just for being in the circuit with general admission tickets for Monza. The ticket offers some valuable watching selections with paths pushing its way through the trees around the circuit and views from just about every angle.
Several small viewing stands are set up for general admission. Although the spots disappear quickly, you are more likely to be constrained against the perimeter fence. That being said, although spectators cannot expect a picture-perfect spot, but anyone situated here can enjoy the action of the race. Regular spectators reserve their spots in advance for Monza's general admission, sleeping overnight around the area.