After a torrid campaign in 2020, Sebastian Vettel enjoyed a Turkish delight at the FORMULA 1 DHL TURKISH GRAND PRIX 2020, sliding past teammate Charles Leclerc to grab the final spot on the podium, his first of 2020.
Since it was announced he would be leaving the prancing horse at the conclusion of 2020 things have gone downhill for the four-time World Champion, so this fighting third place in testing conditions will serve as a great reminder that the German still has what it takes to perform at the front of the grid.
Sebastian Vettel Has Special Relationship With Istanbul Park
In 2006 Sebastian Vettel made his debut at Istanbul Park as the third driver for BMW Sauber, setting the fastest time in the second Friday free practice. Today he wrote another page in his illustrious history at the same circuit.
'There are some races that are special, where anything can happen. I think today's race confirmed that I have a special relationship with Istanbul Park.
'One could say my Formula 1 career began here and here again, in what has so far definitely been a difficult season, I have managed to finish on the podium for the first time.
'The first lap was incredible. I got away well and with the heavy wet tyres, I had great grip. Then, when we switched to the intermediates, I struggled a bit more. I think the fact there was less water on the track helped and so, in the closing stages I was really quick. In the last few laps I caught Charles and Perez who were fighting.
'Charles overtook the Racing Point, but locked up at turn 12, so I went inside and I only just missed out on getting second place too. I am sorry for him and I can understand he is very angry about what happened, because in many ways, I see myself in him. But he is so strong that very soon, this day will be completely unimportant in his mind. He drove a great race.'
Vettel Makes Fast Start
In treacherous conditions, Sebastian Vettel was able to get away quickly and recover from a poor qualifying position to fight at the front of the race.
'Yeah it was a good start. I think I just anticipated it to be very, very slippery, off the line. I made up a few places already there and then yeah, I wasn't one of the ones who tried everything into turn one and obviously there was a Renault that spun.
'I think everybody who was in that group obviously was back to the outside and I could just snatch the inside line and make up a lot of ground. Then I think it was good to have clear track ahead and benefit from that at the beginning of the race.
'When we then pitted for inters, I think it took a little bit too long for us to get into the groove. I lost a couple of positions which then later on I was catching up the field again.
'I had a good battle at that stage with Lewis for a couple of laps and we pitted again, the tyres then grained very quickly and I think in that part of the race maybe I was too conservative, otherwise I could have been even better and maybe less exciting at the end but better in terms of positioning but yeah, nevertheless, happy.
'Obviously I was able to close the gap towards the end. Sergio was right on the limit, I don't think he had anything… not even another lap left in his tyres so it was really close. Also across the line I was hoping for a benefit on traction but he just saved it over the line. Obviously Charles made the mistake and then it was very close for the three of us. It was a fun afternoon.'
'What If' Moment After Not Stopping For Slicks
Although the track was still very wet in parts, Vettel admitted he did consider stopping in the closing stages for slicks, something that is now a 'what if' moment as the third place finisher wonders if a win got away.
'Yesterday we mostly struggled on the extreme wets. I think today was a little bit better but still on the extreme wets was probably a weakness.
'On the inters we were a little bit better, as I said, maybe I could have done a bit better by being more aggressive on that tyre, especially in the mid part of the race, but yeah, I was also very keen towards to put dry tyres.
'Obviously, nobody dared to do it so given that we were in a good position looking for good points, I can see that we wanted to hang on to this, plus, on the other hand, we had rain forecast for the last lap so yeah, otherwise I think… I don't know.
'I'm still thinking back and thinking maybe I should have dared to put dry tyres because the track, at one point, was sort of dry and still damp in other places but it was stable and the tyres that we had on, the intermediates, Sergio's tyres, our tyres I think they were all pretty worn down to nothing, even Lewis's tyres, pretty much like a slick and in that case a slick would be faster but would, could, should.
'We didn't dare to do it; we got a podium so not much we could have got more from that race.'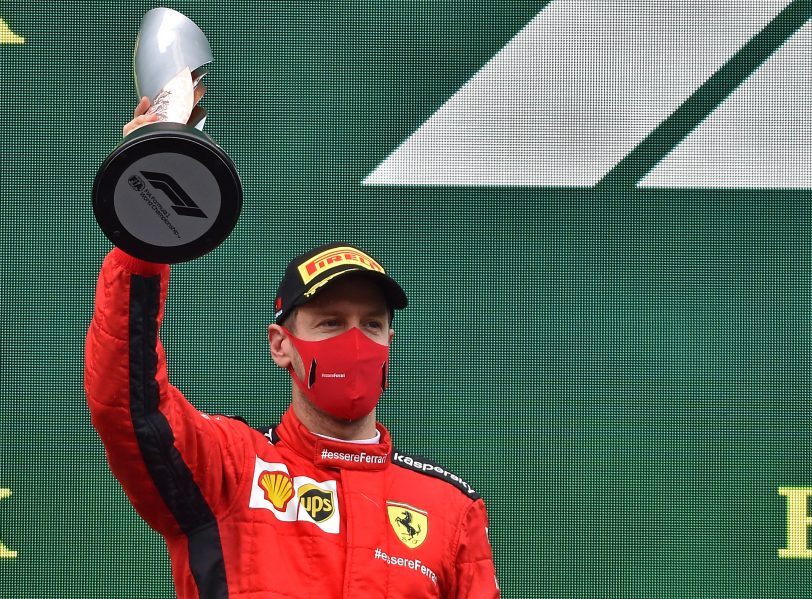 Vettel Has Best Race of 2020 under Laurent Mekies
With Mattia Binotto remaining in Italy to continue preparations for the 2021 car, Sebastian Vettel enjoyed his best race of the year under the guidance of Laurent Mekies.
The relationship between Binotto and Vettel has been strained in 2020, but the German doesn't see this as the reason behind his first podium of the season.
'I think the team is well aware of all the motions it needs to go through so yeah, I think it's quite bad… I think we scored probably the most points this year for us and Mattia wasn't here!
'If the next race we don't score as many points we try again to leave him at home! No, I don't think it's related to that. I don't believe in this kind of stuff.
'I've worked with Laurent already 12 and 13 years ago and I think we has come a long way, I have come a long way and yeah, he does take care of us with Mattia not being here.
'I think he's a capable guy and as I said, it's not only down to him or down to Mattia, in the end it's a team effort. I think Sergio can tell the same thing.
'There are so many people, so many different links that have to come together to have a good weekend and obviously this weekend we benefit from the conditions, probably the surface and also the wet conditions but yeah, we hope to have good races also the next three.'
Vettel Confirms Hamilton Is Best Driver Of The Era
At the conclusion of the race Vettel was one of the first to congratulate Lewis Hamilton on his momentous win as the two drivers who have often battled it out wheel to wheel over the past decade shared a special moment together.
'I told him it's very special for us because we can witness history being made today. I think he is greatest of our era for sure.
'I think it's always difficult to compare… how can you possibly compare Fangio, Stirling Moss to our generation? You can't.
'Maybe we would be useless because we would all be shitting ourselves in those cars. Maybe they would be useless in our cars because they're way too fast. Who knows?
'But it doesn't matter, I think every era has its driver or its drivers and Lewis is certainly the greatest of our era.
'To me, certainly emotionally, Michael will always be the greatest driver but there's no doubt that Lewis is the greatest in terms of what he has achieved.
'He's equalled the championships, he's won more races, he has a lot more pole positions so I think he's done everything you can ask for. I think today is the best proof. It's a difficult race, a very difficult race to stay on track and two hours long and probably, if we're honest, it wasn't his race to win and he still won it, so I think, once again, he managed to pull out something special out of that bag and therefore I think he deserves everything he has achieved,' concluded Vettel.