Looking for the best FORMULA 1 podcasts of 2021 to help get you through ongoing lockdowns? As we wait for the 2021 F1 season to kick off in Bahrain we thought we would share some of what we believe are the best F1 podcasts on the grid.
You may be wondering why some of the big-name podcasts Beyond the Grid aren't on here, and the reason is simple. This is the third edition of our 'Best Formula 1 Podcasts' series, and if we covered an F1 podcast in the 2019 or 2020 editions, we've purposely not added them to this list. We want to keep things as fresh as a brand new set of soft Pirelli's.
So here you have it, our list of the best Formula 1 podcasts to keep an ear on in 2021…
The Best Formula 1 Podcasts of 2021
The Monkeyseat Podcast
One of the best things to come out of lockdowns in 2020 was The Monkeyseat Podcast. With more free time, Karl and Tom launched the podcast in April 2020 and went straight to the top of the list of our favourites.
What we love about this podcast is the interviews.
Get started with their interview with former McLaren mechanic Marc 'Elvis' Priestley and their interview with Team Principal of DS Techeetah, Mark Preston, where they talk Formula E and his time in F1 with McLaren, Arrows, and Super Aguri.
Visit The Monkeyseat Podcast.
Cut To The Race
The Cut To The Race podcast is a cracking new show that has an excellent panel made up of various Formula Nerds contributors, which means there is always great rapport and chemistry within the team who all offer excellent insights and opinions.
We really enjoyed their chat with Karun Chandok at the end of 2020, and look forward to more great interviews from the team.
Visit the Cut To The Race podcast.
Get Checkered
This podcast first started recording in March 2021. They have 22 episodes and a handful of minisodes released so far, and their goal is to educate their listeners (in a fun way) as they learn more about the sport.
They do a weekly episode – whether that be post-race, a rundown of news from the past week, educational topics, driver spotlights/career highlights, or a mix of all the above.
Their podcast is the only F1 podcast with two female Canadian co-hosts from the Prairies, so they have hot takes that you won't hear from the other podcasts.
Visit the Get Checkered podcast
The F1 Strategy Report
We're not sure how we missed The F1 Strategy Report podcast, but we're glad we've put that to rights and discovered it over the nd of year break.
As the name says on the tin, this podcast talks strategy.
After each race, host Michael Lamonato is joined by a guest to discuss the strategies of the race. Michael and his guests are great at having in-depth looks at the strategies teams and drivers used, with excellent insights on what worked and what didn't.
The guests are always top-notch F1 journos such as Phil Horton, Sam Collins, and Matt Clayton.
Visit The F1 Strategy Report podcast.
The DNF1 Podcast
We have no idea how they do it, but the folks at The DNF1 Podcast manage to put out multiple episodes a week, which is perfect for all of us F1 fans!
They're also right on top of current news, they even released a podcast just after the announcement of the 2021 Australian Grand Prix being delayed. That's F1 fast!
The team also have a YouTube channel for their podcast, in case you would rather watch their smiling faces instead of only listening to an audio version.
Visit The DNF1 Podcast.
Inside Line F1 Podcast
The Inside Line F1 Podcast is a fantastic weekly show that offers some great alternate views on the sport, and does it with witty humour.
One of the things we love about this podcast is the team of Mithila and Kunal don't only focus on the world of news, they also look to the future and add commentary on the direction they see things heading, and add their own opinions into the mix.
Things have really ramped up for the team in 2021, with them often publishing two episodes a week, so it really helps you get your F1 fix!
Visit Inside Line F1 podcast
Winging It F1 Podcast
We already liked Winging It, then the guys blew us away in their latest episode by opening up about mental health and their own struggles (before getting back to F1) which was great to see.
Winging It is another in the growing list of publishers who produce a video podcast (did we pioneer this with Grid Talk? Who knows, but we will claim we did) so check out their YouTube channel if you prefer video.
Visit Winging It F1 Podcast.
Out Lap F1 Podcast
Out Lap F1 Podcast is one of our favourite finds of 2021 as the US-based hosts James, Jon, Andy and Deanna always give really interesting insights and opinions into F1.
Selfishly, one of the thing we love about this podcast is they have kept recording (and therefore kept us entertained) right through the off season.
While we were taking a break and resting on our laurels, the Out Lap F1 Podcast team kept releasing quality podcasts every week! Their 'Team Deep Dive' series is getting us more and more excited for the 2021 F1 season.
Visit Out Lap F1 Podcast.
Relapped
This is a brilliant idea from Deanna, who is re-living every F1 season, starting from 1978.
It's a huge task, Deanna is currently going through 1979, and after discovering the podcast during the relapping of that 1979 season, we're now hooked and can't wait for more.
Deanna watches every race, and you can 'watch along' as she outlines the thrills and spills from these classic Grand Prix.
You can catch this podcast on the usual platforms, but we recommend subscribing to the YouTube channel for this one.
Visit Relapped podcast.
EverythingF1 Podcast
While the EverythingF1 Podcast is relatively new, kicking off in 2021, but they're already making waves with incredible guests such as Glenn Freeman from The Race.
What we love about this podcast is the team is expanding on an already solid foundation they had built with a highly engaged and informative Facebook group that has now hit the ground running with a polished and professional podcast that is well worth subscribing to.
Visit EverythingF1 Podcast.
Formula 1 Grid Talk Podcast
We said we wouldn't feature podcasts that have been on previous lists, but just like we said last year, it's our list and we'll add ourselves if we want to 😉
Rather than just shamelessly plug Grid Talk, we thought we would give you an update on what's happening for 2021.
Firstly, Grid Talk is now on Amazon! We have partnered with Amazon to give you a free trial of Audible Plus so you can start listening to thousands of podcasts, audiobooks, and Audible Originals. Already an Audible Plus member? Try Audible Premium Plus for free for one month. You can also give the gift of an Audible Premium Plus membership with this offer.
However, the biggest thing is we now all have microphones!
We'll admit we didn't think it was that important, but as the 3-star reviews have told us, sometimes our audio was lacking. Let's be honest, at times it was terrible, and we apologise.
So while the bad reviews hurt, they certainly stung us into action.
We also have new panellists joining the show in 2021, some of whom have their own incredible F1 podcasts too. This year we're all about collaboration and sharing our platform, so if you want to be a part of the podcast just contact us and let's have a chat.
On the subject of reviews, if you have enjoyed Grid Talk in the past, we would really appreciate it if you could give us a 5-star review on iTunes. And on the flip side, if there's something you don't like, reach out and let us know! It's the best way for us to improve.
Visit Formula 1 Grid Talk podcast.
More Formula 1 Podcasts?
So there you have it, our list of the best Formula 1 podcasts of 2021.
What do you think? Have we left any out that have to be added?
If we have missed your favourite podcast, or you have an F1 podcast and would like it to be included, message us the details and we'll check it out. If we like it, we'll add it in. Simple!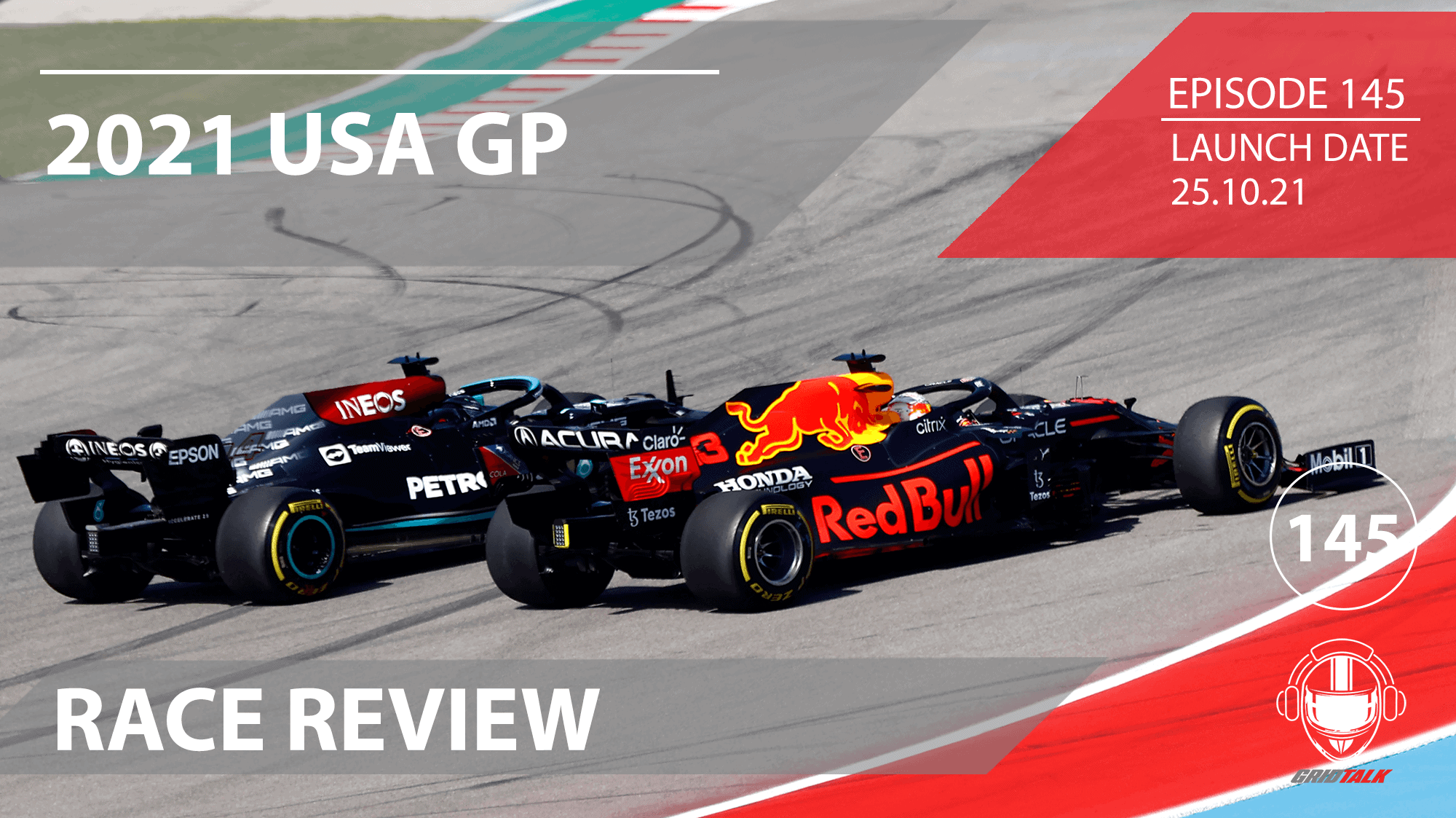 Welcome to Episode 145 of our Formula 1 podcast, Grid ...