After some near-misses in 2020, Sergio Perez finally got his chance to stand on an F1 podium again, for the first time since Baku in 2018.
With no confirmed drive in 2021 for the Mexican, the FORMULA 1 DHL TURKISH GRAND PRIX 2020 served as a great reminder of Checo's abilities to several team bosses on the pit wall.
First Podium Of 2020 For Sergio Perez
After missing out on podiums due to strategy calls earlier in the season, Perez took his chance and stayed out on extremely worn tyres, with the decision paying off as he held on for second.
'I told my team on the radio, "I think one more lap on those tyres, I think they would have exploded". The vibrations were extremely bad towards the end. But I think it also made our race, looking after them in the beginning, towards the end when we had drying conditions.
'I think the team did a fantastic job in terms of strategy and I think Lewis today was extremely strong and towards the end we died but we managed to get a good result.
'Especially coming from the last race where we really missed it on the strategy, I think also for the team, they deserved this one. We've been so close in Austria, race two, in Imola. Now it's a great result for the team and still we're so close to losing it all with the Ferraris coming back at us very strongly.
'Holding onto those tyres was a big challenge and I think it was about time to end the race for us and a great result, a lot of points for the team and yeah, I'm please with that.'
Sergio Perez Edging Toward Best-Ever Season
At an interesting point in his F1 career and with no seat confirmed for 2021, Perez is enjoying arguably his best season in the category and with three races remaining, could secure his best-ever finish in the championship.
'Well, I think from my side it's been a good season but also Formula 1, it's so much related to your car's potential. I think I've had very good seasons in the past but were not seen as a good year because of the car potential.
'I was finishing seventh in the championship, a couple of times eighth, but I was still doing a good job, a tremendous job.
'I think right now I'm in a very good level in my career, I think probably at my peak in terms of experience, understanding, communication-wise with the team as well.
'I've been awhile with the team so that also helps. And yeah, I think the season has been a bit up and down due to a lot of things, circumstances, some on track, some off track but still we're getting our season on track and I'm sure this podium will help us to finish the last few races on a high.'
Crazy Race Almost Always Under Control For Perez
Using his experience and race craft, Perez was able to make the most of the tricky conditions, and was fortunate not to suffer the same tyre issues as his teammate Lance Stroll.
'I couldn't see anything in my mirrors. My mirrors were full of fog. My engineer was telling me the gaps and so on.
'All of a sudden I saw Max running wide and he disappeared and yeah, the other one was with Charles. I wasn't aware that he was so close to me. So in the final lap it was a pretty good battle with him.
'He overtook me into Turn 9 and then I overtook him back into 11. It was a chaotic race but a strong result for us.
'I think at the time, especially when everyone was stopping it would have made sense, early on. I got the feedback that he – my teammate – grained the tyres straight away, so the team decided to keep me out a bit longer and then we, as the race panned out, we basically carried on with that set to the end,' concluded Perez.
Want to save this information for later?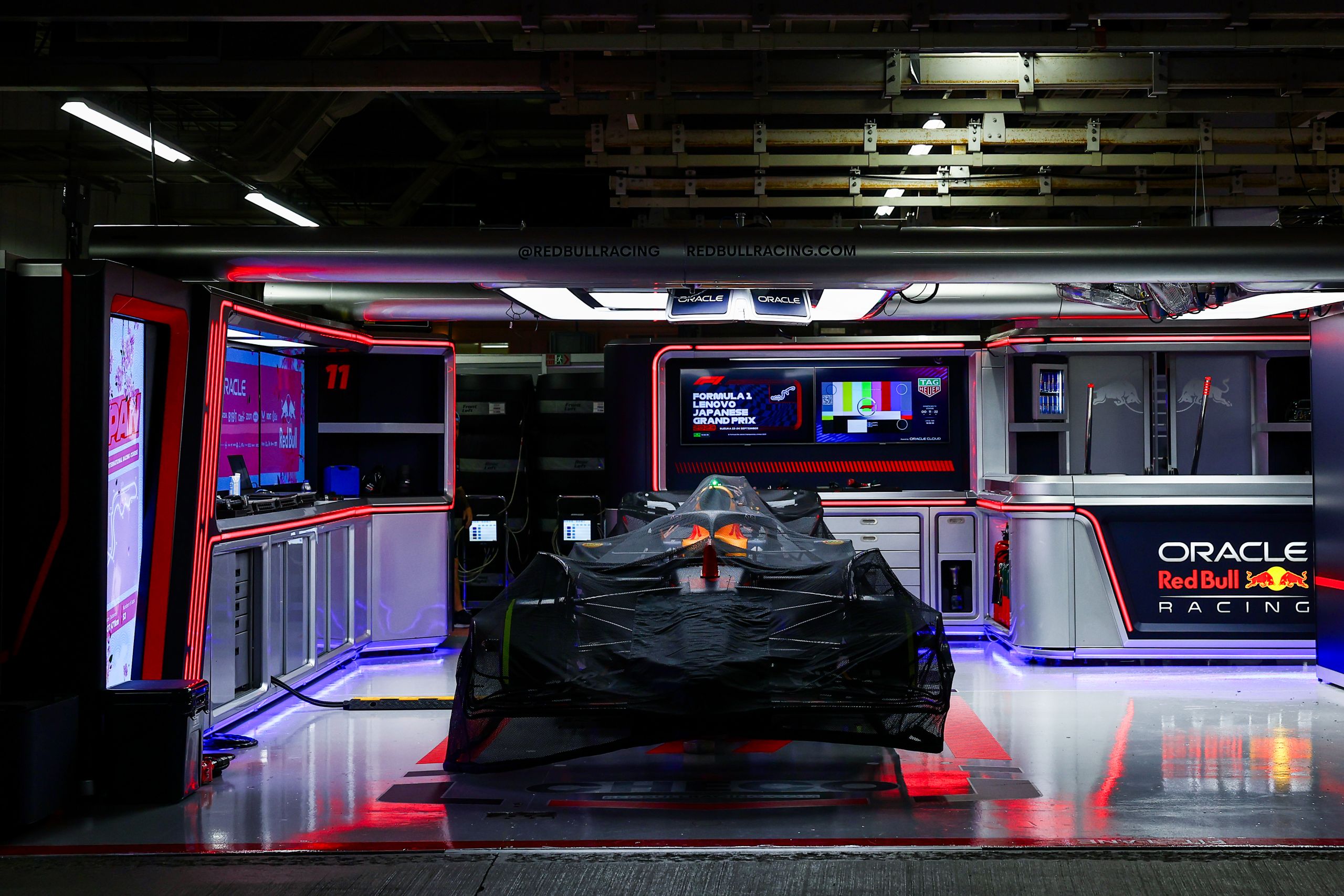 The roar of engines, the blur of speed, and the ...