AlphaTauri's Pierre Gasly has taken his maiden win in Formula 1, taking out a thrilling 2020 Italian Grand Prix ahead of McLaren's Carlos Sainz and Racing Point's Lance Stroll.
It was a difficult day out for the usual favourites, as Lewis Hamilton incurred a 10 second stop-go penalty fr a safety car transgression, Max Verstappen had a DNF, and both Ferrari's failed to finish their home race.
Listen: 2020 Italian Grand Prix Review Podcast
Pierre Gasly Thrilled With First Win
After a tumultuous 18 months, Pierre Gasly was thrilled to return home to AlphaTauri and deliver his first Formula 1 win at the teams home Grand Prix.
'This is amazing! I'm lost for words! It's unbelievable! I've been through so many things in the past 18 months and it's better than anything I expected.
'I focused hard when I re-joined Scuderia AlphaTauri. Day by day, race by race, we improved ourselves and got stronger and stronger – this team gave me my first podium in F1 last year in Brazil and today, these guys gave me my first win in Formula 1, in Italy, in Monza, with an Italian team.
'I'm not someone who gives up on anything, I always fought for everything in my life until I made it to F1. Today it was a great day!
'When I was fighting the last few laps to keep P1, I knew how gutted I would have been if I had lost it, I wouldn't have been happy with P2. I gave it everything I had – it was difficult – I pushed hard at the start of the stint to not give anyone the slipstream behind, then the last five laps were so intense, I almost shunted 10 times… I was pushing so hard!
'My tyres were gone but I wanted that win so much, it still feels weird to say I'm an F1 race winner. A big thanks to all of these guys here at the track and at the factory, in Faenza and Bicester, it's a great day for them too. Most of them are Italian and the HQ is in Faenza, Italy, so to win the Italian Grand Prix is amazing. Thank you all,' said Gasly.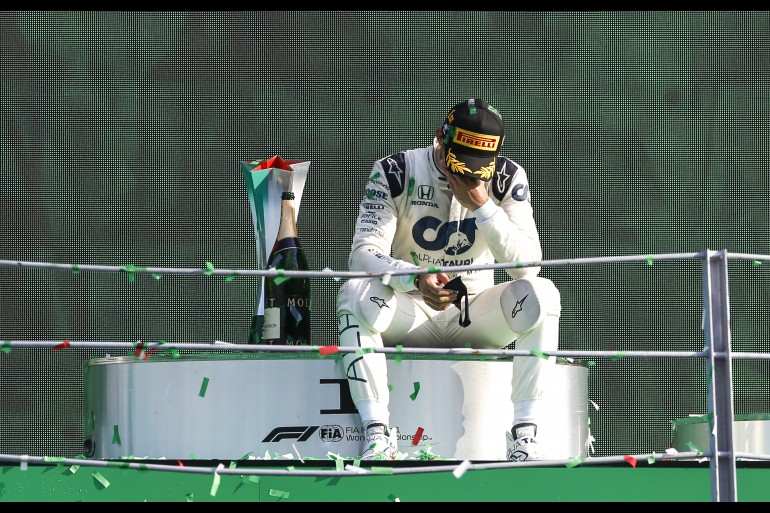 Carlos Sainz Proud Of Podium performance
Carlos Sainz took his second podium with McLaren, and was especially proud of this performance as it was taken on the race track, not the stewards room.
'Well, what a race! Extremely happy to land a P2 here in Monza! Days like today are what make our sport so intense and rewarding. I'm especially proud because I think today we got this podium on pure pace, which is a great achievement! I was fast from start to finish and could maintain a great pace throughout the whole race. Without the red flag, being the first car legally on a stop, I could've won the race after Lewis got a penalty during the first Safety Car.
'It's obviously impossible to be too disappointed with P2, but I wanted that win! I did my best to move quickly through the field after the restart and catch Gasly towards the end. Probably missed out by one lap! Still, super happy! Thank you to the whole race team for a great effort all weekend and to everyone back at the factory. We deserve it! On to Mugello,' said Sainz.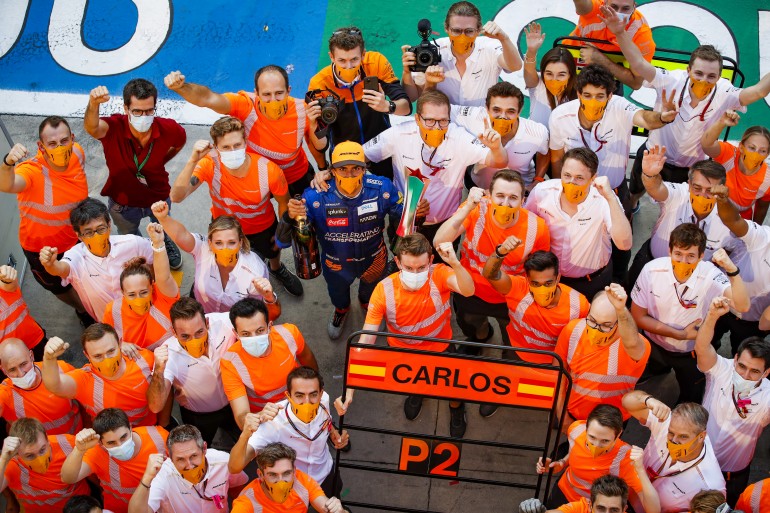 Lance Stroll Pinching Himself
It's been a while between podium drinks for Lance Stroll, who was left wondering if he could have won, but was still pinching himself after finishing P3 at Monza.
'It's been a while since I've stood on the podium, but it was worth the wait to get my second one! It feels great to be back on the podium, I'm still pinching myself!
'Firstly, I want to congratulate Pierre, it was such a crazy race, but he fully deserved that win. He had a great launch at the restart and was so consistent after that. It's a bit of a bummer for me, because I think it was our race to win.
'We got a bit of luck with the timing of the red flag, but that's part of Formula 1 and I'll take it when it comes!
'Regardless, I'm delighted with third today. I'm so happy for the team – thanks to them for giving me such a strong car,' concluded Stroll.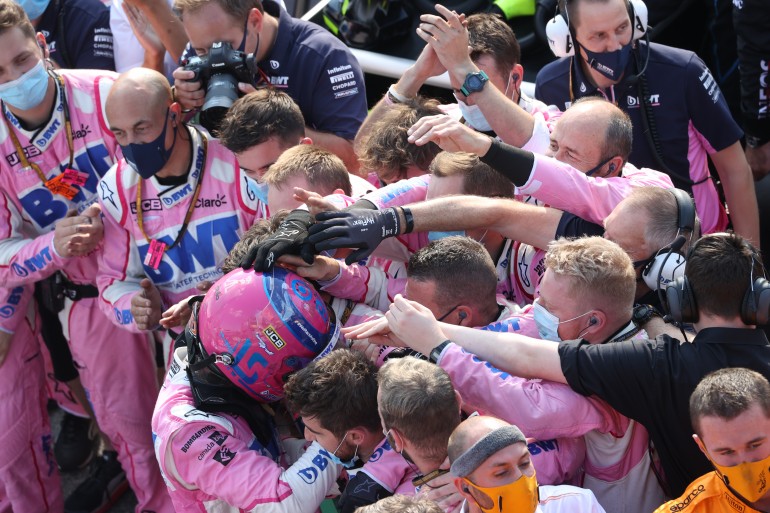 Want to save this information for later?