Scuderia AlphaTauri's Pierre Gasly has finished what he described as an 'insane race' in P3, to secure the third podium finish of his F1 career. 
Since being demoted by Red Bull Racing, Gasly has come back stronger and more determined, and today's drive had all the hallmarks of a driver who is ready to take the next step in his career once more.
On a weekend that saw him top the standings in FP3 before qualifying in P4, confidence was high, and it translated into a stunning third-place drive.
Pierre Gasly Riding High
After a fantastic late scrap with Charles Leclerc, Pierre Gasly was jubilant as he jumped out of his car and into the arms of his ecstatic team to get the celebrations underway.
'Honestly, I don't really know what to say. It was such an insane race and a super intense last two laps. The car has been incredible all weekend and we showed every session we were there. Qualifying was mega. I didn't know if we could keep up that position or fight for even a podium and in the end we did it. You know, I finished already once first, once second and I missed that third place so it feels incredible to get that podium.
'We had to get the elbows out. It was a very difficult race from mid-race onwards, we had an engine issue so we were losing quite a lot of power down the straights. Seb managed to pass us in the middle of the race and I knew these last two laps were going to be very difficult with Charles behind and you know I tried it, every braking. I wasn't sure if I was going to stop the car but I had to go for it. I really wanted that podium and it really feels incredible after such a good weekend.
'I'm very happy. Yuki did a good race as well. All in all, a fantastic job and hopefully we can celebrate all together tonight.'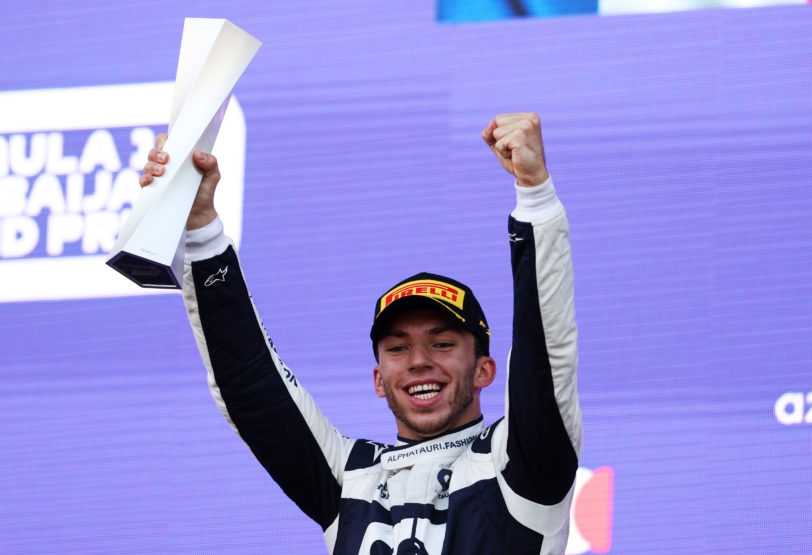 Engine Issues No Trouble For Pierre Gasly
An engine issue hampered Gasly in the second phase of the race, but it wasn't enough to deny the Frenchman a podium finish that he craved.
'The whole weekend we showed such a strong performance and it came a bit out of nowhere. We showed some very strong pace in Monaco. We were coming to Baku wondering whether we would be able to show a similar kind of performance.
'From lap one I just felt very confident in the car, very comfortable. I was able to push and yeah, we had such good pace all weekend, best quali of the year yesterday, P4, couple of hundredths from the first row and today, we had great pace. Especially at the start of the race where we were keeping up with the top guys.
'From mid-race onwards we had an engine issue so we started to lose performance in the straights. That's when it started to be a bit more difficult for us. I wasn't too sure whether we will be able to keep that position but in the end, we did.
'We even managed to go and get that P3 with our elbows out with Charles in that last few laps. I must say I really enjoyed the battle. It was intense racing, really hard racing but fair racing as well. I like it and I'm super-pleased for all the guys to get our third podium together.
'I need to have a look at the data – but it was clearly a pretty big difference with Yuki, for example, so the guys told me a lot of engine switches to try to limit the damage but yeah, I was very strong in the second sector and the straight was very hard, and Seb passed us. I could not really do anything there.
'I knew in the last two laps, whatever I would do, Charles behind would pass me in the straight and that's what happened. I just got back in the tow and went for it in Turn One, he came back at me in Turn Three and yeah, I had to brake very late. I really pushed my brakes to the limit with Seb. I thought I was going to end in the wall there. I managed to stop it somehow, I don't know how. I was really late braking and with Charles the same.
'I really wanted that podium. I took some big risks but it was clearly worth it and I'm super-happy.'
Investigation Into Tyre Issue Needed
After the race, when asked about the two tyre failures and the restart, Gasly spoke of the need for a thorough investigation to be completed to ensure the safety of everyone going forward.
'I wasn't too concerned but now, clearly, in terms of safety, both incidents, I think Lance it happened at 270/280 and for Max over 300kph and at that speed you don't want to have this kind of failure.
'First of all, I'm really glad both of them came out of the car OK but more than that, we need to understand exactly what happened to make sure it doesn't happen again in the future.
'There could be a couple of explanations, whether it's tyres or car-related. I think there will be some investigations but yeah, it's never nice to see that.
'[On the restart] The Americans took over so I wasn't really surprised that we go first with the entertainment. I was quite happy. It always brings a bit more excitement.
'I don't know, it creates some sort of adrenalin inside you and yeah, I knew there would be some opportunities because you start only for two laps, everybody is a bit like lions out of the cage and everybody goes for everything and tries to make up as many positions as they can in a very short time.
'I didn't see the replay of the last two laps but I must say on my side it was very intense, I really enjoyed it. If anything, hopefully in the future they will do the same.'
Home Race Up Next
When racing returns with the upcoming French Grand Prix, Gasly will return to his home weekend as a race winner, and is hopeful of continuing his good form.
'Well, next one is my home race and yeah, we know obviously I really want to do well there in front of all the fans and spectators and, especially to go back there as a race winner will feel pretty special.
'So, you know, as much as we need to analyse and understand when things don't go well. I think when it does really well, as this weekend, we showed some very, very strong pace all weekend.
'We need to understand why – because at the moment we don't really have the answer.
'Obviously, surprises like this are more than welcome more often during the season but I think, more than anything, we need to understand where it came from.'