In the face of mounting pressure and ongoing speculation over their cars brake ducts, Racing Points Otmar Szafnauer has remained calm, and is also resolute in his belief that his team have not done anything in breach of the rules.
In fact, the lack of clarity around the rules are one of the causes for the situation his team finds himself in now…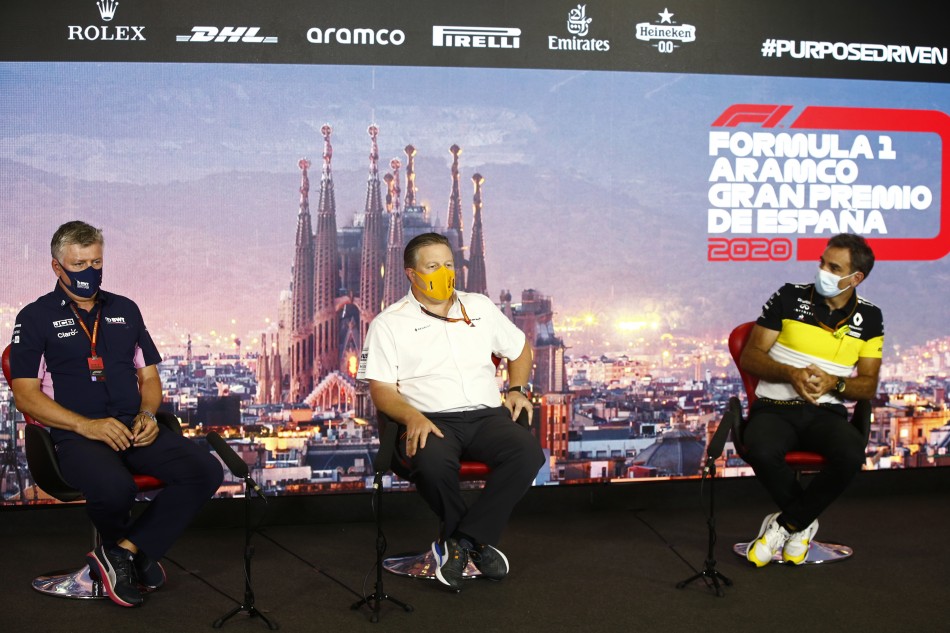 Several Teams Withdraw Appeal
Ahead of the 2020 Spanish Grand Prix, several teams including McLaren and Williams withdrew their appeals against the sanctions for being too leniant, a move which was welcomed by Szafnauer, who is confident of winning his teams appeal to have the sanctions revoked.
'We've appealed the decision based on what the stewards had written in their findings.
'The findings are pretty clear that we didn't do anything underhand or dishonest.
'We were completely transparent and open with the FIA throughout their process of checking both our brake ducts and the remainder of our car.
'They concluded that the rules, especially for brake ducts, transitioning for a non-listed part to a listed part, were ambiguous and unclear and because of it, we believe our punishment for an unclear and ambiguous rule, that we didn't intentionally contravene, is a bit harsh.
'It's the reason we're appealing and we're very confident that we'll win on the appeal.'
More Rule Changes Announced
In the wake of the 'Tracing Point' saga, the FIA this week also announced further rule changes to avoid a photocopier approach to car design, a ban on 'party modes' for engines, and possibly even a change to the token system going forward.
However, Szafnauer was undeterred by these changes.
'I don't think it changes our business model at all.
'We're not the most affected team. We've got 500 employees. The reason we don't have 700 or 800 like some of the bigger teams is that we lack in-house manufacturing.
'But if you just compare us to everyone else in design, development, aero personnel, we are the same.
'We're the same as the big teams. It has zero impact. We've always been a constructor, from the days of Jordan to the days of Racing Point and everywhere in between.
'So, we've got the capability of designing, developing, constructing all of our own components.
'It will have zero impact on our business model. If the rules become more clear, we will stay within the bounds of those rules. Absolutely no problem.'
'This (changes to tokens) was discussed, I think, starting in April and May of this year and it is a unique year, due to the pandemic that we're facing, and the uniqueness of this year is freezing components that we usually wouldn't freeze from year-to-year in order to save money.
'And this is how we got here. We all agreed, back in May, the token system that's in place now. And for us, for example, it's way too late to go back on that. We've stopped developing this year's car a while ago and we're in full development of next year.
'And because we buy our components – the gearbox we buy from Mercedes – it's not really up to us to be able to control what we buy. We can only buy what they sell us.'
Standing Firm In The Appeal Process
As the appeal process rolls on, the Racing Point supremo was resolute in his belief that his team should see it through, and not just because they believe there was no breach, but also to ensure other teams don't run into the same trouble.
'Well nobody can deny that we are in this situation because we have unclear rules, especially when transitioning from a non-listed part to a listed part.
'We too want clarity, we don't want anyone else to be caught up in this. However, the appeals process is about clearing our name – we did nothing wrong, we weren't dishonest, we were completely open – and the reason for us going ahead with the appeals process is that we believe the penalty is a bit harsh for an unclear rule and we want to clear our name.
'In March we invited the FIA and explained and showed to them our design and development process and they were happy with that and we got a clean bill of health from them.
'We got a letter that said that everything was in compliance with all the regulations, so we did exactly that.
'That happened in March. It just so happens that this year we started racing in July so there was a lot of time and a lot of opportunity, which didn't come. We did just that.'
As the saga rolls on, all eyes turn to the track this weekend as Sergio Perez' return to the race seat comes as a welcome distraction to everyone on the Racing Point team.