Despite starting the season slowly with a disappointing pre-season and trailing Red Bull Racing on the first two days of the FORMULA 1 GULF AIR BAHRAIN GRAND PRIX 2021, Lewis Hamilton has put in a superb drive to win the opening race of 2021 by just seven-tenths of a second over title rival Max Verstappen.
After complaining in recent years that, at times, the racing hasn't been as exciting and wheel-to-wheel as he would like, Hamilton admitted he is relishing what is shaping up to be an epic battle in 2021.
Lewis Hamilton Wins Season Opener For First Time In Five Years
Despite cruising to multiple championships in recent years, Hamilton has been getting off to slow starts before building up a head of steam.
2021 appears different though, with the seven-time champion winning the opening race of the season for the first time in five years.
'It was so hard in the car today. What a great event and this is a really good start for us. Through testing we thought that we were going to be six to eight tenths behind, so the work that has gone on in the last week has been spectacular. I'm just so proud to see everyone so hyped today as well.
'It's the first time we have seen fans in a long time and it's so good to see people out here and everyone keeping their distance and staying safe. So proud of what Formula 1 has been able to do to have a start on a normal schedule this year. Wow, what a difficult race that was! Definitely, stopping early we knew was going to be difficult, but we had to cover Max. They have had amazing performance all weekend. So it was going to take something pretty special. We suffered in that last stint and trying to find the right balance between not pushing too much and having tyres at the end of the race was difficult and Max was all over me right at the end. But I just about managed to hold him off. It was one of the hardest races I've had for a while, so I'm really grateful for it and massively thankful to the men and women back at the factory and here also for continuously pushing the boundaries and never giving up, even if we do feel we are behind.
'Each year they are talking about when you reach your peak and I'm trying to make sure that… well, I think timing is everything and I think I'm probably at that and Max is doing well at the moment too, so it's going to take everything and more for us to put in performances like this. But we love the challenge, I love the challenge, I still love what I do, so…'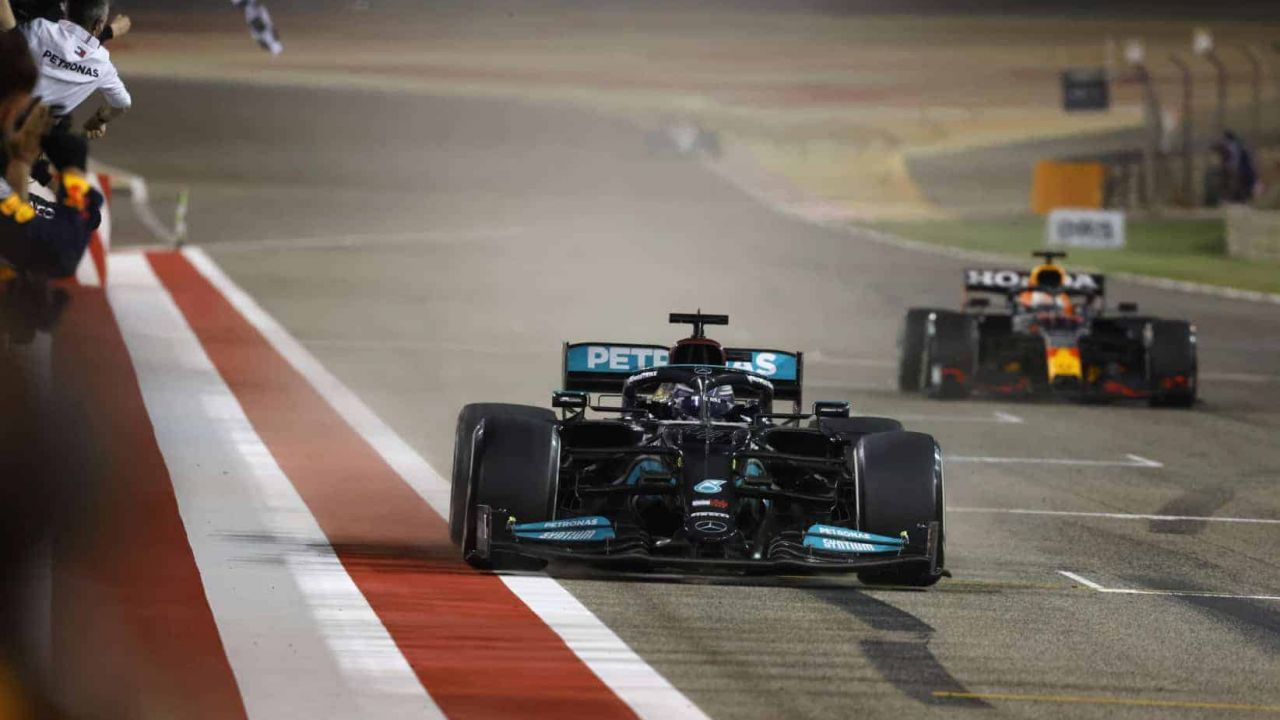 Final Laps Thrilling To Watch
The final laps in Bahrain were thrilling to watch for fans across the globe who had been craving more late-lap battles, but what were they like for the race winner?
'It was horrifying! It wasn't great. I was struggling obviously at the end with the rear end of my car, the rear tyres had gone off. They were maybe eight laps older or something like that to Max's tyres, so I knew that he was going to catch me with 10 laps to go and I knew that it was going to be pretty much impossible to hold him behind, which it was, up until the Turn 4 incident. Then after that I couldn't believe that I was just keep him behind. I managed to keep him in my wake, well, he was right behind me so then stuck in my wake and that meant it was difficult for him to get close and he ended up wide in some places which gave me a little bit of an edge. It's a difficult track [on which] to follow.
'On the second to last lap Bonno just kept going on, telling me how many laps were left. He was like 'three laps, two laps', and I was like 'Bonno, I can count! I got it'. He's just nervous. I'm grateful for Bonno, he's patient with me. I think it was really the last lap. I think once I got out of Turn 4 I knew I was in a good position. But then oversteer out of Turn 10, nervousness out of 11, snap oversteer in 13, which is a really bad one, and I was thinking 'that's it, he's really got me now'. But I think he had the same thing.
'I loved every minute of it. Every minute of the weekend I've loved. Knowing for us as a team that we were behind in performance… these guys have done a better job so far and so for us to come away with this result, given that we weren't the fastest this weekend, is a real result.'
Hamilton Ready For Season-Long Battle
After Ferrari took the fight to Mercedes in 2017 and 2018, the 2019 and 2020 seasons were much easier for Mercedes, who were rarely threatened.
2021 has started differently, and Hamilton is ready to fight all the way to Abu Dhabi in December.
'I don't recall how close the other seasons were exactly but this has got to have started off as one of the toughest, if not the toughest. I think Red Bull's pace is incredibly strong, as you could see. We can't match them in qualifying right now. That's a big, big step for us but obviously I thought we could get closer within the race – but that was a little bit too close for my liking. The thing is, we just don't know how much better they'll be in other places that we go to – or how much worse, or how good… maybe our car's better in other places than it is here, or maybe it's worse, we'll wait and find out. One thing's for sure, we'll work as hard as we can to improve it.
'I'm super excited and super happy for the fans, that they are excited. I think it's something that all the fans have wanted for a long time. Of course, this is only one race, so we don't know what the future holds in terms of the pace they have, they could be ahead a lot more, but we're going to work as hard as we can to try and stay close in this battle and I hope for many more of these sorts of races with Max and Valtteri. There's a long way to go, 22… holy crap! I'll be grey by the end of this!
Today Adds Intriguing Chapter To Car vs Talent Talk
A quick look at social media on any given day will always show posts of 'Hamilton only wins because of the car' however across the race weekend in Bahrain it appeared as if the Red Bull was the dominant force, meaning this win adds an extra dimension to such chatter.
'I think today was definitely a blessing, perhaps in disguise. I think there's always a chance, opportunities to prove people wrong, and I like to think that today is definitely one of them.
'But I think there have been several in the past – there have been many in the past, obviously, I've been around a long time – but I hope there are many opportunities in the future to be able to show what I was able to do today also.
'Of course, we were fortunate today with Max going wide in Turn 4 but that won't happen again, I'm pretty sure so we've got to do better, we've got to be smarter and how we navigate through our weekends with the fact that we don't have the fastest car at the moment but that's all good for me, I don't mind having to pull out extra in order to make the difference.'
That Turn 4 Incident
Much has been made of Max Verstappen's pass at turn four, and the Dutchman giving the position back after exceeding track limits.
For Hamilton the rule changes were confusing, but he was pleased with the end result.
'I think it's a difficult one. It was very confusing. Most tracks we're not allowed to put four wheels outside the white line but this weekend on that particular corner we weren't allowed to on Friday.
'In actual fact you could go two wheels outside the line but you can't go past the blue and white kerb, but in the race you can, and that is what had been written so going into the race then you can…But it's quite a different corner when you have to do one or the other in terms of approach, and it is faster when you can go out, but then whatever is the boundary when you are overtaking?
'You're not allowed to overtake off track but halfway through the race, they basically changed their minds and all of a sudden you're not allowed to go outside that white line, which is fine for me. I think it's faster in the end for me, it helped me look after my tyres actually, so I'm grateful for the call and ultimately it meant that Max wasn't able to overtake off track,' concluded Hamilton.
After taking a surprise win in Bahrain, Mercedes and Hamilton now have three weeks to analyse their car ahead of a return to racing at Imola.
Want to save this information for later?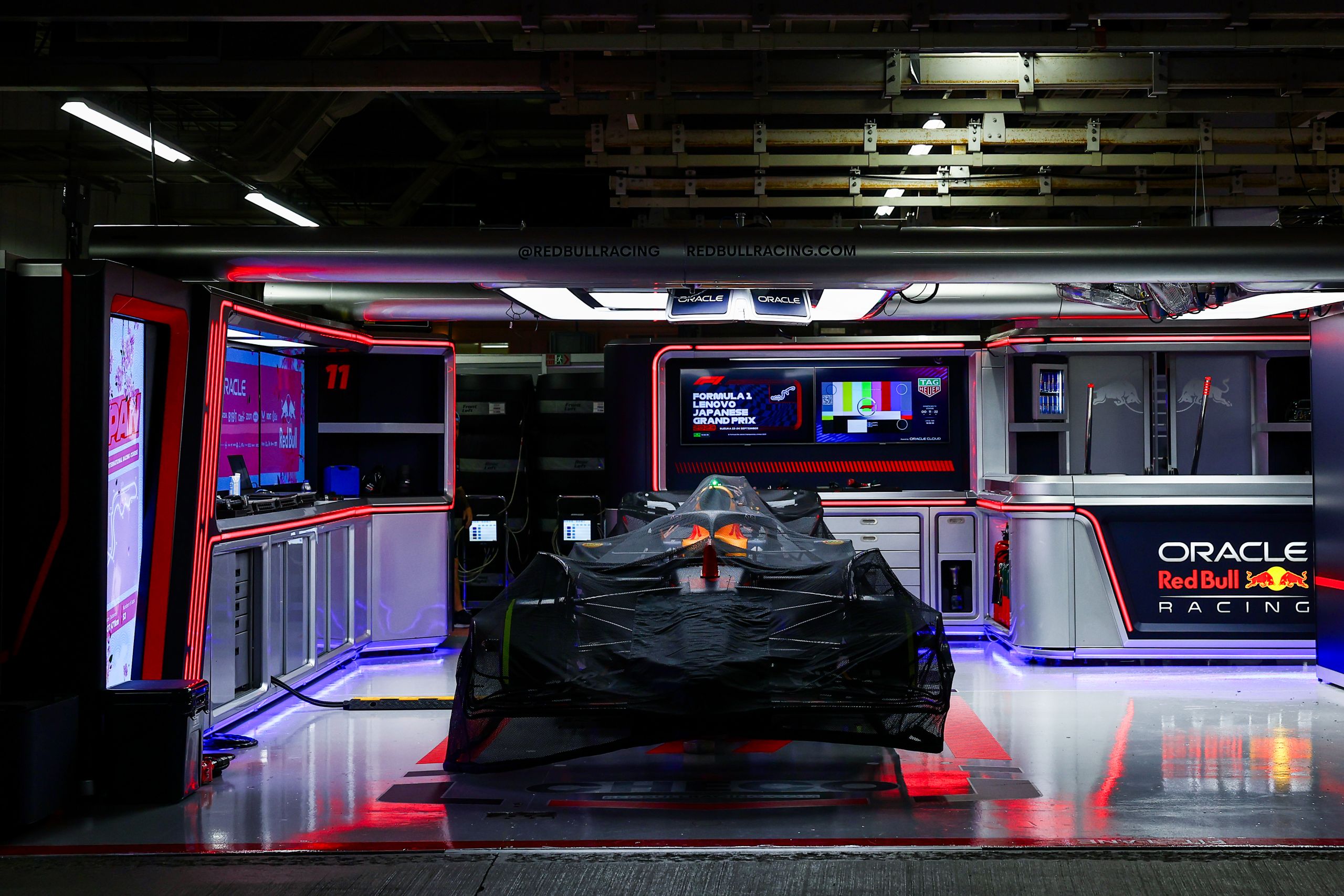 The roar of engines, the blur of speed, and the ...