As he equalled the great Michael Schumacher's Formula 1 win record, Lewis Hamilton took a moment to reflect on his journey, and what it means to now be mentioned in the same breath as his long time idol.
The Moment Is Yet To Sink In For Lewis Hamilton
This huge achievement is yet to sink in for Lewis Hamilton, who was also presented with a 2012 helmet from Mick Schumacher at the conclusion of the race.
'It's definitely not sunk in, that's for sure. I don't know how it is for other drivers when they have these wins but it takes some time for you to analyse it and for it to sink in, to realise what it actually means.
'But like all of us, I grew up watching Michael win all of those Grands Prix and I couldn't have fathomed equalling him. I think getting to Formula 1 was the first step of the dream and obviously emulating Ayrton. But Michael was just so far ahead.
'It's beyond my wildest dreams to think that I'm here today having equalled him and I just feel really humbled by the moment and the opportunity I was given when I was 13 by Mercedes to join this team and I feel really proud to continue to represent them and to have brought this record to Mercedes.
'Hopefully we have got more records to break and to make. Hopefully they know it was a good investment!
'Naturally everyone knows that he (Schumacher) is a legend and an icon of the sport. I think what he achieved in so many areas but your know pushing the limit in terms of the physicality side, he really was a pioneer in being the fittest driver at the time, and what he did at both the teams he was at, particularly Ferrari, was just remarkable.
'I think for me, that number is so big it's hard for people to perhaps fully understand how hard it was for him to have got those 91 wins, to deliver weekend in weekend out, year on year on year, and stay so physically in shape and so precise. I understand that now more than ever.
'I can only tell you that it doesn't get easier. From your first win to your 91st I'm telling you it's been a long hard run. Michael is and always will be a legend of the sport and I feel very humbled to have one of his helmets and honoured.'
Lewis Hamilton Grateful But Not Relieved
Hamilton has shown immense gratitude to all those who have helped him on his journey, and was thrilled to share the podium with Race Team Coordinator Stephen Lord who has been there for all 91 victories. However, he's not feeling any sense of relief and knows there is still work to be done to secure a 7th championship.
'I think it definitely doesn't feel like a relief. I don't know why. It doesn't feel that way at all. I'm just thinking about all the people that have helped me get to this place.
'If you see on the podium with me, Stevo [Stephen Lord – Race Team Coordinator] had been with me every single race in Formula 1. He moved with me from McLaren to Mercedes and he's been with me through every single one of those 91 wins.
The journey that you go on with so many people is what really matters and what really counts. Of course the number is great but I think what we collectively have done, I'm just unbelievably grateful to Mercedes for giving a young black boy a chance when I was 13 years old and supporting me all the way.
'Of course we still have many races to go. I think Red Bull as well as Renault have really picked up their game and closed the gap so we've got to continue to keep our heads down.
'I definitely didn't think coming into this weekend that I would have the lead that I now have. Valtteri was incredibly unlucky today – I don't know exactly what happened. I'm grateful that I got to have that bit of a fight with him on the track but I know that so many different things in this crazy pandemic can still happen so I've got to focus on staying healthy and continue to try to deliver weekends like this one.'
Hardest Moment For Hamilton
With a career spanning a more than a decade, there have been many ups and downs along the way, however, Hamilton claims making the move to Mercedes was the most difficult decision of his career.
'I think it's pretty impossible to say what is the hardest moment because like all of us, all of us as individuals, we all go through multiple difficult moments, particularly when it comes to making big decisions.
'I think that whilst it looks great now, when choosing to move to Mercedes, everyone spoke so negatively about the decision to move and I don't know how, but I knew that it was the right decision for me and I wanted to be a part of that journey.
'I've grown with a team that's hungry for success but I would say that's one of the most difficult moments, because I'd been a very loyal person, I think.
'I was with McLaren-Mercedes since I was 13 so to decide to leave a team that's given me a place in the sport was very, very difficult for me and to call your boss and tell him that you're leaving, it was damaging and just emotionally difficult.
'But then I'm still with Mercedes, every win and every race that I've done has been powered by Mercedes and for that I'm incredibly grateful.'
Plenty Of Records Left To Set
While acknowledging he's not getting any younger, Hamilton still feels young at heart and has his eyes set firmly on adding to the records he already holds.
'Ultimately I think you just have to be grateful that to this point, what I have of course I can set goals and I'll continue to charge on and try to see what is possible.
'I think I've got the best team behind me, who continuously inspire me. Each year I come back to the factory and see these guys pumped up and focused and being incredibly smart and innovative every year. And also just so welcoming to me you know. You would have thought that after all this time we'd get fed up with each other but we don't, there's a real love within this team and I'm grateful for that.
'I think for me, like everyone here, I love doing what I do. I love the challenge. It is so hard and I think I would be willing to say there's potentially not enough respect that is probably given to all these drivers who dedicate their lives in terms of preparation, the amount of work that goes on in the background to be able to do what all of us do in this sport, past and present, is really remarkable and I love being a part of that.
'I love that challenge, I love the challenge that Max gave me today. I love seeing him behind me, seeing the challenge that Daniel gave Max also, the sport, the smell of it, the whole aura and atmosphere it creates is going to be difficult to let it go.
'But I do feel, whilst I'm older than these guys, I feel as young as them, at least, in spirit. I'm still very much a kid when I'm off the camera. That will probably change when I start seeing grey hairs and stuff but I'm good for now.'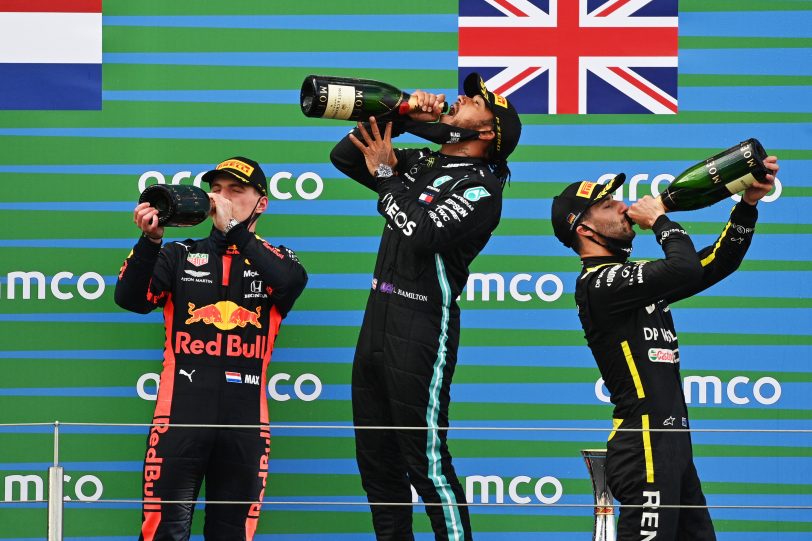 First Win Was The Sweetest
For a man with 91 wins in Formula 1, he still recalls his first-ever win as the most sweetest of his career.
'I think my first will always be a stand-out moment for me because really just… again, I always try to relate it to everyone because I think we can all understand what it's like when you're a kid dreaming to be there and my Dad sacrificed so much, and my Mum and my step-Mum, sacrificed so much to get me to Formula 1 so to be on top of the podium, I felt like I'd finally reached the top of the mountain, but all the different slides and things and adversity we faced, I just will never forget that moment, looking down at my Dad. I've made him proud, perhaps today, so I will always remember that moment, and also it solidifies the amazing support and belief that McLaren and Ron and Mercedes had in me from the get-go,' concluded Hamilton.

Given his penchant for dominance and sheer consistency, most headlines ...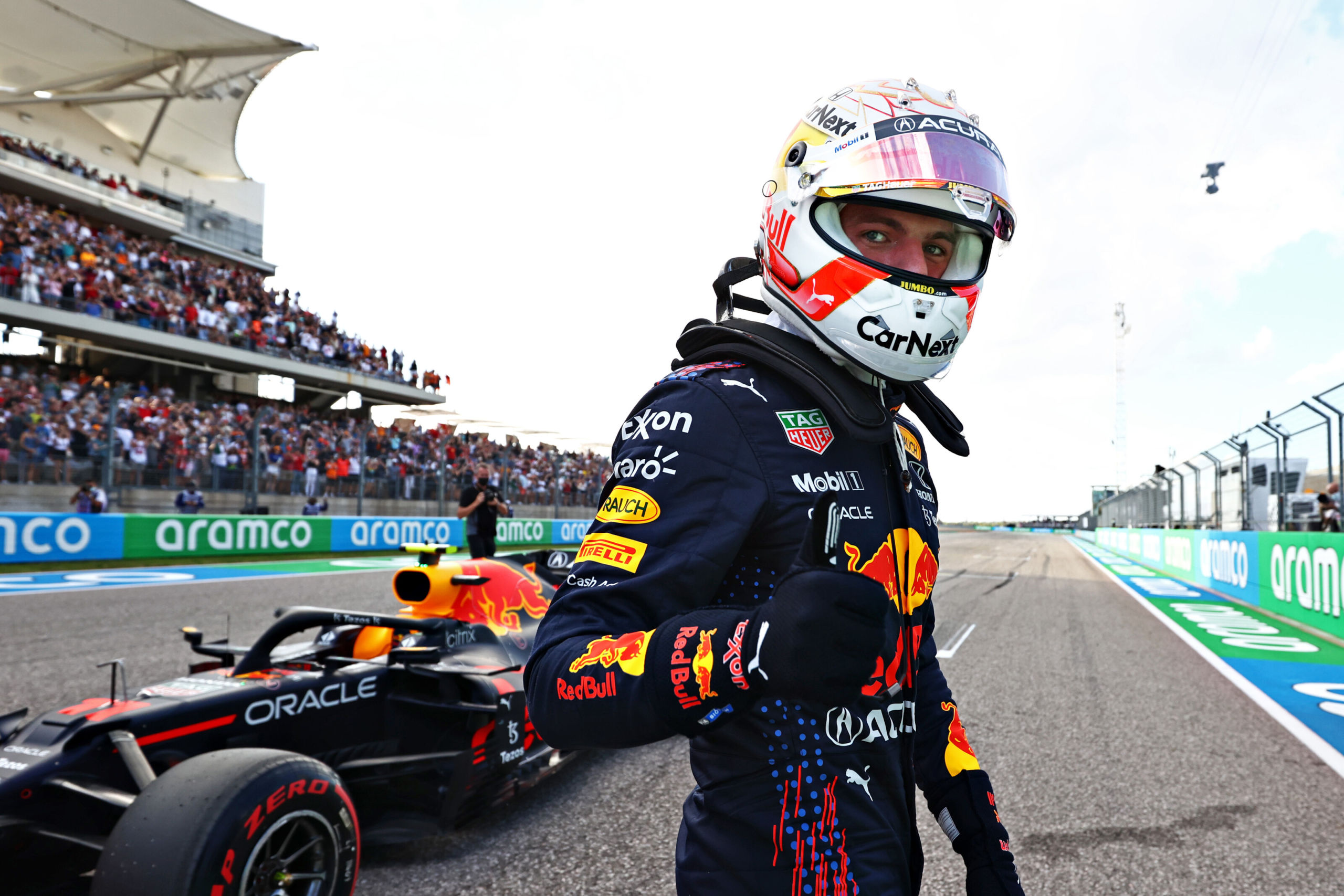 In the dying moments, Max Verstappen snatched pole position for ...