Lewis Hamilton has equalled Michael Schumacher's F1 win record in a history-making FORMULA 1 ARAMCO GROSSER PREIS DER EIFEL 2020. As well as the Brit matching the German-ace, it was the 228th race in the points for Mercedes-Benz power, equalling Ford for the longest run of consecutive points finishes for an engine manufacturer. There was another personal record, as Kimi Raikkonen made his 323rd start in FORMULA 1 to set a new record for race starts.
Listen: 2020 Eifel Grand Prix Review Podcast
F1 Win Record Milestone Beyond Lewis Hamilton's Wildest Dreams
Growing up watching Michael Schumacher dominate F1, Lewis Hamilton dreamed of having a similar level of success, but never imagined it would happen.
After crossing the line for his 91st win in FORMULA 1, Hamilton was presented with one of Schumacher's helmets by his son, Mick Schumacher.
'It's tough to put what this means into words. I remember watching Michael winning all those races when I was a kid and playing racing games with my brother and choosing to play as Michael.
'I dreamed of being there myself, but I don't think anyone and especially me, imagined another driver getting anywhere near Michael's records.
'It was beyond my wildest dreams to be equalling his number of race wins and it just shows that dreams can come true. It's an incredible honour and something that will take some time to sink in.
'But I couldn't have done it without this incredible team, everyone pushing so hard and giving it absolutely everything. A huge thank you to everyone back at the factories and also huge respect for Michael, I feel really grateful today.
'In terms of the race itself, it was tough out there. I had a really good start and Valtteri did an amazing job to defend into Turn 2, I wouldn't expect it to be any other way.
'Then it was about trying to figure out how I could beat Valtteri, so I really had to look after the tyres and make sure I stuck with him. I saw he was struggling a bit and knew the opportunity would come, but then he had the lock-up.
'I managed to build a good gap after that, but then the Safety Car came out.
'Max was right behind me and I knew I had to have a strong restart to keep him behind. I managed to catch him out which is always nice and that gave me the jump I needed. But you can see the pace Red Bull had at the end, so we've got a serious fight on our hands,' said Hamilton.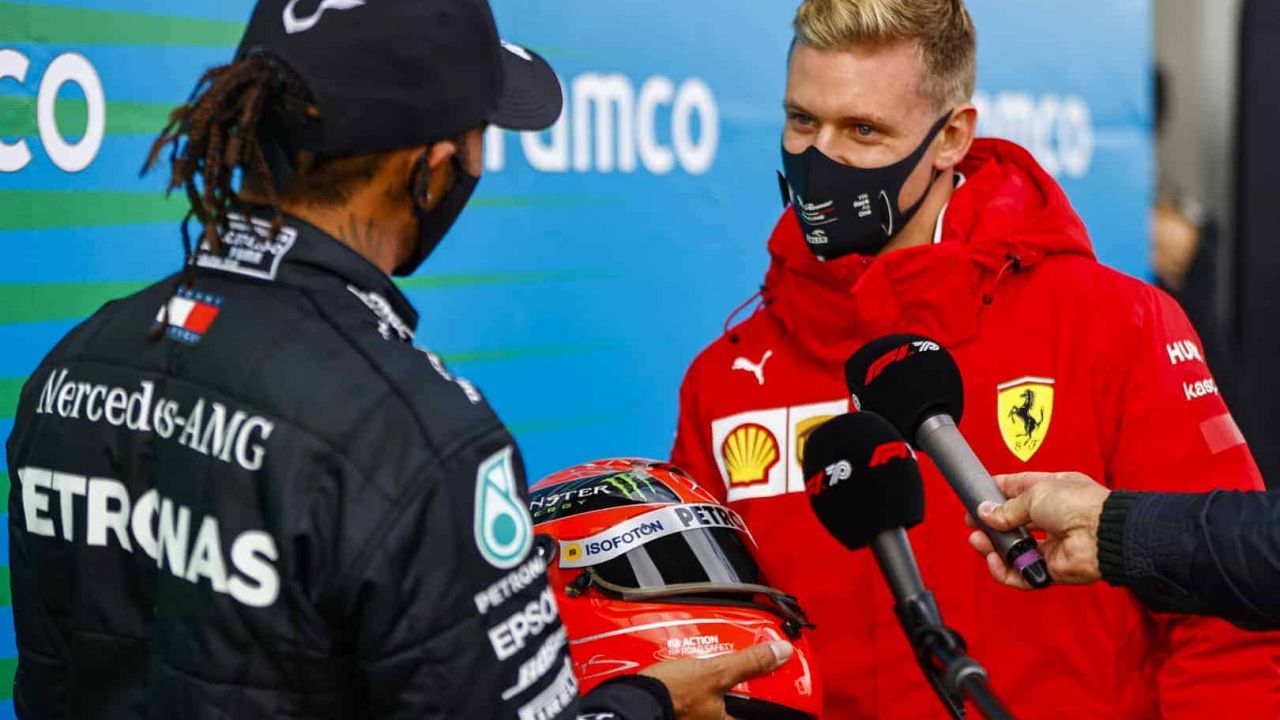 Positive Weekend For Max Verstappen
While not content with finishing second, Max Verstappen took the positives out of another podium and more points scored in the battle for the Constructor's Championship.
'Overall it was a positive weekend and I think we can be very pleased with another second place. I tried to keep as close as possible to Lewis during the race and we just didn't quite have the pace to fight him but overall I was pleased with the performance.
'We have taken a step forward with the car this weekend, so I am of course happy with that, but we still need to improve and we will keep pushing so we can take the fight to Mercedes every weekend.
'The Safety Car re-start was not easy with the cold temperatures and the tyres, especially with the others behind having a bit of a temperature advantage after catching up to us, but I managed to keep them behind and pull away again with Lewis.
'I'm of course also happy with the point for the fastest lap which was an extra bonus. It's also good to see Daniel back on the podium, he is a great driver and he really deserves it,' said Verstappen.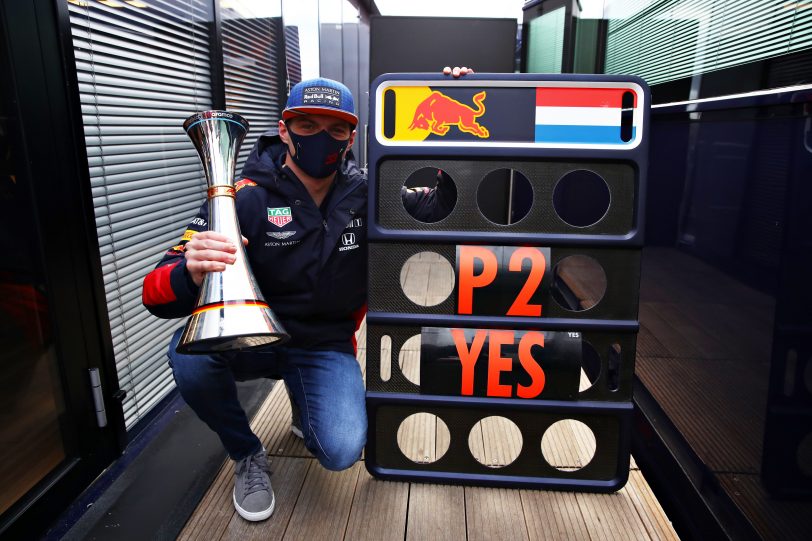 Daniel Ricciardo Returns Renault To F1 Podium
Daniel Ricciardo achieved one of his key objectives when he signed with Renault: to return the team to the podium. After several near misses in 2020, it was a case of Mission Accomplished at the Nurburgring.
'Oh wow, it feels like the first time I ever got a podium. These emotions and that feeling you get when you get out the car, hug the team, the mechanics slapping you on the helmet, it's just amazing and I am so happy we did it!
'It's obviously my first one with Renault and it's something I wanted to achieve when I set out on this journey with the team. It's been two and a half years since I've been in this press conference too, so it's been a while for me.
'I felt like it was coming with our performances in recent races, so I am so happy to have done it. The race itself was pretty tight and there was some discussion on whether to pit for a second stop or not, but we had the luxury of track position. The Safety Car then gave us an advantage, so we made that call and, in the end, it was the right one. What a day!' concluded Ricciardo.