Good drivers, it could be said, need front row starts to conquer a race. But great drivers need none of that. They don't need the track position to gain an advantage; they simply forge their way through by sheer excellence. It was something that was up for millions to see with wide-eyed wonder as Lewis Hamilton, despite starting from P2, won the 2021 Portuguese Grand Prix at the Algarve International Circuit by a margin of well over 30 seconds ahead of Red Bull's Max Verstappen in an action-packed race where the top three, once again, dominated the charts.
There were gains for the two McLarens with both Riccardo and Norris finishing well inside points. Round three at Portimao wasn't a race Ferrari would be extremely happy about but something that returning Spaniard Fernando Alonso would relish with glee, heading into his home race event the next weekend.
So what exactly happened at the 2021 Portuguese contest eventually bossed by Lewis Hamilton?
Let's find out:
The mastery of the master- Lewis Hamilton
Lewis Hamilton had begun the contest right behind the other Mercedes of Valtteri Bottas. But it didn't take long for Max to announce his intentions as a super move right after the safety car period ended forced a change in the pecking order bringing gains for Max's bravery.
Hamilton was trailing the flying Dutchman and waiting for soft spots to go through, hanging on third.
But on lap 11, having trailed the ebullient Verstappen for well over ten laps, he pulled off a stunner charging with supreme pace on the outside of the main straights to bag second, a move soon after which he'd open a two-second lead over Max Verstappen.
His next target came nine laps later, this time the other W12 of pole-sitter Valtteri Bottas. Another excellent move on the main straights caring blistering pace on the outside and Hamilton was back to where he so often belongs- right at the front, dictating the command of a Grand Prix.
A drive excellently controlled through sheer race craft, keeping the four wheels on the road at all times being mindful of going wide on a circuit that can so often be troublesome given its undulating rhythm, Hamilton was the man in charge right until the end as he opened a wide lead over the second-placed Verstappen to register his second win in three races this season.
'That was such a tough race, physically and mentally, just keeping everything together. It was very windy out there, obviously, so it was easy to put a foot wrong. I didn't quite get as good a start as Valtteri, then lost out on the restart which was not good. I was not happy about that, naturally. But that race was satisfying, when you're in third and have to overtake two amazing drivers – amazing! Having races like that is what I live for.'
 
'The gap between us all is so close and every single point is going to count this year. I love the battle, I've loved it since my days in karting and as a team, we can't leave any stone unturned – we've got to continue to push this car, squeeze everything out of it,' said the race winner.
Max Verstappen's brave attempt
Imola-winner Verstappen's moment of the race came early right as the safety car departed for the track to get clear for racing again. Charging Lewis Hamilton, then in second, on the approach to Turn 1, Verstappen wasted no time whatsoever in coming elbows out on the Mercedes driver making a bold move on the outside on the straights as he clung onto second.
Though, it would be a position Hamilton would retake showing great tenacity and vigor nearly ten laps later.
But for the better part of the first half of the race, the Red Bull driver contended with great pace to thwart Mercedes' attack, though evidently in the second half, he just didn't have enough pace left in those harder compounds to supersede Lewis Hamilton.
Though, his jump onto second as he passed Bottas was with just a handful of laps to go was another action-packed moment of the race, a move he'd execute seconds after the Finn came out of the pits and swivelled his way struggling for grips only to see an opportunist Verstappen make the most of the crucial error.
"Something about this track really does not suit our car and I think in general this was a bit of an off weekend in terms of grip and overall pace. We knew last year that we weren't particularly strong here, so this year has been a bit better and we managed to finish ahead of one Mercedes, but it wasn't quite good enough to get them both. Nevertheless, second is still a pretty good result and we always knew this season would be up and down in terms of the tracks we were strong at and the ones Mercedes were. The race today was pretty decent though and we were all constantly pushing which was nice. I tried to put the pressure on Valtteri in the beginning as he was struggling for grip, but clearly Lewis behind had more pace and he made it past us both. I was then able to undercut Valtteri in the pit stop but you could clearly see on the hard tyres we were just a bit slower, some laps we could match Lewis and others it was just not possible. Towards the end of the race Valtteri was even coming back at me which showed their pace today. It's a shame the Fastest Lap got taken away, stupid track limits [laughs], they should just put gravel back! It is what it is, we always try and I had the gap so we went for it. We scored good points here but I'm looking forward to Barcelona, a track that has more normal grip levels and where I have good memories. I think we will also see a clearer picture of how teams have been progressing. It's a long season ahead so a lot can happen," added Verstappen.
In the end, 18 strong points wouldn't exactly demoralise the Red Bull contingent!
Huge morale-boosting drive by Fernando Alonso
The 'Spanish Samurai' started his 2021 Portimao-bound challenge from thirteenth on the grid, not the most spectacular position from which to contend with drivers aligned with pacier machines.
Though, it's what Fernando Alonso did during the Grand Prix that could be described as truly spectacular.
He was, for the better part of the race, involved in closely-fought tussles with the midfielders, going as far as challenging the authority of the Ferrari of his younger compatriot (current Ferrari driver) Carlos Sainz jr.
With less than ten laps to go, he moved up on Daniel Riccardo's McLaren, a car visibly faster on the straights but it was Alonso and his daring attack on fresher tires that counted well in the end. But beating a faster car for ninth wasn't all, this was a hungry Alonso wanting yet more action.
A couple of laps later, he'd make a ballsy pass on the outside of Carlos Sainz' Ferrari, to move up into eighth, garnering four respectable points in the end.
While the last time around, a 30-second penalty handed to Raikkonen meant that Alonso was able to open his account with a P10, this time around, it was hard-fought and closely-watched action that earned the F1 veteran handsome returns.
On to Spain El Nino!
Fantastic recovery by Daniel Riccardo
The smile had disappeared as had the enthusiasm. There was nothing quintessentially happy go lucky about the man with the most infectious smile in the F1 circus. Saturday's low-key qualifying return that Riccardo would begin his 2021 Portuguese challenge from sixteenth on the grid.
Was this even Daniel Riccardo?
Not the kind of start you are accustomed of seeing from a man described as the 'master of late braking!'
But on Sunday, Riccardo ran a mega opening stint, keeping himself firmly planted on the road for well over 38 laps.
Some early gains on the likes of the twin Alpha Tauris and benefitting from the midfielders' pitting meant that Riccardo was up to fifth with nearly 20 laps left.
But some excellent moves on Sainz and Gasly later in the race meant that Riccardo was well in business and the fight in him hadn't diminished. Even as he was well behind Lando Norris, clearly the more attacking of the two McLarens, for a man who began sixteenth on the grid and eventually ended ninth- it could be said, the 2021 Portuguese GP wasn't a disaster for the Honeybadger.
Though, he would surely note the intentions of someone like an Alonso whose Alpine's straight-line speed was good enough to match the race-pace of his McLaren but that's something Riccardo would hope his team can help him with in the forthcoming races.
Not what the Iceman Kimi would've expected
How often has one seen the 2007 world champion, a driver who keeps his cool make an error you'd otherwise attach to a Formula 1 rookie minutes from the start of a race?
But one of the 2021 Portuguese Grand Prix's bleakest moments arrived in the form of Kimi Raikkonen, a driver with no fewer than 17, 680 completed laps in Formula 1 making a silly error as the Alfa Romeo driver came to blows with his teammate Antonio Giovinazzi!
Colliding with the rear of the other Alfa, Raikkonen, perhaps sensing an opportunity to pass the 'Italian Jesus' on the outside made an erroneous half-hearted move, ending up losing his front wing, retiring not long after the self-dented blow.
The result? For a man who was already up in P12 seconds from the start had to race-retire without completing the opening two laps of the race. Sad work Kimi, better luck next time!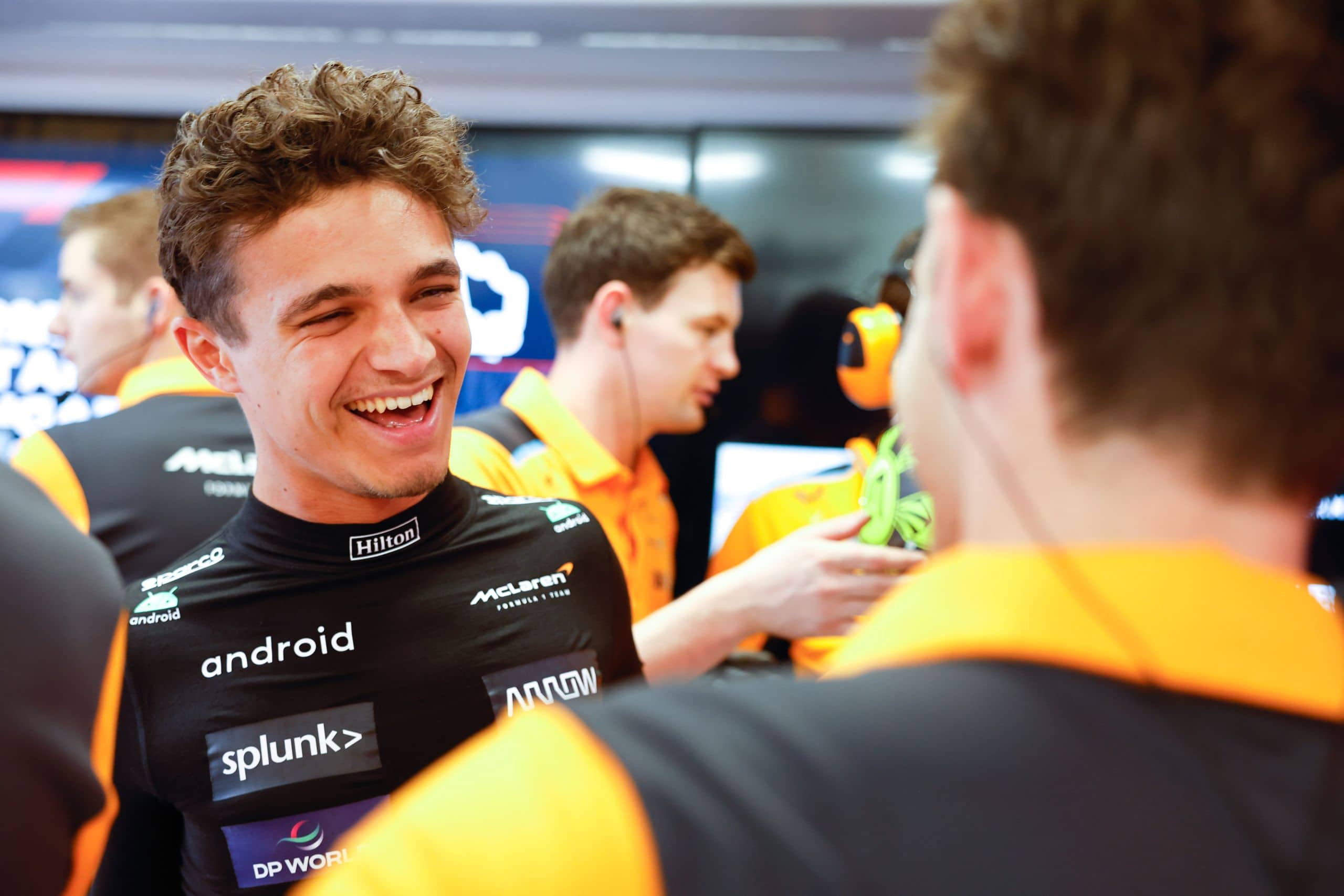 In the most recent times, Zak Brown, the top boss ...