The entire narrative of the Formula 1 world championship has undergone tumultuous change where the last few races are concerned. What we saw in Brazil was exemplary, if not unthinkable. What we saw at Qatar was a further confirmation of the fact that it was indeed true when they said, "the lion had awoken!" The seemingly out-of-form Lewis Hamilton has hit back at his arch-rival Max Verstappen. While on his part, Max Verstappen, a nine-time race winner in 2021 alone, has suffered a dip in his once imperious form.
The tables are turned and some say, the tide is changing.
Will this mean that at the forthcoming Saudi Arabia GP, where Formula 1 has never raced before, it will be a straight-up win for Lewis Hamilton, who will benefit from all his experience? Or will a Max Verstappen win, coupled with the fastest lap chance neutralise the assault waged by Hammertime?
Questions there are many, much like the permutations and combinations and the ever-present "this can happen, that can happen too!"
But what we do know is that ahead of the Saudi Arabia GP, a rather interesting point has sprung to life. It concerns the driver, who despite losing out the last two races, still holds the lead of the 2021 F1 Drivers Championship: Max Verstappen.
There's reason to think that Verstappen's behaviour is not right. Well, in other words, it isn't where it should be at its ideal best or so reckons a famous racing figure from Max Verstappen-land himself: Jan Lammers.
So what makes one think that Max Verstappen's behaviour isn't right?
"He just poked the organisation in the eye," stated the Dutch racing driver of his compatriot Max Verstappen.
"Of course, that's all very well but it's on the limit. Because what if a situation arises in the last Grands Prix where they are in doubt about whether to give a penalty or not?"
"Or if they have to choose between a five or ten-second penalty? What do you think it will be," argued Jan Lammers.
But levelling criticism at his countryman is not the only thing that Lammers, a prominent force at Le Mans did! He would also direct his attention to the positives and the much-evident passion Max Verstappen brings to the grid.
He added "Max is not someone who drives in reaction to his opponents, or whatever. He is someone who is very focused though, he is very concerned with what he is doing himself. He's a bit indifferent towards everything around him. He is very much into his own story. Max actually always steps out of his car satisfied with his own contribution. He knows he always gives 'maximum attack', so he just did what he could in this race [Qatar] as well. He knew there was no more in it and the difference between what this car can do and what he does with it, you can see in Perez of course. He's getting the maximum out of it. It's not really frustrating for him, it is what it is," concluded the 65-year-old racing figure born in Zandvoort.
What lays ahead for Max Verstappen?
Verstappen will try to hammer home his title credentials by winning the Saudi Arabia Grand Prix. Should he fail to do so and let's say, finishes second, he would then have a total of 369.5 points sans the extra point for the fastest lap in the wake of earning second. At the same time, a Lewis win will mean the Briton bagging 369.5, should the Mercedes ace also clock the fastest lap.
This could be a brilliant scenario- if all of the above comes true- as both drivers will head to the decider, Abu Dhabi on an equal number of points.
Then it will be a case of who dares, will surely win!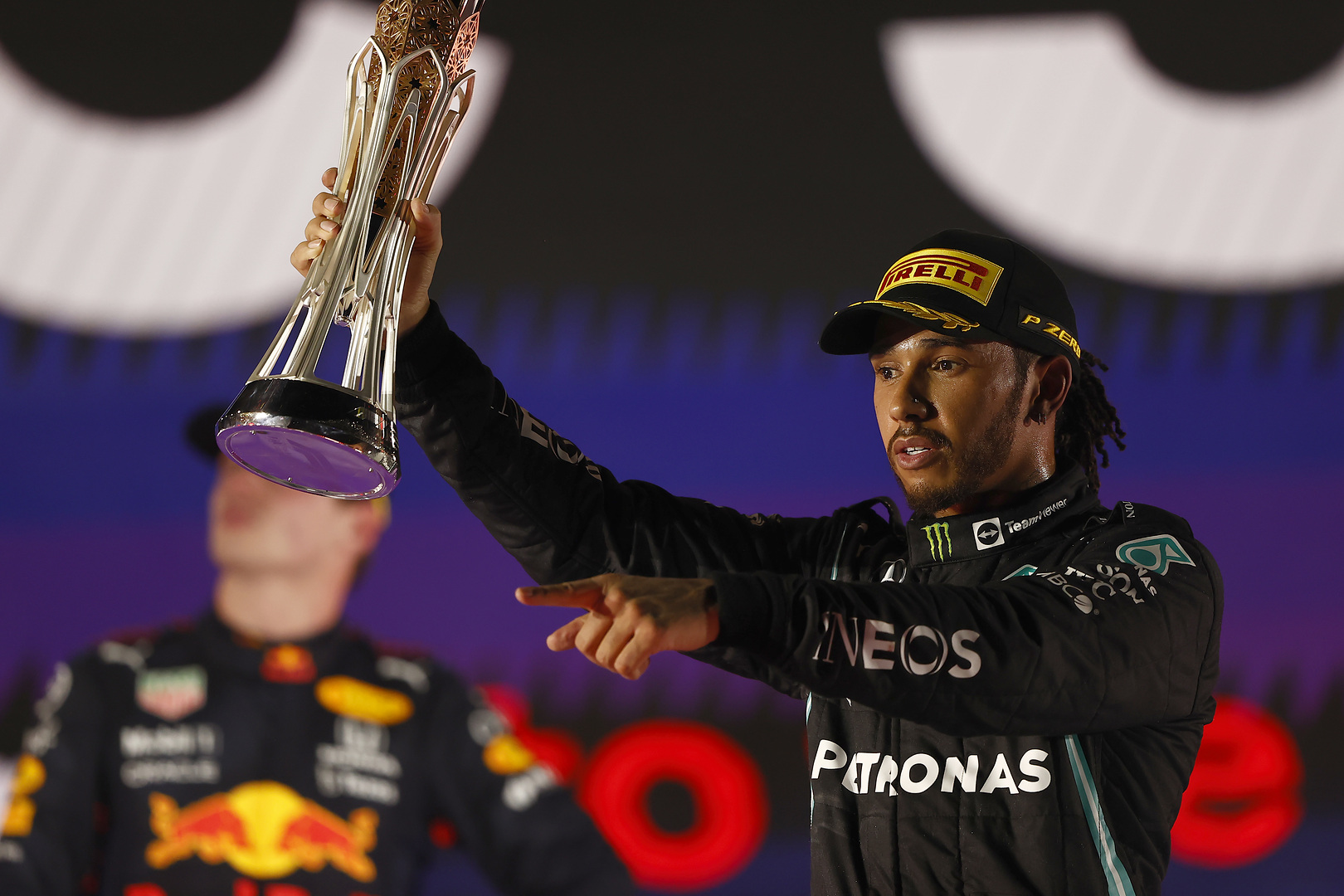 Lewis Hamilton took victory in Jeddah, and put in the ...