After a recovery drive that saw Lewis Hamilton go from last to second under the searing sun in Hungary, the visibly exhausted 7-Time World Champion needed assistance on the podium, and later revealed that he may be suffering from the effects of Covid-19 from late 2020.
The Brit said 'it's a battle' as he fights to regain his fitness, and will now use the summer break to further recuperate.
Lewis Hamilton Checked By Team Doctor
After things got blurry on the podium for Hamilton, he was checked over by Mercedes team doctor before completing his media duties in the post-race press conference.
'Everything got a bit blurry on the podium.
'I've been fighting all year, really, with staying healthy after what happened at the end of last year.
'It's still a battle.
'I haven't spoken to anyone particularly about it but I think it is lingering. I remember the effects of when I had it and training's been different since then and the levels of fatigue that you get is different and it's a real challenge. Just continue to try and train and prepare the best way I can.
'Today, I think, as well as yesterday, maybe it's hydration. I don't know but I've definitely not had that experience. I had that something similar in Silverstone but this is way worse.'
Hamilton v Alonso
In a battle that had everyone on the edge of their seats, a dogged Fernando Alonso was able to hold Hamilton off lap after lap, which in the final analysis, seemed to create enough of a time gap for Esteban Ocon to avoid being chased down by the Mercedes driver. Hamilton relished the battle with the two-time champion and one-time former teammate.
'Fernando gave me hell out there!
'It was awesome racing, pretty on edge at least once but great racing. And yeah, really difficult weekend, or day, obviously I had a lot of work to do from the back.
'Very hard to follow here but just giving it absolutely everything right until the last lap. I hoped that I could maybe catch these guys. Maybe a couple of laps more we could have a bit of a duel – but I'm actually glad that we didn't have any more laps because this is very much needed [Ocon winning].
'I think in his journey, this shows to everyone out there his potential. He's racing against a two-times World Champion. Fernando's not an easy driver to beat. So this really speaks volumes. I'm just so exhausted afterwards. It was one of the weirdest experiences I've had on the podium.
'Now, looking back on it, it was amazing. It really, really was fantastic.
'I wish the cars could follow closer and I'm excited for what the cars are like next year. Hopefully that eradicates a lot of that bad drafting that we have here. But yeah, it's a really difficult circuit to overtaken in general, and to follow particularly in that last sector but great, great wheel-to-wheel battles.
'It literally was wheel-to-wheel at least once and yeah… I don't really have much more to say about it. When you're racing against a two-time World Champion he probably is one of the hardest drivers – but fair. I'd say today was a little bit over on the limit. I totally get it and I would do the same for my team.'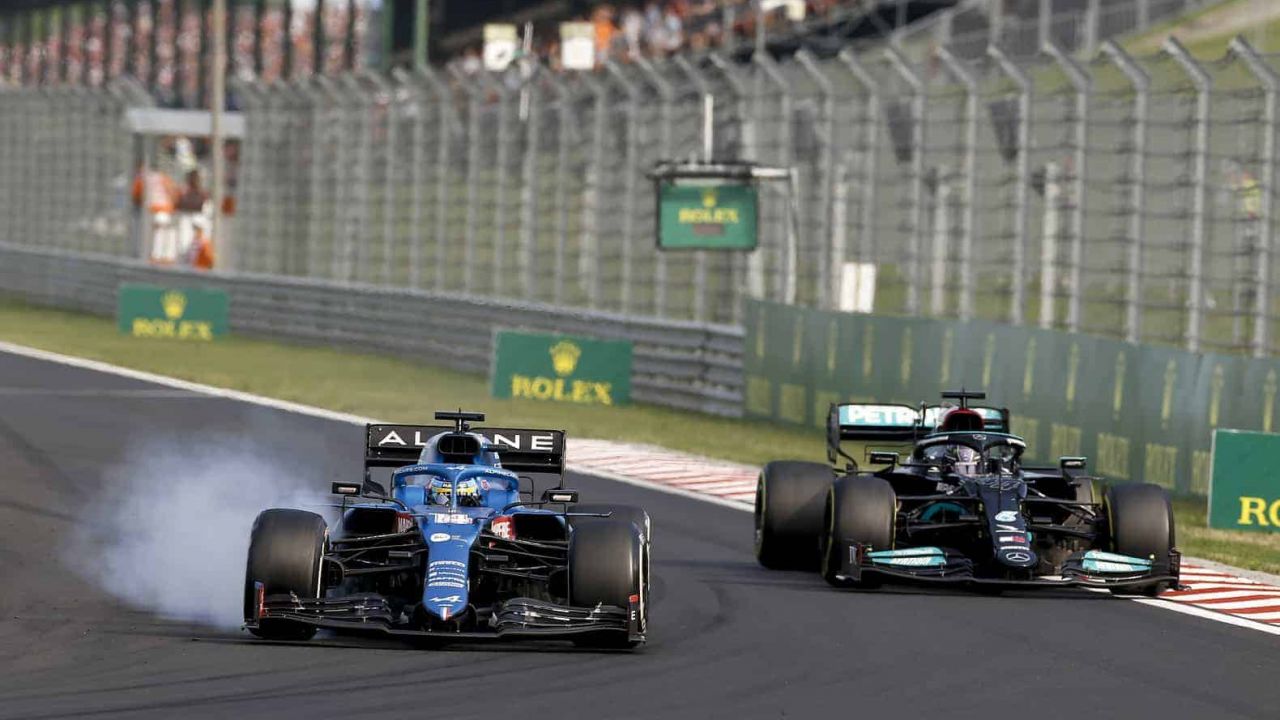 Getting The Restart Wrong
It's not often Mercedes get their strategy calls wrong, but as Hamilton sat alone on the grid for the restart while all other drivers filed into the pitlane, there was a sense that it was going to be a long day for the Brit.
However, with a bit of 'Hammer Time' and a call on lap 48 to pit for Medium tyres, the chase was on…
'I know that we can pit. Obviously we all started on the inters and I tried, just through the formation lap, giving the team information.
'It was dry in all the corners and so I kept telling them: dry, dry, dry and they said to stay out. I don't really understand but it's definitely a mistake from us all but we win and lose as a team and we bear the burden of the mistakes together and we just keep fighting.
'The team did an amazing job with the strategy, with the pit stops and I just had to make it work out there, so it was flat chat for the entire race and very, very hard with tyre temperatures and that but nonetheless I enjoyed it.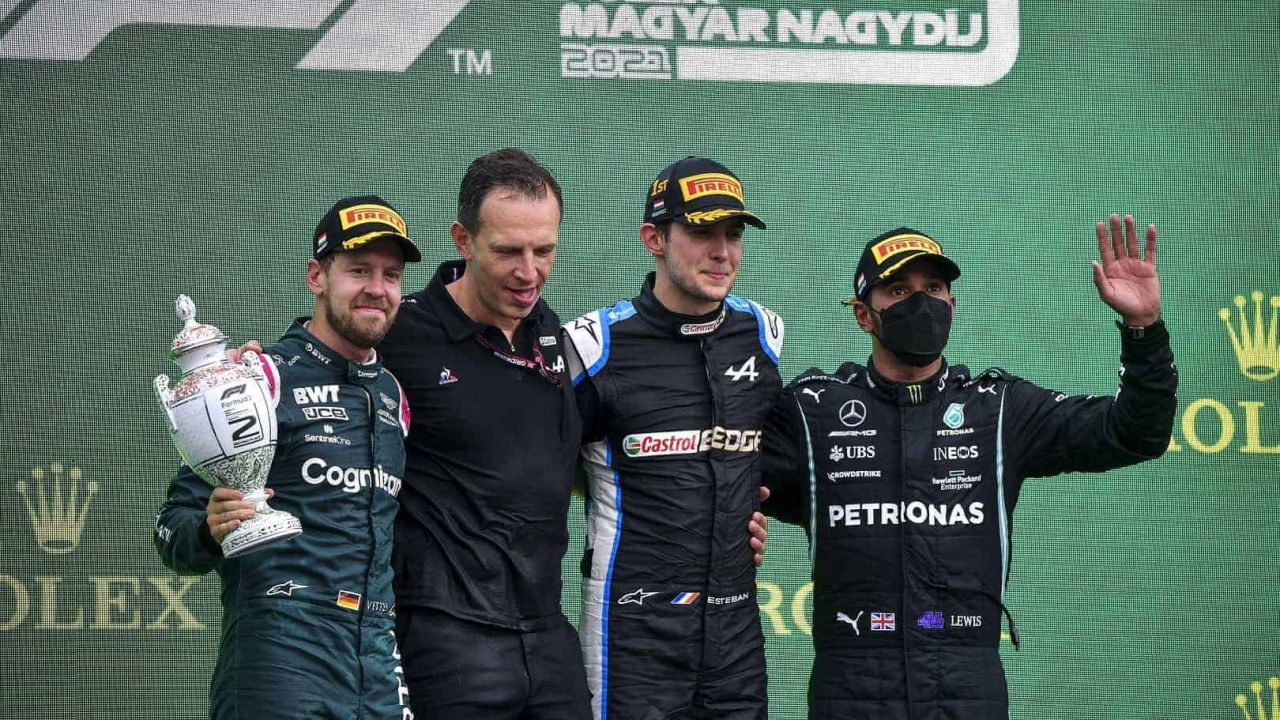 Was Win 100 A Possibility?
Despite ultimately finishing second after Sebastian Vettel's disqualification, Hamilton felt a win was a bit out of reach, even if team boss Toto Wolff felt it was on.
'He's got a great heart, Toto, but with all due respect, when I got the call, I was like, I want whatever they're smoking at the end of this race! Because you guys [ocon and Vettel] were so far ahead and I had to make another pit stop at the same time and I was like, it's impossible to catch you guys.
'When you're out there it can definitely seem lonely at some stages, you know, and sometimes you've got such tunnel vision that it's like ten laps, it's like a light year. It's just so much time has gone by in that period of time, it feels like you're travelling through time, it's a very, very strange experience and then you forget that people are on the other line, so it's nice to be reminded that they're there.
'I tell you it's definitely been a hard slog for us in terms of trying to catch those guys [Red Bull] with their update, they had I think a combination of things but they took a really good step once we got to the midpoint.
'Monaco onwards was intense and the upgrade really has worked and then we've just been working on our procedure through the weekend and trying to extract more from the car and I think now we're a lot closer.
'This weekend has been very strong and definitely surprising to see how strong it is compared to them so proud of everyone back at the factory, as I said, who continue to not give up.
'Even with today, the big mess-up, the team has still not given up, keep pushing and that's what we do. We never give up. We keep pushing and fighting and I'm so honoured to be able to race for a team like this and we learn from these mistakes, unfortunately, we wish they didn't happen, but it's not how you fall, it's how you get back up,' concluded Hamilton.
Heading into the summer break, Lewis Hamilton now holds an eight-point lead over Max Verstappen in the 2021 Formula 1 Driver's Championship standings.