After taking the maiden podium of his F1 career, albeit not the way he would have wanted, George Russell spoke about the treacherous conditions, saying 'I may as well have been closing my eyes down the straight.'
After an astonishing performance in qualifying for the 2021 Belgian Grand Prix, Russell was richly rewarded, as the race was red-flagged on not on, but two occasions after a handful of laps behind the safety car.
Podium Finish In The History Books
It doesn't matter how it happened, the history books will always reflect that after Mr Saturday qualified in P2, he then finished P2 in the race – a fact that wasn't lost on the Brit, as nobody can ever take away this special moment.
'We don't often get rewarded for great qualifyings but we absolutely did today. But first I want to say sorry to all the fans. It was amazing, their support, to stay out here throughout, and we were all in the same boat. It was shame we couldn't get this race underway but just from our side and the team's side it is such an amazing result.
'It [qualifying] actually counted, it actually counted, so a little celebration tonight I'm sure. My whole team deserves it as there has been so much hard work going into it over the last few years and there has not really been anything to show for it or prove for it and we absolutely nailed it yesterday and here we are standing on the podium. I can tell you I didn't expect that this year, that's for sure.
'Obviously not the way I'd have liked to have scored my first podium. A little bit of a strange feeling achieving it in this way but at the end of the day we've been rewarded for such a fantastic job yesterday.
'Even I was, in second behind Max, anything over 200kph, I could not see a single thing. I may as well have been closing my eyes down the straight and was having to lift off the throttle. So, it wasn't safe at all to race. I think the FIA made the right decision.'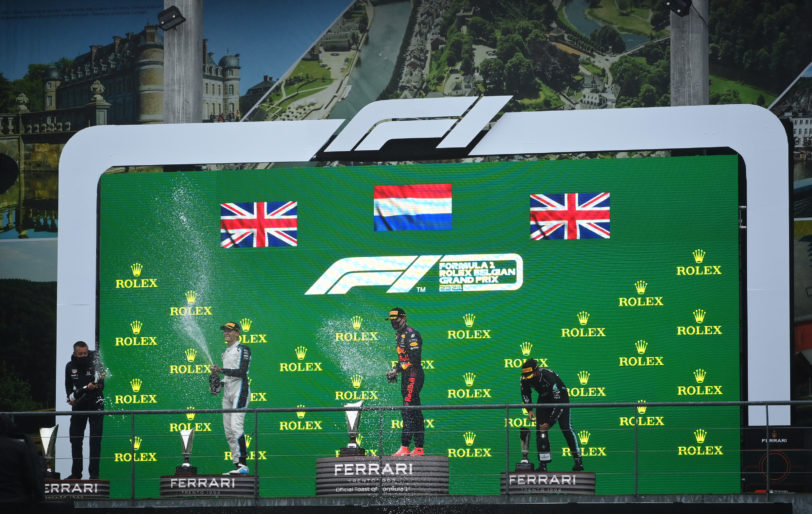 Worsening Conditions
While the race got underway with a formation lap and several laps behind the safety car after a short initial delay, it was then red-flagged. After waiting and waiting, drivers eventually got back in their cars for a shortened race beginning at 6.17pm local time, however, conditions were worse than earlier in the day.
'I think, to be honest, it probably got worse. As it starts to get dark and the rain increases slightly it was probably never really in a good state to drive.
'So, yeah, it's been a very long day for sure – but for the whole team it's a massive result. For us to be standing on this podium, didn't really matter how we achieved it, standing on this podium, is a huge result for us, remembering we finished last in the Constructors' Championship three years in a row and here we are this weekend, qualifying on the front row and standing on the podium. I'm really proud to have achieved this with the team.
'I believe the amount of points we scored in Hungary were probably enough to have secured that eighth in the Constructors but I believe it probably takes even more pressure off now, to go out, really put everything on the line, maybe try some more extreme things, see if we can learn anything more – because there's no reason why we can't score more points.
'And, looking forward already to next weekend and to Zandvoort. Amazing circuit. It's probably going to be difficult to race but I think the whole atmosphere there is going to be great.
'If we did have to have a replacement race, I would have nothing against coming back here: obviously one of the best races and circuits in the world and obviously so many fans who probably love Formula 1 who live locally or in Belgium didn't have the opportunity to see what they came here for so maybe that could be another way to repay them for the loss today.'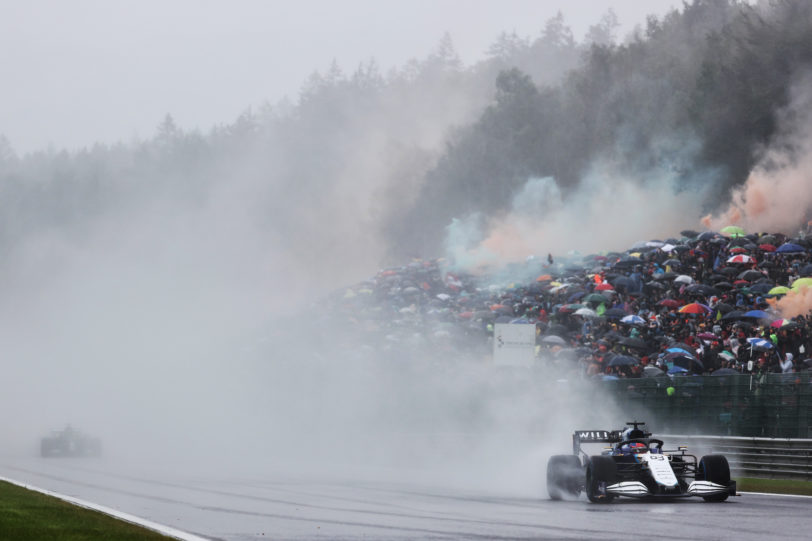 No Visibility At 200km/h
For Russell in second place behind Verstappen it was hard enough to see through the water being thrown off the circuit in front of him, which made it even worse for those further down the grid.
'Coming out of Turn 1, all the way up through Eau Rouge and into turn five I think, for me, I felt like as soon as we were over probably 200km/h that spray was just too drastic and I had absolutely no idea where Max was.
'That was probably less concerning… it was probably more concerning for drivers behind me because they can't see me as well and yeah, I don't think I rarely got full throttle down the straights and you were just losing tyre temperature as well.
'The laps behind the safety car and everything, one after another, was just making it impossible out there so yeah, we may as well have been driving up the straight with our eyes closed at points because that's how it would have been had the race started and it would have been chaos, so we made the right call to not race from three o' clock onwards. Whether we could have pushed it forward, pre-empting this weather – who knows?' concluded Russell.
Want to save this information for later?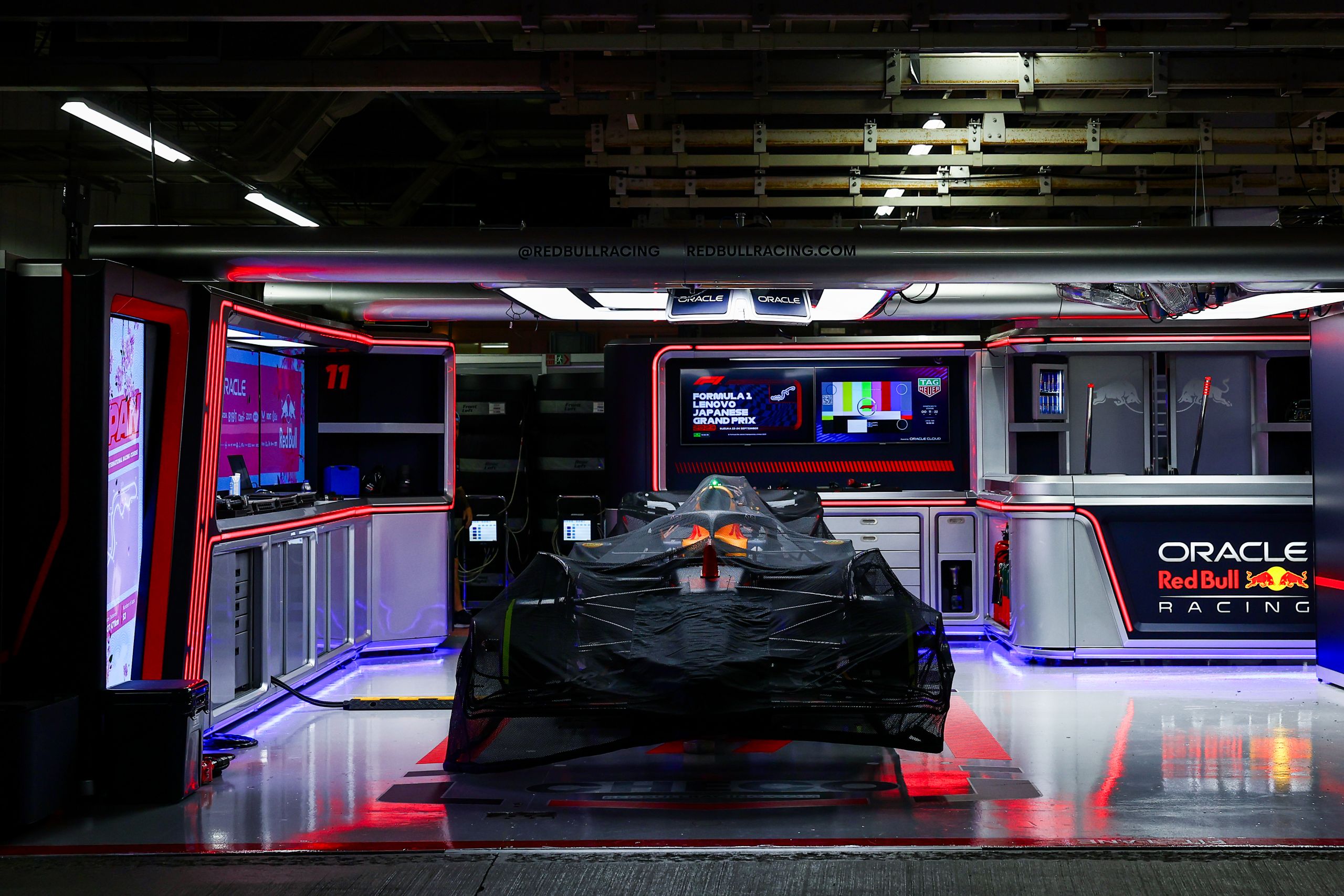 The roar of engines, the blur of speed, and the ...