Sunday, October 2, 2022 marked the first time in three years since Formula 1 returned to the Singapore Grand Prix.
Fans were greeted with uncertainty as early concerns about the wet weather conditions led to a one-hour delay before the drivers swung into action. Six drivers were forced to retire from the race due to engine failures. We also saw Lewis Hamilton and current world championship No. 1 Max Verstappen struggle to make an impact.
Red Bull's Sergio Perez handled the conditions most perfectly and came out on top, fending off all the pressure from Ferrari's Charles Leclerc. Perez capitalized on Leclerc's slow start to put together arguably his finest of his four F1 win races. Although the Mexican is currently facing investigations for a particular safety car interruption, and looks likely to be penalized by the FIA, he and Leclerc were clear of their competitors in what turned out to be a two-man race.
Leclerc's pressure was proving to pay off at one point, and could have forced an overtake, but Perez stood his ground and led the race for numerous laps before crossing the finish line seven seconds earlier than his rival.
Ferrari's Carlos Sainz finished third, and McLaren's Lando Norris and Daniel Ricciardo rounded up the top 5. Elsewhere, Aston Martin's Lance Strolled had his best finish yet this season, coming in sixth, while Max Verstappen, Sebastian Vettel, Lewis Hamilton, and Pierre Gasly completed the points awarding ranks.
Recap
Perez produced one of his finest F1 races
Much of the spotlight was on Max Verstappen coming into the Singapore Grand Prix. The world championship ranking leader was looking to earn his second world championship, but it was his Red Bull teammate that took all the glory, winning only his fourth race in his F1 career.
Perez might be facing some fire for violating several safety car interruptions, but the 32-year old finished strong with 2:02:20.238 on the clock. He swerved past every bit of pressure Ferrari threw at him. Perez now has two wins this season after previously claiming the top spot at the 2022 Monaco Grand Prix in May.
FanDuel offers you the latest sport betting odds on Formula 1. Download the app today.
McLaren and Alpine battle for 4th in the constructors championship
McLaren has always had its fair share of success in Formula 1, but this season proved to be a tough one for them. McLaren has had to endure a series of poor results, especially at the start of the season.
But teammates Riccardio and Norris had it good on the Marina Bay Circuit track to score McLaren important points on their quest for the No. 4 spot when it's all said and done. McLaren finished the Singapore Grand Prix four points clear of Alpine, but have now dropped to 5th after a disappointing show at the Japanese Grand Prix last week.
McLaren will be hoping to improve on their woeful performance at the United States Grand Prix on October 23.
Mercedes woes continued in Singapore
Many pundits expected Mercedes to put on a show in Singapore, especially since their car has fared good around tighter tracks this season. However, this proved to be the opposite, as Mercedes continues to wait for their first win of the season.
Hamilton appeared to spark some hopes as he claimed the third spot in qualifying, just a little distance behind Leclerc. Unfortunately, a collision between Sainz and Hamilton set the Brit backwards, a move which proved costly for Mercedes.
As if things weren't already getting worse, Hamilton again collided with the barrier at a point in the race and made a costly mistake in his attempt to overcome Vettel for the 7th spot. Instead, Verstappen took his spot and the Mercedes driver finished 9th.
Conclusion
Max Verstappen came out on top under wet conditions in Japan to win his first ever Japanese Grand Prix, and more importantly, his second World Championship. The win was his 12th of the season and one he will remember for many years to come. Verstappen is now one win shy of equaling Michael Schumacher and Sebastian Vettel's 13 wins in 2004 and 2013, respectively. Can he add some icing to an already illustrious year? We'll have to wait and see.
In the meantime, here's what the current F1 drivers standing looks like as we look forward to the next showdown at the Circus of Americas:
1 M. Verstappen – Red Bull
2. S. Pérez – Red Bull
3 C. Leclerc – Ferrari
4 G. Russell – Mercedes
5. C. Sainz Jr. – Ferrari
6 L. Hamilton – Mercedes
7 L. Norris – McLaren
8 E. Ocon – Alpine
9 F. Alonso – Alpine
10 V. Bottas – Alfa Romeo
11 S. Vettel – Aston Martin
12 D. Ricciardo – McLaren
13 P. Gasly – AlphaTauri
14 K. Magnussen – Haas
15 L. Stroll – Aston Martin
16 M. Schumacher – Haas
17 Y. Tsunoda – AlphaTauri
18 G. Zhou – Alfa Romeo
19 A. Albon – Williams
20 N. Latifi – Williams
21 N. de Vries – Williams
22 N. Hülkenberg – Aston Martin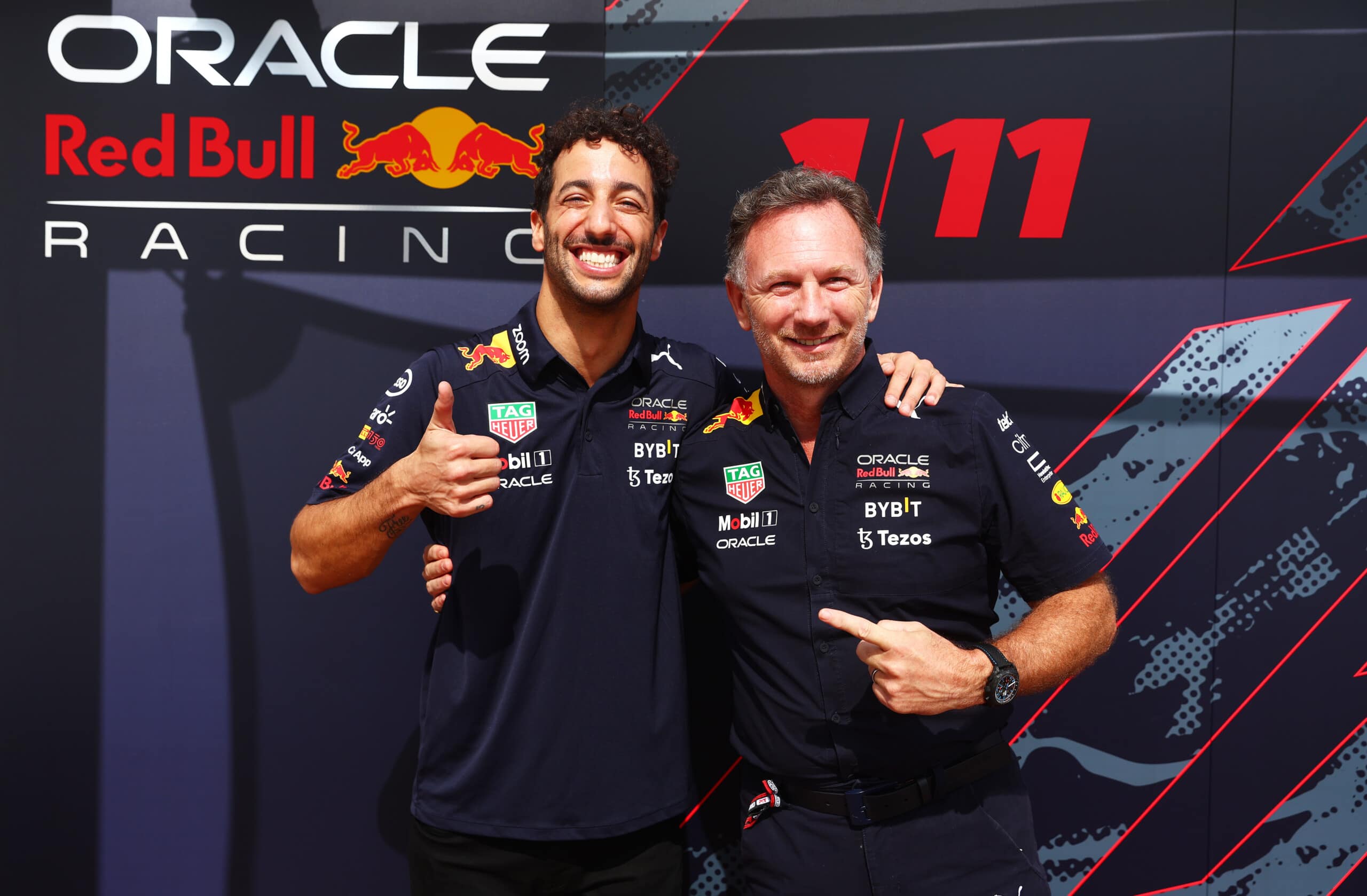 Oracle Red Bull Racing today confirms Daniel Ricciardo will return ...