Qualifying in the stunning Azerbaijan capital began with Ferrari, particularly Charles Leclerc, seemingly holding a significant advantage over the rest of the field. This largely translated over the first part of the session until Pierre Gasly – already relegated to a pit lane start – suddenly displayed the pace he has been lacking all year. A shunt by Robert Kubica in the tight castle section red-flagged the session, sealing a miserable end for Racing Point, Haas and Renault, who each had a driver joining the Williams team in the bottom five. Nico Hulkenburg, Lance Stroll and Romain Grosjean were those drivers.
Q2 had hardly begun before there was another, more significant, shunt at the very same corner. This time, on cold medium compound tires, Charles Leclerc sent his Ferrari too quickly into the corner and simply ran out of room. It was a shocking moment, in a very long list of dramatic incidents at Baku, after a dominant couple of days for the driver.
"I am disappointed with myself. Our pace was good all weekend and we expected to have a positive qualifying result. My first lap in Q2 was very good considering we were on Mediums, but then I made a driving error on the second lap. I just didn't do the job. The team and all the people supporting us out there deserved much more. Tomorrow is a new day. I will stay positive and push to do the best job possible in the race," said Leclerc after the incident.
When the cars returned, there was still plenty to play for but a cooling track made the top four positions unassailable. Vettel crossed the line in fifth with Leclerc's time good enough to finish beside him. Kevin Magnussen, Pierre Gasly, Alex Albon, Carlos Sainz and Daniel Ricciardo.
Mercedes and Alfa Romeo were the only teams with two drivers to start the last session of qualifying. Perhaps not as surprising as the Italian outfit being there was the discovery that Mercedes actually had the pace to challenge for pole position. Hamilton landed provisional pole by nearly a half-second over the senior Ferrari driver. The final laps started with nine cars all following Vettel, hoping for an aerodynamic tow, and the Mercedes team bringing up the rear. There looked to be trouble brewing with all the cars so close together but, while nearly everyone improved their times, it still turned into another front row lockout for Mercedes.
Valtteri Bottas stole the top position from Hamilton by less than six one-hundredths of a second, adding "This pole feels really good, the entire team did a great job today. We saw early on in the Qualifying that the Ferraris were very quick, as they were all weekend, but by the time we got to Q3 we were able to extract the maximum from our car and the tyres. As the track was evolving and cooling down, our car was behaving better and better, so it was good that it all came together when it really counted. It's nice to start from the front, but nothing is done yet – tomorrow is what counts. As we've seen in the past, anything can happen around this track, so staying out of trouble is going to be important. Race pace is going to be crucial as well as it is relatively easy to overtake on this track. I think it's going to be an exciting race tomorrow, the top teams all looked very close on long run pace, so it should be fun. I have a bit of unfinished business here in Baku from last year, so I'll give my best tomorrow."
Vettel will line up behind them, alongside Verstappen with Baku specialist Sergio Perez in fifth. Daniil Kvyat starts sixth, super rookie Lando Norris is seventh with the Alfa Romeo duo of Antonio Giovinazzi and Kimi Raikkonen following. The aformentioned Leclerc will start tenth.
A long and dramatic qualifying session has foreshadowed another "can't miss" event in Baku. All eyes will be on Leclerc (with Daniel Ricciardo's 2017 win from 10th in mind) to see if he can prove his worth from a difficult position, while Vettel and Max Verstappen will be hoping to prevent a fourth one-two finish for Mercedes.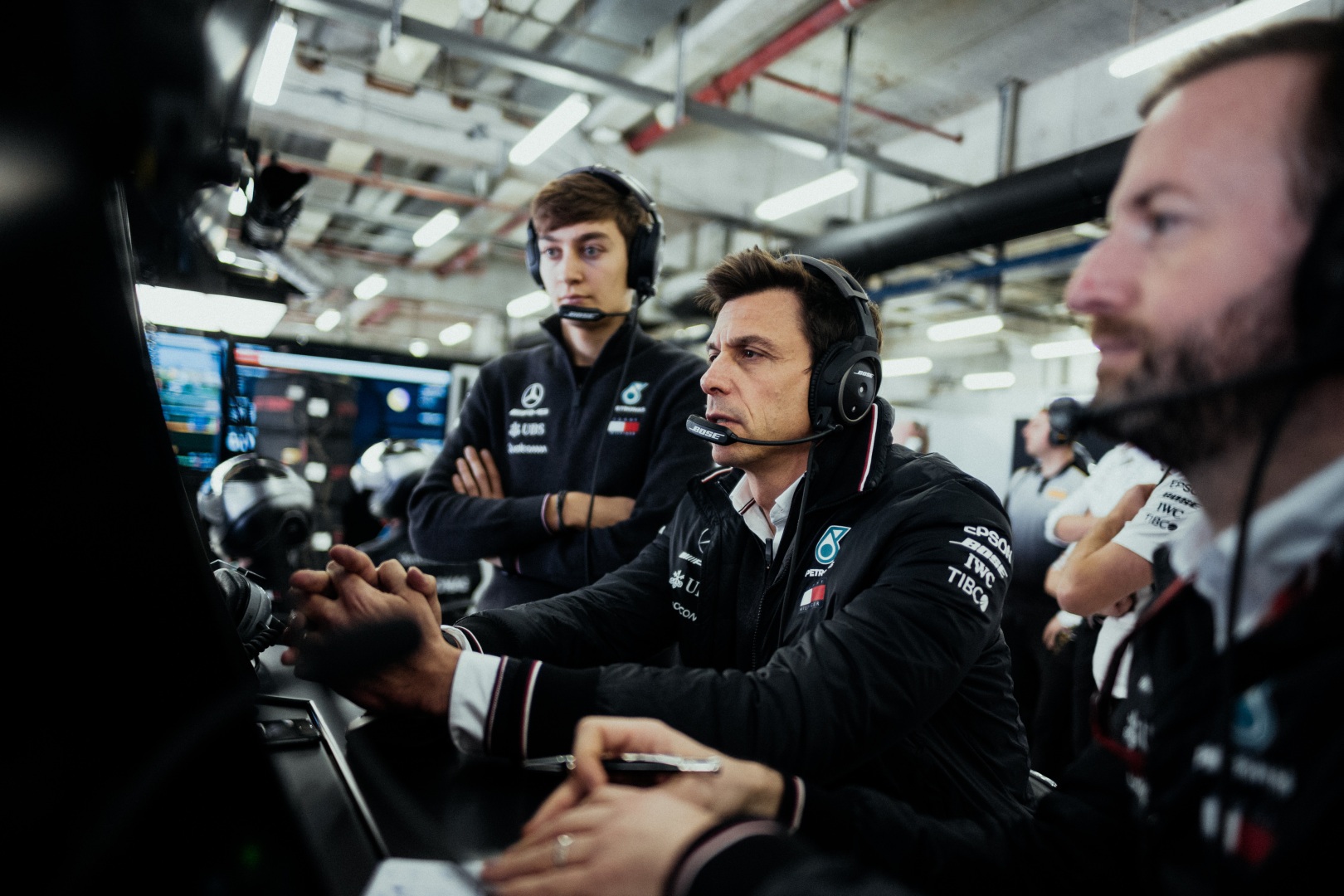 Toto Wolff is usually a charismatic, smiling team boss. Someone ...