Hungarian Grand Prix winner Esteban Ocon was over the moon with his maiden F1 win, struggling to put his feelings into words after he crossed the finish line first for the first time in his career. 
After a hard-fought battle with four-time champion Sebastian Vettel, securing Alpine's first win since Renault returned to F1 has ensured the team heads into the mid-season break on cloud nine.
Esteban Ocon Breaks The Drought
It has been a rollercoaster ride for Renault since they returned to F1, but after finding form in recent weeks, the French manufacturer now has a race win under their belts thanks to their French driver, Esteban Ocon. 
'What a moment, what a moment! It feels so good. It's the first victory since the Renault Group came back into Formula 1. We had some difficult moments this season, which we overcame with the team.
'We came back to a fantastic pace in Silverstone and you know, victory today! What can I say? It's fantastic, so congrats to Fernando as well because I think the win is also thanks to him, all the fights that he did, his teamwork all that. It's been a fantastic day.
'A big thank you, for the trust that everybody is putting in me. In difficult moments when you are out of Q1, when you are P17, you don't know where you are exactly and the team kept a big trust in me and we are back where we belong so that's fantastic.
'It's been awesome to work with Fernando, since the beginning of the year. We are forming a real shock duo I would say. We are working together we are pushing the team to try to improve and get close to the pack in front.
'Everybody told me a lot of things about Fernando before I came but everything is wrong and I can tell you he is a fantastic guy inside working and I am really enjoying the collaboration we have together.'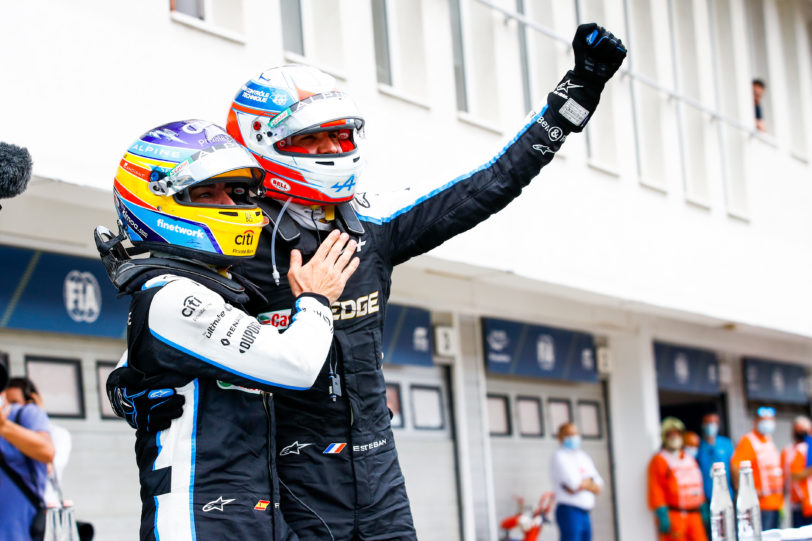 A Dream Come True For Esteban Ocon And Alpine
After securing his first F1 podium at the Bahrain Grand Prix in 2020, both Ocon and the team set a goal of taking the top step of the podium, however, they didn't expect that goal to be achieved so soon.
'What a fantastic moment. I don't have much words, to be fair. It's crazy. We were just talking about it with the team not too long ago, that the next step to get for us would be the top step, as we did P2 last year.
'We were not expecting that to be today, for sure. I can be thankful for the trust the team put in me, you know? We come from a moment where three difficult races, the team gave me trust on that. We overcame the difficult situation and found our pace back in Silverstone and this weekend, I think it has been a great quali and a fantastic race.
'Of course there has been a lot of incidents in that race but you know, as we are in the position, we are chasing opportunities the whole time. Today we got it, so what a moment. I will remember that forever.
'I can sound weird but it's not the favourite track of many drivers, I would say but it is one of my favourites, for sure. On the calendar it is in the top two. Probably step one now. But yeah, I love just coming here and the support we get, the track, the flow it has. It's an excellent track. I was telling the team I didn't have a great record here but I think the record just got good now.'
Ocon's Drive Described As 'Inch Perfect'
Sebastian Vettel had described Ocon's drive today as 'inch perfect' which was something the Frenchman agreed with, feeling he had to be on top of his game from the moment he took the race lead.
'It's easier to fight at the front like we did now, to manage the opponents that are behind, than to fight in the midfield how we are doing. This is much harder. So, you know, we had good training the whole time. The whole time in Formula 1 I had pretty good training. The fight in the midfield is a lot tougher than what's happening in the front.
'It was hard with Seb putting a lot of pressure, he gave me a hard time but you know, when you are ahead, you have clean air. You are the one who is dictating the pace on such a track. And yeah, in the end we just made everything perfect, from the start, which was a difficult decision, because Lewis normally doesn't take wrong decisions – never, I've never seen him taking a wrong decision, so to box when you are P2 on the road, it's a bit heart-breaking at first, but glad that we did it because we were a long way ahead and yeah, the guys did a great pit stop as well.
'Sebastian had a slow stop, that's probably what made the difference because they would probably have undercut us on that, so yeah, the guys in the garage again, top job by them.
'I was not enjoying blue flags, I have to say. Blue flags and me is not a great story, either behind or now in front, so it was very, very close.
'Once I got the dirty air, I think we were a little bit slower overall than Sebastian in this race and that slowed me down, basically. I was struggling to get into the blue flag or Antonio, for him to clear, and Sebastian got DRS because of that, and yeah, I mean he almost made a move. He was very, very close. A bit too close for comfort. I just managed to put the gap then, in the tight section and yeah, the car felt amazing in that tight section. We could pull the gap, so yeah, not all under control but yeah, good enough!'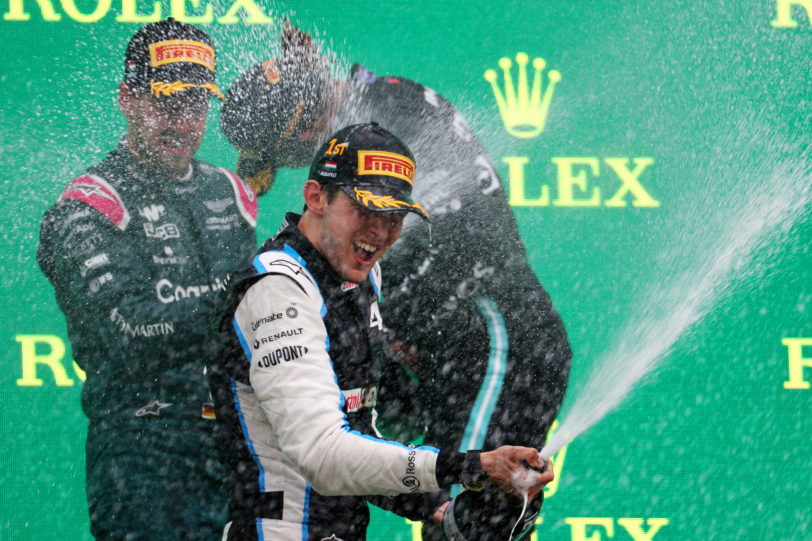 Esteban Ocon Makes Most Of Chaotic Starts
With Valtteri Bottas causing carnage in front, Esteban Ocon was there to pounce, and he took full advantage of the opening-lap chaos plus the changing conditions at the restart to set up his maiden F1 win.
'I had a chat with Lance before the race because Lance is an awesome starter in races and he loves those conditions as much as I do normally. We always end up closer to the front on those, and he said it's the moment to go, it's easy to make a mistake, obviously, but I'm glad he avoided me. He made, obviously a bit of a way for me, so I got a bit lucky. Of course. But, y'know, I'm glad I could have been behind Lewis.
'There was a lot going on, for sure [at the restart]. When I saw Lewis going on Inters, I saw Sebastian behind on Inters, I felt quite relaxed because, from where we were, there was quite a lot of water still, clearly – but the sun came out and basically the track was drying at such speed that we were not expecting I think anybody.
'So, we arrive into Turn One and it was dry already. So I said to the team because it's another start after the red flag, so you are able to talk. If we were not able to talk, probably would have been a different story.
'But yeah, it was clear to me that it was dry, so I was discussing it with the team what to do. What put me in a bit of doubt was Lewis continuing straight – because Lewis and the team, Mercedes, they usually don't make mistakes at all, so yeah, I got a bit in doubt once that happened but it was definitely the clear thing to do, so we box.
'Great pit stop by the guys, I came back in front of everybody at the line and yeah, got the Medium. It was working straight away, it was quite warm out there. I was quite slow to react because I never did a start from the pit lane like this, it was my first one, so I thought he was allowed to overtake, so I didn't say anything to the stewards or the team. I thought George reacted better than us and passed us. So, I was ready to fight – but apparently it's not allowed. So, yeah, I got the lead back after that.
'It was really a hard race. In general, on this track, with the heat, the humidity, the corners and you get the combination. You don't have a breather here, so you need to really fight the car until the end. I feel flat, I feel completely dead as well. It's not that Lewis has certain issue or not, but I tell you, I will have a good sleep tonight as well.
With his long-term future secured and his first winner's trophy in his back pocket, the future is looking bright for Esteban Ocon.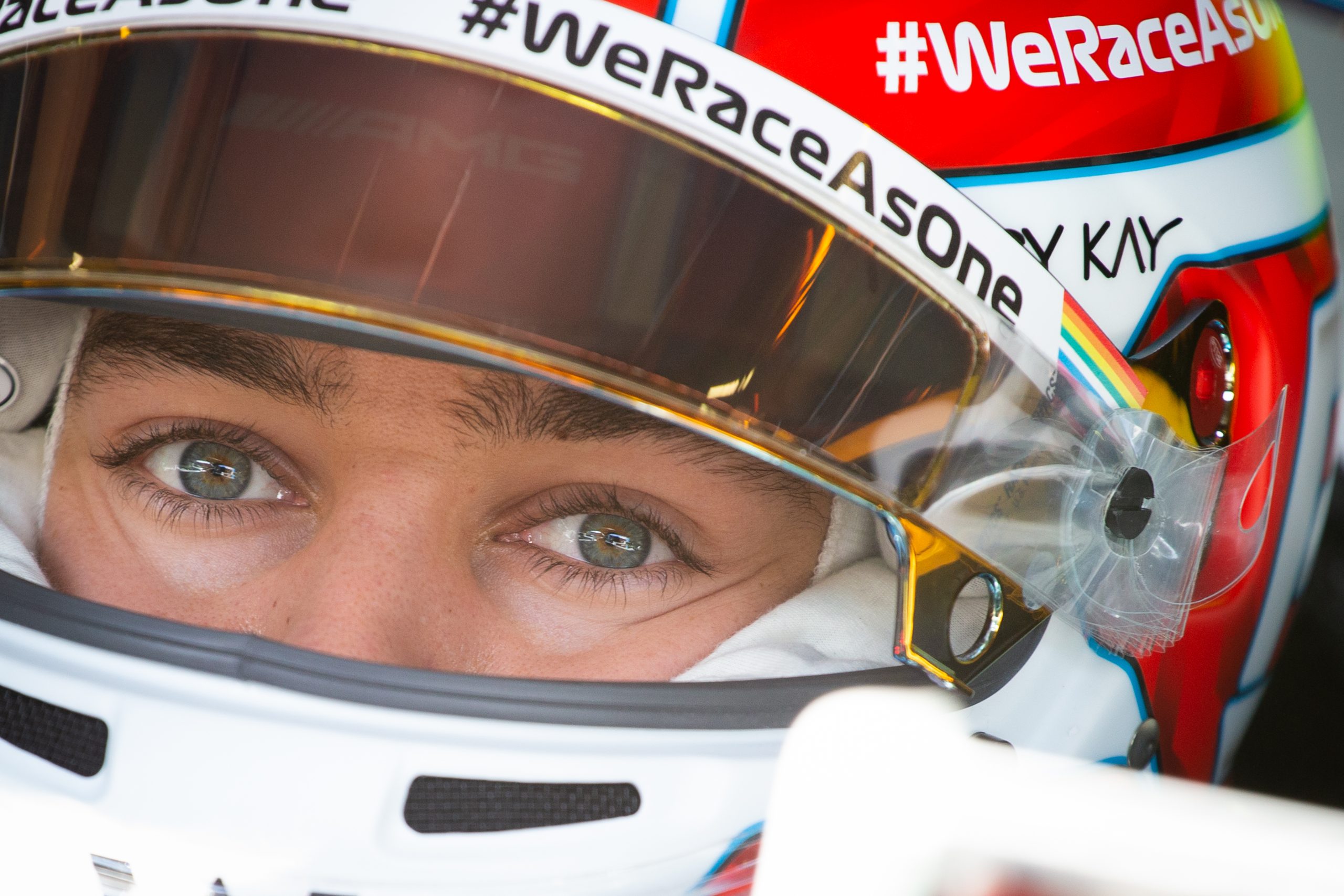 George Russell may still be feeling emotions that no adjective ...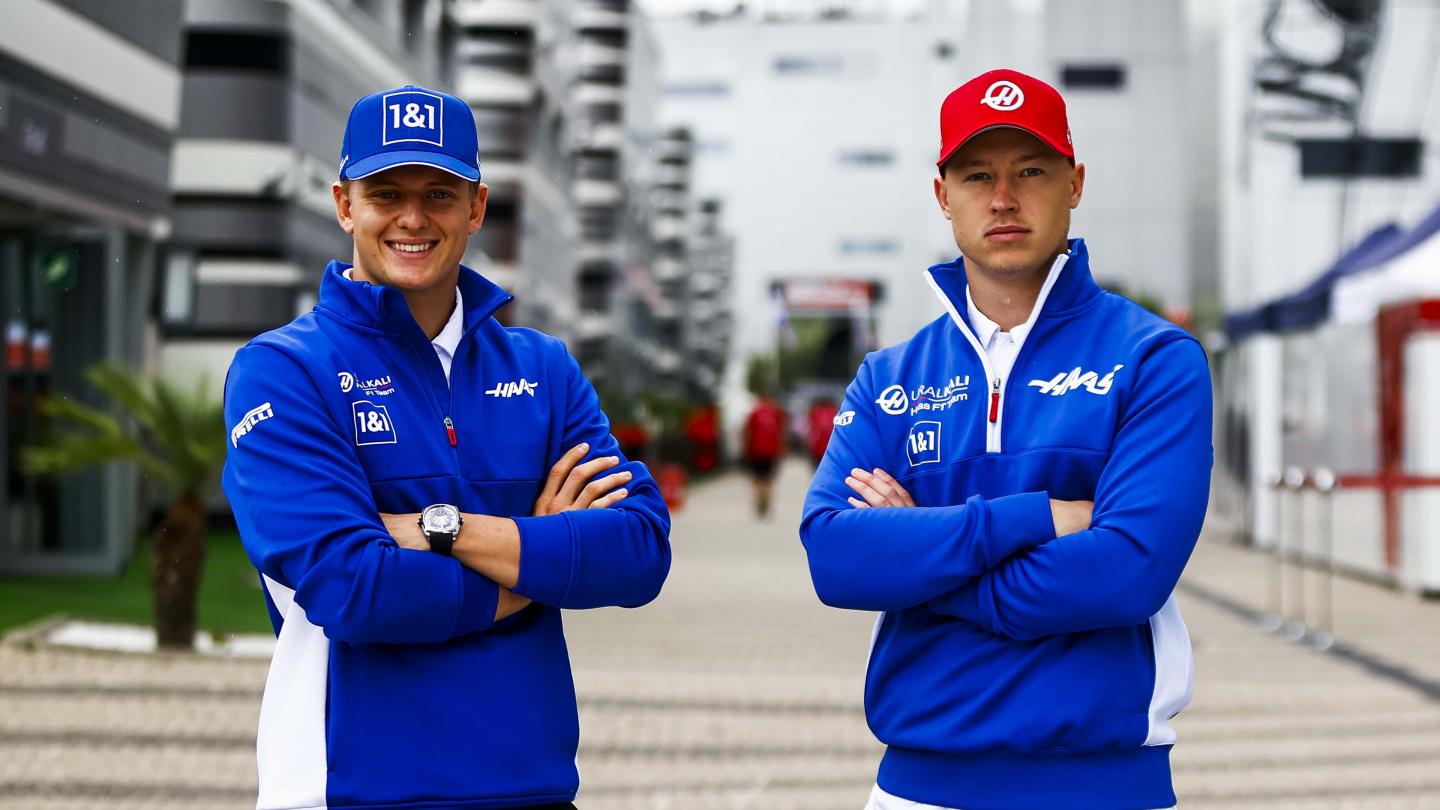 Uralkali Haas F1 Team will enter the 2022 FIA Formula ...