Ferrari's Charles Leclerc took a sensational pole position in Spain, recovering from a spin at the end of his first flying lap in Q3.
Leclerc, who leads the drivers' championship by 19-points, beat his title rival Max Verstappen to the top spot, who complained of no power on his final attempt.
The Monegasque had not set a lap time in Q3, as he had spun his F1-75 car at the tricky chicane in the final sector, during his first lap.
Leclerc delivered a blistering lap with the fastest middle and final sectors of the session to keep up his 2022 record of starting on the front row at every race this year.
After setting his fourth pole of 2022, Leclerc said: "It was a very, very difficult session, especially Q3 as I did a mistake and then only had one lap. (I am) Very, very happy with pole, it was a good lap and the car was amazing. I am in a strong position but we have been struggling with tyres and if we don't manage the tyres well, we will lose the win.
"We really turned things around since yesterday and our team did an amazing job. We struggled a lot in the first two practice sessions this weekend, especially with the tyres. We analysed all the data and made significant changes to the car last night. We saw some improvements this morning when we did a long run and hopefully it will be enough to beat our competitors who have had an advantage in this area for the past two races.
"As far as qualifying goes, it was a tricky session. I think that my first lap in Q3 was great until I pushed a little too much in turn 14 and lost the rear. I had just one shot to bring it home after that and I'm very happy with my lap and our performance in general."
As for Verstappen, it turned out his DRS had not opened on the main straight, although Red Bull boss Christian Horner conceded: "I don't think we had enough today to beat that lap of Charles."
Ferrari are positioned well for the start of the grand prix, with Leclerc on pole, directly ahead of teammate Carlos Sainz, who will go from third on the grid.
"Overall P3 is a decent result for tomorrow and we feel positive for the race, as the upgrades seem to be working well. We still struggle a bit with the rear being very light in this car, so I'm not driving it exactly the way I would like to. However, we still managed to grab P3, which is a good position to attack tomorrow. We'll give everything from there to fight for the win! A big thank you to the mechanics for their hard work overnight to change the chassis and also to every fan out there in the grandstands for their incredible support. Let's race tomorrow!" said Sainz.
Mercedes have brought updates to their car and were significantly closer to the pace, with George Russell qualifying fourth and Lewis Hamilton sixth.
Silver Arrows Improve
Toto Wolff described Mercedes' result in qualifying as "the best we could have expected."
George Russell had been strong throughout qualifying and secured the best qualifying result of the season so far with P4, beating his seven-time world champion teammate Lewis Hamilton, who will line up sixth.
The W13, which has been plagued all season with "porpoising", has appeared significantly more settled around the Circuit de Barcelona-Catalunya, which Hamilton described as a "big improvement".
Both Mercedes drivers were in an optimistic mood after the session, as they feel their car has stronger race pace than single lap speed.
Hamilton spoke of battling with the Ferrari's, who have struggled in the last two races for race pace, due to overstressing the Pirelli tyres, which the Mercedes has, to it's hinderance at times, been gentler on the rubber.
There had been signs of improvement through Friday practice in Miami, but the car balance got away from the drivers on Saturday two weeks ago.
Friday in Spain had a similar feel, as Mercedes again appeared to have pace that could challenge Ferrari and Red Bull. That trend continued through Saturday, culminating in Russell's team best of fourth.
The gap to pole position might not be as close as Mercedes hoped, but they are certainly much closer to the fight than previously.
"Green Bull" out in Q1
Aston Martin have been the talk of the town this weekend, having unveiled a new sidepod design that is very similar to that of the Red Bull, leading to several nicknaming the AMR22 the "Green Bull".
The FIA have investigated the Silverstone-based team, who infamously created the "Pink Mercedes" in 2020, and cleared the team of any wrong-doing.
Red Bull are still unhappy and are conducting an internal investigation to discover whether any IP has been taken from their data stores.
The situation is made all the more intriguing considering that Aston Martin, bankrolled by businessman Lawrence Stroll, have expanded their staffing numbers over the past 12 months, recruiting from rival teams, including ex-Red Bull aerodynamicist Dan Fallows.
However much the AMR22 looked like a green version of the RB18, it did not aid the team's performance in qualifying as Lance Stroll could manage only 18th and quadruple world champion team mate Sebastian Vettel 16th, as both cars were eliminated in Q1.
Triple-Threat At The Front?
Saturday's qualifying session has served up an intriguing grid for Sunday's grand prix.
Ferrari have a fast car, but they tend to over-work the Pirelli rubber, while Red Bull will be hoping they can pass the Ferrari for the third race weekend running to claim victory.
Mercedes, reinvigorated it seems, will want to challenge for at least a podium.
The Circuit de Barcelona-Catalunya historically offers little in the way of overtaking, although with high temperatures this weekend, tyre preservation will be critical.
Ferrari might find themselves running one-two, should Leclerc tow Sainz along the 579m run from pole to the first braking zone, but also may need to get smart with the strategy.
Leclerc himself said: "If we don't manage the tyres well, we will lose the win."
The stage is set for a fascinating afternoon of racing.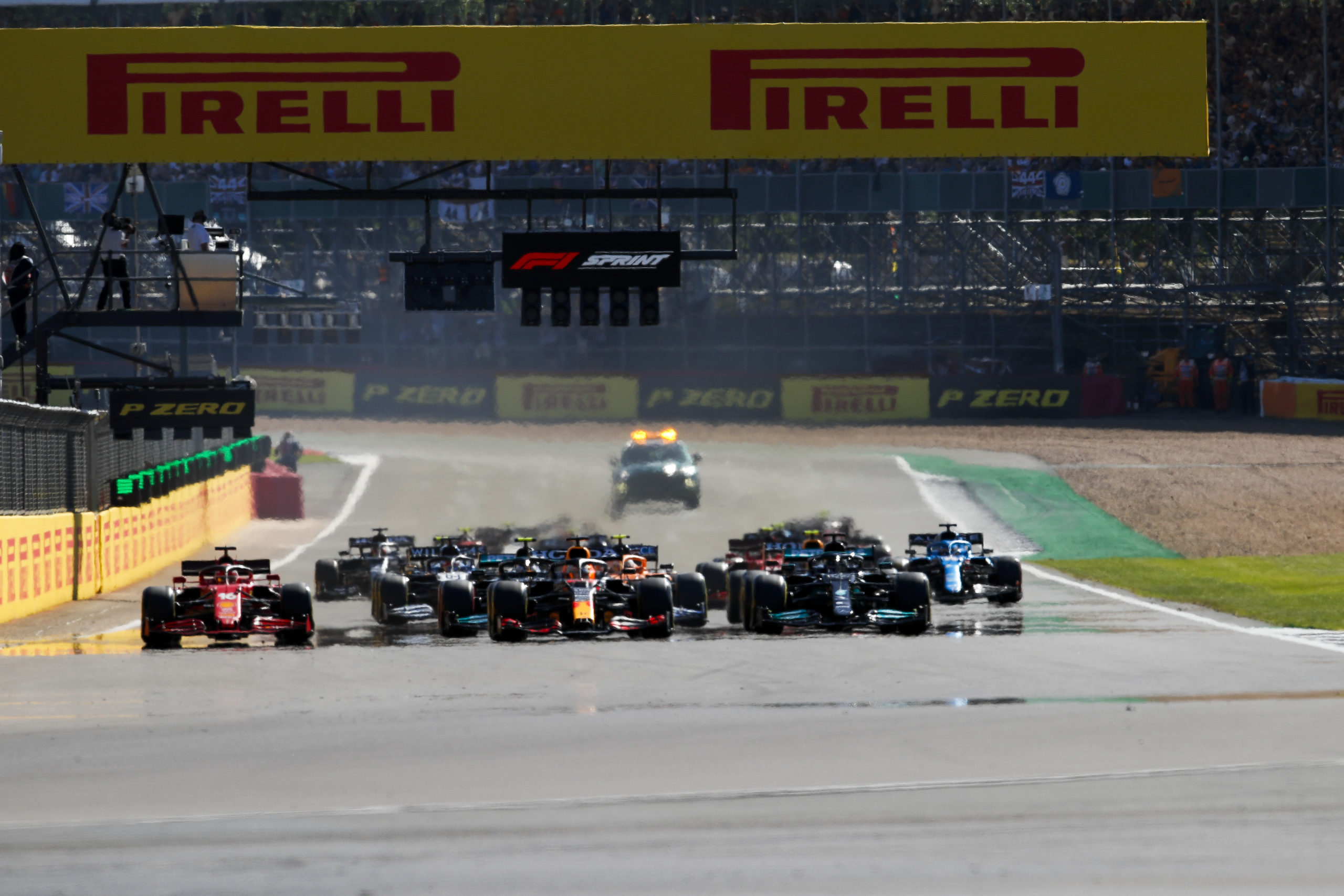 Formula 1 returns to the venue of the first ever ...