Charles Leclerc is currently sixth in the 2021 F1 Drivers Standings for the season. In so doing, he sits on an account of 128 points, which frankly neither looks formidable nor too bad at all. Definitely not when you consider that all he earned at the end of the 2020 world championship were ninety-eight points (98).
Charles Leclerc and his impressive improvement
If there was ever a need to get proof of improvement of form then this is it. The 2021 world championship has given Ferrari, one of the most polarising teams today, a new lease of life. A new lease of life for the team who aren't underperforming and at Texas, speed and car control were its drivers' strong points.
The aspect of polarisation having come to the fore only since the widely popular racing marquee has, time and again, been found wanting in front of other superior and consistent cars and machines. No need to even look beyond Mercedes.
For if you do, then in Red Bull's amazing lunge forward, which wasn't the case in 2017 and 2018 seasons, you'll only find disappointment as a Ferrari fan.
Nonetheless, cliched that it may sound, what goes down does come up.
And it's better and perhaps plausible even to think of it like that.
That the very team that had no takers so to speak last season has come and displayed massive improvement. The spark seems to have resurfaced and the necessary engineering talent, infrastructure, both of which hadn't left the floor in full might seem to have hit back with huge positivism.
It is all helping the team's cause.
Moreover, where it stands at present, there's been a leap toward the north for Charles Leclerc all thanks to a strong COTA finish, wherein he gathered twelve points.
In the same race, his Ferrari teammate Carlos Sainz Jr. finished seventh, hence earning six points.
COTA's performance is indication of the lost ground Ferrari have covered
Where the intra-team battle stands then it can be said Leclerc and Sainz, comfortable with each other, are nearly on par. But, if there ever was a race wherein Charles needed to lunge ahead in the points column, then COTA turned out to be that.
Make no mistake for it was Carlos Sainz Jr. who was leading the battle on that department before the F1 circus reached America.
That, however, doesn't and should not mean that Sainz has been found wanting. In his first-ever season with the Italian marquee, the noted Spanish talent has made a name for himself.
Where he must be credited and perhaps written more about- but won't since it's a strange rule of the thumb to talk about drivers who are box office material- are his top three results. Three podiums, in comparison to Leclerc's only at Silverstone, lest it is forgotten.
Moreover, that it took the self-confessed Fernando Alonso-fan half the races to reach a Ferrari podium this season when compared to Charles Leclerc is perhaps one of the most remarkable feats of 2021.
And lest it is forgotten, little will be reserved to appreciate this feat of the Spaniard for much of our focus also rests on things that get media coverage; are converted into memes, opinion pieces even that aren't even immediately related to the realm of Formula 1 Grand Prix racing or what happens on the track.
Differing opinions on things that are so personal and also, in the same vein, unimportant (in comparison to what truly merits your and my energies) such as Lewis Hamilton's dressing choice in social gatherings or for that matter, how he lands up at a circuit; the choice of colour, the bling, whatnot, all of which he's fully entitled to the same way drivers have entitled themselves to wield the finger as and when they like in the very sport that gives them the identity.
Yeah, right, we race as one!
And yet, it is these same drivers who speak on the importance of leadership, how setting an example matters, and have erudite answers prepared to a common template, "what would you have said to your 15 year old self," et cetera. Why is there no segment where the team of engineers and mechanics get to express what would they would have said to their younger selves when the driver they work around, the car they painstakingly built is crashed and often, on account of on-track frustration (of the racer), they end up hearing irritating, often colorful, sometimes even thankless remarks from the F1 mega stars and stars-in-making.
The sport doesn't only need a strong Ferrari team, it needs for us to practice what we preach.
Agreed, that by racing in countries that have compromised, subverted human rights we are defeating the concept of "We Race As One," which isn't some foggy powerpoint slide but a real, empowering idea.
But what about the concept being compromised when we simply turn away from so many positives that are out there only in the direction of fuelling the headline-grabbing narratives? Surely, if Max would not have upped his game for which the car is just about as credible, we would not have had a strong season that currently stands on the knife's edge.
Surely, if Hamilton would not have been able to hit back as he so often has, we would have once again, seen a one-sided narrative to the season, which in the aftermath of 2016, been so common a case.
Both great drivers must be credited. Both must be also criticized for being responsible for accidents as and when they appeared.
Yet, are these the only F1 narratives for 2021 that are worth appreciating. Vettel's improvement is not? Alonso's big comeback, having not sat in an F1 car for two back-to-back years doesn't merit appreciation.
What about Perez? What about Norris and Sainz? What about Leclerc's boring yet strong P4 at Texas, which wasn't headline making but ultimately helped the team collect yet another double points finish.
What essentially transpired at Texas was that Leclerc was so far ahead in front (behind the top three) that he was also, at the same time, out of harm's way of being caught up by the man running in fifhh: Danny-Ric.
That Ferrari have improved and have, since 2020's woes, come a long way was evidenced well and truly at Monza this year, which is a few races back in the day. How? Since it's the very venue where both Scuderia drivers had retired in 2020 but this year, managed to bring home a P4 and P6, and hence, 20 strong points.
Formula 1 isn't an object that is going to be in possession of the big and powerful teams out in the front; its true essence flows from every small improvement that the lesser-privileged, lesser-influential teams bring to the table. For instance, Alpine this year.
Alpha Tauri and their race results in 2020 as well as 2021. Even the fact that Tsunoda, found struggling particularly in the second half of this season, opening his F1 account and that too, in his maiden race.
We race as one when we consider all around us as 'one' or just as important as the click-able content or revenue-generating content idea on the sport.
Disclaimer: the views offered on this article reflect the author's thoughts, not necessarily that of the website. And it's not about the views in the end, well, the ones that are depicted by statistics.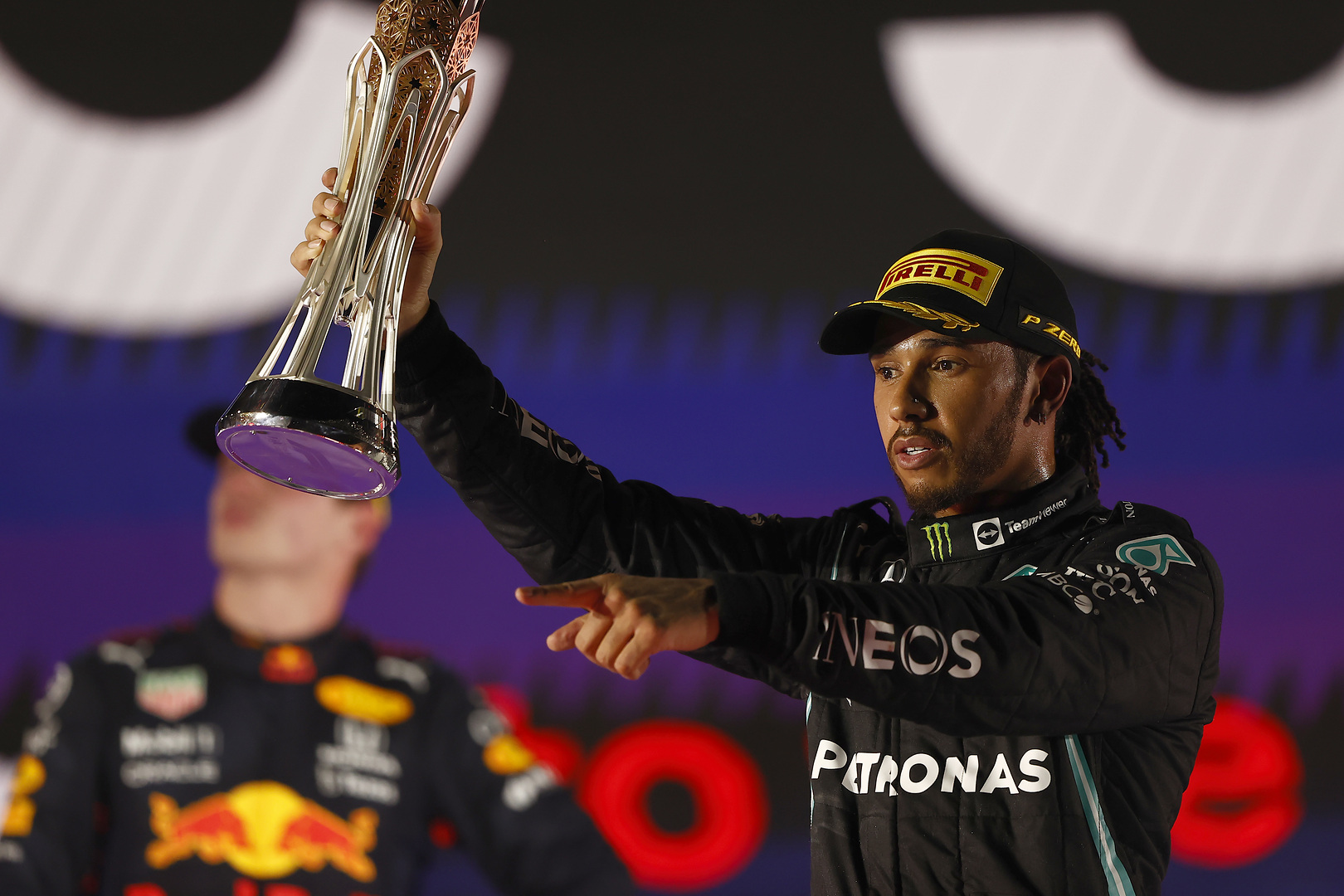 Lewis Hamilton took victory in Jeddah, and put in the ...