The FIA and Formula 1 today confirmed the future direction of the FIA Formula One World Championship with the publication of a comprehensive set of new regulations that will define the series from 2021 onwards.
After more than two years of work involving the most detailed analysis of the sport's on and offtrack operations and following ratification by the World Motorsport Council, the new regulations were presented at the Circuit of the Americas in Austin, Texas by FIA President Jean Todt and Formula 1 Chairman and CEO Chase Carey.
Taking a holistic approach to the future success of the pinnacle of motorsport, the new suite of Technical, Sporting and Financial regulations are targeted at promoting closer racing and a more balanced competition, as well as bringing economic and sporting sustainability to Formula 1.
2021 Formula 1 regulations will have:
• cars that are better able to battle on the track;
• a more balanced competition on the track;
• a sport where success is determined more by how well a team spends its money not how much it spends – including, for the first time, a fully enforceable cost cap (175M$ per season) in the FIA rules;
• a sport that is a better business for those participating and more sustainable business; and
• a sport that continues to be the world's premier motor racing competition and the perfect showcase of cutting edge technology.
The regulations that have been unanimously approved will be married to a new governance and profit-sharing structure which will enable the sport to grow and improve while further strengthening the business model. These agreements are in an advanced stage with the teams.
Chase Carey, Chairman and CEO, Formula 1
"Formula 1 is an incredible sport with a great history, heroes and fans all over the world. We deeply respect the DNA of Formula 1, which is a combination of great sporting competition, uniquely talented and courageous drivers, dedicated teams and cutting edge technology. The goal has always been to improve the competition and action on the track and at the same time make the sport a healthier and attractive business for all. The approval of the rules by the World Motorsport Council is a watershed moment and will help deliver more exciting wheel to wheel racing for all our fans. The new rules have emerged from a detailed two year process of examining technical, sporting, and financial issues in order to develop a package of regulations. We made many changes during the process as we received input by the teams and other stakeholders and we firmly believe we achieved the goals we had set out to deliver. These regulations are an important and major step, however, this is an ongoing process and we will continue to improve these regulations and take further steps to enable our sport to grow and achieve its full potential. One of the most important initiatives we will be addressing as we go forward is the environmental impact of our sport. We already have the most efficient engine in the world and in the next few weeks we will be launching plans to reduce and ultimately eliminate the environmental impact of our sport and business. We have always been at the leading edge of the automobile industry and we believe we can play a leadership role on this critical issue, as well."
Jean Todt, President of the Fédération Internationale de l'Automobile
"After more than two years of intense research and development, of close collaboration with our partners at Formula 1, and with the support of the teams and drivers, circuit designers, the single tyre supplier, Pirelli and all F1 stakeholders, the FIA is proud to publish today the set of regulations that will define the future of Formula 1 from 2021 onwards. It is a major change in how the pinnacle of motorsport will be run, and for the first time, we have addressed the technical, sporting and financial aspects all at once. The 2021 regulations have been a truly collaborative effort, and I believe this to be a great achievement. A crucial element for the FIA moving forward will be the environmental considerations – Formula 1 already has the most efficient engines in the world, and we will continue to work on new technologies and fuels to push these boundaries further. What the FIA publishes today is the best framework we could possibly have to benefit competitors and stakeholders, while ensuring an exciting future for our sport."
2021: Reminder of the Key Objectives
Raceability: enable & facilitate close racing
Competitive Grids: reduce gaps between the cars
Financial sustainability: improve the financial health of the sport – create sustainable business model – reduce costs
Environmental sustainability: contribute to a technological progress in road-relevant areas
Aesthetics / passion: create great-looking, exciting cars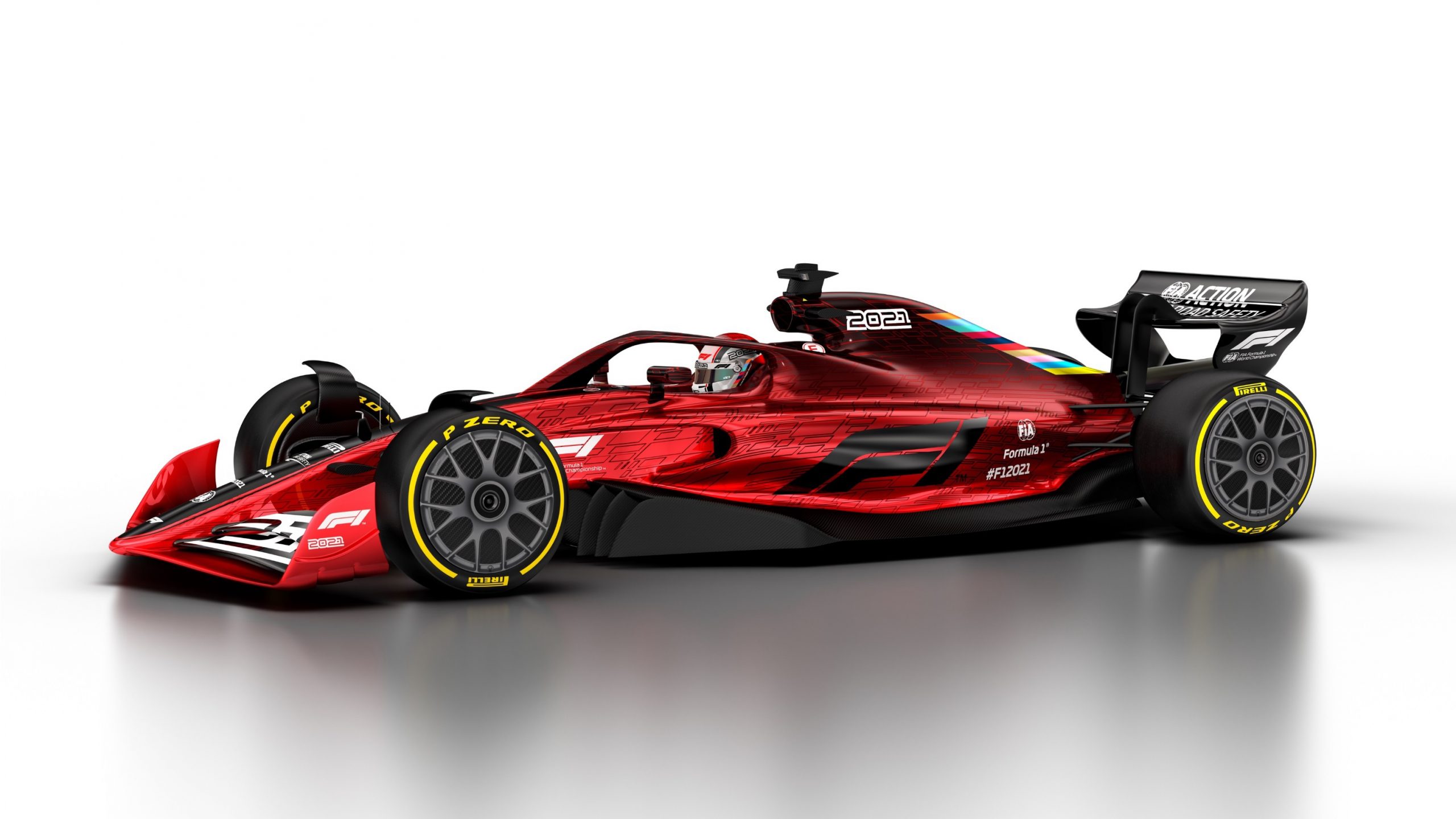 Aerodynamic Components
Aims of Aerodynamic regulations:

Wake performance – close racing
Simplification of the car
De-sensitisation of certain areas – leading to lower performance differentials

Simpler front wing with weaker vortices – less able to control front wheel wake
No barge boards
Ground effect car – long diffuser under side pod
Certain prescribed components in areas of great sensitivity
2021 Car: Following Car Performance
Aerodynamic Regulations – philosophical points
The legality volumes are much more CAD-based
Coordinate system introduced into the regulations (X, Y, Z)
Scanning equipment to facilitate policing and comparison to the CAD geometry
All aerodynamically relevant areas are covered by Article 3 (e.g. brake
ducts, suspension fairings, etc.)
Aerodynamic Regulations – visual differentiation
We can foresee visual differentiation in the following areas:We can foresee visual differentiation in the following areas:

Nose
Front wing and endplates
Engine intake
Sidepod intake shape
Sidepod coke shape & Engine cover spine
Brake ducts
Rear wing and endplates

The areas that have been restricted (namely under-chassis devices, barge boards, diffuser and rear wing endplate complexities) are the areas that we know are important to protect the essence of the research that has been carried out.
Aerodynamic Regulations – visual differentiation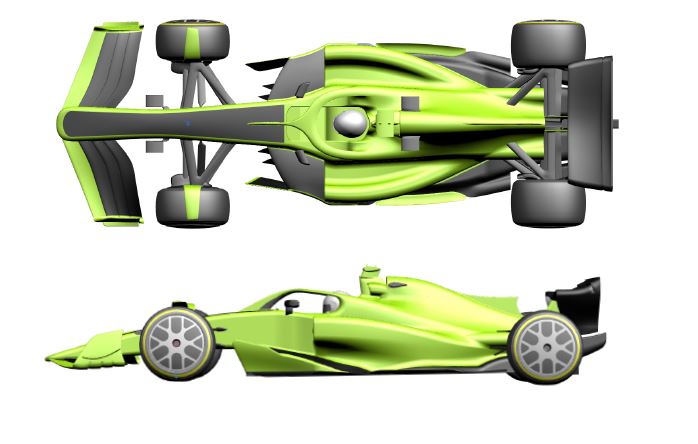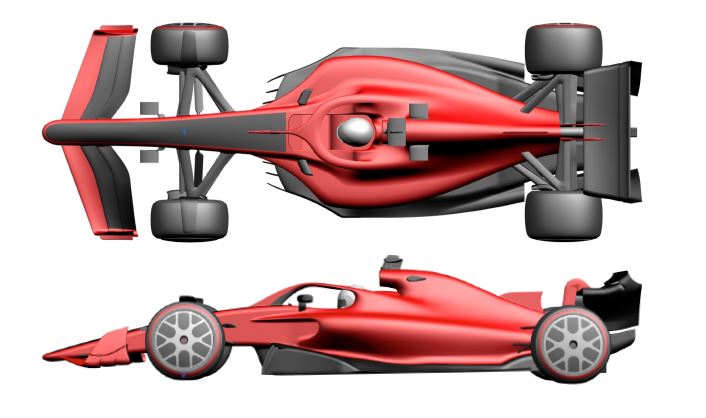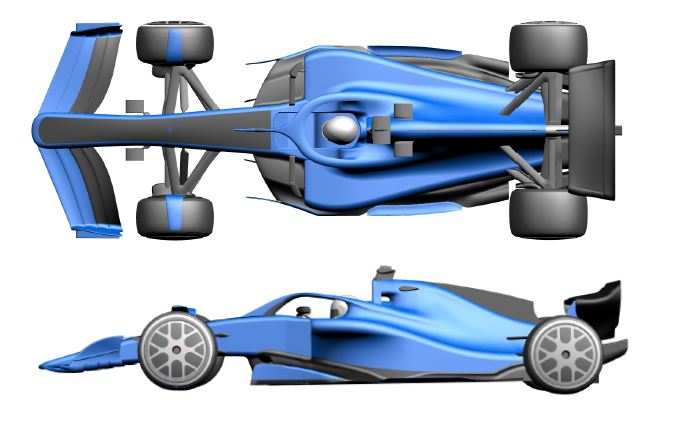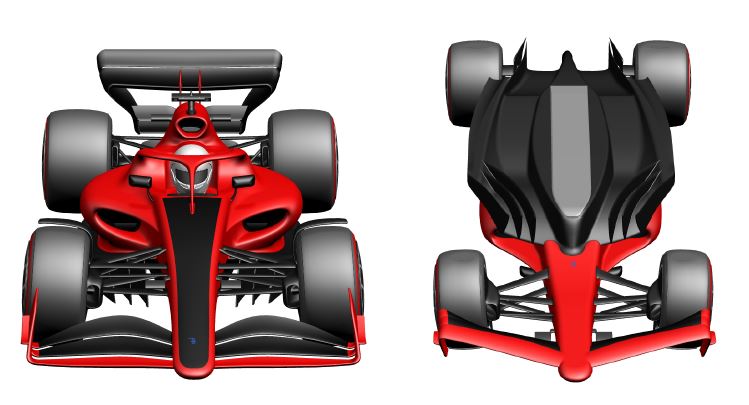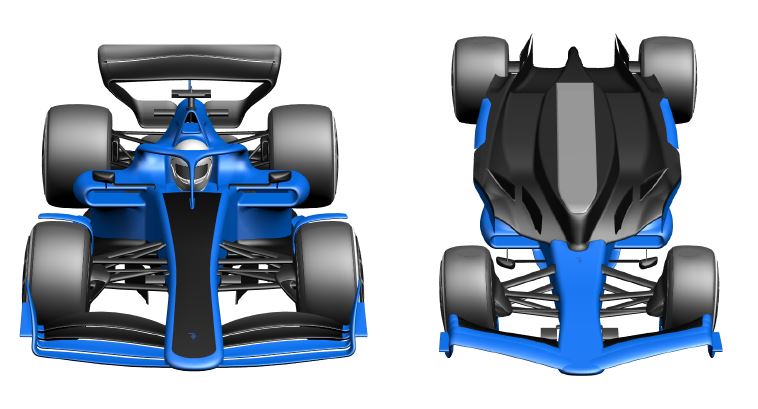 Mass (Weight)
Increase of minimum mass from 743Kg to 768Kg. Main contributors:

Bigger wheels
Tyre mass
Power Unit (+5)
Certain standard or prescribed parts
Safety components
Power Unit
Generally-speaking, a carry-over of the current status quo
Some cost reduction via:

Increased weight
Material restrictions (commercially available)
Non exclusivity for ES cells and Turbocharger supplier
Standard HP fuel pump

Obligation for equal spec between manufacturers and customer teams
Fuel & Engine Oil
Strong desire to increase environmental relevance of F1 fuels:

For 2021: doubling of renewable content of fuel to 20%
For 2022 onwards: commitment to further increase these numbers – road map must be defined with PU manufacturers and Fuel suppliers
Fuel System
For legality & policing:

Standard high pressure and primer pumps
Standard piping
Standard flow meter (FFM) – as now
Standard damper
Prescribed collector & certain internal components
Transmission System
Analysis showed considerable savings can be obtained if Gearbox R&D costs are eliminated: this is obtained through configuration freezing for a certain period.
In order to not "lock-in" a performance differential for a team, gearbox dimensions have been defined in a more restrictive manner
One complete re-design allowed in a 5-year cycle
Driveshaft geometrical simplification for cost reasons
Suspension, Steering, Wheels & Tyres
Simplification of suspension
Ban of Hydraulic suspension
Simpler inboard systems (springs, dampers) and banning of inerters
Kinematic restrictions to resolve poorly regulated area outside of the wheel
Separation of suspension structures and their fairings
Larger wheels (18") with standard supply
Retaining of tyre blankets at least for 2021 and 2022 (but lower cost)
Prescribed design hubs, nuts, wheel retention
Brake System
Bigger disks (from 278mm to 330mm)
Simpler disk geometry: fewer and larger diameter holes
Postponement of standard supply – not until 2023
Chassis & Homologation
Larger internal cockpit dimensions to not penalise tall drivers
Increased side beam dimensions for side impact safety
Prescribed front floor structure to protect chassis on kerbs but also to stop teams from seeking an unfair advantage (flexy floors)
Combination of Articles 16, 17, 18 into a single Article for the
homologation (Article 13)
Safety Improvements
Better debris containment in the event of an accident

Research to contain debris by adding a rubber membrane within some components
Work to prevent whole front wing detaching from the car
Tethering of some rear componentsetter debris containment in the event of an accident

Increased frontal energy absorption (longer nose)
Increased side chassis strength & new more comprehensive side impact structure
Improved headrest & its attachment to the chassis
Consequential increase of wheel tethers due to larger wheel mass
Materials
Comprehensive re-write of materials' regulations for primarily clarity and cost reasons
Cost reduction primarily achieved for metallic materials
Composite materials: largely status quo
Concept that materials must be commercially available
Components Classification
Introduction of 5 categories of component classification for cost reasons
Listed Team Components (LTC): components made by each team
Standard Supply Components (SSC): single supplier via tender process
Prescribed Design Components (PDC): prescribed design – free supply
Transferable Components (TRC): components that may be transferred
from one team to another

Open Source Components (OSC): components where designs are openly available to competitors
Detailed table of classification of components in Article 17
(NOTE: the regulations governing these components work closely with the
corresponding Financial Regulations)
2021 Sporting Regulations
Reorganisation of Articles for clarity and consistency
Conceptually much closer to 2019 Sporting Regulations
Some key changes

Increase of number of races (maximum) to 25
Compression of weekend format (4 daysè3 days)
Introduction of the "Reference Specification" for cost reasons
Power Unit dyno limitations
Reduction of Wind Tunnel and CFD simulations (ATR)
2021 Financial Regulations
Objectives:

to promote the competitive balance and the sporting fairness of the Championship
to ensure the long-term financial stability and sustainability of the F1 Teams while preserving the unique technology and engineering challenge of F1

Main Guiding Principles:

Cost Cap level set at a level that facilitate reduction in performance differentials
maintaining unique technology and engineering challenge of F1
ensure freedom to spend for the F1 Teams within Cost Cap limit
ensure transparency, fairness and equality of treatment amongst all competitors
ensure realistic implementation timescale to enable F1 Teams to adjust operating structures and reporting processes
reference to internationally recognized accounting, auditing standards and best practices
Cost Cap level set at 175 M$ for 21 races, +/- 1 M$ for each race above or below 21
Consistency with Technical and Sporting Regulations
Relevant costs for Cost Cap purpose determined after calculation of cost exclusion and cost adjustments
Most relevant exclusions refer to:
Marketing costs
Drivers costs
Heritage Assets costs
Year end bonuses
Depreciation and amortization
Non F1 activities costs
FIA entry fee and drivers' super-license costs
Three highest Paid Persons costs
Most relevant adjustments refer to:
Related parties transactions
Research & Development
Supply of Transferrable components
Capital expenditures (36 M$ in four years)
Implementation timeline is planned as follows:
Until December 2019: Finalization of FIA F1 Financial Regulations framework (ie. Guidance, Implementation procedures, Templates)
June 30, 2020: Option to submit 2019 financial data on a voluntary basis even if not specifically provided for by the FIA F1 Financial Regulations (Voluntary dry-run)
March 31, 2021: Voluntary submission of 2020 financial data without application of any financial or sporting penalties (Soft Implementation as provided by FIA F1 Financial Regulations)
March 31,2022: Mandatory submission of 2021 financial data with application of financial and sporting penalties in case of procedural and/or financial (minor/material) breaches (First year Implementation)
Welcome to Episode 144 of our Formula 1 podcast, Grid ...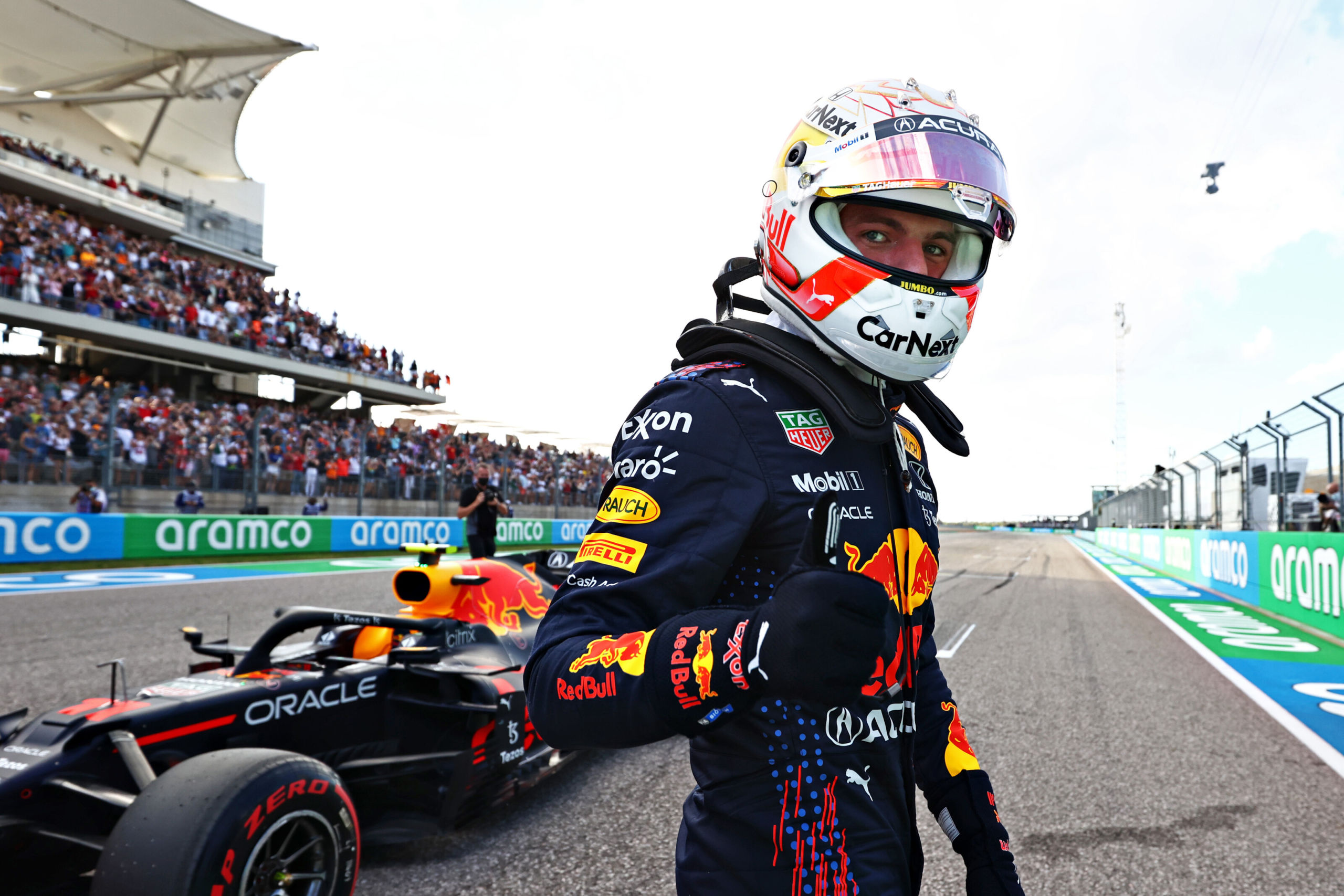 In the dying moments, Max Verstappen snatched pole position for ...