By finishing 1st and 3rd at the 2019 Japanese Grand Prix, Mercedes-AMG Petronas Motorsport has won the FIA Formula One Constructors' Championship for the sixth time in a row.
Bottas Win Kicks Off Constructors Championship Celebration
Super Sunday at Suzuka ended in the return to the Winner's Enclosure of Valtteri Bottas and also saw Mercedes AMG Petronas Motorsport take its sixth consecutive Constructors' title thanks to the 41 points it picked up today, plus the certain knowledge that one of its drivers will take the Drivers' crown.
"When we embarked on the journey six or seven years ago we wanted to win races more regularly and then fight for a Championship – and now, six years later, we win our sixth Championship in a row. We never thought this would be possible and I'm incredibly happy for everybody who has been a part of this journey. It's not always been easy, the entire team put in a lot of hard work and we had our fair share of painful moments, but we were always able to pick ourselves up. Everyone in Brackley and Brixworth worked incredibly hard for this achievement and I can't thank them enough. We also could not have done this without the continued support from Daimler and PETRONAS who have always been by our side. This sixth Championship is a very special one – and we dedicate it to Niki. He has been such an important part from the beginning, and we all miss him dearly. I think about him every day and still find it hard to believe that he's not here anymore; I keep thinking to myself "What would Niki say, what would he think?". Today, he probably would have said "Congratulations for the sixth one, but you have a challenge on your hands for next year". It was his way of making sure that we're never complacent. Today has been an emotional rollercoaster; we were disappointed in the morning because we weren't quick enough in qualifying. And now we've won the race and also both Championships – which is still hard to fully grasp," said Toto Wolff.
This was the Finn's third win of the season, his sixth in all, while the win tally for the Silver Arrows has now reached 99.
"Six double championships – every single team member at the race track and in the factories can be incredibly proud of this achievement! A big thank you to all of you. I think we don't quite realise yet what an amazing achievement this is, but we're making history in this sport. We've had a really good season so far and managed to make the most of our opportunities, especially in the beginning of the season. It's amazing to think that we've just done something that's never been done before – what a great day for all of us! I had an excellent start today, one of the best ones in my career, and managed to take the lead in the very beginning. We expected our car to be quick in the race, but it's really tricky to overtake on this track, so we knew that we'd have to try and take the lead at the start and I'm very glad it all worked out. I really enjoyed the race afterwards; the car felt really good and our upgrades worked well. Suzuka has always been my favourite track even though I've never been particularly strong here – but now I like this track even more. It's been a while since my last victory, I missed that winning feeling and I'm very happy and proud to have won the race that secured us the Constructors' Championship," added Bottas.
Pole-Sitter Sebastian Vettel Settles For Second
On the second step of the podium was Sebastian Vettel, but the Ferrari man was definitely not that delighted this evening, as a hesitant getaway at the start wiped out the pole position advantage he'd secured in the morning. He lost the lead in the first few metres and after that never looked to have the pace to get it back and then had to fight tooth and nail to defend his second place from Lewis Hamilton, only half a second separating them at the flag.
"We had a very good morning, but the afternoon was less good in terms of the result we were able to achieve as a team. The start wasn't good for either me or Charles and without that, we could have had both cars fighting at the front. It was difficult today and to be fair our rivals were simply quicker, Valtteri was just flying.
I had a poor start, I was a bit early with the clutch initially then clutched in again and lost a bit of momentum. Usually our starts are very good but not this time. After that we were missing out a little bit in terms of speed in the race compared to our rivals. We went through the tyres more than Valtteri and Lewis. Especially at the end of the stints they were dropping off a bit more, whereas our rivals kept the pace throughout. Towards the end my only target was to stay ahead of Lewis. I knew that down the straights he struggled to overtake, so I just tried to have clean exits in the places where it mattered," said Vettel.
Frustrating Third Place Finish for Hamilton
It wasn't the championship leader's best day, starting with him qualifying fourth, but the lap time of 1.30.983 he posted on lap 45 was a new race record for Suzuka and more importantly, the point that came with it meant the team could start celebrating the fact they have both titles in the bag.
Even if Hamilton had not got that fastest lap point, shortly after the race, the Stewards ensured that Mercedes could celebrate, as they had given Charles Leclerc a double penalty totalling 15 seconds, following another key moment just after the start. Leclerc also got a poor getaway off the front row and ran wide into Max Verstappen on the outside of turn 2 which sent the Red Bull into a spin. The Scuderia Ferrari Mission Winnow driver damaged the front wing and, on instruction from the Race Director, came in on lap 3 to change it. This happened after a piece of the damaged wing had flown off and hit the closely following Hamilton's car. It was more or less race over for the Monegasque who could only finish seventh.
"I'm so happy for the team – what a great result! Six consecutive double titles is an amazing achievement that has taken a long time and a lot of hard work. It just shows the strength and depth through and through for the team and I'm incredibly proud to be a part of Mercedes history. It's a well-deserved achievement – thank you to everyone in Brackley, Brixworth and Stuttgart for all the hard work and dedication. Valtteri did a great job today and deserved the win, congratulations to him. I did everything I could today; I think we probably had the chance at a 1-2 today, so we'll take a look at what we could have done better in the debrief. I think we can expect the next races to be very challenging; Ferrari still have a straight-line speed advantage which makes it very hard to qualify ahead of them, so we have to outrace them, but I think that makes it really exciting for the spectators. We will celebrate this monumental achievement today; but tomorrow we'll start pushing again – we still have races to win," said Hamilton.
2019 Japanese Grand Prix: How The Race Was Won
And yet, Sunday in Suzuka had got off to the best possible start for Ferrari, who locked out the front row of the grid at the end of a tense and closely contested qualifying, close enough for the two Red Bull drivers to set identical times of 1.27.851. Ferrari and Mercedes are now level when it comes to front row lockouts, with 64 apiece. However, even if the Italian team's chances of victory were compromised just a few hundred metres after the start, the race was still open all the way to the end, mainly down to the fact that the teams had adopted a variety of strategies and there were plenty of passing moves and climbs up the field.
There was an amazing 89,000 strong crowd that packed the grandstands, having turned up at the track despite the difficulties caused by the Hagibis typhoon that had caused all track activity on Saturday to be cancelled. They saw Bottas immediately set a strong pace as he gradually pulled away from Vettel, while Hamilton was delayed by Leclerc who was definitely not at his best after the collision with Verstappen. The German dropped back to five seconds behind by lap 14 and realised it was time to make his first pit stop. Vettel fitted a new set of Soft tyres on lap 16 and Bottas stopped next time round to take on Mediums. The Finn was told on the radio that he would require a second stop while Hamilton would only do the one. But the Englishman didn't seem to be able to match his team-mate's pace and he pitted on lap 21 to change tyres.
On lap 22, Bottas led by 11 seconds over Vettel and was 22 ahead of Hamilton. In order not to have to deal with his team-mate, the Finn had to extend that lead by a few more seconds, but on the Mediums it looked as though Hamilton had a stronger pace. In fact, on lap 30 while the lead over Vettel was more or less the same at 10 seconds, the advantage over the Englishman had more than halved down to 15 seconds. Vettel decided to pit for a second time on lap 31, taking on the Mediums while Bottas lengthened his stint to lap 36, fitting a set of used Softs. On lap 40, Hamilton led by 9 seconds over the Finn with Vettel more or less the same distance behind. However, the five-times world champion was suffering from significant tyre degradation so that he too had to switch to a two-stop strategy, pitting two laps later. From then on the podium positions remained unchanged although Hamilton closed right up to Vettel although he never quite had enough pace to get past: further cause for recrimination for Vettel, thinking what might have been if he'd managed to maintain the lead from pole position and could probably have fought his corner.
Behind the leaders, albeit almost a minute down came Alexander Albon who kept his head down to finish fourth, his best Formula 1 result to date, as well as being the highest placed Honda-powered driver.
"Fourth is my F1 career-best finish and this weekend has definitely felt like my best with the Team. Immediately from FP1 I felt comfortable with the car and the balance, which is important for a track like Suzuka where you need a lot of confidence, especially on your first visit! I wanted more in the race and felt like I could have done better at the start but I had too much wheel spin off the line and lost a couple of places to the McLarens. I managed to get back past them but by then I had already lost a lot of time to the lead pack. The move on Lando for P5 was on, he gave me space and left the door open but it was a bit tight! We then managed to get past Carlos with some good strategy by undercutting him, but from then onwards we were in no man's land in P4. It was just about managing the tyres to the end but with Max's DNF it was good to score some points for the Team and fourth was the best we could do. I'm still finding my feet but overall I'm happy with my pace and progress and we took a step forward this weekend. Coming into the weekend we probably wanted more, especially for Honda, and we were close but we just didn't quite have the pace. Now we'll do our homework and hopefully come back stronger in Mexico," said Albon.
Next up was Carlos Sainz in the McLaren, once again the best of the rest, followed home by Daniel Ricciardo who drove a great race after he'd been knocked out in the first part of qualifying. However, the sword of Damocles hangs over the Renaults, because after the race, Racing Point protested the French team for having an alleged pre-set lap distance-dependent brake bias adjustment system. The Stewards will rule on this only following a full and thorough investigation by the FIA Technical Department.
"It has certainly been a bizarre weekend, with no running on Saturday, requiring everything to be perfect from the get-go on Sunday morning. Unfortunately, we experienced the opposite, with both cars having different issues in qualifying. Despite our low starting positions, we did not surrender and kept focused. The crew did an amazing job in the limited time before the race to turn around the cars. Both drivers had clean starts for the first time in a while and after the opening laps it was non-stop action, with an amazing number of stylish overtaking manoeuvres from Daniel and Nico. Nico also accepted to play the team game, which played out nicely for the team, so big thanks to him. We're leaving Suzuka with both cars in the points, a nice reward for the various issues we've had over the last races despite a car that had the capacity to score at every race," said a defiant Cyril Abiteboul.
For the moment, Renault keeps the 9 points it scored today, thanks to the Australian's result and the tenth place of his team-mate Nico Hulkenberg.
Leclerc might have only been classified seventh, but he staged a great climb up the order from last on lap 4, while Pierre Gasly and Sergio Perez also had good afternoons finishing eighth and ninth respectively. However, the Mexican never made it to parc ferme because on lap 53, he went off track at the second corner after a collision with the French Toro Rosso driver. However, the chequered flag had mistakenly been shown one lap too early, so that the race was theoretically over when Perez went off, so he was able to claim his finishing position, a great reward for the SportPesa Racing Point F1 Team driver for coming through from the penultimate row of the grid.
The Countdown to the 2019 Driver's Championship
Moving on from Japan, Formula 1 now prepares to tackle three races in the Americas, starting on 29 October with the FORMULA 1 GRAN PREMIO DE MEXICO 2019 in Mexico City. At the circuit named after the brothers Ricardo and Pedro Rodriguez, Lewis Hamilton will get his first chance to clinch the Drivers' title, something he's down the last two times in Mexico.
While the battle for the top two places is clear, the fight for third is more uncertain with Leclerc on 221 points and Verstappen and Vettel both on 212, so only 9 points in it. Further back it's just as close: Sainz is sixth with 76 ahead of Gasly on 73, but Albon on 64 can count on a top car in the Red Bull and has every chance of moving up.
In the Constructors' classification, things are clearer, with Mercedes now champions followed by Ferrari and Red Bull and McLaren looks ever more solid in fourth place, but Renault's hopes are still alive although 44 points separate it from its customer team.
Plenty of reasons to watch what should be some exciting Grands Prix to follow on from the thrilling races we have seen so far…
2019 Japanese Grand Prix Tyres
Mercedes driver Valtteri Bottas won the Japanese Grand Prix with a two-stop soft-medium-soft strategy, on a track that was made quite unpredictable due to an enforced day off yesterday following Typhoon Hagibis. Not only did Saturday's heavy rain wash away the rubber laid on Friday, but teams also lost a lot of running, with FP3 cancelled and qualifying taking place on Sunday morning. Nonetheless, the fastest race lap set by the Mercedes of Lewis Hamilton broke the lap record established by Kimi Raikkonen that had stood since 2005.

The fastest predicted strategy for the 53-lap race was a one-stopper: starting on soft for 24 to 27 laps, then medium to the end. Second-fastest, theoretically, was a two-stopper: two stints on soft of 20 laps each followed by one on medium. The slowest theoretical strategy was again a one-stopper but a different one: starting on soft for 20 to 23 laps, then hard to the end.
In practice, degradation proved to be higher than expected, probably due to warmer conditions. This led most drivers to adopt a two-stopper and run an extremely fast race.
Ferrari's Sebastian Vettel broke the all-time track record in qualifying today, while Lewis Hamilton broke the 14-year-old race lap record in the race.
There was a tense tactical battle from start to finish, with both Ferrari and Mercedes drivers using different tyre strategies.
Ferrari driver Charles Leclerc was the only driver to use a three-stop strategy to fight his way back to sixth, after dropping to last following an early nose change.
Red Bull's Alex Albon took his career-best result with fourth, while Mercedes won the 2019 constructors' championship – for the sixth time in a row.
McLaren's Carlos Sainz was the highest-placed soft-medium one-stopper, finishing fifth at the end: a strategy adopted by a number of other drivers.
Weather remained dry, with track temperatures in the region of 39 degrees towards the end of the race, and 26 degrees centigrade ambient.
How Each Tyre Performed
HARD C1: Used by seven drivers throughout the race, two of them doing a one-stopper. Although it was not tested extensively on Friday, it was used also for long race stints.
MEDIUM C2: Only Haas's Romain Grosjean didn't use the medium. This compound was equally useful for both a one-stopper and a two-stopper.
SOFT C3: Three of the top four drivers used a soft-medium-soft strategy: the exception being Ferrari's Sebastian Vettel, who was the only person to go soft-soft-medium. Due to warmer conditions, it showed higher degradation than was expected before the race.
Mario Isola – Pirelli Head of F1 and Motor Racing
"On top of all the rearrangements to the schedule following yesterday's typhoon, which washed the track clean of rubber, the warmer conditions also meant that the teams were dealing with a number of unknown quantities heading into qualifying and the race – both held within a short space of time today. It was mainly a question of developing the strategy during the grand prix, with a number of different tactics seen from one to three stops, as competitors reacted to their rivals' strategies. All three compounds were used during the race, with four different strategies in the top six, a thrilling tactical battle for the runner-up spot, and lap records broken in qualifying and the race. Congratulations to Mercedes for another well-deserved constructors' championship victory."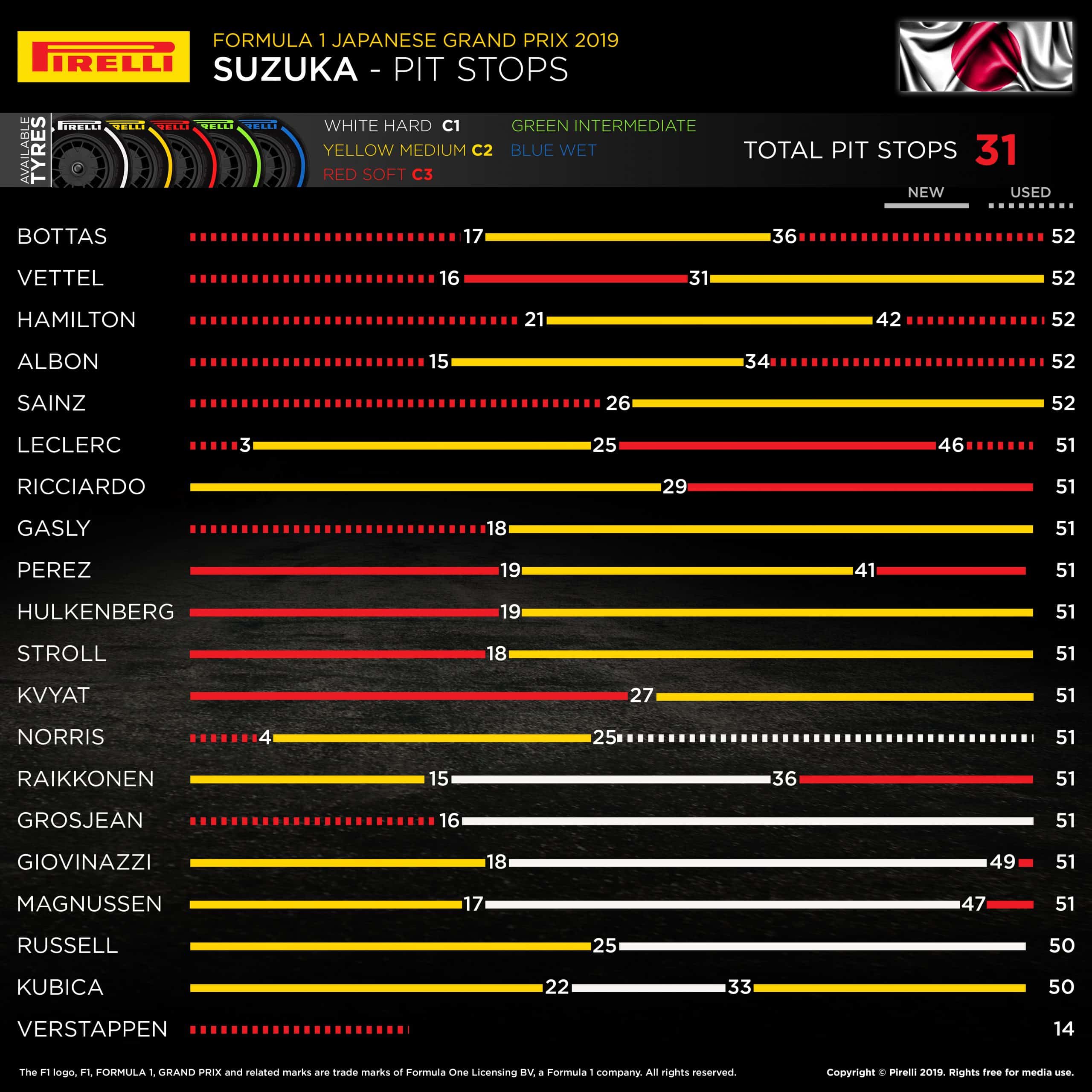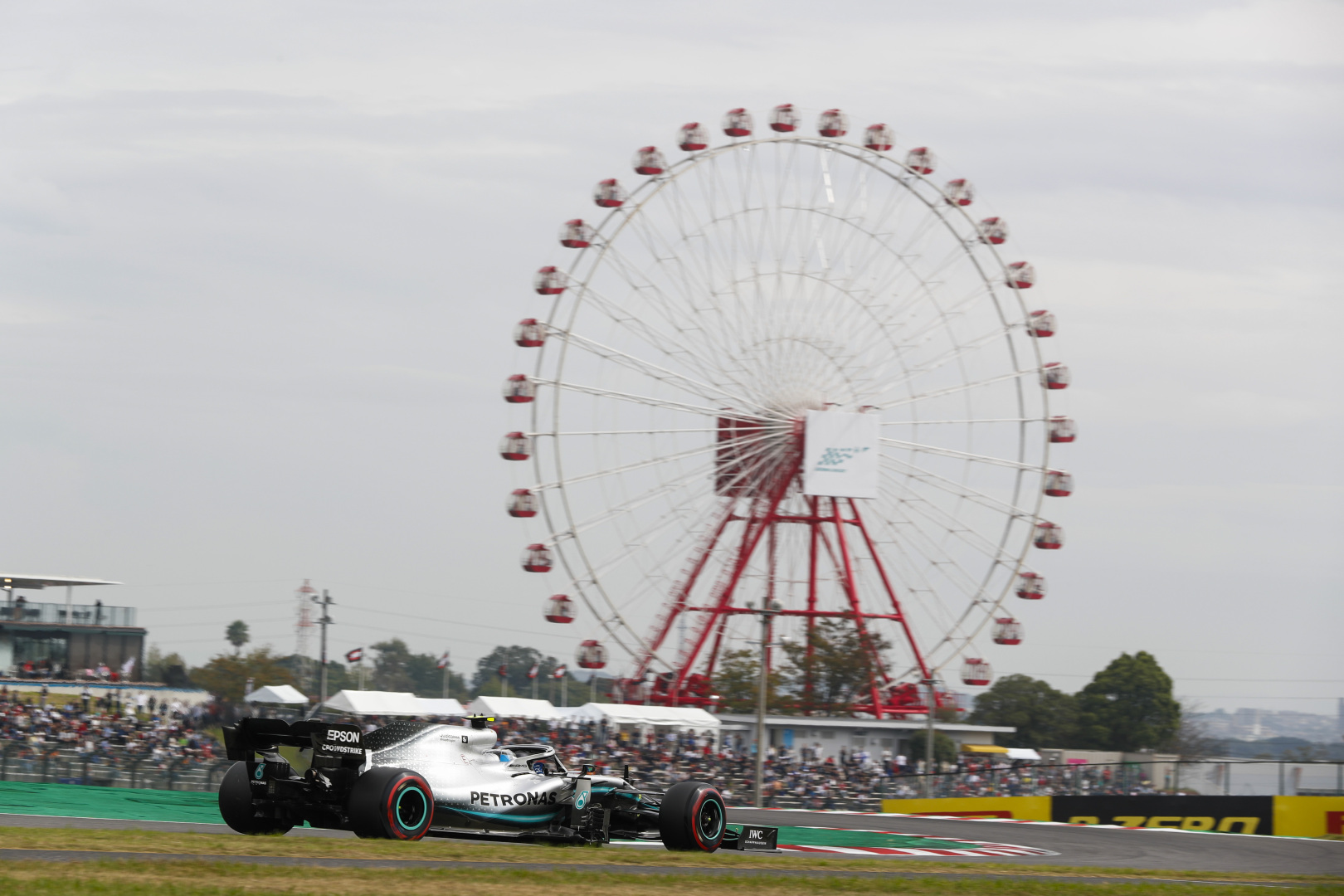 The Japanese Grand Prix 2021- will it take place or ...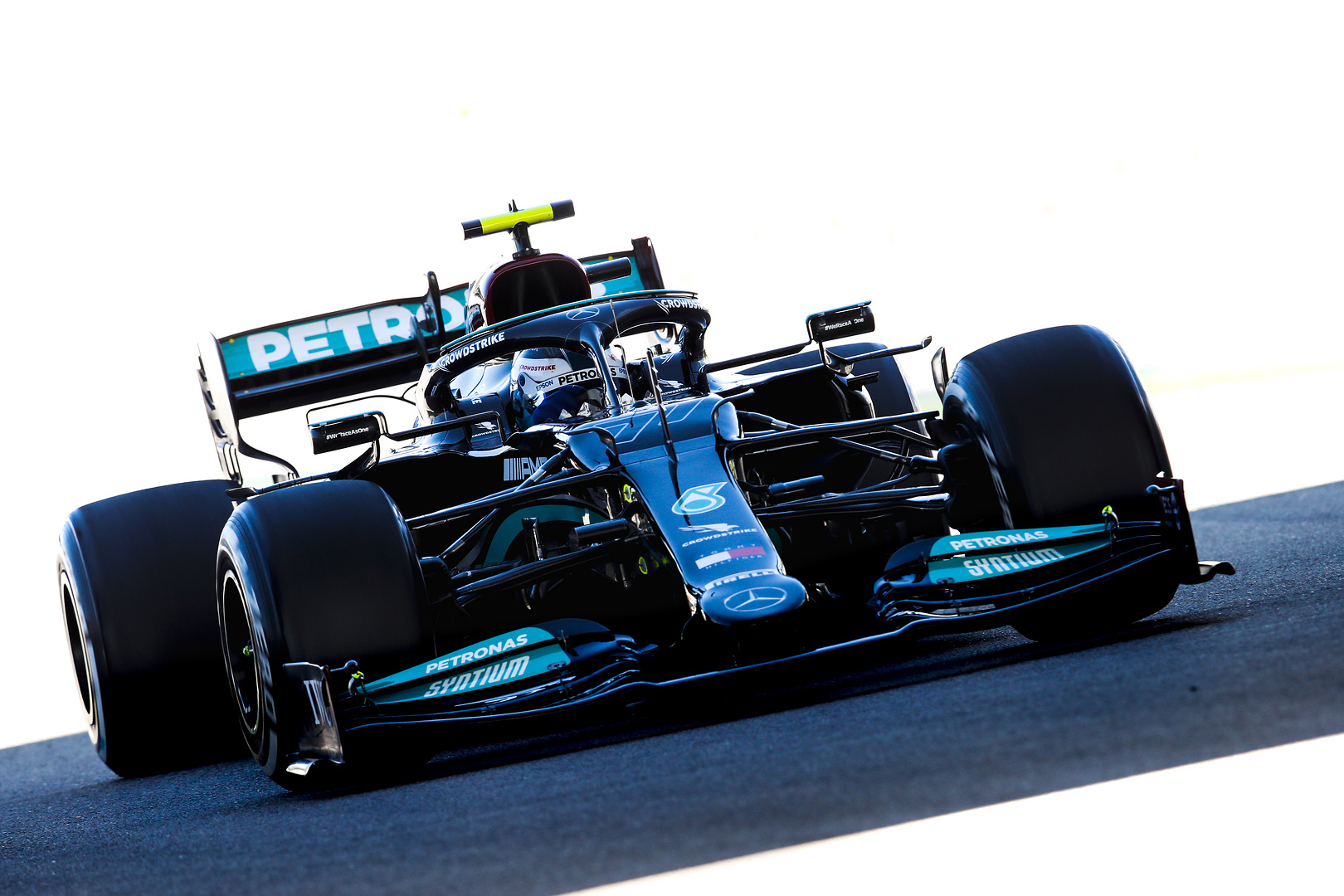 It was a strong Friday showing for the Mercedes-AMG Petronas ...