Even on a Friday, the crowds flocked to the Autodromo di Monza, to watch the first two free practice sessions for the 2019 Italian Grand Prix. Looking at the names at the top of the timesheet, one could be forgiven for thinking we are still at Spa, as Ferrari and Mercedes once again dominated proceedings.
Charles Leclerc Fastest in Both Sessions
In both FP1 and FP2, Charles Leclerc was the quickest man on track. The Scuderia Ferrari driver set his best time of 1.20.978 in the second session. In the first, held on a wet track, his time was 1.27.905.
"It was a special feeling to drive for Ferrari in Monza for the first time. I could actually see the tifosi cheering for us from the grandstands while I was driving, and it is just amazing to be here. The day went quite well. While it is nice to be quickest, I don't think that we have a real picture of the whole situation yet due to the tricky conditions we faced on track today. In FP1, we were very competitive, especially on the intermediates, which is a positive. However, the lap times on the dry tyres in FP2 are not really representative and we have to keep working and understand where we can gain some more time. Our competitors are quick and we are still to see their full potential. The car felt good. In terms of race pace, we are not yet at the point we were in Spa. On the qualifying pace, we also have some work to do and we will give our all to do a good job tomorrow," said Leclerc.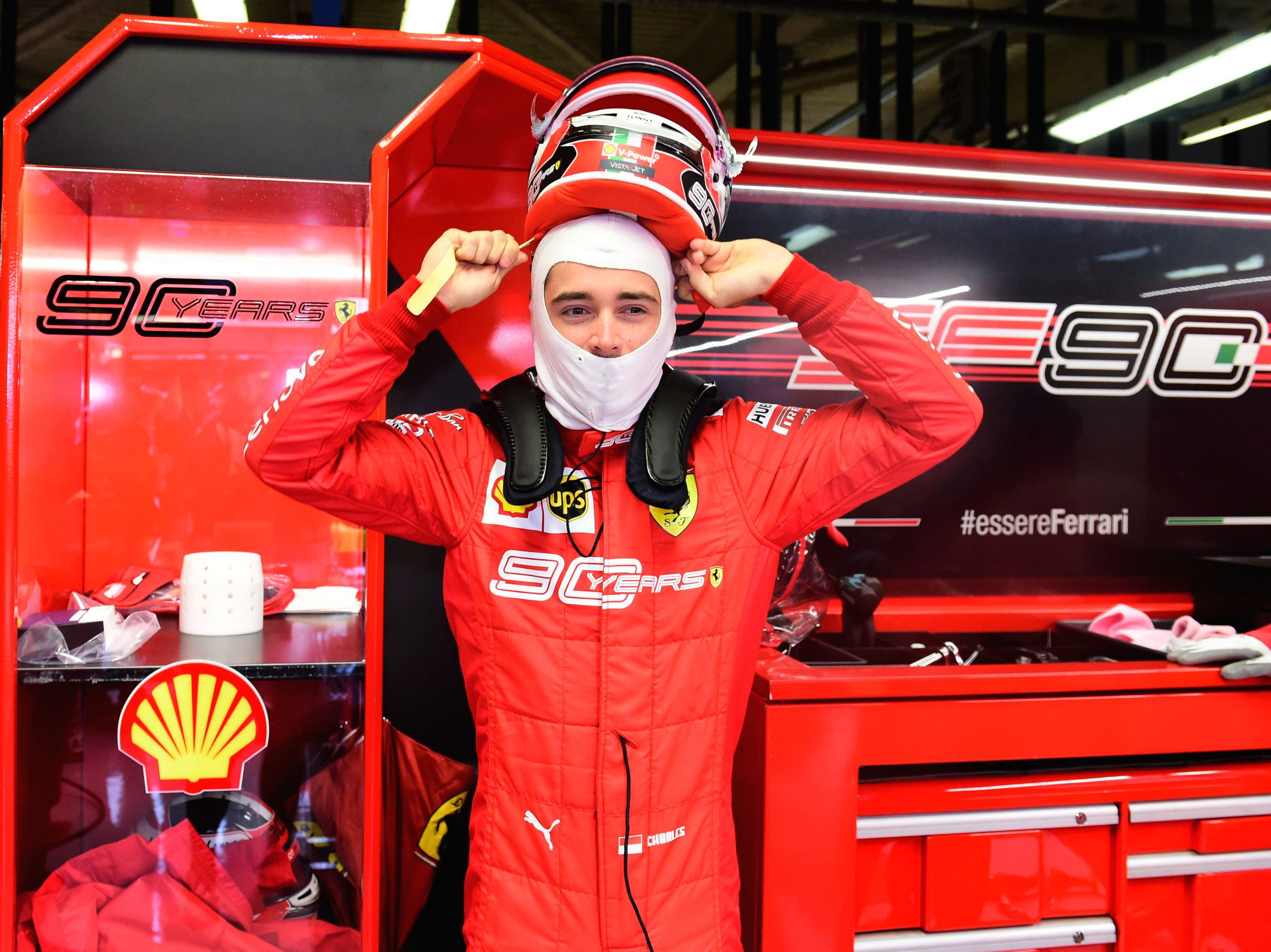 The rain played a major part in today's proceedings and not just in the first session. There were moments in the second one when damp conditions made life tricky for the teams and drivers, with the inevitable result that it's hard to draw any definite conclusions relating to the hierarchy in the field.
Lewis Hamilton a Close Second
Nevertheless, it's not much of a surprise that the driver who got closest to Leclerc's time was Lewis Hamilton, the man who took the chequered flag in Spa right under the Monegasque's gearbox. The championship leader set a time of 1.21.048 in FP2. Behind them this Friday were their respective team-mates: Sebastian Vettel third in 1.21.179 and Valtteri Bottas fourth in 1.21.347.
"Practice was a bit of a challenge with the weather today; when it's raining, it's all risk and no real reward as you don't really learn a lot, so we didn't do a huge amount of running in the first session. It was mostly dry in FP2, so that was much better for everyone. As expected, the Ferraris are quite quick in a straight line, but our race pace felt strong and we seem to be a little closer on single lap pace than we were last week in Spa, so it looks like we can be in the fight. We'll go through the data with a fine comb tonight, trying to see where I can improve as a driver and also what we can tweak with the set-up, to make sure we can squeeze everything out of the car. It's going to be a really hard race on Sunday, but we seem to be close to the Ferraris which is a good start to the weekend," said Hamilton.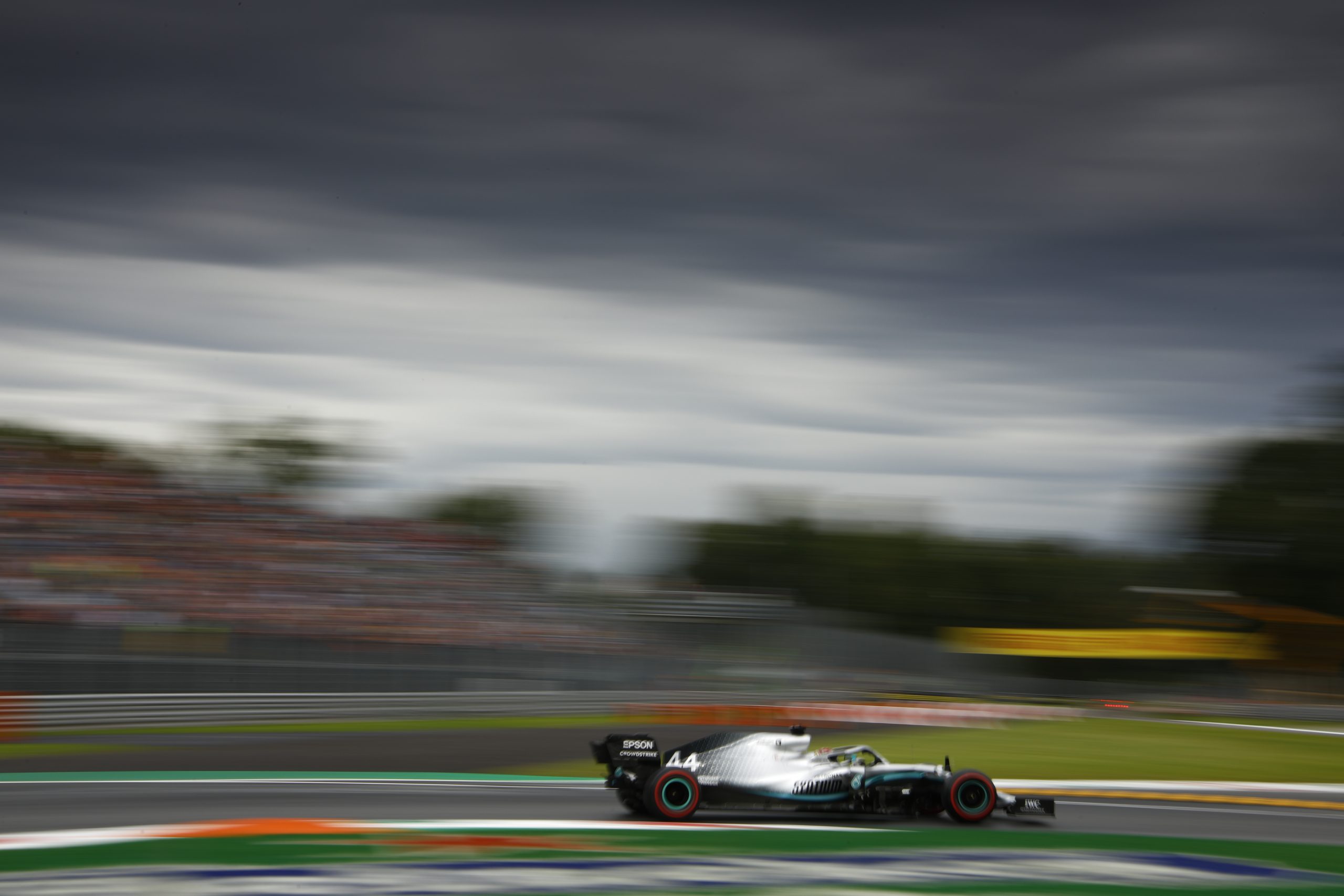 Red Bull Racing Third Fastest
And almost inevitably, the two Aston Martin Red Bull Racing drivers occupied the third row of "Friday's grid." Max Verstappen's best lap was just three thousandths slower than Botas, but the Dutchman won't be starting anywhere near this end of the grid on Sunday afternoon, as he has penalties for using his fourth Honda power unit of the season. The task of flying the Red Bull flag, therefore, falls entirely to Alex Albon, who was sixth today in 1.21.589.
"There were a few crashes today as this track can be quite slippery when it's raining, particularly with all the sap from the trees washing onto the track. We had mixed conditions, so we started out quite slowly but built up our confidence throughout the day. We are expecting similar conditions on Sunday so that is why everyone was out there trying to do some laps. I found the short runs were more positive than the long runs and, after today, I have a good idea about the things I need to change and work on for Sunday's race. Of course, it's not easy adjusting to less downforce, the braking feels different, but overall it didn't feel too bad. I'm just finding my feet and that makes it important to get everything right. We will see what tomorrow brings but after today I'm feeling pretty good," said Albon.
The other two Honda-powered cars of Red Bull Toro Rosso Honda were also in the top ten – Pierre Gasly seventh in 1.22.124 and Daniil Kvtat tenth in 1.22.260. Splitting them we find Romain Grosjean (1.22.153) and Daniel Ricciardo (1.22.249.)
Mixed Fortunes for McLaren
Mixed fortunes for McLaren today, who went very well in the wet this morning, when Carlos Sainz was second and Lando Norris third, but they clearly struggled in the dry, the Spaniard unable to do better than twelfth (1.22.482) while his team-mate managed only 16 laps as he required a Power Unit change and ended up eighteenth in 1.23.561. The Englishman will also have to take a penalty for this and therefore start from the back of the grid.
Apart from Leclerc and Vettel, there was another Ferrari driver putting on a show today in Monza. At the circuit where, back in 1979, he won the race and thus took the Drivers' World Championship title, Jody Scheckter was reunited with his 312 T4. The crowd absolutely loved the unmistakeable noise of a V12 engine on song, as the South African did some demonstration laps and more of the same is planned over the next two days.