Ahead of the 2019 German Grand Prix, here's what the drivers and their bosses are saying…
Toto Wolff, Mercedes-AMG Petronas Team Principal
"The British Grand Prix was a spectacular race and a great showcase for our sport. It was great to see our drivers battle on track in the opening stint; they fought hard but always fair. And it was good to bounce back from the poor performance in Austria with a strong one-two finish.

"After racing just down the road from Brackley and Brixworth, our next stop is yet another home race for the team. Hockenheim is close to our global headquarters in Stuttgart, so we look forward to seeing a lot of Mercedes family members in the paddock and the grandstands.

"This year's race is a very special event: we're the title sponsor of the Mercedes-Benz Großer Preis von Deutschland and the race will mark the 200th start for Mercedes in Formula One. We will also celebrate a remarkable anniversary in Hockenheim: 125 years of motorsport.

"In 1894, the world's first car race was held from Paris to Rouen and the winning machine had at its heart an engine manufactured to the design of Gottlieb Daimler. It was the start of a great motorsport tradition that continues to this day and we are incredibly proud to write the next chapter in this legacy. We will run a commemorative livery to pay tribute to our heritage.

"While there is much happening off track, our primary focus remains our on-track performance. The weather forecast predicts high temperatures, which were extremely challenging for us in Austria, so we must stay vigilant. Like Spielberg, Hockenheim is also a relatively short circuit, which will close the gaps between different teams. We will stay humble and work hard to achieve the best possible result."
Max Verstappen
"I like the German Grand Prix and there are always lots of Dutch fans to support us at Hockenheim as it's not far to travel. The stadium section is very cool as you enter into a fast corner and then a banked corner with only a small area of run-off. There is quite a bit of time to be gained through the last few corners if you get the right flow onto the straight. I think it's going to be a warm weekend again which is always more challenging and more fun. We're on a good run with the car and improving every weekend, so I can't wait to get started again."
Pierre Gasly
"I'm excited for the next round in Germany, especially after a strong weekend at Silverstone, and I'm looking forward to carrying this good momentum forward. I was back in the car on Tuesday after the race for the Pirelli tyre test so now I will take a couple of days off, rest a little and then it's time to train hard and get back in the beast! Hockenheim is a track I like and I would have loved to race on the old Hockenheimring which was even more special than the current one. Nevertheless it's still a pretty exciting circuit in terms of racing and last year's race was quite epic with a lot of things happening. I like the stadium part in the last sector the most as it's so technical and challenging. Hockenheim is also the only place in my career where the fire extinguisher has exploded in my face whilst racing, so hopefully this year it will treat us better!"
Sebastian Vettel
"We have got to make up for last year, especially myself and I look forward to racing in Hockenheim. The atmosphere is always phenomenal and the crowd is great. I remember a lot of German flags around the track from last year, which I really enjoyed. In terms of the track, it looks quite simple and straightforward at first sight. Especially the last part is very enjoyable but it is also very technical entering the Motodrom. There are a lot of fans there and I think that's definitely the highlight of the track. I would say that turn 1 is probably one of the most tricky corners. It is very fast and is over before you notice, so it is important to get a good feeling straight away to set you off on the right foot for the rest of the lap."
Charles Leclerc
"I am looking forward to Hockenheim. Over the past few weekends, we have made some progress in qualifying. Now we have to focus on the race pace because that's where we seem to be struggling the most at the moment. As for the circuit, it features some nice characteristics with a mixture of different corner types and straights. The last race was very exciting and fun to experience from inside the car, so I hope we can have another good one in Germany and be able to fight for the win".
Mattia Binotto, Ferrari Team Principal
"For us, the German Grand Prix is first and foremost Sebastian's home race. Therefore we really hope to do well at Hockenheim, especially after last year's race here, when the win escaped us at the end of a weekend where our performance was definitely up to the task. We are not bringing any specific updates, but studying the data from the last round in Silverstone has provided us with useful information in our quest to get a better understanding of our car."
Carlos Sainz
"It's been an interesting first half of the season and I'm determined to keep pushing as hard as ever before the summer break. There is still a long way to go in the Championship, but all our focus is on the next stop – Germany! Hockenheim is a classic track on the F1 calendar and we head there aiming to keep our momentum up.
"I spent some time with the team back in the factory after the British Grand Prix. Everyone back in Woking is working flat out and their efforts have been key to staying competitive within the midfield. Let's keep up the good work!"
Lando Norris
"I really enjoyed the whole experience around my home grand prix, even if the result wasn't quite what I was hoping for. I'm now looking forward to getting back on track in Germany. I've raced at Hockenheim a few times before in junior formulae, but I'm excited to race there in an F1 car for the first time.
"It's a cool track and I've had some good experiences there in the past. We are working on improving the car at every weekend and every session is crucial to that development, so I'll be looking to hit the ground running from FP1 onwards."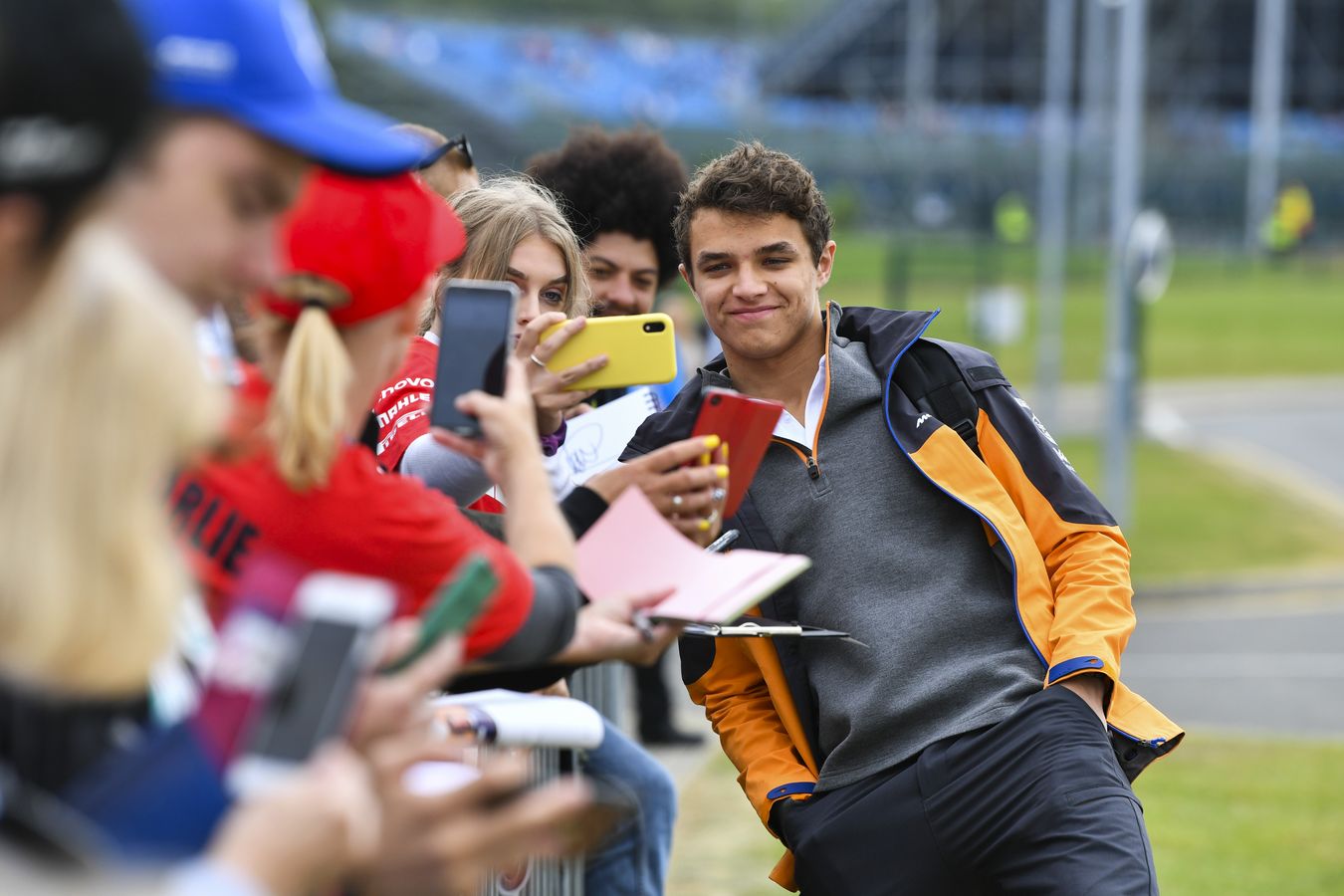 Nico Hülkenberg
"It's very special racing in your home country. It's always motivating to do well in front of your home fans as you know they are cheering for you and wanting you to have a strong result. We had a really good race in Germany last year, so we'll be targeting the same again this season, not only for the fans, but also for the team as well."
Daniel Ricciardo
"Hockenheim is a fun circuit and I've always loved racing there throughout my career. Turn 1 is super-fast and there are some cool corner combinations to dig into especially in sector three in the stadium. There are some good overtaking spots too especially at the hairpin after the burst of full throttle. It's a cool track and one I've always seemed to go well at."
Cyril Abiteboul, Renault Team Principal
"We can be reasonably satisfied to have put both cars into the points in Silverstone after yet another difficult Austrian Grand Prix, an event that has not suited us year on year. We showed some good form throughout the weekend in Britain, with Daniel and Nico in Q3 and ultimately an unpredictable race in which we could have and should have scored even more points.
"On the whole, we showed our potential at a track which has, under recent regulations, become a real temple for engine power. However, we recognise there are still areas where we need to improve and we are concentrating on these weaker points. Hockenheim and the Hungaroring should suit our package better although the extreme temperatures we expect to encounter may present challenges for the engine or tyres – a little like in Austria – however we will do our best to achieve the best results possible."
Nick Chester, Renault Chassis Technical Director
"It's often really hot at this time of year in central Europe as we experienced in France and Austria. If you have balance problems, heat makes it worse as you lose grip, see an increase in sliding and then it's a vicious cycle. The tyre range is the same as Paul Ricard and Austria. We'll be aiming to get the car well balanced and, given how we went in Silverstone, we'll be targeting a similar outing."
Alex Albon
"In Silverstone, we were definitely more competitive than at the previous two races and we were able to find a much better balance with the car. We managed to get into Q3 again and the car generally felt good. However, that doesn't mean I expect an easy weekend in Germany, which will be another tough event for us. We have made progress and we know which parameters we need to work on and it's going in the right direction.
"As for my memories of Hockenheim, I remember qualifying on pole there in GP3 and then I crashed out of the first race while I was leading. Then I also crashed in Race 2! It's an okay track, it's what I would call a "standard" track, with all the usual elements and some nice corners like the one leading into the Stadium, which has a cool atmosphere with all the fans. Overtaking is pretty good, especially as you have a long back straight going into a hairpin, which always provides a passing opportunity. It can be hard on the tyres and even in Qualifying, you have to make sure you look after them on a single lap, or the tyres can be shot by the last couple of corners. The tarmac is old, so the surface is much rougher than at some of the newer re-surfaced circuits. It's something we will be keeping an eye on."
Daniil Kvyat
"In the last round at Silverstone, I made a good recovery in the race to score points at the end of what had been a difficult weekend up until then. The most important thing is that in the race we were on top of the situation and the pace was really strong. Hopefully, we will be able to carry this momentum into Germany and then Hungary the following week. I think Hockenheim could be quite good for us, even though the competition in the midfield is very tight. We will need to be on top of everything. It's a bit too early to tell if our performance in Silverstone was the start of an upward trend, as every race seems to be a bit different to the previous one and conditions at Silverstone were quite different to those in France and Austria. Germany will be an interesting challenge for us. I'm not expecting it to be easy, but we will try our best as always to be in a position to score points. "As Hockenheim was off the calendar for a while, I haven't been there for a few years. Of course, I can remember the configuration and I've done some sim work for it. It's a track I like quite a lot, with some enjoyable long, highspeed corners. There's an old-school vibe about it, so it's a cool place to be. And with a long history of German drivers in F1, the race usually has a big crowd to create a great atmosphere. In terms of what you need for the car, I wouldn't single out one particular aspect, you just want a well-balanced car."
Frédéric Vasseur, Alfa Romeo Racing Team Principal
"The last three races have highlighted how close the midfield is and how each race's fortunes can be decided by very small but crucial factors. We have scored in each of the last few rounds, which is positive, but we need to keep working hard to produce similar results in the final two races before the summer break. I believe we are heading in the right direction and I have full confidence in the work that our people are doing, both trackside and back at HQ. The strength of this team is its people and we are well equipped to take on this challenge: in this regard, nobody embodies the spirit of our team more than Beat Zehnder. I wish to congratulate him on his 25 years as a team manager and I hope he will enjoy plenty more success with us going forward."
Kimi Räikkönen

"I am happy about our recent results but there is a lot more work to do to keep scoring. Every little bit of progress helps when the battle is so close and, for sure, when it comes to the track we have to extract everything possible from the car. Hockenheim is a good track to race on and we've seen some exciting racing there in the past, so hopefully it will be the case this weekend too. It will be a nice way to celebrate Beat's career – he's been a good friend of mine since my debut at Sauber in 2001."
Antonio Giovinazzi

"I am happy to get back into the car after the disappointment of the last race. I feel we are improving with every race and we approach every round with the belief we can fight for points. As always, it is a matter of making the most of every session, from Friday to Sunday, because you pay for every single mistake, but it's the same for everybody in the midfield. Hockenheim is a good track and I have won there in F3, so I have positive memories of this place. Hopefully I will be able to add to them this weekend. We are all determined to make this weekend special for Beat – he's a great guy and it's a pleasure to work with him."
Lance Stroll
"Hockenheim is a fun place to go racing. I've been there many times in my junior career – especially when I was racing in Formula 3 – so I know the track really well. I just like the flow of the lap and it's a layout that creates close, side-by-side racing.

"These traditional European circuits are some of my favourites. It's a bit like Silverstone with big grandstands full of fans – it sometimes feels like a football stadium when you're in the final few corners of the lap. I really enjoy the atmosphere it creates.

"We've had a tough few races recently and our share of bad luck, but the mood in the team is still upbeat. There's new stuff coming to the car this weekend so there's going to be a lot of learning during the practice sessions. This team is very good at developing a car across a season and I'm optimistic we can make some progress this weekend."
Sergio Perez
"We usually see good racing at Hockenheim. There are a few places where you can overtake – such as the hairpin – and I enjoy driving there. It's probably one of the best circuits for overtaking and the newest parts of the lap are really wide. You sometimes see cars going three or four wide on the approach to turn six and with such a big run-off area it's often worth taking a risk to overtake.

"Racing in Germany brings back the memories of when I used to live there. I was very young – having just moved from Mexico – and it was my first experience of living abroad and racing single-seaters. Those days were really good fun and I was living not too far away from Hockenheim. I still have friends in the area and I remember how much I enjoyed the German food.

"I hope Germany will be a turning point in our season. I've been unlucky lately, especially in Silverstone last week where we deserved to get a decent result. I believe we can make some good steps with the car before the summer break and hopefully our luck will change too. I believe in the work we are doing and I know it's just a matter of time until we get back to where we belong – scoring points."
Otmar Szafnauer, Racing Point Team Principal
"At the half-way point of the season we certainly believe there is more potential to come from the RP19. With an incredibly close middle of the grid, there will be some weekends that play more to our strengths and it's important that we capitalise on those. Silverstone was a missed opportunity to score points and a number of factors counted against us, combined with some bad luck too.

"This weekend sees the arrival of some aero development items as we continue our push to bring performance to the track. We will use Friday for testing to hopefully unlock more speed from the car."
Robert Kubica
"It's been a long time since I have driven at Hockenheim. It is a challenging track with a mixture of low and high-speed corners. I am looking forward to driving there and to test new items on the car. We hope to gain some pace and if the car handles well like it did at Silverstone, then we will have some fun."
George Russell
I am looking forward to going back to Germany, it's a circuit I enjoy driving at and I haven't raced there for three years. I have special memories there as it was the first time I had a meeting with the team about my 2019 seat. We have some test items that are coming to the track which should hopefully give us a good indication of the direction we need to head in for the remainder of the year.
2019 German Grand Prix Tyre Information
Hockenheim in Germany used to be known for its high speed and massive straights, but the cut-down version of the track inaugurated in 2002 is much more balanced, with a bit of everything. As a result, the middle tyres in the P Zero range have been nominated this weekend: C2 as the hard, C3 as the medium, and C4 as the soft. This is broadly equivalent to last year, when the 2018 medium, soft, and ultrasoft compounds were chosen.
There is no particular defining characteristic of Hockenheim, The lap is an interesting mix of corners and speeds, with some fast sections as well as the slower and more technical Motodrom stadium complex: a favourite for spectators.
There have been no significant changes to the track or asphalt this year, which is medium in terms of energy loading and abrasiveness. Track evolution over the course of the weekend is generally quite low.
Lateral and longitudinal demands are about equal over the course of the lap, which in theory means that it shouldn't be too hard to find the right set-up and get the tyres working optimally.
The rain made the strategy almost impossible to predict last year. Mercedes driver Lewis Hamilton won with a one-stop strategy (the only driver in the top six to stop just once) going from soft to ultrasoft. There was also a safety car, with Red Bull's Max Verstappen finishing fourth despite stopping three times. Historically, the safety car probability is around 50%.
A new overall lap record was set last year by Ferrari's Sebastian Vettel in qualifying, but the fastest race lap record still dates back to 2004, courtesy of Kimi Raikkonen in a McLaren-Mercedes.
Mario Isola – Pirelli Head of Formula 1 and Car Racing
"Hockenheim is not a track that the teams are historically completely familiar with; for many years it alternated with the Nurburgring, then it dropped off the calendar entirely, before returning last year. Nonetheless, there's nothing about the track that is a particular surprise, with the demands and forces on the tyres being quite balanced. One exception is the Motodrom section, which is a bit more stop-and-go, while another thing to be aware of is the camber on Turn 12 and Turn 13. Wear and degradation is generally low, so in the past we have seen some quite long stints on the tyres. As we experienced last season though, the weather is hard to predict in Hockenheim at this time of year and this could certainly be one key element influencing strategy".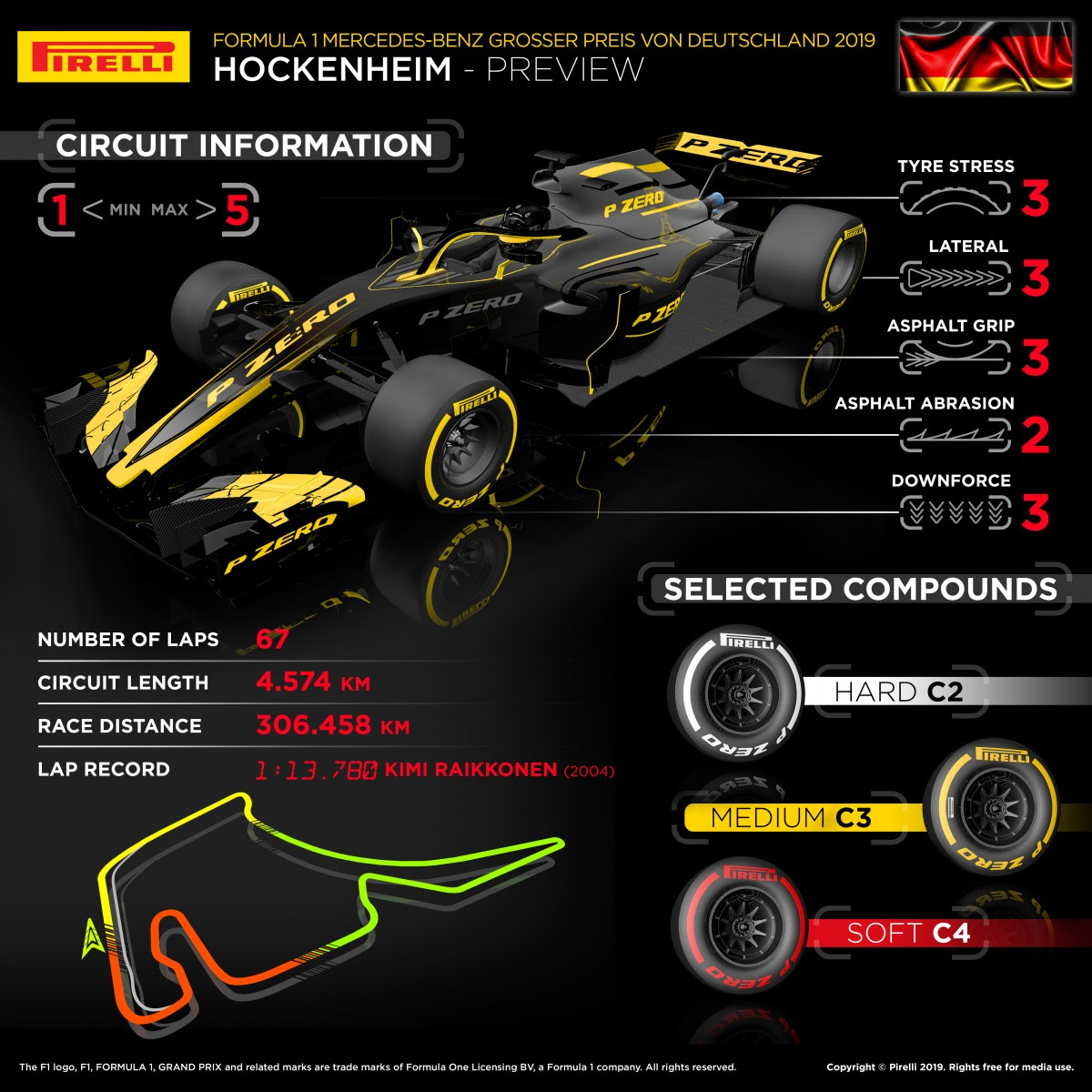 Given his penchant for dominance and sheer consistency, most headlines ...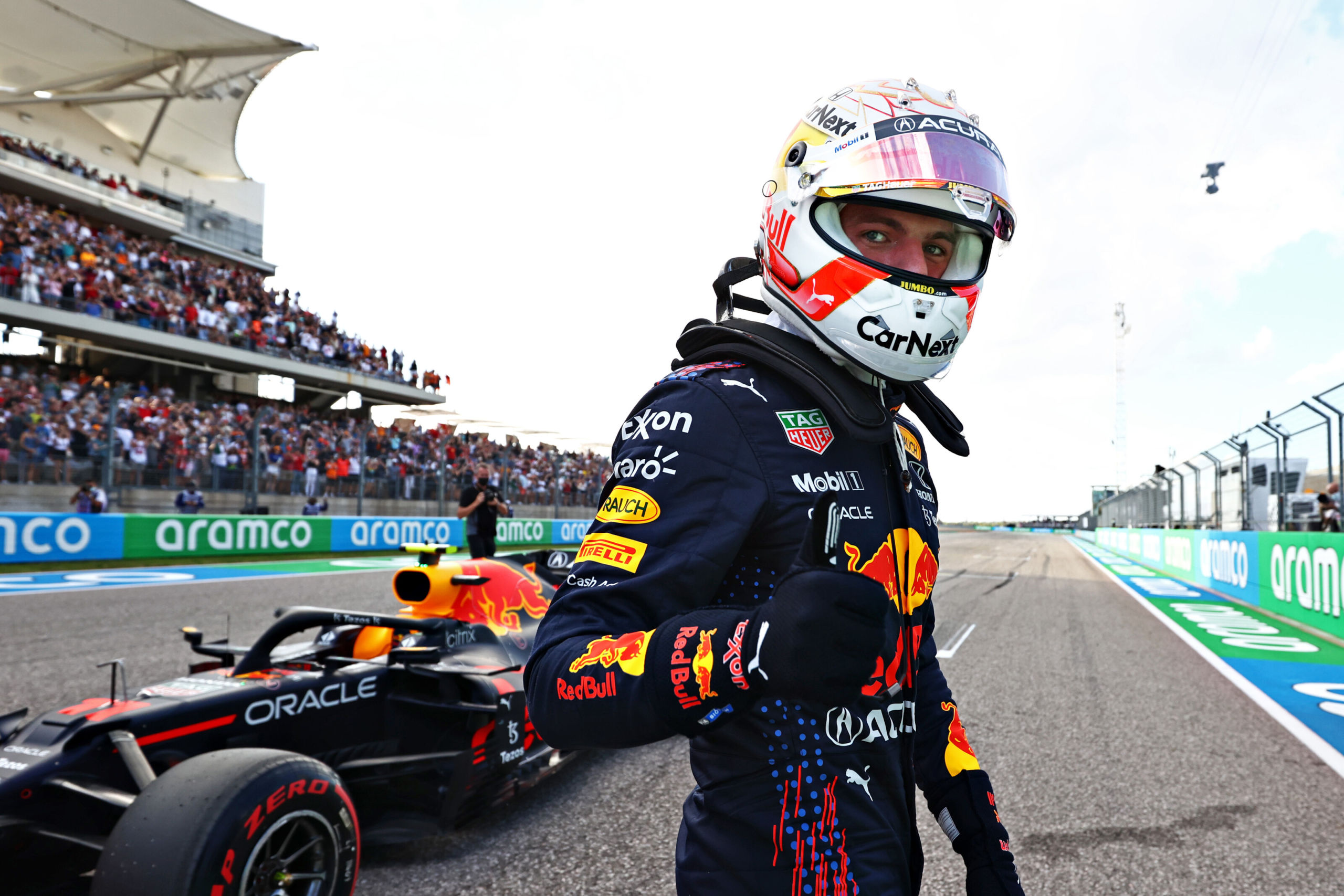 In the dying moments, Max Verstappen snatched pole position for ...