Sebastian Vettel was quickest at the end of the first day of practice for Sunday's 2019 Brazilian Grand Prix.
Sebastian Vettel Fastest On Day 1 in Brazil
The German, who will be making his 100th race start for Scuderia Ferrari Mission Winnow on Sunday, posted a best time of 1.09.217 with team-mate Charles Leclerc second. It marks a return to the top for the Italian team, after their much discussed drop in form at the United States Grand Prix a fortnight ago.
"The car was decent, but it was not an easy day on track with the weather conditions, as we did not get so much consistent running. I think we understood what the car needs, and now we'll take it from there and hopefully we can improve it. I believe we can and we must. My pace was better on a single lap than on a longer run. We need more grip which is not so easy to find. But we can balance the car a bit more, which should make the long run better. I am pretty confident we can make a step forward, but for the race it could be quite difficult, in line with what we saw at the last two races. Now, we must focus on our own work and make sure we are in better shape for the rest of the weekend and then we'll see what it brings tomorrow and on Sunday," said Vettel.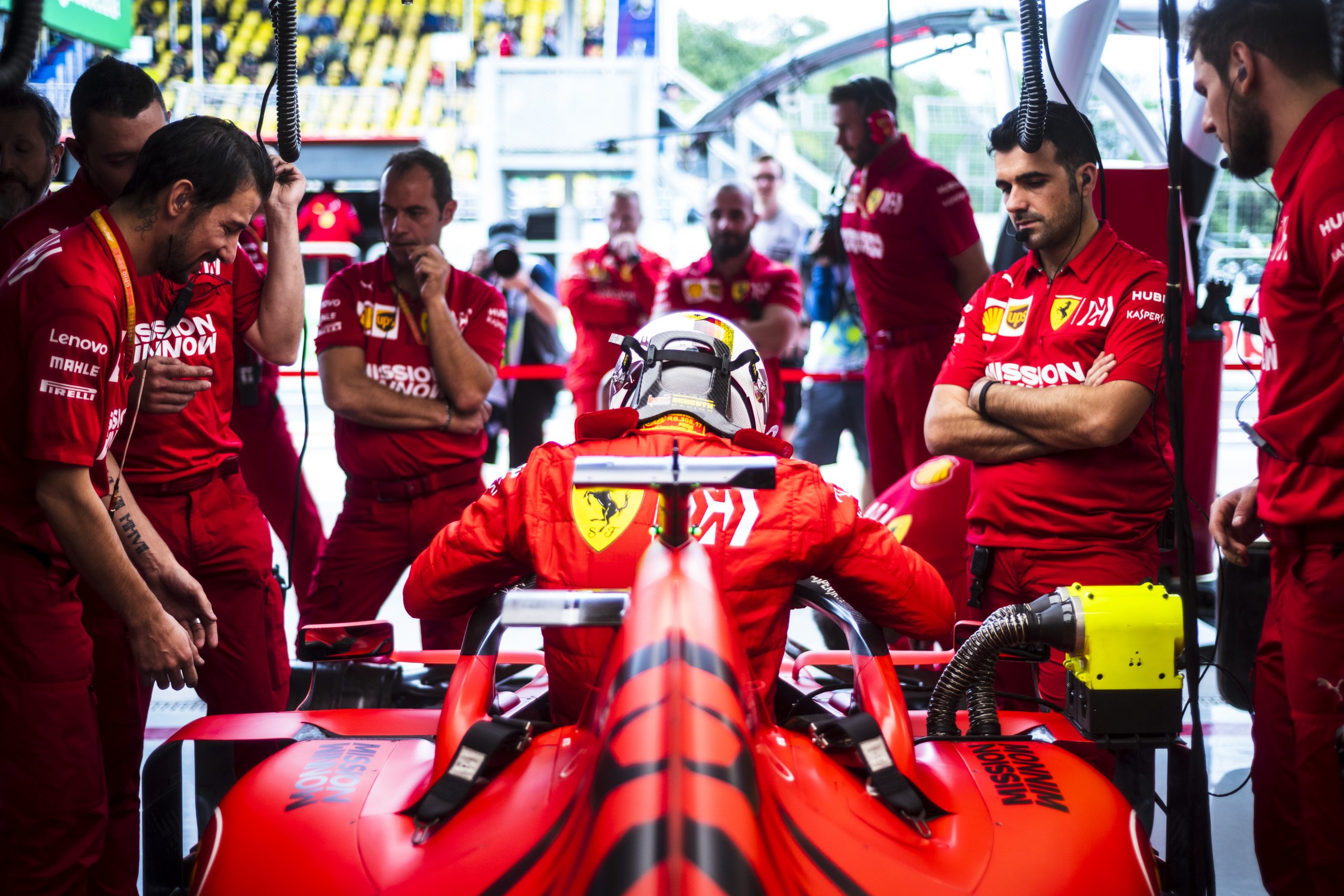 Max Verstappen Has Early Morning Spin
Max Verstappen survived a harmless spin in the morning and ends the day third for Aston Martin Red Bull Racing, ahead of the two Mercedes AMG Petronas Motorsport drivers, with Valtteri Bottas fourth and newly-crowned world champion Lewis Hamilton fifth.
"It was a bit of a messy day because of the changing weather and I think the lap times are not really representative as the track and ambient temperatures are pretty different to what it looks like for tomorrow and Sunday. It's positive that the car was straight away working well, there are of course always things you can improve but it was a good start and we have a good basis for tomorrow. The top three teams are all very close to each other so let's see how everyone responds to the track and temperatures tomorrow. I also don't mind whether the rest of the weekend is wet or dry as I think we can be competitive whatever the conditions," said Verstappen.
Alex Albon Crashes Out Of Practice
Rain has often delivered some thrilling races at this track, but it was not so welcome this morning at the Autodromo Carlos Pace, in the Sao Paulo suburb of Interlagos, as it meant the 90 minutes of free practice was of limited use, given that the rest of the weekend is meant to be dry. Everyone started on full rain tyres, before switching to intermediates as the track gradually dried out.
In the final minutes it was dry enough for slick tyres, but the move proved costly for Aston Martin Red Bull Racing, as Alex Albon, fastest in the morning session, despite being the only driver to have never driven this track before, found a damp patch and crashed at Junçao corner. It's not the first time he's made mistakes since joining the senior Red Bull team, but he has done enough, outscoring Max Verstappen since they became team-mates and always finishing in the top six, to have had his seat for next season confirmed earlier this week.
"Today was ok. FP1 was tricky in the wet and obviously it wasn't ideal crashing but it was quite a minor off. I just lost it on the brakes and it happened at the worst part of the track. The guys did a great job to get the car ready for FP2, and the car felt ok on the prime tyre. Then I switched to the option and got a flat spot so that was my session over really. I think our performance looks quite good though and our race pace is strong so we can take positives from today, I just don't know where I'm at because I haven't had a clean session. This track is quite difficult, and with the weather and rivers on the circuit it's not easy, but it's fun and I'm enjoying driving it. I need more laps and I'm just chipping away at it. Interlagos is old school so you need to build up to it and get into a rhythm," added Albon.
In fact, with Toro Rosso also reconfirming its current driver line-up a couple of days ago, the only vacancy for 2020 is the seat alongside George Russell at ROKiT Williams Racing.
Kevin Magnussen Surprises on Day 1
By its own admission, the Haas team has had a very difficult 2019, so it was surprising to see Kevin Magnussen post the sixth-fastest time today, best of those outside the top three teams.
"I think we had a pretty decent Friday – we were P6 on low fuel in FP2. That's almost the best we've been all year, at least since Monaco, I think. That's nice. It's been very cold today and it's not going to be cold on Sunday. The cold conditions help us, so, that's a bit of a bummer. I hope the cloud cover can stay and we can have some cool track temperatures as it definitely helps us. We'll take it as it comes though. The whole of the midfield is within half a second, it's so tight, I'm P6 and there are just four-tenths down to P16," said Magnussen.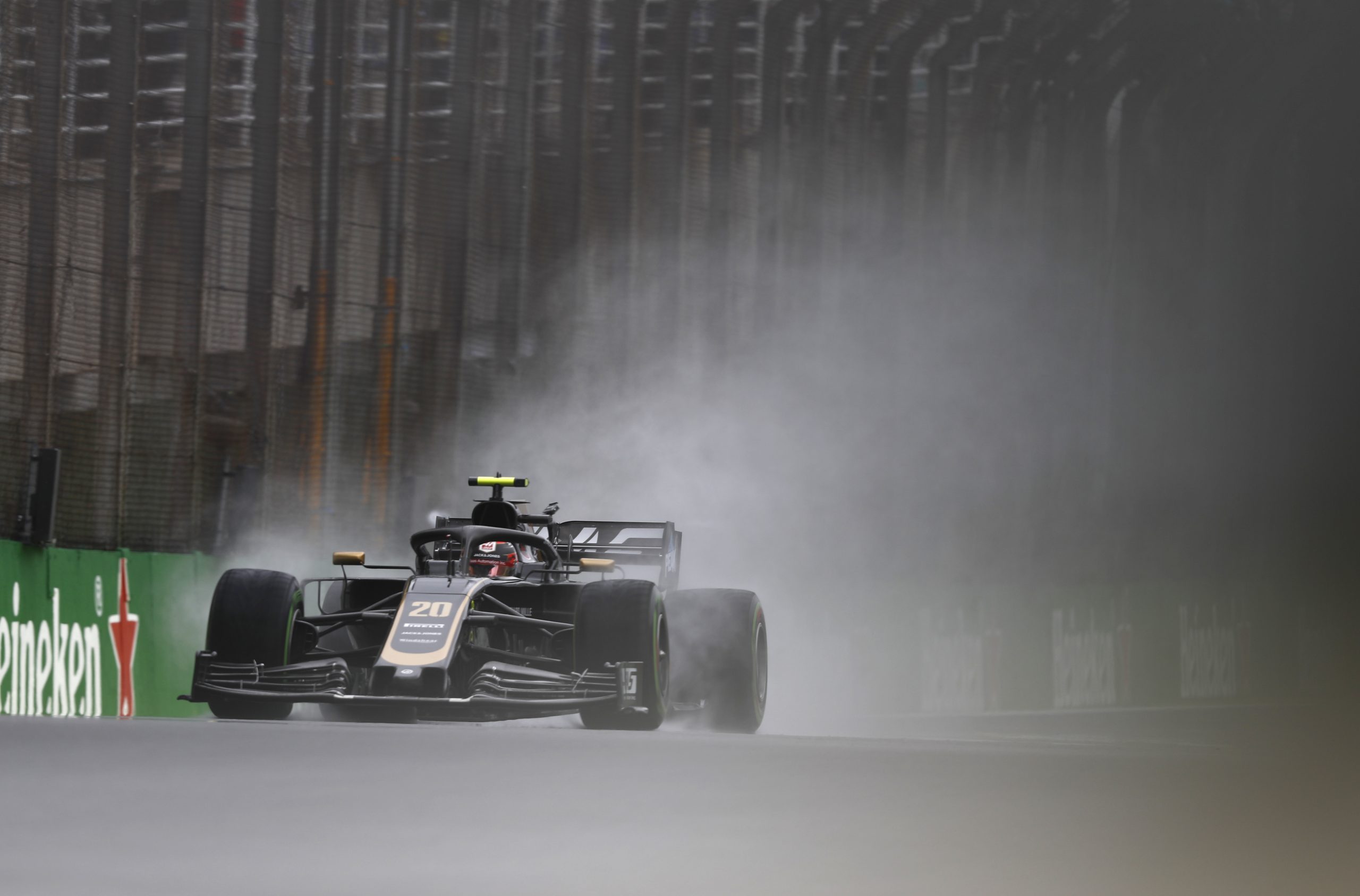 The rest of the top ten saw Daniel Ricciardo seventh for Renault, with Kimi Raikkonen eighth for Alfa Romeo Racing. Assuming he starts on Sunday, the veteran Finn will take part in his 311th Grand Prix, making him second equal with Fernando Alonso on the list of most participations. Only Brazilian Rubens Barrichello is ahead of them, having retired with 322 starts under his belt.
Difficult Day For Toro Rosso
The aforementioned Albon was ninth, with Carlos Sainz rounding off the top ten for McLaren F1 Team. The Red Bull Toro Rosso Hondas looked competitive in the mid-field but both had a difficult time, Pierre Gasly suffering an engine failure and Daniil Kvyat stopping right at the end of the afternoon session with an as yet unidentified electrical problem. However, they both finished ahead of the SportPesa Racing Point F1 team duo of Checo Perez and Lance Stroll, which could be significant as the Italian team is just a single point behind its rivals in the battle for fifth place in the Constructors' championship. The championship titles are now decided but this battle will add spice to the mid-field scrap on Sunday.
"We came to Brazil with quite an extensive test matrix planned for FP1, but the heavy rain in the morning meant we had to cancel the test items as it's very difficult to test in the wet, particularly at this time of the season and especially on the aero side. We completed some laps on the full Wets and the track dried pretty quickly to Intermediate conditions, so we ran to get a view of competitiveness and balance – the car was performing quite well which was positive. The rain stopped and towards the end of the session it looked like the conditions were ready for the dry tyre, so we went out on slicks along with a few other teams, but if anything it was a little bit too early, particularly on the high working range C3 tyre. We were struggling to get the tyres working and as we saw, Alex spun off which meant we weren't able to get a timed lap. We reverted the cars to a dry setup for FP2 and had quite a bit of work to catch up on that we hadn't completed in FP1. We did the low fuel runs on Prime and then Option. With the low temperatures, it was quite a struggle to get the tyres into a good working window. We were looking competitive on the Prime, but less so on the Options, so that's something for us to work on, particularly for tomorrow. However, the weather forecast is looking better and the temperature will be higher, so it's not necessarily relevant from today. On the long runs, the pace was looking pretty reasonable on both cars, but unfortunately, we've had an issue on the PU side for Pierre, which cut his long run short. Then towards the end of the session, there was some problem with Dany's car where it completely shut down, and it looks like that's what caused his spin. We lost all data and connection, so we have to investigate the cause for it. There's quite a bit for us to work on ahead of tomorrow, and there'll be quite some work for the mechanics tonight," said Toro Rosso Chief Race Engineer Jonathan Eddolls.
While the drivers' quickest times reflect their simulation of a qualifying lap, Friday practice is mainly about the lessons learned over the long runs. In terms of race pace, the Mercedes duo look very strong and with Red Bull having had a slightly complicated day, as Verstappen had some minor issues to contend with in the afternoon, it's by no means certain that today's three hours of track time has produced a clear picture of the pecking order among the teams.
Ayrton Senna To Be Celebrated On Sunday
Over the years, Brazil has produced more than its fair share of F1 drivers and champions and this weekend, 25 years after his tragic death at the 1994 San Marino Grand Prix, tributes are being paid to Ayrton Senna. After the success of the HEINEKEN F1 FESTIVAL – SENNA TRIBUTE which took place last Saturday at the Ibirapuera Park in the heart of Sao Paulo, yesterday a rehearsal took place for what is bound to be the biggest crowd-pleaser on race day, a demonstration run of the Paulista's 1998 MP4 McLaren-Honda with which he won the first of his three world titles. It is being driven by his nephew, himself a former F1 driver, Bruno Senna who did a few practice laps yesterday. It already had a huge number of team personnel hanging off the pit wall to watch.
2019 Brazilian Grand Prix Tyres
What we learned from FP1 and FP2…
Rain this morning that meant FP1 was declared a wet session. The FP2 session in the afternoon was dry but cool, with ambient temperatures of around 20 degrees centigrade.
Red Bull's Alexander Albon was fastest this morning on the intermediate tyres, with the track drying up in the closing minutes of FP1 to enable some limited slick tyre running. However, there were still some damp patches.
In FP2, the teams sampled all three of the slick tyres available, with Sebastian Vettel leading a Ferrari one-two on the soft tyre.
The remainder of the weekend is expected to be dry, meaning that only the data from FP2 is really relevant. Both practice sessions today ended under a red flag.
Low tyre degradation was seen in FP2, pointing at a one-stopper on Sunday.
On the short Interlagos circuit, the performance gap between the soft and the medium is around 0.5 seconds up to now, while the gap between the medium and the hard is a bit bigger: around one second (although data on the hard tyre is in relatively short supply).
Mario Isola – Pirelli Head of Formula 1
"The wet morning session was useful to have a look at crossover points between wets and inters and slicks, while we then got some good dry running in the afternoon. There is a short and intense lap here, which means that the gaps are always close. We experienced cool conditions throughout the day, with ambient temperatures of 20 degrees centigrade and track temperatures struggling to get past 23 degrees. These conditions clearly affect tyre behaviour. Nonetheless, the tyres seem to be working very well so far, with no graining despite the cool weather. In any case, temperatures are expected to get warmer for the rest of the weekend, which could alter the picture of tyre behaviour when it comes to performance gaps and degradation, opening up the door to some different strategies."