The first day of the 2019 Belgian Grand Prix belonged to Scuderia Ferrari, with the Maranello cars finishing first and second in both free practice sessions. Sebastian Vettel topped the timesheet in FP1 and Charles Leclerc had that honour in FP2.
Charles Leclerc Fastest in FP2
Leclerc set the fastest time of the day in FP2 with a 1.44.123, which even his team-mate couldn't get near, being 630 thousandths of a second slower.
"It was quite a good first day for us after the holidays. I really like this circuit and enjoy driving here. The track is quite long, has all types of corners and there's a very unique flow to it. Despite our good positions in free practice, we do have to stay realistic and expect our rivals to be very competitive tomorrow. Our qualifying pace was strong today, but we still have some work ahead of us in improving it over the long runs. If we are quick on the straights, we will hopefully have some good opportunities for overtaking on Sunday, which is a positive. The last few Grands Prix have been great, with a lot of battles, so I hope that this race will be another exciting one," said Leclerc.
Sebastian Vettel Tops FP1
Vettel's quickest time in FP1 was a 1.44.574, 214 thousandths faster than his team-mate.
"It was a positive day and it's great to be back in the car, especially at a track like this. The feeling from the cockpit was good, but I think there is still room for improvement. Let's not forget it's only Friday and it will only get serious tomorrow afternoon and then Sunday when it matters. On a quick lap, the performance was okay, but the race is not just one lap and so we have to work on improving our race pace, especially in the second sector. In today's two sessions, we were sliding a bit too much in the middle sector and so for the race it will be important to optimise the tyre behaviour. We still have work to do tomorrow."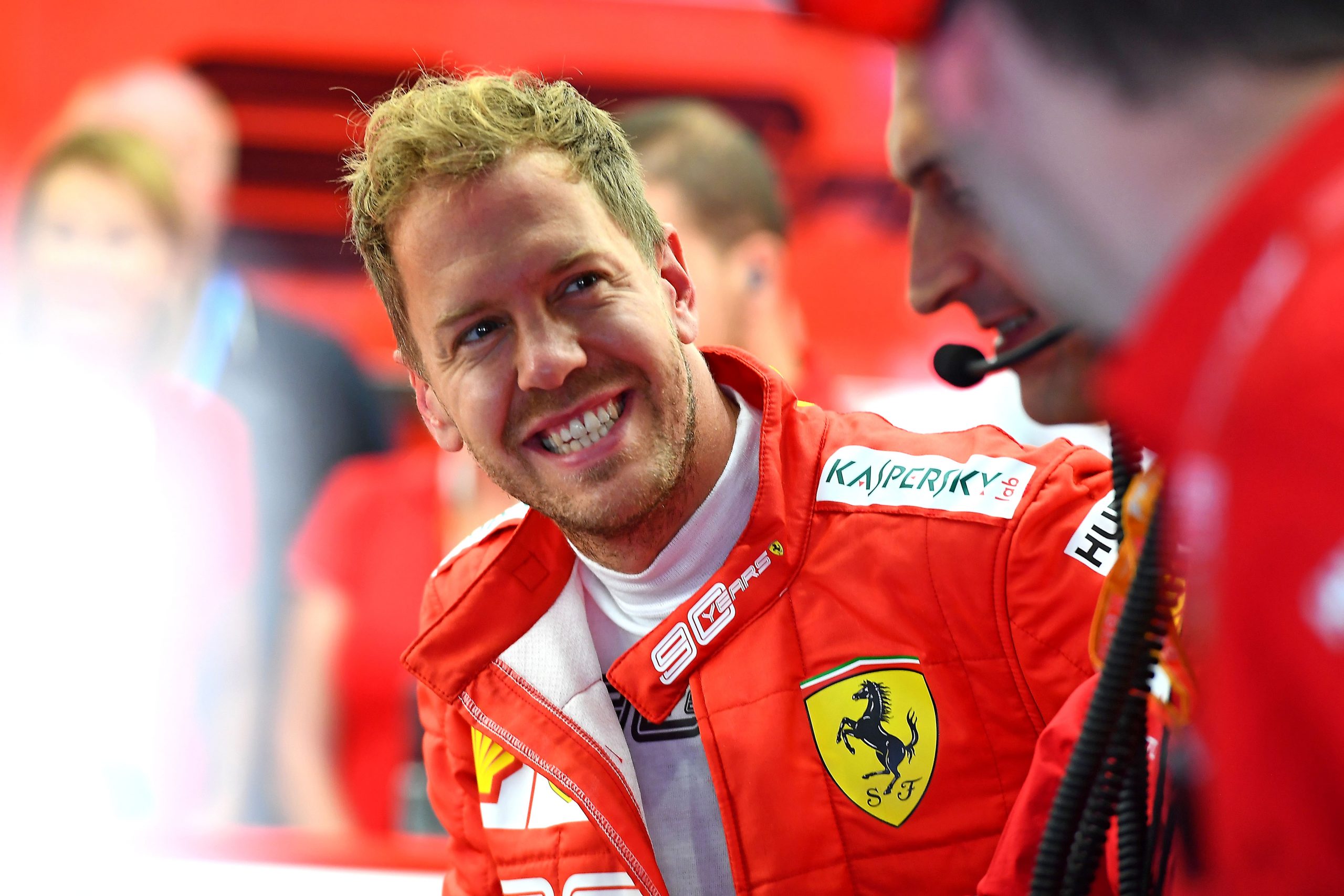 Long Straights Favour Ferrari
In fact, the Prancing Horse was expected to be ultra-competitive on the seven-kilometre long Spa track. However, a note of caution has to be sounded when looking at Friday times even if it was surprising to see Valtteri Bottas, third in FP2, a full eight tenths down in 1.44.969. The long straights were the reason for Ferrari's expected turn of speed, as can be seen from this car performance graphic: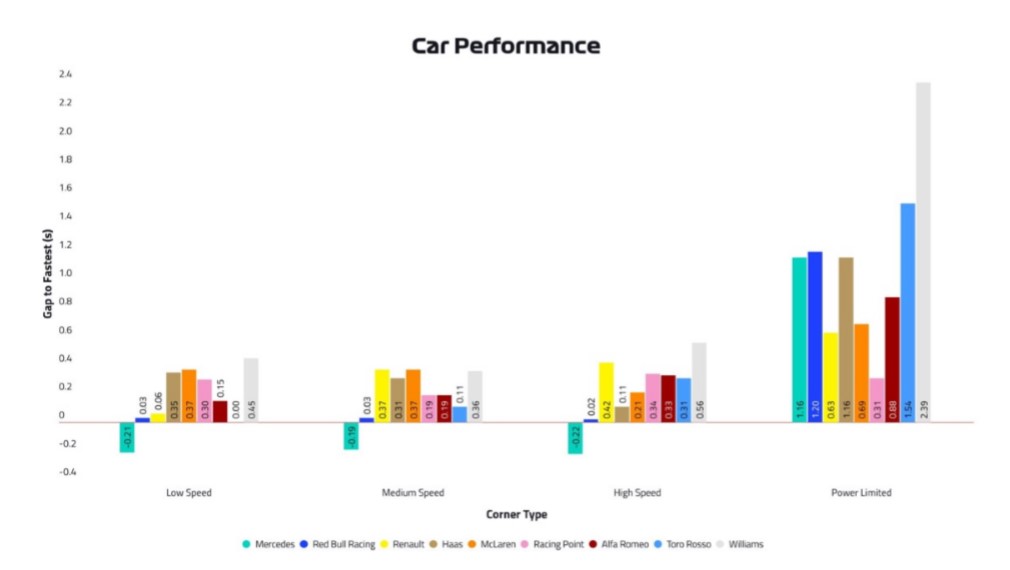 No Other Team Breaks 1m 45s Barrier
Over the three hours of practice, no other driver managed to get under the 1m 45s barrier, with Hamilton fourth in FP2 in 1.45.015. The two Mercedes AMG Petronas Motorsport drivers were fastest in the middle sector, the one requiring the most aerodynamic downforce and had the better pace over a long run, as can be seen in this second graphic: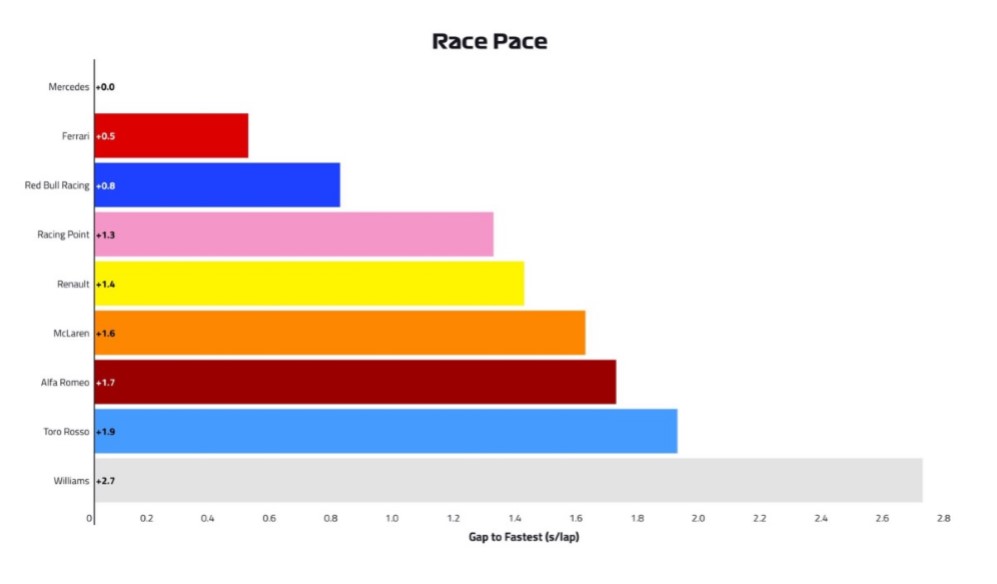 SportPesa Racing Point F1 Team Surprises In FP1
The first session might have produced the usual hierarchy, featuring Ferrari, Mercedes and Red Bull ahead of the rest, but the second one saw a surprise interloper in the shape of Sergio Perez, fifth fastest in 1.45.117. However, it's something of a tradition for SportPesa Racing Point F1 Team to be competitive at this track, given that the Silverstone-based squad have usually produced cars that go well at Spa, especially in qualifying trim, getting the better of more successful teams. Remember that Giancarlo Fisichella took pole here in 2009 and Esteban Ocon and Perez have qualified third and fourth in qualifying last year. The Mexican's team-mate, Lance Stroll was seventh in FP1 and eighth in FP2, thus confirming the excellent overall performance for the team.
Alex Albon Starts Red Bull Racing Career Well
Max Verstappen will have to wait until the 3 May next year when the Dutch Grand Prix returns to the calendar, but for now, the Belgian race is the next best thing to a home race for him. Today, he was sixth fastest in FP2 in 1.45.394. Alongside the Dutchman, Alex Albon was making his debut as an Aston Martin Red Bull Racing driver. The Thai was fourth in FP1, right behind his team-mate while in the second session he was back in tenth with a 1.45.711. However, Albon will have a grid penalty for the race, given that his car was fitted with a new Honda power unit, the fourth of the season.
"Today was exciting, a bit like your first day at school, and it felt pretty good. I kept it on the black stuff and I'm enjoying it. I'm just trying to take it slowly, get as many laps as I can and understand the car as I'm still learning. There are obviously differences from Toro Rosso so I'm trying to adapt as quickly as possible, I can see it's a nice car to drive and it's quick, now I just need to get used to it. In the morning, FP1 was pretty good, it was just baby steps really, then in the afternoon we focused more on long runs as with the penalty, our focus isn't so much on short run pace but more on Sunday. The Team have been very kind to me and so I feel quite at home with the guys. I don't have any expectations or a finishing goal, I just want to do a good job for Sunday," said Albon.
Albon will be in good company, given that both Renault drivers – Daniel Ricciardo and Nico Hulkenberg – and Sainz in the McLaren, Stroll in the Racing Point and Daniil Kvyat in the Toro Rosso have also taken a new power unit, exceeding the regulation limit of three per season.
Ghastly Toro Rosso Return For Gasly
Pierre Gasly was not so much making his Red Bull Toro Rosso Honda debut as returning to the Faenza fold, having made his debut with this team in Malaysia in 2017 and taken part in 26 race for the Italian team. The Frenchman did not have a brilliant day (18th in FP1, one place better in FP2.) But it's not as though his teammate did much better as Daniil Kvyat was 17th in the morning, 14th in the afternoon.
"It was a busy day with the team, trying to get used to the car and learn all of the new procedures and the behaviour of the car. It was the first time working with this group of engineers, so there were a lot of things to get done today. We had a good plan and lap after lap I felt I was getting used to the car, so I think we are progressing. It's been a bit tricky in terms of pace for us, so we need to work and find out which direction to take for tomorrow to be more competitive. Some drivers will have penalties this weekend, so we need to make sure we have a good race car for Sunday," said Gasly.
Want to save this information for later?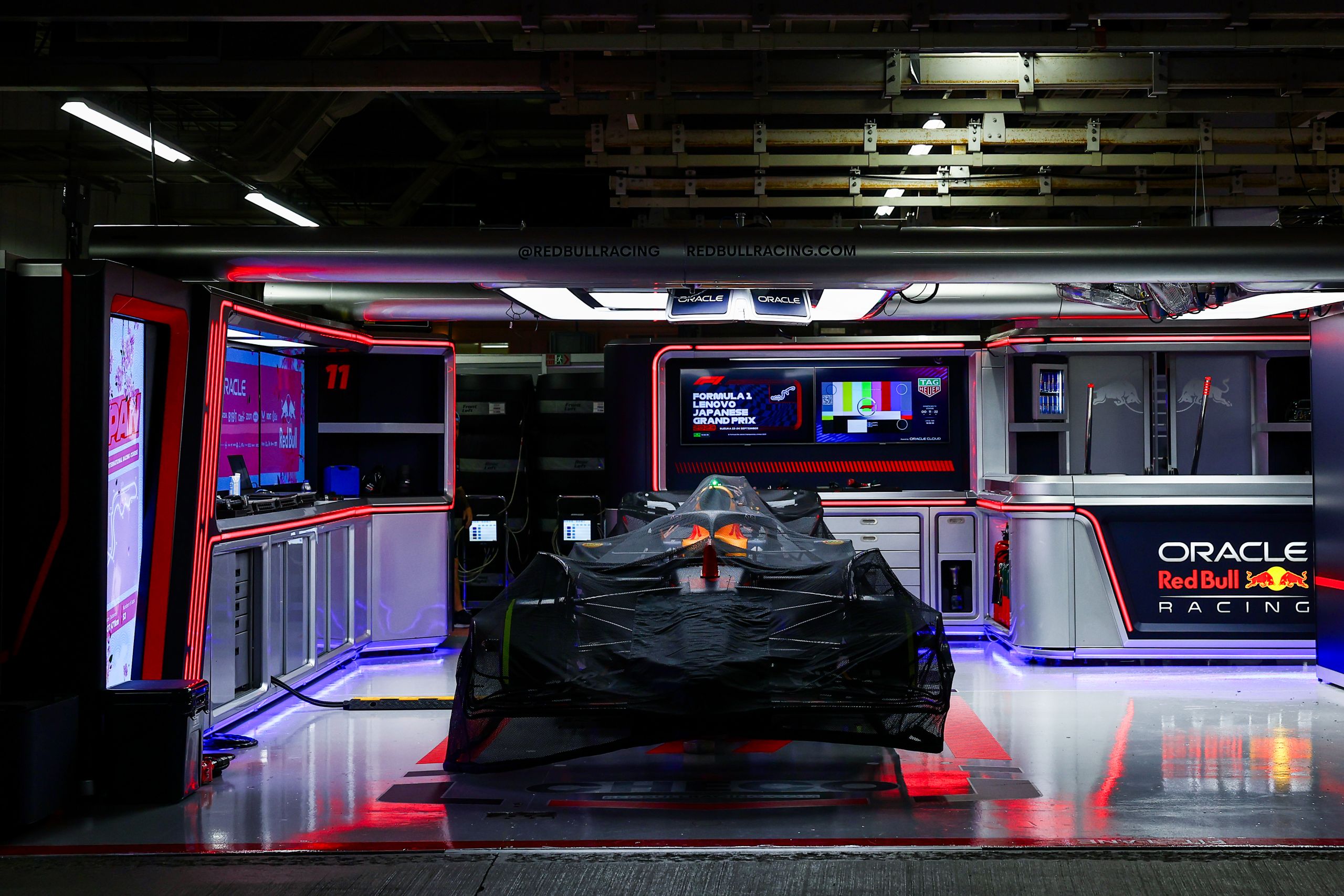 The roar of engines, the blur of speed, and the ...